Top Instagram tips for your cottage
How to holiday let

Have you thought about creating an Instagram account to promote your property or would like some tips on doing so? Instagram is a very powerful social media marketing tool and can be particularly effective for holiday inspiration and property shots, working especially well for photos of beautiful interiors and gorgeous local areas. We've put together five tips for Instagram to help you get started…

1) Take well-lit photos

You don't necessarily need a professional camera; an iPhone or Android camera will do! Ensure the photos are well-lit and we recommend taking photos of your property's gorgeous interiors, lovely exterior shots and photos of the local area to inspire people to holiday there. Creating exciting and aesthetic content will increase engagement with more people liking your photos and following your account.
2) Hashtag
Hashtags are a great way for other accounts to find you and to increase engagement on your posts. We would recommend finding relevant hashtags for your content through hashtag research which will help you to discover what works for businesses similar to yours. It's also worth finding out if there are any hashtags specific to your local area that will help people to find you, for example #visitsouthdevon or #lovecornwall.
3) Post often
It doesn't have to be every day; but posting two to three times a week will keep your followers engaged. If you don't regularly visit your cottage, you could always keep a folder of images for you to use whilst you're not there yourselves.
4) Use Instagram stories
Instagram Stories are a great tool for creating exciting content on your page that doesn't get added to your feed and is more 'in the moment'. You could do a tour of your property or a short video of a nearby walk or things to do in the area. Should you wish to, you can then use these to create saved highlights on your page which will stay there for as long as you like.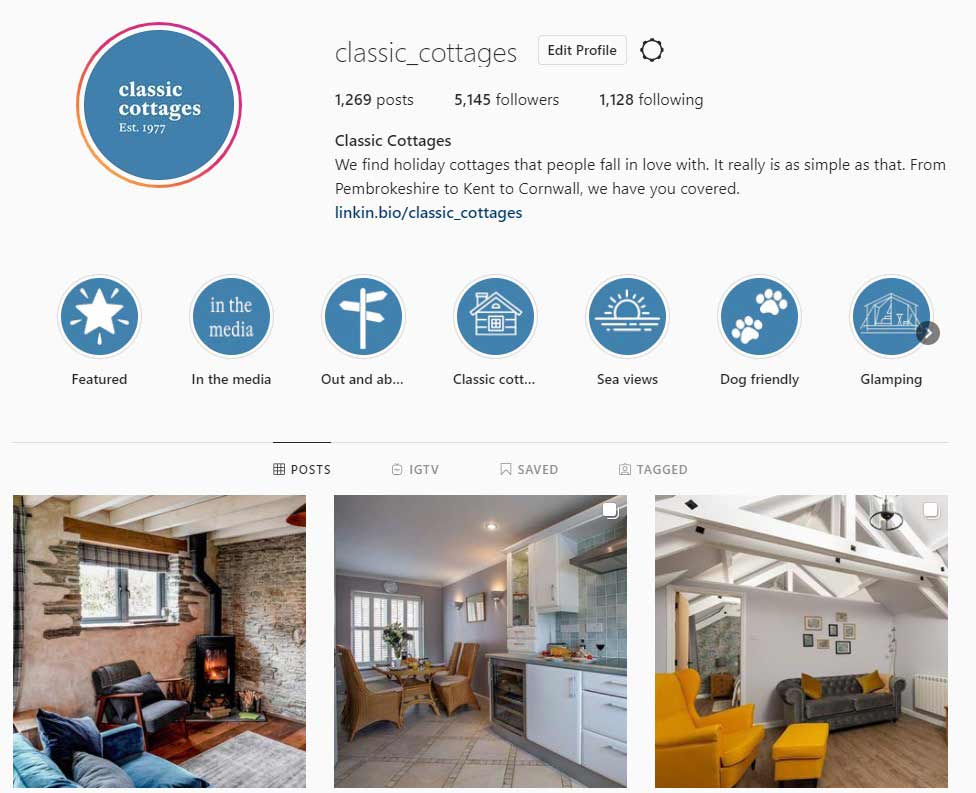 5) Follow and interact with relevant accounts
It's worth following and interacting with accounts that are relevant to yours. For example, the relevant tourist board for your area and local businesses. Give us a follow at @classic_cottages, we love engaging with your content!
To set up your Instagram, simply download the app on your phone, set up your account and you're ready to go!
If you would like any more information or advice, please feel free to contact the Marketing team on themarketingteam@classic.co.uk.