Environmentally friendly ways to run your holiday let
How to holiday let

It is impossible to create a sustainable and resilient business, or accommodation offer, without the support of visitors; but not acting until visitors ask for it is missing an important trick. The point is to create a destination, and business offer, that attracts and enables the sort of visitor behaviour that makes its sustainability and resilience possible in the first place.
This guide covers:
1. Help your guests to be green on holiday

Provide the kit
It's hard for visitors to be eco conscious if we don't provide them with what they need. From bike shelters to nature discovery kits through to reusable shopping bags and composting facilities, there are many ways we can support our guests in doing the eco friendly things on holiday.
Go large on local
From local food to local books, handmade products to tiny bespoke guided tour businesses: where you signpost your visitors has a massive impact on where they go, what carbon and nature impact they have, and the quality of their experience. Avoid the big chains and connect to quality, link to the local and use your business to invest in your own local community. All of this information can be popped in your cottage information folder for guest to read upon arrival.
Connect your visitors to place
We hope our visitors will behave with respect to local cultures and customs; we can increase the chances of that by showing them how. Ensuring great information about what local spots to avoid at peak times, how to get to places without the car, or where to park if required, how to support local businesses, what local activities and festivals are happening that would love to welcome visitors all have impacts on the local community.
The right seasonal know-how
Use your guest information folder to explain what is in season when, where to buy it, how to cook it – encouraging your visitors to buy local asparagus and fish from a local grower/fisher rather than falling back on imported fruit wrapped in packaging from the supermarket chain: no comparison and loads better for the environment!
2. Working together: Community initiatives

Just as we need to work together with our visitors, clients and customers to create a sustainable and resilient business, we need to do exactly the same with our supply chain. We are only as climate and nature positive, and resilient, as what we buy. And we buy a lot in the accommodation sector. So let's get that change moving...
Collaborate with the community
Encourage other peer businesses in the local area to create their own methods to promote your working together and learn from each other. The more we demand green and ethical goods and services, the more choice and higher quality we will get as buyers.
That means everything from the teabags we buy for the kitchen to the wood we buy for the windows; the free range and organic eggs we signpost our visitors to buy, to the website design that can made sure your site is hosted on a carbon neutral server. It's all possible. It's all already happening. You can make sure it happens for you.
3. Money matters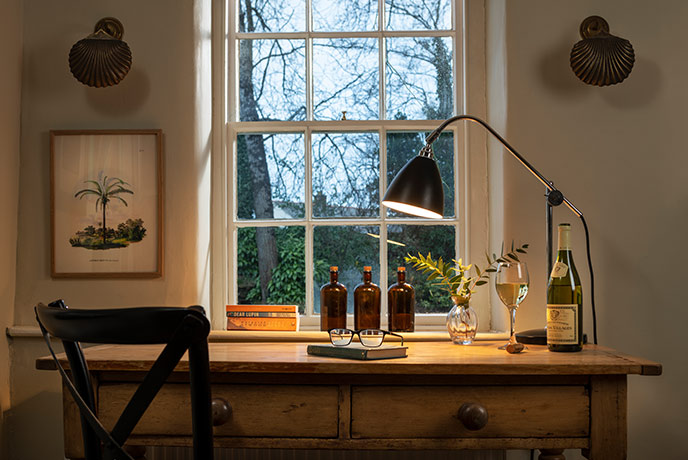 Spend well
Every time you buy, or encourage and inspire your guests to buy local, the money stays in the local economy and keeps local businesses thriving. Make sure the "local" business is actually buying its own products locally: the big wholesale shop you may use does not count as buying locally! Avoid the big names and platforms like Amazon, and put your money into the local place by using platforms that encourage spending in local communities
Bank well
Consider where you keep your money. Many high street banks are considered "dirty" banks and actively investing in fossil fuels despite their claims – they are greenwashing. Check www.bank.green to see what yours is doing. It's incredibly easy to swap and move your money from a dirty bank to one that invests in renewables, local food and ethical produce. Then tell your guests what you have done!
Share the love
Many businesses have set up visitor gifting schemes, whereby a small amount – perhaps one pound per bednight per person – is donated to a local initiative, from Cornwall Wildlife Trust, local food banks, a range of local charities from Community Energy Plus to organisations working with young people and children, older people, people fleeing violence, habitat protection or more. The schemes are hugely successful and popular and makes sure your business is irrigating wellbeing and environmental and social fairness into the local community
On this note...
Please feel free to share your green ideas and initiatives with the Classic team. We are always ready to hear other ways to protect our planet and would love the opportunity to share these methods with other holiday home owners in the business. Contact us on marketing@classic.co.uk.