A guide to holiday letting in South Devon
How to holiday let

The holiday letting industry has changed – attracting more investors and private homeowners to the sector and seeing an increased demand for UK staycations.

As industry experts, Classic Cottages have put together an extensive guide to holiday letting in South Devon, drawing on years of industry experience, company data and economic influences.
Quick links:
We have also created a full guide in digital and print. Click here to see the digital version of the guide. Feel free to get in touch if you'd like a printed version at marketing@classic.co.uk and we will pop one in the post for you!
1. Why invest?
Investment and the market
Recent circumstances have thrown a light on staycationing in a way that few could ever have predicted, introducing new families and new generations to the very best that Britain has to offer.
This, combined with holiday home income increasing by 33% in Devon versus 2019, as well as the appealing opportunity to invest in an appreciating asset that you can use yourself, means holiday home ownership is more attractive than ever.
Holiday letting and the appeal of holidays in the south west
For as long as we've been in business (over 45 years in fact) visitors have always found the experience of a UK staycation in our beautiful country uplifting, creating lasting memories that will act as a future draw, despite greater freedom to travel abroad. And this can certainly be said for Devon, drawing thousands of visitors to its beautiful countryside and shorelines.
That's good news for aspiring holiday home owners as travellers add an annual staycation to their holiday mix. It's partly for this reason that South Devon saw its average holiday home income rise by 19% in 2021 versus 2019.
We also saw the portfolio size increase in the county as a whole. In 2021 alone, the Devon property collection grew by 35% and there are no signs of this slowing, as we continue to bring on new properties in the area every week.
An introduction to Classic Cottages, Devon's holiday letting specialists
Using our knowledge of marketing over 1,200 of the best coastal and countryside cottages across the UK, with more than 250 of these being in the beautiful county of Devon, we have created a complete guide to holiday home ownership to help guide you through your journey to holiday letting.
Why invest in a holiday home?
If you buy a holiday let, one of the greatest benefits is the fact that it allows you to store capital in a long-term solution, whether you're looking for a retirement opportunity, somewhere for the kids or simply a less risky investment. In short the benefits are:
- Comparatively low risk investment
- Less volatile than stock markets
- An income generator
- Holidays at virtually no cost
- Attractive tax breaks
- Long-term capital appreciation
- A savvy lifestyle investment
Is it a good time to buy a holiday home?
Absolutely. Demand for staycations in Devon has risen dramatically in recent months – up by as much as 100% in some areas and the income has increased too. The average income for a holiday home in Devon has risen 33% since 2019.
With the housing market remaining stable, investing in property in the south west is a safe bet. The interest in staycations continues to be strong too, with overseas travel becoming less straightforward due to Brexit and Coronavirus as well as environmental impacts, with a greater consciousness of climate change.
There are also smaller factors influencing the staycation market, including the rise of pet ownership in the UK. The number of pet owners in the UK rose 18% in 2021 versus the previous year, so a dog friendly holiday in the UK is a consideration for a greater proportion of the UK!
So, what returns could I expect?
A very good question. Although we can give an idea of income based on our existing portfolio, we appreciate that each property is unique. Which is why we always suggest a visit from our Property Manager, a local expert in the area. They will be able to advise on the spot and will provide a well thought through income estimate with no obligation, whatever stage of the holiday letting journey you're at. Before we get to this stage though, here are just a few key aspects to consider for your holiday let.
Flash fact
On average holiday home earnings in Devon range between £17.5k for a 1-bedroom property to £41.8k for a 4-bedroom property.
Holiday home income depends on a number of factors; key considerations being: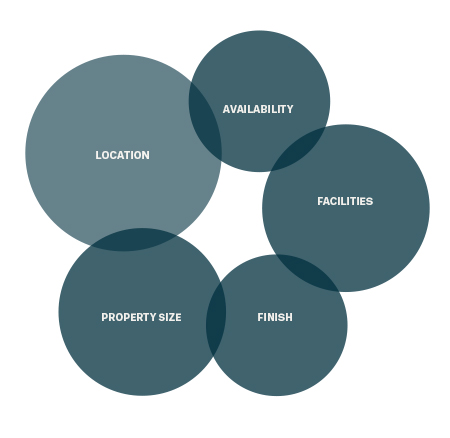 Other factors that can influence desirability include:
- Proximity to the coast
- Closeness to a pub
- Good outdoor space
- Private parking
Features that pay:
Average income rise for holiday lets with the following features: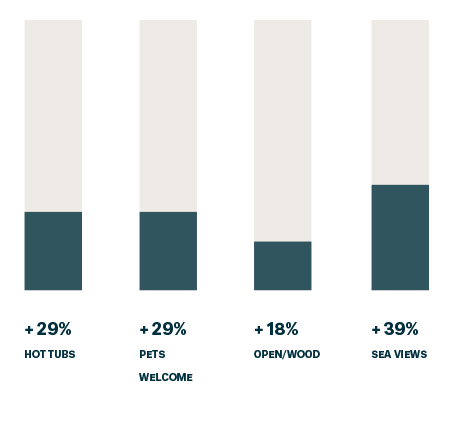 Top locations for income South Devon
Focusing on South Devon's hot-spots, we've put together a table of top places to buy a 1, 2, 3, 4 or 5-bed holiday home, and examples of income: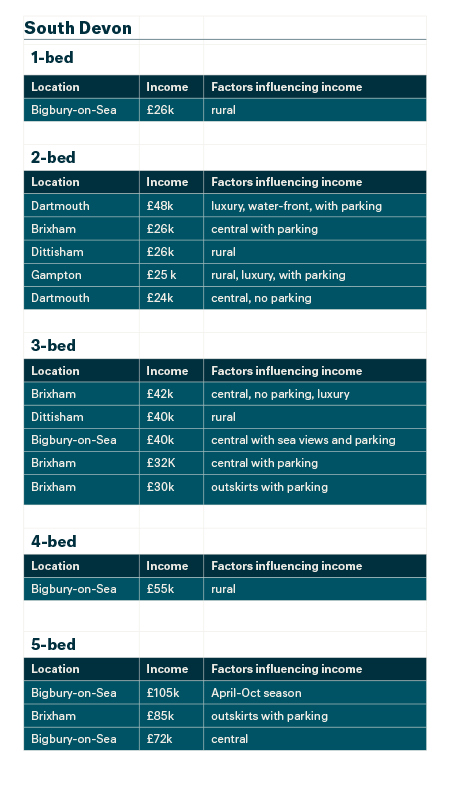 Average property prices in South Devon's holiday home hotspots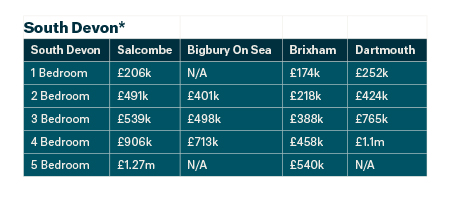 To help you identify where you could afford to buy, we've created the following table with average property prices in and around some of South Devon's favourite coastal holiday destinations:
*Figures based on average prices of properties sold in and close to each holiday hotspot using data from Rightmove and Home.co.uk in 2021.
Average earning by property size
To help you assess what income you might expect, we've put together average holiday home earnings by property size and type in Devon:
1-bedroom holiday homes £17.5k
1-bedroom glamping sites £20.4k
2-bedroom holiday homes £22.4k
2-bedroom glamping sites £21.6k
3-bedroom properties £29.3k
4-bedroom properties £41.8k
Demand trends for holidays in South Devon:
Demand for coastal holidays in Devon is on the rise. Comparing 2019 figures (the last full year for bookings) to those of 2021, Classic Cottages has seen record search traffic, up 98% for Devon as a whole.
When looking at traffic volumes at town level in South Devon, we've seen significant increases here too. Looking at the top three by area:
Bigbury-on-Sea: +100%
Salcombe: +67%
Dartmouth: +48%
Accommodation type; which is right for you?
Clearly, location is a big factor… But what type of holiday property is right for you?
Much comes down to personal circumstances and preferences. Usually, you'll have a pretty good feel for where you want your holiday home to be, but other details such as style and character versus practicality are worth thinking about too.
If you're making a lifestyle investment in a property that you're buying because you love it and aren't reliant on it for an income, practical considerations may be less critical. In these cases, remote properties may be just what you're looking for; somewhere off the beaten track. They'll have their niche, without doubt, but they might not command the high prices or occupancy rates that properties in locations close to the coast and beaches could – unless you add wow-factor.
For others, income may be critical, so buying the right property in the right location could be very important indeed.
Whatever your circumstances, our experienced Devon property team can help guide you, assessing your budgets, goals, personal preferences and investment priorities to help draw up a short-list of property types that fit your brief.
We're here to simplify the process using our experience, knowledge and network of contacts to smooth your journey to holiday home ownership. We're just a call away.
Real stories
The Linney:
"Exceptional company - cannot rate you highly enough. Outstanding service as an owner and love the personal touch. Thank you to everyone on the team for their hard work - I do appreciate it."
Aveton Farmhouse:
"There is real value to us as owners knowing Classic is promoting our property and that their team is there with support and advice on occasions things go wrong - the reassurance and practical benefit shouldn't be under-estimated."