A guide to holiday letting in South Devon
How to holiday let

The holiday letting industry has changed – attracting more investors and private homeowners to the sector and seeing an increased demand for UK staycations.

As industry experts, Classic Cottages have put together an extensive guide to holiday letting in South Devon, drawing on years of industry experience, company data and economic influences.
Quick links:
We have also created a full guide in digital and print. Click here to see the digital version of the guide. Feel free to get in touch if you'd like a printed version at marketing@classic.co.uk and we will pop one in the post for you!
1. Why invest?
Investment and the market
Recent circumstances have thrown a light on staycationing in a way that few could ever have predicted, introducing new families and new generations to the very best that Britain has to offer.
This, combined with holiday home income increasing by 33% in Devon versus 2019, as well as the appealing opportunity to invest in an appreciating asset that you can use yourself, means holiday home ownership is more attractive than ever.
Holiday letting and the appeal of holidays in the south west
For as long as we've been in business (over 45 years in fact) visitors have always found the experience of a UK staycation in our beautiful country uplifting, creating lasting memories that will act as a future draw, despite greater freedom to travel abroad. And this can certainly be said for Devon, drawing thousands of visitors to its beautiful countryside and shorelines.
That's good news for aspiring holiday home owners as travellers add an annual staycation to their holiday mix. It's partly for this reason that South Devon saw its average holiday home income rise by 19% in 2021 versus 2019.
We also saw the portfolio size increase in the county as a whole. In 2021 alone, the Devon property collection grew by 35% and there are no signs of this slowing, as we continue to bring on new properties in the area every week.
An introduction to Classic Cottages, Devon's holiday letting specialists
Using our knowledge of marketing over 1,200 of the best coastal and countryside cottages across the UK, with more than 250 of these being in the beautiful county of Devon, we have created a complete guide to holiday home ownership to help guide you through your journey to holiday letting.
Why invest in a holiday home?
If you buy a holiday let, one of the greatest benefits is the fact that it allows you to store capital in a long-term solution, whether you're looking for a retirement opportunity, somewhere for the kids or simply a less risky investment. In short the benefits are:
- Comparatively low risk investment
- Less volatile than stock markets
- An income generator
- Holidays at virtually no cost
- Attractive tax breaks
- Long-term capital appreciation
- A savvy lifestyle investment
Is it a good time to buy a holiday home?
Absolutely. Demand for staycations in Devon has risen dramatically in recent months – up by as much as 100% in some areas and the income has increased too. The average income for a holiday home in Devon has risen 33% since 2019.
With the housing market remaining stable, investing in property in the south west is a safe bet. The interest in staycations continues to be strong too, with overseas travel becoming less straightforward due to Brexit and Coronavirus as well as environmental impacts, with a greater consciousness of climate change.
There are also smaller factors influencing the staycation market, including the rise of pet ownership in the UK. The number of pet owners in the UK rose 18% in 2021 versus the previous year, so a dog friendly holiday in the UK is a consideration for a greater proportion of the UK!
So, what returns could I expect?
A very good question. Although we can give an idea of income based on our existing portfolio, we appreciate that each property is unique. Which is why we always suggest a visit from our Property Manager, a local expert in the area. They will be able to advise on the spot and will provide a well thought through income estimate with no obligation, whatever stage of the holiday letting journey you're at. Before we get to this stage though, here are just a few key aspects to consider for your holiday let.
Flash fact
On average holiday home earnings in Devon range between £17.5k for a 1-bedroom property to £41.8k for a 4-bedroom property.
Holiday home income depends on a number of factors; key considerations being: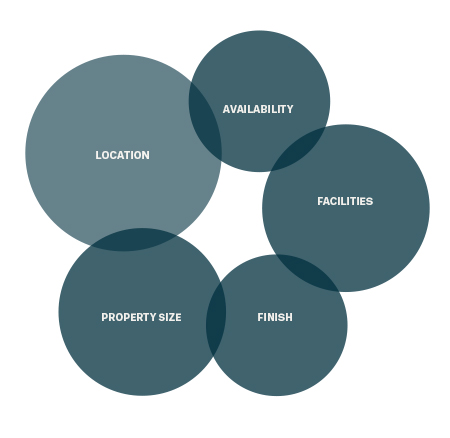 Other factors that can influence desirability include:
- Proximity to the coast
- Closeness to a pub
- Good outdoor space
- Private parking
Features that pay:
Average income rise for holiday lets with the following features: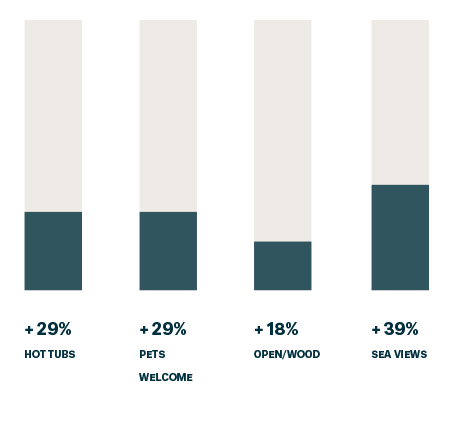 Top locations for income South Devon
Focusing on South Devon's hot-spots, we've put together a table of top places to buy a 1, 2, 3, 4 or 5-bed holiday home, and examples of income: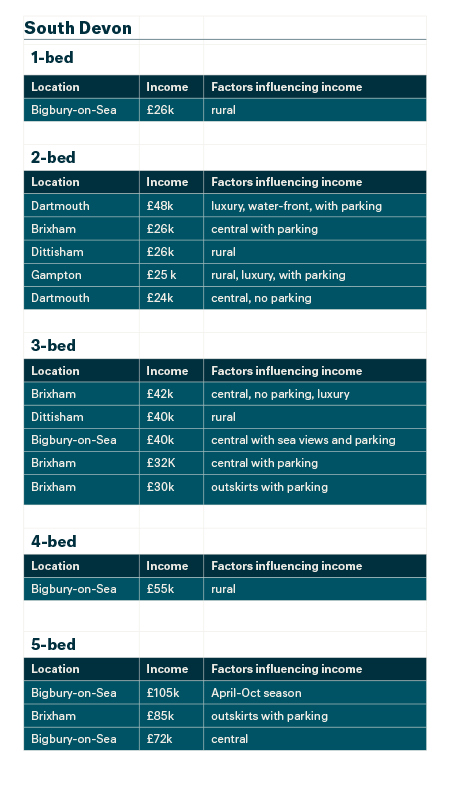 Average property prices in South Devon's holiday home hotspots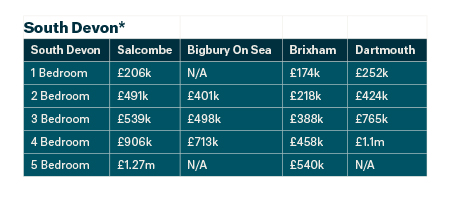 To help you identify where you could afford to buy, we've created the following table with average property prices in and around some of South Devon's favourite coastal holiday destinations:
*Figures based on average prices of properties sold in and close to each holiday hotspot using data from Rightmove and Home.co.uk in 2021.
Average earning by property size
To help you assess what income you might expect, we've put together average holiday home earnings by property size and type in Devon:
1-bedroom holiday homes £17.5k
1-bedroom glamping sites £20.4k
2-bedroom holiday homes £22.4k
2-bedroom glamping sites £21.6k
3-bedroom properties £29.3k
4-bedroom properties £41.8k
Demand trends for holidays in South Devon:
Demand for coastal holidays in Devon is on the rise. Comparing 2019 figures (the last full year for bookings) to those of 2021, Classic Cottages has seen record search traffic, up 98% for Devon as a whole.
When looking at traffic volumes at town level in South Devon, we've seen significant increases here too. Looking at the top three by area:
Bigbury-on-Sea: +100%
Salcombe: +67%
Dartmouth: +48%
Accommodation type; which is right for you?
Clearly, location is a big factor… But what type of holiday property is right for you?
Much comes down to personal circumstances and preferences. Usually, you'll have a pretty good feel for where you want your holiday home to be, but other details such as style and character versus practicality are worth thinking about too.
If you're making a lifestyle investment in a property that you're buying because you love it and aren't reliant on it for an income, practical considerations may be less critical. In these cases, remote properties may be just what you're looking for; somewhere off the beaten track. They'll have their niche, without doubt, but they might not command the high prices or occupancy rates that properties in locations close to the coast and beaches could – unless you add wow-factor.
For others, income may be critical, so buying the right property in the right location could be very important indeed.
Whatever your circumstances, our experienced Devon property team can help guide you, assessing your budgets, goals, personal preferences and investment priorities to help draw up a short-list of property types that fit your brief.
We're here to simplify the process using our experience, knowledge and network of contacts to smooth your journey to holiday home ownership. We're just a call away.
Accommodation type
Holiday cottage or apartment?
There's no doubt that both have their merits. So, to help you decide what might be best for you, we've looked at the benefits of both.
Benefits of cottages and detached properties vs apartments, at a glance:
- Can be more characterful providing 'kerb' appeal online
- Greater potential for enhanced outdoors spaces
- Greater freedom with private grounds – appealing to dog owners
- Less limitations on parking
- Freehold purchase rather than shared spaces and annual fees
- Greater flexibility for property makeovers
- Less chance of intrusive developments impacting views/appeal
Key things to look for when buying a cottage or detached holiday property:
- Is it close to a beach?
- Are there dog-friendly beaches and walks nearby?
- Is there a pub within walking distance?
- Does the property have privacy and a garden/grounds that would appeal to guests?
- Does the property have private parking?
- Is the property suited to pet owners?
- Are there other local amenities nearby, such as a lido, village shop?
- Does the property have potential for capital growth?
- Is the property ready to rent or does it need work?
- Does the property have potential to be turned from the humdrum into an uber-cool, ultra desirable holiday home escape?
- Are there attractions nearby that will appeal to visitors and their families?
Whatever your personal preference, be that a period property, a doer-upper, or a ready to rent chic contemporary property, our team of experts can guide you on every aspect of the purchasing and makeover process. We'll give you all you need to make the right decision both for you and for your pocket, helping to maximise income, while creating a stand-out property for you and your guests to enjoy.
What about developments?
Developments tend to have one main advantage over individual holiday homes, and that is location. Developments are typically situated in stunning locations with outstanding views. And they have to be, quite simply because they have to compete in a very different way to the like of grand houses or cute cottages.
Benefits of developments versus cottages at a glance:
- Low maintenance
- Built for purpose
- Shared facilities
- Located in or near popular holiday destinations
- Developer deals to be done
- Potential for positive capital appreciation
What to look for in established developments:
- Does the apartment have an established income?
- Is the apartment in need of a makeover?
- Is refurbishment permissible under the terms of the purchase?
- Does the apartment have NHBC certificates giving additional protection against structural faults?
- Is the development architecturally appealing?
Why buy a new development?
- New developments tend to be situated in locations with stunning views and often close to a beach
- Apartments in new developments tend to be low maintenance
- New developments typically come with parking
- High specification facilities often include heated pools, gyms, hot tubs
- If you purchase more than one apartment or property, developers may be open to reducing the asking price, and to including furniture as part of the deal
- New developments often have apartments with stunning floor-to-ceiling bi-folds, or penthouses with furnished balconies, private hot tubs and exceptional ocean views
Could glamping be a viable alternative?
If you want to make the most of land that you own, glamping is a good option to consider. From yurts and safari tents to cabins and shepherd huts, the range of glamping options is vast. Planning will influence what you can put in, but if you get the process right, you could soon turn an unused corner of a field into a profitable business.
Benefits of glamping at a glance:
- Strong return on investment
- Popular for short breaks, increasing average holiday value
- Low maintenance
What do you need to consider before going down the glamping route?
- Does your glamping offer reflect the needs of your target customer?
- Are you happy to focus on the peak season only, in which case safari tents, canvas options or yurts could be for you
- If you want a year-round income, consider solid structures such as cabins
- Are you looking for an off-the-shelf purchase?
- Have you considered the benefits of a bespoke build so that you stand out?
- Does your glamping offer deliver tranquillity and unspoiled views?
- Does your glamping offer stick to a theme?
What will it cost?
- Most luxury glamping units will range between £30k-120k
- Don't forget to allow for the cost of putting in services and electrics
- Have you budgeted for kitchens, a boiler and bathroom?
Canvas or solid structure?
If you opt for canvas, your season will typically last from March to November.
By comparison, a solid structure, such as a cabin,
offers greater flexibility through the use of wood burners, under floor heating and en-suite facilities. That helps make the off-peak season just as busy as the peak periods, and appeals to a premium customer willing to pay that bit extra for those all-important creature comforts.
Things to consider:
- Target your market well, creating niche accommodation rather than one size fits all approach
- If you are set on appealing to a cross-over market, consider a hot tub. You can price a two-bedroom property at a reduced couples' rate to keep your pricing competitive
- Most bookings will be short-breaks, which means that marketed well, you can get multiple bookings per week, maximising income
What can you expect to earn?
Based on the right accommodation in the right setting, with the right services and facilities, you can typically expect to achieve a return on investment within two and a half years. Per night rates will depend, but can range from £60 in off-peak to £250 in high peak, depending on its facilities and location.
Planning and farm diversification – from field to finish:
One of the fastest growing areas and opportunities for farmers and landowners is diversification into glamping, repurposing pockets of land to create truly stunning locations for yurts, bespoke cabins, tree houses, lodges, shepherd's huts or even underground hobbit houses.
Key considerations:
- Sustainability is key to planning approval
- Plans will need to be laid out in accordance with local policy
- Advice from a planning consultant or a surveyor
will save a lot of pain in the long-run
- Start small, but plan big
- Put infrastructure in place for future expansion from the start
Having worked with glamping businesses across Devon, we have many years' experience of helping owners turn their dreams into reality. Our Field to Finish solution gives owners access to the unrivalled experience of our planning consultant, offering a complete service ranging from site design to negotiation with the planning department. That's the Classic way. Just ask for details.
The finer details
What do you need to know about owning a holiday property, before you buy?
Buying a holiday home as an investment has worked for many thousands of holiday home owners, but what do you need to know about running one successfully? That's where our handy guide covering everything from tax planning through to maintenance comes in.
Tax planning to make the most of your holiday home:
What do you need to know?
Furnished Holiday Lettings occupy a special niche in the tax world, conferring certain benefits and allowances that are normally only available to trading businesses. In order to benefit from these, your property will need to:
- be let on a commercial basis with a view to making a profit; a business plan encompassing profit and loss or cash-flow projections, will help to satisfy this requirement
- be furnished appropriate to its size
- be available to be booked for at least 210 days a year (30 weeks)
- be let commercially to the public for at least 105 days (15 weeks)
- not be occupied by the same person for more than 31 days and have no more than 155 days of such 'longer term' occupation
Once a property acquires FHL status it will retain this even if it fails to meet the occupation conditions for two consecutive tax years. To continue to be eligible the property will need to meet the occupation conditions once every three years at a minimum.
Tax breaks*
With these conditions fulfilled you will be able to benefit from:
- Capital allowances on fixtures, furniture, fittings
and equipment will qualify for Annual Investment Allowance
- Capital Gains Tax relief if you sell your property, including Entrepreneurs' Relief, allowing the taxable gain to be charged at the reduced rate of 10%
- Roll-over relief – where specific chargeable gains can be deferred if new trading assets are acquired
- Hold-over relief – if the property is gifted, the capital gain can be frozen until the recipient sells
- Proportion of profits – if operated by a husband and wife partnership, the profit can be allocated in any proportion, irrespective of actual shares
- Pensions savings – profits from running an FHL business are classified as 'relevant earnings' allowing owners to make a bigger contribution to their pension – known as tax advantaged pension savings
- Mortgage interest tax relief - you do not need to pay tax on mortgage payments for holiday lets – holiday home owners pay less tax on their income than residential landlords
What expenses can I claim?
To be considered as a deductible, an expense must:
- be incurred 'wholly and exclusively' for the purposes of the FHL business
- not be 'capital' in nature. Capital expenses are usually one-off incurred in the original purchase, construction, or improvement of a property. Some expenditure on plant and other equipment may qualify for 'Capital Allowances'
As an owner of a FHL, you will need to complete a tax return. Given that tax laws do change from time to time, we would always advise that holiday home owners seek the advice of a qualified, professional accountant to ensure tax efficiency.
* Fuller details on tax can be found on the Classic Cottages website. Tax information accurate as of August 2021.
To find out everything there is to know about VAT on furnished holiday lets, take a look at our full guide here.
Short-breaks versus week only – what you need to know
With lots of holidaymakers preferring to go away for a few nights, it is a market not to be missed. So, it's always a good idea to offer guests this option, both to benefit guests and yourselves.
The rentals for short breaks are not charged as pro rata, rather we tend to charge 60% of the weekly cost for two nights, 70% of the weekly cost for three nights, 75% of the weekly cost for 4 nights, 80% for 5 nights and 90% for 6 nights. This means there is great potential to increase your income, especially in the quieter shoulder months.
Things to consider:
- If you have a housekeeper that can only handle changeovers on limited days, with Classic Cottages, you can arrange bookings to match
- If you are struggling to book a peak week due to a cancellation, a short-break could quickly fill that
Property management
Holiday homes are dear to us all, and whether you've inherited a second home, bought your dream cottage, or you're looking to buy a property as an investment with perks, one thing that you'll need to consider is how to manage your property.
Even if you live locally, being bound by the cleans and changeovers could become an unwelcome burden. You may have someone in mind - a trusted friend or a local cleaning service that you've heard of or used before. Alternatively, you may be relieved to hear that Classic Cottages can take all the stress away with our managed services offering.
Regardless of which path you choose you'll need to:
- find a housekeeper/gardener/window cleaner
- organise weekly waste collection
- organise linen cleaning and collection
- arrange Compliance Certification
- have a plan for resolving issues during a booking
- have contractors ready to handle issues when guests are in situ on your behalf
- have a second emergency key safe in place for use by contractors
Not got time to manage your holiday home? We can help...
For many time-poor owners, holiday homes are for enjoyment. That's why we provide a complete managed service for free, all to make your life easy. That includes a 24/7 emergency line, so you don't have to worry every time an issue arises. We'll just fix the problem and let you know once it's been sorted, which is good news for your guests, and for you.
You'll be kept in the loop on the owner portal all the way, and any invoices for works undertaken by contractors will be charged at cost. That's holiday home ownership as it should be - without the hassle.
The choice of how you manage your holiday home is completely down to you of course. Whatever path you choose, it's good to know that there are simple
solutions are out there, helping you to put your feet up and relax without constantly worrying about 'what might happen'.
Property Insurance – your at a glance guide to getting the right cover:
If you own a holiday home that you intend to rent out to paying guests on a short-term rental basis, you'll need holiday home/holiday letting insurance. That's because standard home insurance won't cover you sufficiently.
So, what do you need to know about getting the right holiday home insurance?
The first thing to understand is that, just with ordinary home insurance, you will need both buildings cover and contents cover.
Building cover insures the structure of your property against damage caused by flooding, storms, and fire, and also protects permanent fixtures such as light fittings or built in cupboards.
If you have a mortgage on your holiday home, your lender will most likely insist on building insurance, but even if that's not the case, you'll need sufficient cover to protect your property against any possible damage that may occur.
Contents insurance covers furniture and any valuable possessions kept in your holiday home, such as sporting equipment, flatscreen TVs, or sound systems. Although not mandatory, it is advised you have some level of cover for contents.
Specialist holiday letting/holiday home insurance also gives you extra protection covering accidental damage, theft, lost keys and so on. That's important, because accidents can happen, so for peace of mind having good insurance cover is advised.
Loss of income
Importantly, your insurance will need to cover you for loss of income. That's key because if your property were to be damaged in a fire, flood or storm, you may have to cancel bookings. That could mean an extended period of lost bookings, particularly should your property require major rebuilding works over a period of many months or even a year.
And should your property have an extended period where the property is unoccupied, you'll need to ensure that your property is suitably covered for that likelihood too. Paying close attention to policy conditions in this respect is important, such as draining down storage heaters after 48 hours of unoccupancy and turning the water off at the mains.
Injury protection
Next, your insurance should cover you for public liability. That ensures that if a guest is injured while staying in your property, legal fees associated with claims are covered. Legal expenses cover should also be in place to defend your legal rights.
Your policy should also give you sufficient employer's liability insurance. That protects you from compensation claims should a cleaner or gardener working for you, for example, suffer an injury or become ill during the course of their work for you.
Damage or loss
If your property has a swimming pool, expensive outdoor pizza ovens, barbecues, heaters or hot tubs, you will need to notify your insurers to make sure that these items are properly covered. In this respect, sufficient cover for items kept outside needs to be factored in.
It is also a good idea to read the small print to make sure you are covered for unforeseen damages. It is highly unlikely you will need it, but always best to be prepared for every scenario.
Policy T&Cs
Other things to be aware of include checking whether your policy requires security measures to be in place, such as an alarm. Some policies will give you a discount if an alarm system is fitted. Some policies may also offer you optional home emergency cover, which could prove handy for boiler, heating, plumbing or electrical emergencies.
Based on these broad guidelines, and a careful review of the policy terms and conditions, you should be able to get a policy that is well suited for your needs, giving you peace of mind that, in the event of a claim, you'll be appropriately covered.
Which insurers should I consider?
We recommend three insurance providers including Boshers, Schofields and Leisuredays. As with any insurance cover, it's always good to shop around to get the best policy for your individual circumstances, as well as the most competitive quote.
Real stories
The Linney:
"Exceptional company - cannot rate you highly enough. Outstanding service as an owner and love the personal touch. Thank you to everyone on the team for their hard work - I do appreciate it."
Aveton Farmhouse:
"There is real value to us as owners knowing Classic is promoting our property and that their team is there with support and advice on occasions things go wrong - the reassurance and practical benefit shouldn't be under-estimated."