Waterfalls may not be the first thing that springs to mind when you think about Cornwall, but believe it or not, this beautiful county has a fair few to explore. From gurgling, gently tumbling cascades amongst moss-covered rocks and ancient woodland to dizzyingly tall falls hurtling off steep cliff edges, these beauties are well worth leaving the beach and donning your boots for.
Many of these breathtaking icons are situated on the oh-so-dramatic north coast, offering the chance for an exceptional day out wherever you're holidaying in Cornwall. Generally, you'll have to walk to reach them but these routes - which are more often through beautiful countryside or coastline - simply add to the experience. So while a reasonable level of fitness and ability can be required, we've made sure to include a few options here that are easier to access, meaning no one misses out on a bit of H20 magic.
Another great thing about waterfalls? Sometimes they're better during or just after inclement weather – rivers swollen by rainwater make for more dramatic waterfalls and quite often will mean you'll have them all to yourself (just make sure you have sturdy boots and waterproofs with you). Perfect!
Ready to set out exploring? Here are our favourite waterfalls in Cornwall to visit…
St Nectan's Glen, near Tintagel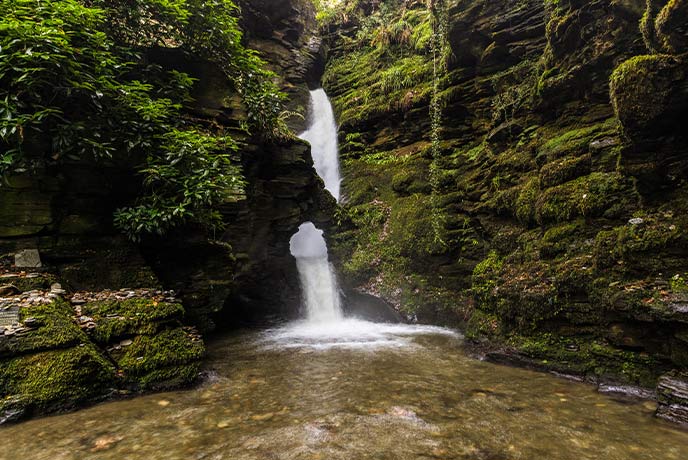 Arguably Cornwall's most famous waterfall, St Nectan's Glen (or St Nectan's Kieve) lies close to Tintagel and is considered to be one of the most spiritual sites in Britain, swathed in myth and legend. Parking is by the road, after which you follow the ascending path up through the lush valley for 1 mile, passing through temperate Atlantic rainforest and the fast-flowing, shallow River Trevillet as you climb.
At the top, make your way through the shop and turnstile into the waterfall area itself, following the winding path down to the bottom of the waterfall. Here, you can witness the majestic 60-foot drop descend into a hidden kieve (basin) before it cascades through the mouth of a shallow cave to the pebbles below. Surrounded by moss-covered rocky outcrops and overhanging trees, the falls are home to plenty of flora and fauna (it's a Site of Special Scientific Interest), as well as the odd fairy, pisky and spirit!
Named after Saint Nectan who was said to have lived here, the falls have been a place of pilgrimage since the 5th century and it certainly has a special, other-worldly feel. Interestingly, it's also said to be the female counterpart to Pistyll Rhaedr, another impressive waterfall in Powys, Wales. In addition to the falls you'll find sculptures dotted through the landscape, a shop, a café with a lovely balcony, an ice cream parlour and the fascinating Hermitage, thought to have been carved out 1,500 years ago and the place where St Nectan prayed. It does get very busy here during peak season and in the middle of the day, so it's worth getting here early or visiting outside of school holidays if you can - it's an incredible spot for a winter walk!
Golitha Falls, Bodmin Moor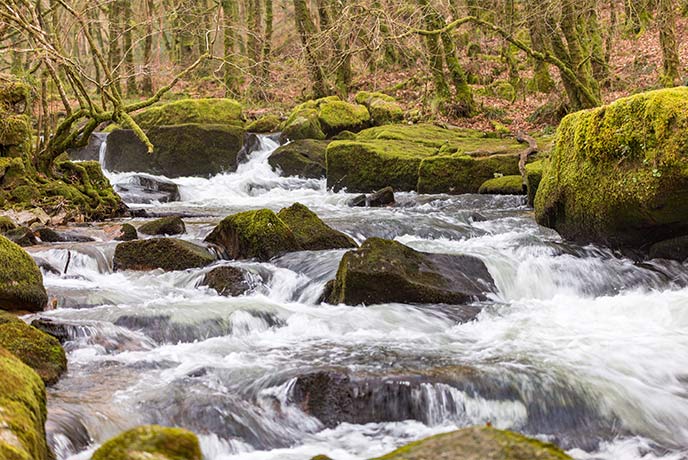 If you're after a change from Cornwall's beautiful beaches, head inland towards Bodmin Moor and you'll discover Golitha Falls Nature Reserve, home to ancient and beautiful Draynes Wood and the River Fowey. Rather than an outright waterfall, Golitha Falls comprises of a series of cascades that spill over rocks and linger in sun-dappled pools, creating a magical spot that's much loved by locals. For a deeply mesmerising mix of colours, visit in autumn when the surrounding trees are draped in burnish golds and rich coppers.
Not surprisingly, it's recognised as an Area of Outstanding Natural Beauty as well as a Site of Special Scientific Interest, making it a haven for nature enthusiasts. On a hot day it's a fantastic escape from the sun for a while where you can walk in the shade and take a dip in the numerous natural plunge pools to cool down. There are several trails from the main car park that lead down to the river with some viewpoints along the way. It's an easy walk but there are steps down to the falls, and if you want to find a more secluded pool for your dip, you might have to scramble over the rocks a bit, so wear suitable shoes. Afterwards, pop in to Inkie's Smokehouse, situated by the car park, for American-style BBQ food such as brisket and pulled pork - delicious!
Rocky Valley, near Boscastle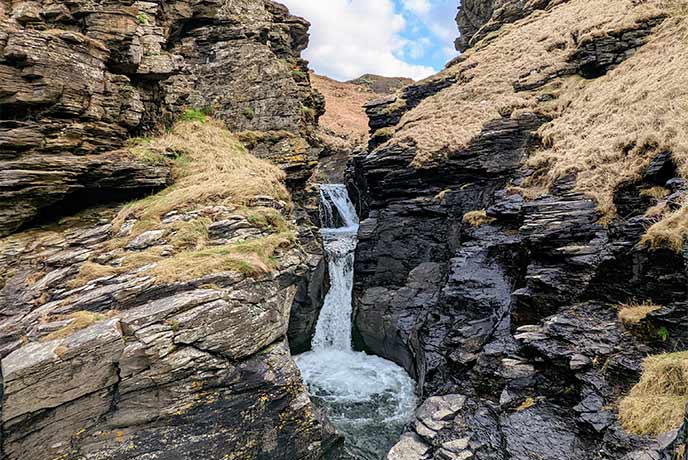 Owned by the National Trust, Rocky Valley is a hidden gem close to St Nectan's Glen with panoramic views and a 30-foot drop waterfall that's also part of the Trevillet River. To reach the falls, you'll have to climb steep and often slippery trails, so this is definitely one for the more adventurous but you're rewarded with spectacular views at the top all the way down to the ocean near Bossiney.
The route passes old ruined mills along the way, and just behind them you'll find carvings of maze patterns on the surrounding rockface, only discovered in 1948. Whether they were carved by Bronze Age folks or more recently is up for debate as no one really knows. This is a hugely interesting walk for history lovers, while nature enthusiasts will be surrounded by unique plants and mosses, as well as plentiful birdlife, otters and insects. The upper reaches of the valley are particularly beautiful as the river has cut a deep gorge through the slate, forming idyllic little pools, before speeding up further down towards the sea. After your walk, head to nearby Boscastle Farm Shop and pick up supplies for a gorgeous picnic lunch overlooking the sea.
Eden Project Waterfall, Par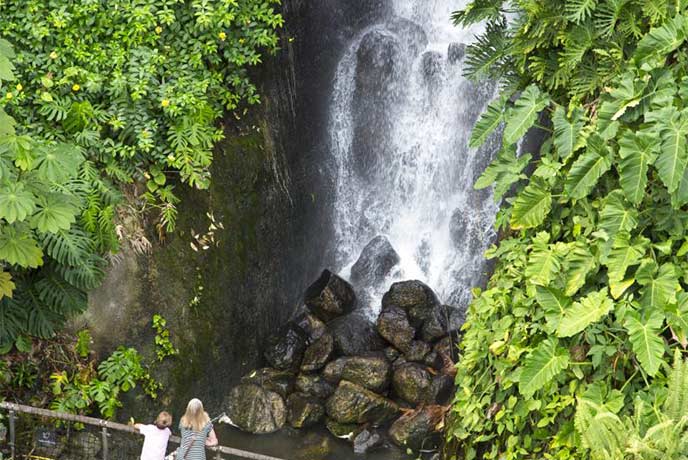 This one might be man made, but it's still one of our favourite waterfalls in Cornwall! The Eden Project is one of Cornwall's must-visit spots, whether it's your first, fifth or fifteenth time going! Head into the rainforest biome and you'll find this impressive waterfall at the top, cascading through the incredible foliage to the floor below. With steam and spray aplenty, it certainly puts the 'rain' into rainforest! Little ones love crossing the rope bridge (hello, Indiana Jones), while the Malaysian wooden house, roaming roul-roul partridges and native rainforest trees and plants are simply incredible.
Lansallos Waterfall, Lantic Bay
Situated about a half a mile from the village of Lansallos, this waterfall actually lies on a beach by Polperro near Lantic Bay. Also known as Reed Water, it's a small, unassuming waterfall but it was once used to power a nearby water mill. There's a rather grim local legend that a half-drowned man once sought help at the mill but was turned away by the miller's wife. Unfortunately, he then died on the doorstep due to neglect, and he later returned as a ghost and drove the miller and his hard-hearted wife away. There might not be any ghosts today, but it's a beautiful beach and well worth a visit. Afterwards, head to the picturesque, South Cornwall village of Polperro before heading to the historic Three Pilchards, a fantastic pub, for a spot of lunch.
Pentargon Waterfall, near Boscastle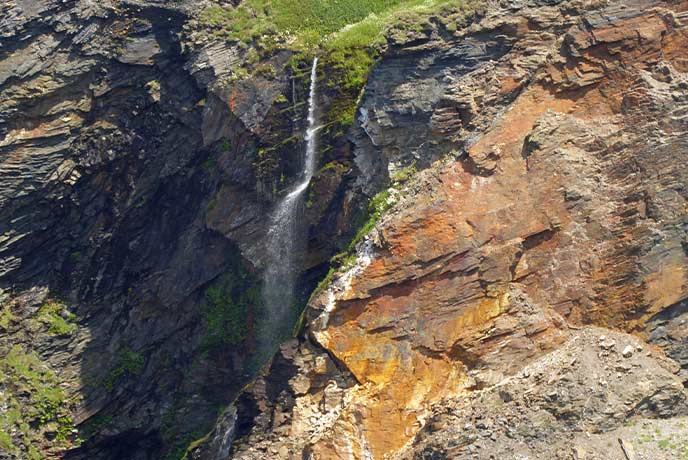 Cornwall's highest waterfall can be accessed by following the South West Coastal Path north out of the village of Boscastle for about 1.7 miles. Situated in a hanging valley, Pentargon Waterfall drops over 100 feet by Beeny Cliffs into the sea below and offers stunning, rugged views of the north Cornish coast. The term 'hanging valley' means the river has failed to cut through the hardstone and instead plunges over the cliff, while the waves of the sea below have eroded the cliffs, creating a shelf.
It's truly spectacular after heavy rain and if it's windy (which is often!), the water can fly around as spray – so pack your waterproofs! While the falls are easy to find, the way can be difficult with steep sections and rocky outcrops, so sturdy shoes are a must. The best view of the falls is at some distance as you won't see it in all its glory close up. There isn't a fence around the falls and you can get very close to them, so extreme caution is advised, especially with children and dogs. Afterwards, head back into the village and take a peek into the fascinating Museum of Witchcraft & Magic.
Luxulyan Valley Waterfall, near St Blazey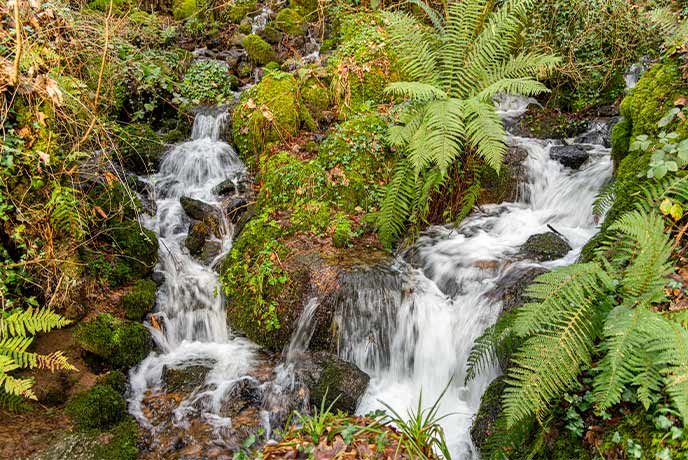 The Luxulyan Valley follows the River Par that runs from St Blazey to Luxulyan, a 2-mile stretch of beautiful woodland that's been a significant spot for Cornwall's mining past as well as reputedly a route taken by early Celtic Christian saints. The valley at times was mined for china clay, copper ore, lime, coal and even wood as a source of charcoal. Water was a massive power source in the 19th century and many water wheels were built here, such as those found at the Carmears Wheel Pit, home to a ginormous wheel used to haul trucks up steep slopes out of the valley.
In addition, there's an impressive ten-arch viaduct (which you can walk across). The waterfall itself has a beautiful plunge pool and is reached via a 30-45 minute walk through the woodland and passing mining and quarrying remnants as you go. Afterwards, head to the nearby Hidden Valley Gardens, a gorgeous three-acre garden in a secluded valley, or the bright sandy beaches at Carlyon Bay.
Tregardock Beach, near Tintagel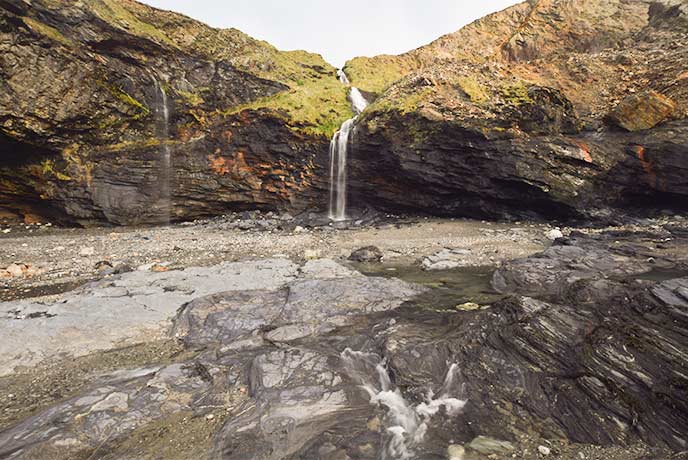 Situated on one of the most popular stretches of coastline between Tintagel and Port Isaac, you'd be forgiven for thinking that this beach should be a lot busier than it is. The reason it isn't? It's a bit of a ramble to get to – at the end of a 1-mile long path from the nearby village of Delabole that winds prettily through fields, you'll need to clamber down over rocks to get to the beach that's only visible at low tide.
The stunning waterfall itself can be found tumbling down the cliffs towards the northern end of the beach, hiding an entrance to a shallow cave, lending the site an eerie yet beautiful feel. If you've plenty of time, there are lots of rockpools to explore on the huge sandy beach. Make sure to keep an eye on the tide – the whole beach disappears at high tide so give yourself enough time to clamber back up the rocks. If you're after a bite to eat afterwards, head to the nearby Port William at Trebarwith Strand with its beautiful views or head to Port Isaac to explore its harbour and quaint cottage-lined streets.
Speke's Mill Mouth Waterfall and Culm Coast, near Bude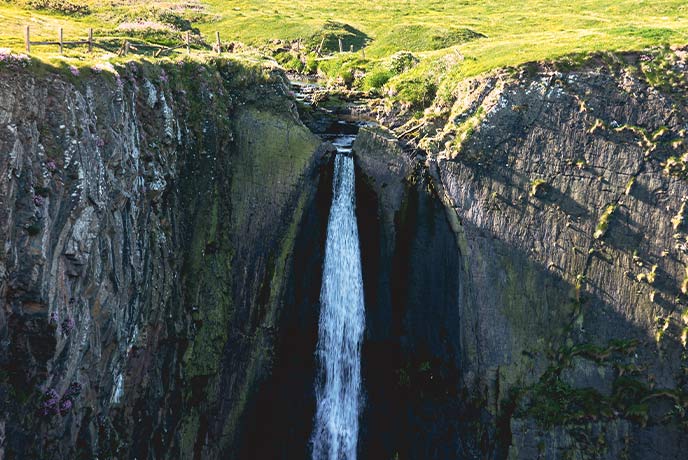 Reputedly the hardest section of the South West Coast Path, Culm Coast may actually be in North Devon but it's only 20 minutes from Bude and well worth a visit. Famed for its dramatic cliffs (loved by rock climbers) and shipwrecks, it's also home to a dramatic waterfall. Fed by the Speke's Mill Water (hence the name), it plunges over the cliff edge onto the beach below.
Surrounded by ferns and wildflowers, it's an exceptionally pretty spot that's worth the somewhat challenging route, although it'll only take about 15 minutes to get there. While at Culm coast, take a peek at St Catherine's Tor where it is thought a Roman chapel once stood (with its own smaller waterfall below it) and the Iron Age fort on Embury Beacon. Stop off at Hawker's Hut at Morwenstow, the refuge of the 19th century poet Robert Hawker who wrote the much-loved Cornish anthem 'Trelawney'.
Tintagel Haven Waterfall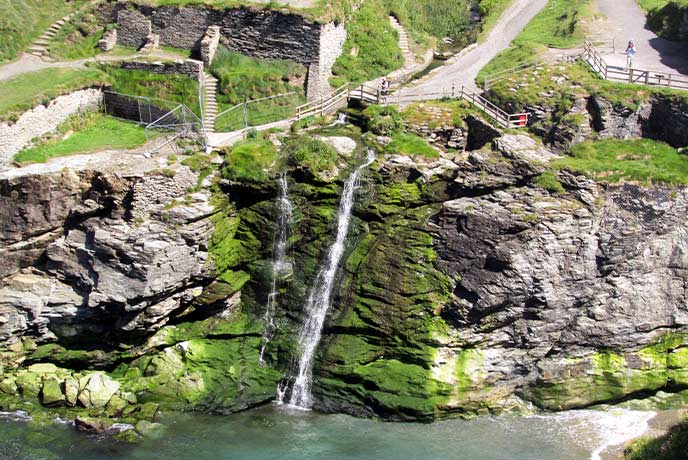 Yes, the historical site of Tintagel also has its own waterfall! After you've crossed the bridge and explored the island, make your way down to the beach at Tintagel Haven, not far from Merlin's Cave, and you'll find water cascading off of the cliffs. Being Tintagel and one of Cornwall's must-visit spots, it's one of the busier waterfalls but if you're visiting anyway, do take a peek. Squint your eyes and you might even spot Merlin himself amongst the rocks! There are some great pubs nearby, perfect for a dramatic walk followed by a pub-stop.
Feeling inspired? Take a look at our beautiful cottages in Cornwall and start planning your waterfall-themed getaway today…