These Cornwall gardens are beautiful at all times of the year but they're extra special in spring when the Cornish magnolia blooms and heralds the reawakening of Cornwall's gardens.
You'll find plenty to do in the Great Outdoors in Cornwall. From golden sandy beaches to acres of woodland to explore, you'll find what you're looking for here. Part of Cornwall's greenery is the hundreds of public and private gardens that are carefully tended to all year round. The National Trust gardens and estates are fantastic days out for families with children – they always have fun activities during school holidays and welcome those inquisitive questions from little ones. Some extra special gardens only open for a few months of the year so you have to plan your trip and book tickets around their exclusive open weekends. We love Enys gardens and Caerhays for their carefully curated plant collections. For a quiet afternoon with that one special person, explore Bonython on the Lizard Peninsula and hideaway in a secret spot off the beaten track.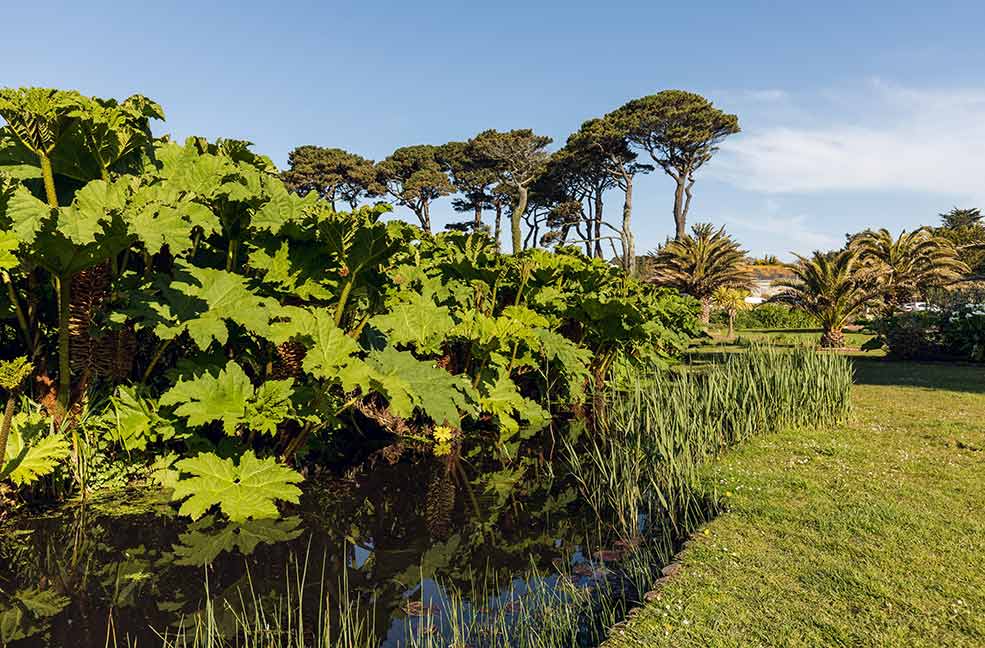 Search our Cornwall cottages and get started on planning your next holiday.
Whether you're coming with kids or grown ups, there's a garden to suit everyone in Cornwall. Your spring adventure starts here.
Just inland on the south coast is this hidden green gem. The Lost Gardens were once grand and glorious but fell into rack and ruin. They're now being slowly rediscovered. Each section has been lovingly restored. Heligan has an amazing array of events throughout the year so it's worth taking a look at their website if you're looking for something special to do while on holiday.
The biomes of the Eden Project have become synonymous with a Cornwall holiday. If you haven't been here before, the biomes are essentially special greenhouses placed into a disused quarry. In one, you'll find a rainforest and in the other is a lush Mediterranean garden. Surrounding the biomes are more gardens including a sensory experience where you can get closer to nature by walking barefoot in sand and mud and smelling the leaves around you. Increase your adrenaline with a journey over the top of Eden on the zip wire or doing one of the other adrenaline rush activities.
Just outside Newquay, the Japanese Garden takes inspiration from traditional gardens in Japan. It has been artistically refined alongside the nuances of nature in the garden to create a space for meditation and reflection. There is a Bonsai nursery to pick out and take home a little souvenir of your visit to the Japanese garden and Cornwall.
Open from February until June, you'll have to be quick to catch a glimpse of the beautifully curated gardens at Caerhays. Built by the former owner's passion for exotic plants, there are lots of incredible varieties of plant here and plenty of pathways to lose yourself on a day exploring in the sunshine. Take a tour around the house or head to the beach after your walk for a quick swim and a cup of tea at the beachside cafe.
The incredible grounds, gardens and house at Lanhydrock make for the ultimate family day out. On rainy days, head into the stately home to learn about the architecture of the building and the day to day lives of the people who lived here. When the sun shines, step outside to find miles of parkland to walk, run and even cycle. There's a cycle hire on site so you won't even have to worry about bringing your own.
One of Cornwall's Great Gardens, Tregrehan is a family run estate near St Austell. The botanical oasis is sheltered by the surrounding hills and huge trees. Tregrehan is open from March until August and outside of those months by appointment. With a small shop and nursery on site, you can take home a botanical reminder of your holiday.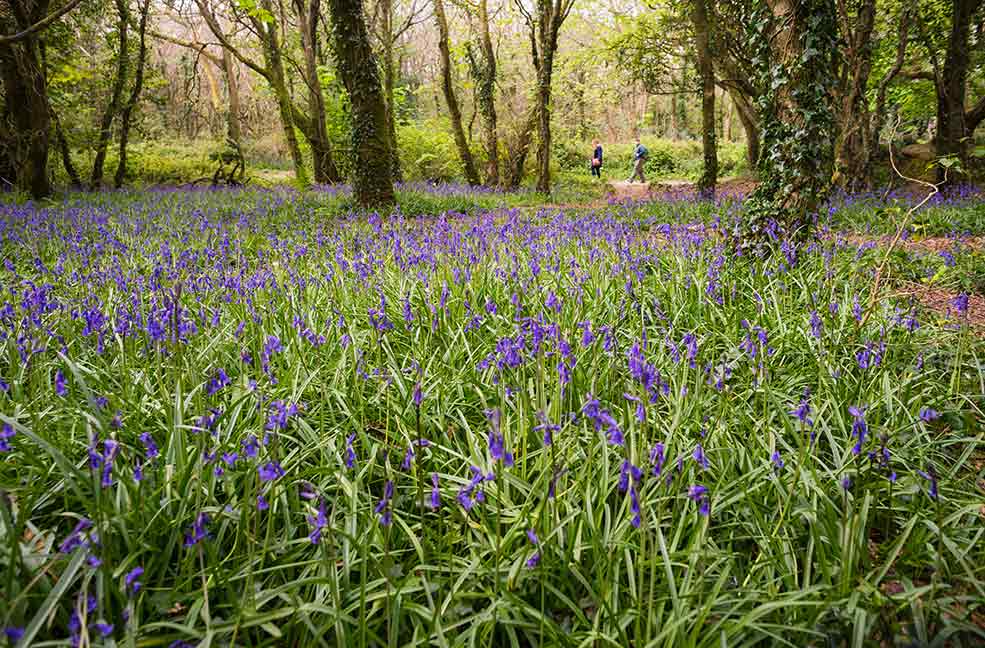 Visit the heart of the Carrick Roads between Falmouth and Truro. The Trelissick estate has beautiful kept gardens to explore throughout the year. Watch the garden transform through the seasons each time you return to Cornwall. For a longer walk, take the route on the edge of the estate that goes along the river, across the road by the King Harry ferry and over into the rest of the estate. There is a stately home at the heart of Trelissick which is open at certain times of the year and offers beautiful views across the fields and the river as well as a little bit of Cornish history.
A peaceful patch on the Helford river. Wander through the garden, explore the old schoolhouse, jump on the giant swing and then round it off with a swim at Durgan beach. Spend an hour or a whole day here, it really is the kind of place where time seems to stand still.
Enys Gardens have a limited opening season: they open the doors on Easter Sunday this year. The house on the Enys estate is only open for a few weekends each year to host some special events, check their website for more details. There are 30 acres of land surrounding the house including a wildflower meadow at the heart of the garden known as Parc Lye. In spring, this is full of bluebells, a truly magical sight and one worth making a special trip to Enys for.
Just outside of Falmouth, Trebah is a sub-tropical paradise with the stunning Helford River as a backdrop. Open every day of the year from 10am, you'll always find something to see or do in the gardens. They also make a mean breakfast and have a delicious lunch menu.
You'll find Bonython on the Lizard peninsula. It stretches from the Helford River to Poldhu Cove. This huge expanse of land has various sections that have been grown and cultivated. Find a woodland walk, walled garden and a few lakes. Each lake is surrounded by certain influences; a South African summer garden, a tranquil lakeside fairy tale and a ghostly quarry lake inspire the planting of the estate. This vast garden offers you the perfect places to hide away and enjoy a romantic moment with your other half.
Home to Britain's first homegrown tea, Tregothnan is a beautiful estate to visit for a walking tour or one of their special experiences. For tea lovers, they have a huge choice of flavours to take home for friends and family or just for yourself. There's very limited opening times so keep your eyes on their website to make sure you get a ticket for this private garden.
Get closer to nature while discovering a new form of art to consume. Sculpture can speak to people in different ways, drawing all sorts of ideas out. Tremenheere opens up this art form to the public in a beautifully presented outdoor gallery, ready for you to explore. Not just for art fanatics, anyone can appreciate a beautiful garden and how the sculptures perfectly complement the space.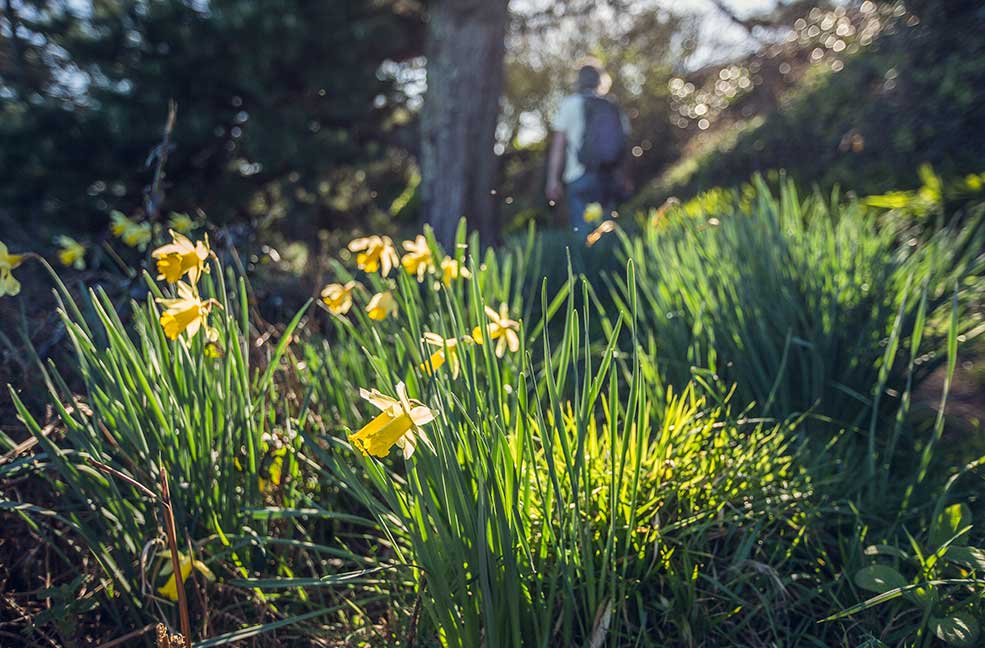 Surrounding a stately home where a family still live, Trengwainton has lots of paths leading to various parts of the garden. There's a walled vegetable patch with a second hand bookstore, a woodland walk with a pond and a spectacular panoramic view across to the sea. Throughout school holidays the National Trust run a fantastic array of events for kids and families so you'll have somewhere to take your energetic little ones.
One of Britain's most important 20th century artists, Barbara Hepworth's sculptures take inspiration from nature. How fitting, then, that her work is now exhibited in the garden of what was her home and studio. This is an interesting insight into both her life and work and a lovely garden to take a look around.
Trewithen lies between Truro and St Austell. The 30 acres of parkland are open from March until June and feature tons of beautiful Camellias winning them the title of International Camellia Garden of Excellence. This along with the horticulture of the estate makes for a lovely day outside in the fresh Cornish air.
This garden is a subtropical, Italianate garden looking out to sea on the Roseland peninsula. Lamorran offers more foliage than flowers, something a little bit different to the usual gardens of Cornwall. An eclectic collection of plants from all over the world grow here as the garden remains frost free all year round.
For a more unique experience, use the Open Gardens initiative to find a rare opening of one of the many private gardens in Cornwall. Explore somewhere totally new.