Spanning 88 miles (142 kilometres), Dorset's coastline may be smaller than its neighbours to the west, but it is some of the most spectacular to be found throughout the UK.
Dominated by the Jurassic Coast, a designated UNESCO World Heritage Site, Dorset's fossil-filled cliffs and beaches are home to majestic geographical landmarks that'll take your breath away. Intermingled with pretty seaside towns, coastal gardens, iconic lighthouses, quaint harbours, bustling ports, wide stretches of golden sand and pebble beaches and hill-topped cliffs, it's no wonder Dorset's coast resides in the hearts of many!
With so much to see and do in Dorset, it might seem a little overwhelming, so to make the most of your stay we've put together a complete guide to the coast, from famous landmarks and the best water sports to seaside towns and excellent eateries. Enjoy!
Find out more
Best beaches in Dorset
With the Jurassic Coast and an incredible display of geological grandeur, Dorset's coastline boasts some rather spectacular beaches. From sandy stretches to pebbled coves, these beaches in Dorset are the perfect place to soak up some sun.
Durdle Door, West Lulworth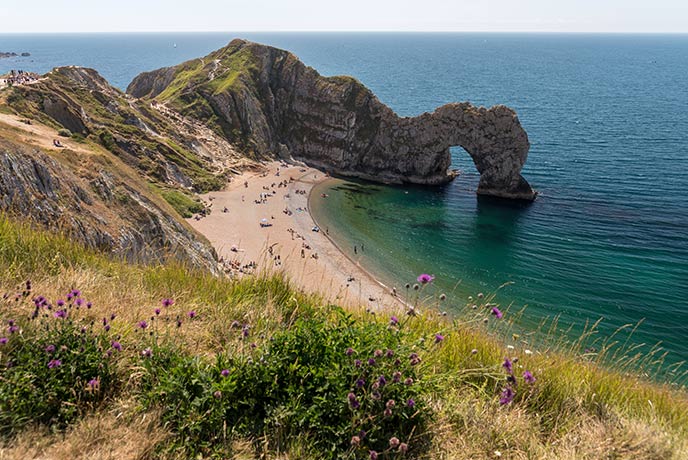 This iconic cove is instantly recognisable with its incredible 200 ft-tall limestone archway, created about 10,000 years ago when the sea tunnelled its way through the stone. One of the most photographed landmarks in Dorset, Durdle Door is situated on the Lulworth Estate and forms part of the Jurassic Coast.
Deemed of vital geographic importance, it became England's first natural World Heritage Site by UNESCO in 2001. With its sand and shingle beach that's dog friendly all year, it's perfect for doggy days out, and while the crystal clear waters are very tempting, caution is needed when swimming as there are no coastguards on this beach.
Lulworth Cove, nr West Lulworth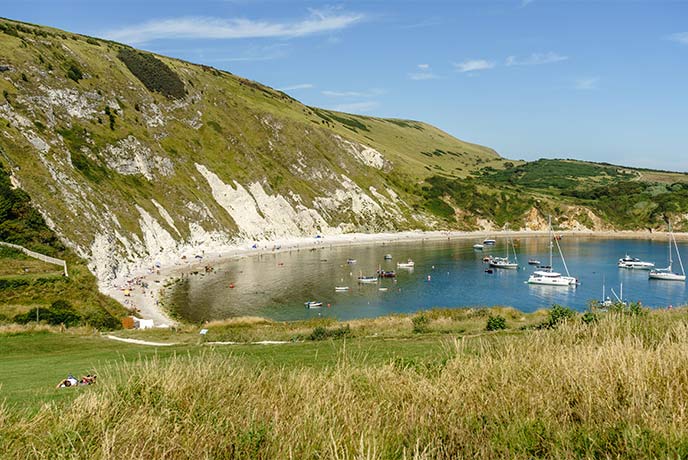 Next to Durdle Door lies the picture-perfect pebble beach of Lulworth Cove, one of the best beaches to be found in Dorset. Created during the last Ice Age with stunningly beautiful clear blue waters and wonderful rock pools perfect for exploring, it's a favourite for families, with a large car park and toilets in the Visitor Centre handily close by.
Lulworth Cove is a short walk to both Durdle Door and the fascinating Stair Hole, said to have inspired Enid Blyton's book 'The Rubadub Mystery'. The South West Coast Path passes each of these incredible landmarks, making it a memorable walk - keep an eye out too for blow holes, caves, coves and arches which make this part of the Dorset coastline so spectacular.
Sandbanks Beach, Poole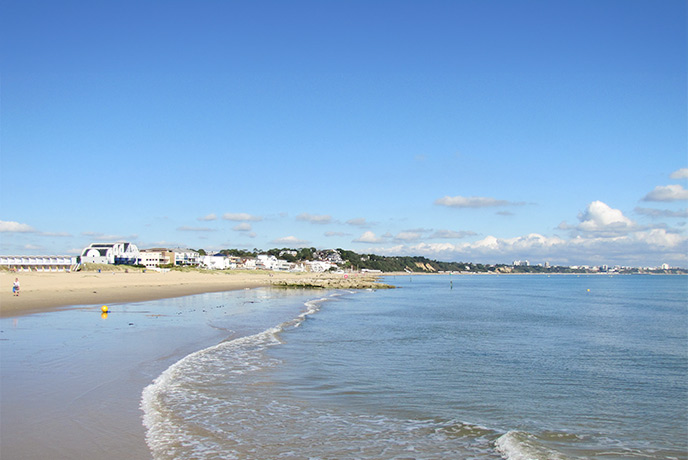 Having won the Blue Flag award for over 30 years, it's not surprising that Sandbanks Beach is considered one of the UK's best beaches. With soft golden sands, clear waters and gorgeous views towards Studland and Old Harry Rocks, it's a great destination for a family beach day.
A small peninsular at the mouth of Poole Harbour, there are lots of facilities here, from crazy golf to children's play areas to volleyball and watersports. You can hire deckchairs here, and if you're lucky, there are beach huts that you can hire too. There's a designated dog friendly area at the western end of Sandbanks, while the main beach has seasonal restrictions.
Chesil Beach, nr Weymouth
Stretching over 18 miles, Chesil Beach is a single barrier beach from West Bay to Portland. A bucket-and-spade beach this isn't, instead it's a wild and woolly expanse open to the full force of mother nature that's also dog friendly. With the sea to the front and the Fleet Lagoon, a saline lake, behind it, its pebbles are graded from potato to pea size from one end to the other, and it was thought smugglers could determine where they had landed on Chesil Beach just by looking at a handful of shingle.
It's a great spot for fishing, particularly mackerel, specifically on an offshore sandbank that's a mecca for fishermen in the summer months. The Fleet Lagoon is a SSSI (Site of Scientific Special Interest) and home to the mute swan colony at Abbotsbury, the only place in the world where you can walk close to a nesting colony. It also gained fame for being one of the spots where the bouncing bomb (as seen in the film The Dam Busters) was tested in World War II. Please note that swimming here is not recommended as the strong under-tow is dangerous, and it's best to keep a distance from the shoreline due to its unpredictable and large waves.
Studland and the Isle of Purbeck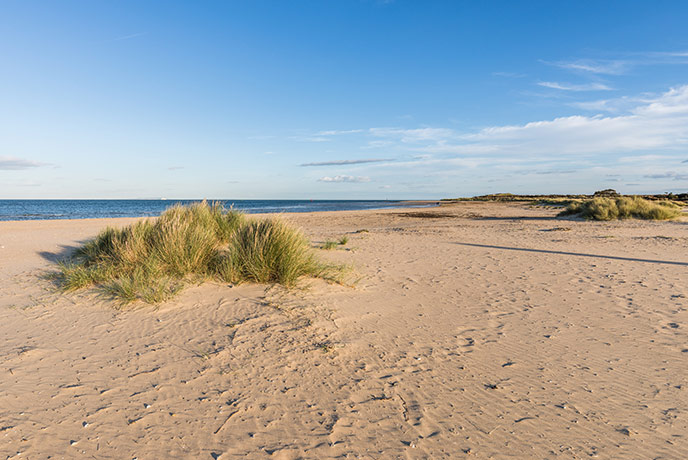 Famous for its long sandy beaches (all managed by the National Trust) Studland is a pretty village nestled on a peninsula on the Isle of Purbeck. Covering four miles, the beaches are fantastic for swimming due to the gentle shelving water, while the dunes and low cliffs offer shelter, as well as being home to various designated trails where you'll spot deer, insects, reptiles and birdlife as well as a host of flowers. Watersports are a firm favourite here, and it's also home to the most popular naturist beach in Britain!
Marine wildlife in Dorset
With such a spectacular coast, it's of little surprise that so many animals call Dorset home. From dolphins and seals to a flurry of seabirds, bringing your binoculars will be well worth it.
Red squirrels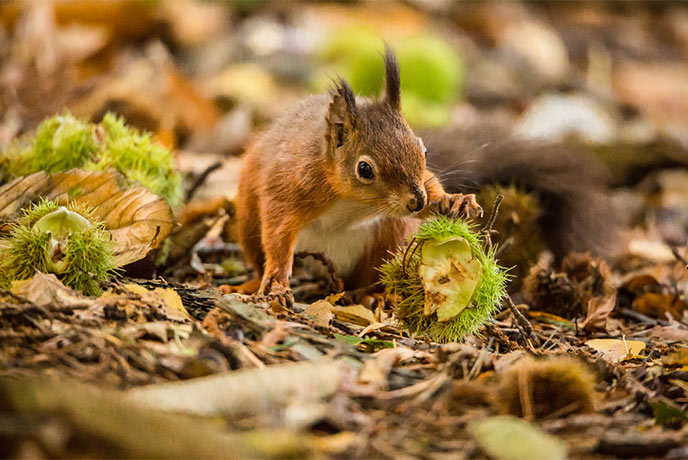 We know, you were probably thinking of seals or dolphins for a guide to the Dorset coast (don't worry, we'll get to them later), but red squirrels are surprisingly a massive part of Dorset's coastal wildlife programmes - and that's all thanks to the wonderful Brownsea Island.
Tucked away in Poole Harbour's mini archipelago of little islands that scatter across the bay, Brownsea Island is a wonderfully unique and unspoilt nature reserve that's only accessible by ferry from Poole Quay or Sandbanks. With spectacular views across the Purbeck Hills, it's famous for its red squirrel population that thrive in this protected spot. You can explore the island by yourself or take advantage of the daily guided tours, with buggy tours are available for those with limited mobility (it's best to book these in advance), alternatively there are a number of free trails. There's a visitor centre to delve into the history of the island, a harbourside café, natural play area (an agility course inspired by red squirrels), picnic spots and a gift shop.
Marine mammals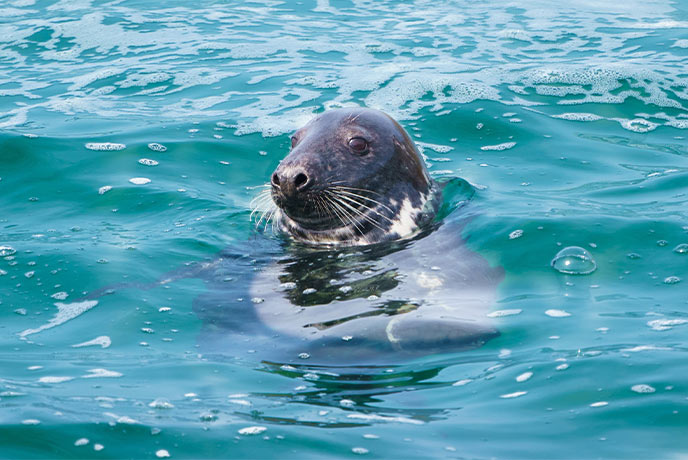 The turquoise waters off Dorset's magical coast are home to a myriad of marine mammals. Grey seals and common seals will be your most likely sighting, with the seas of Purbeck and Poole Harbour your best chance of spotting these round-eyed individuals. You can report any seal sightings to Dorset Wildlife Trust, which helps them further their understanding of these beautiful creatures.
Bottlenose and common dolphins, and harbour porpoises, are also frequent visitors to Dorset's coast, with minke whales making an extra special appearance on occasion. While you can never guarantee a sighting of these shy divers, hopping on a wildlife cruise can seriously increase your chances, especially in early autumn and spring.
Sea birds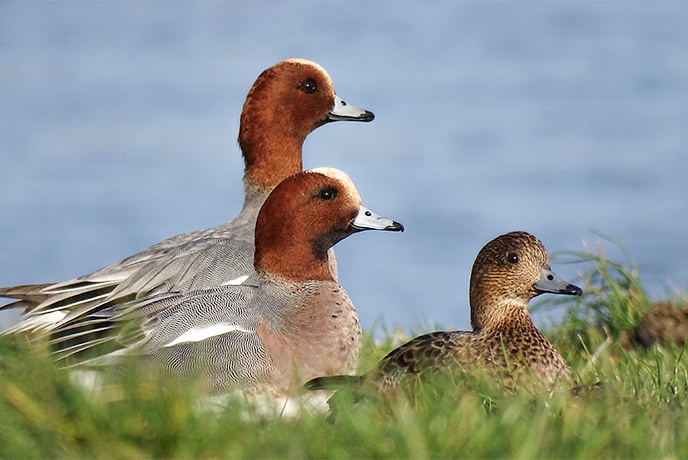 Dorset is a popular spot for twitchers, as the rugged cliffs make for an excellent home to the area's seabirds. As well as being a red squirrel hangout, Brownsea Island is also rather popular with migratory birds that live here during the winter and summer months, such as dunlin, sandwich terns and oystercatchers. You can spot these feathered friends in the island's heathland, woodland and a peaceful lagoon, all vitally important habitats for the local wildlife.
A fantastic spot for birdwatchers, Christchurch Harbour was naturally-formed about 7,000 years ago, and consists of a variety of mud flats, salt marshes and the estuaries of the River Stour and River Avon. A SSSI (Site of Special Scientific Interest), the salt marsh is protected by a sandbar called Mudeford Spit that has a beach hut-lined walkway along it and a fine sandy beach either side, while the harbour itself is sheltered by a natural headland that's also a special site for sand martins that nest in the sandy cliffs. Generally shallow, the harbour is a protected refuge for wildlife, though there is a public right of navigation on the tidal waters.
Top things to do on the Dorset coast
Whether you're an avid walker, sun worshipper, or wildlife enthusiast, Dorset's coast enjoys a myriad of memorable things to do during your stay.
Fossil hunting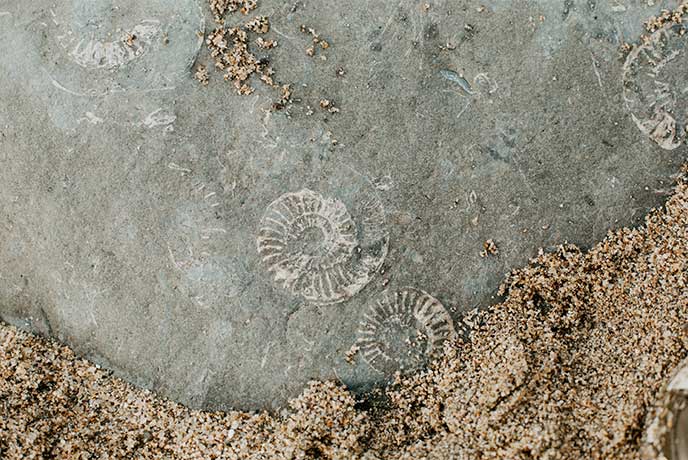 With most of its coastline belonging to the Jurassic Coast, it's of little surprise that Dorset is known for its fossil hunting opportunities. Take inspiration from real-life heroine Mary Anning, considered to be one of the leading figures in the study of the Jurassic Coast's fossils (at just 12 years old, she discovered an ichthyosaur), fuelling crowds of people to descend on Lyme Regis where they can fossil hunt for themselves. Today, you can still find fossils along the coast, especially between Lyme Regis and Charmouth, so why not spend an afternoon exploring for yourself?
There's a fantastic Heritage Centre on the seafront at Charmouth, where you'll discover amazing fossil collections, including an ichthyosaur, and you can also join a guided walk where budding fossil hunters can learn all the tricks of the trade for finding fossils for themselves.
South West Coast Path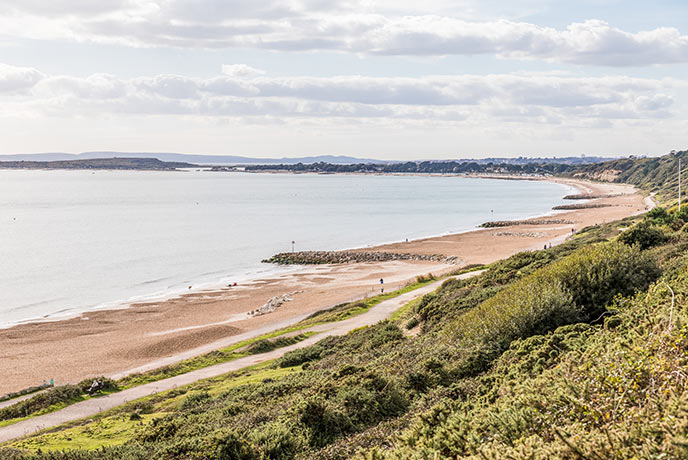 Shell Bay in Studland is the official start of the 630 mile-long South West Path, which runs all the way along the coast through Devon and Cornwall before finishing in Minehead in Somerset. Join the path anywhere along the Dorset coast and you're guaranteed amazing views, whether you're looking for a gentle stroll or a full-day hike. So lace up your boots and breathe in the salty sea air, and plan an itinerary of pub or picnic pitstops along the way.
Boat trips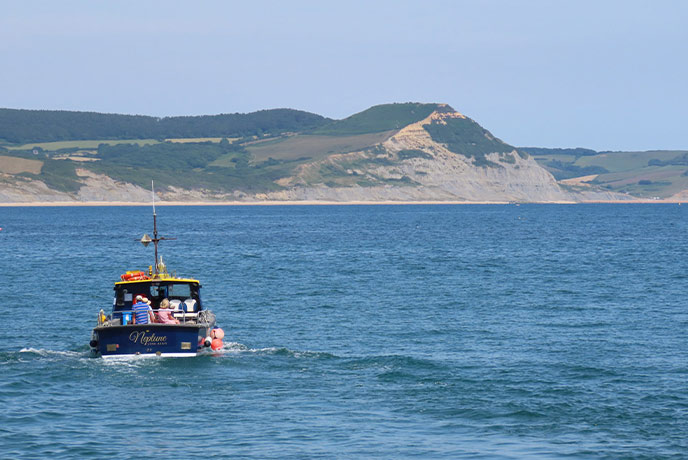 For a unique experience, head out to sea for memorable coast views. Fortunately, Dorset has plenty of boat companies to choose from, with particular favourites including Lyme Bay Boat Trips who offer sightseeing tours from Lyme Regis along the Jurassic coast as well as mackerel fishing, and City Cruises Poole for a 90-minute tour around Poole Harbour, Brownsea Island, Sandbanks and Studland Bay. Moonfleet offers fantastic tours upon their classic Tall Ship, departing daily from Portland Marina, where you can try your hand at tall ship sailing.
Diving and snorkelling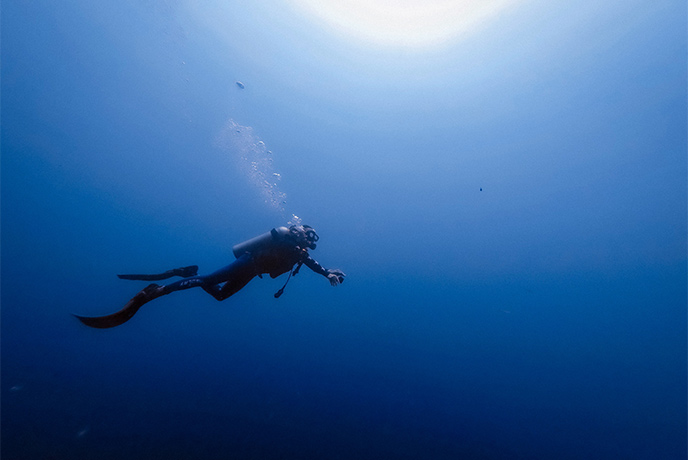 If you love to be in the water, whether that's exploring the depths amongst ship wrecks or skimming the surface in search of marine life, diving and snorkelling along the Dorset coast is an exhilarating day out. Head to the Old Harbour Dive Centre who dive in the shelter of Portland Harbour, while Dive Beyond operates out of Castletown, near Portland.
Coasteering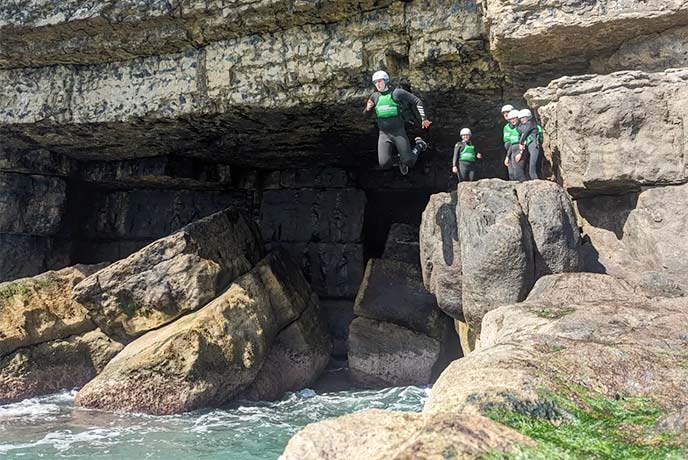 For the adventurers out there, coasteering offers a brilliant opportunity to jump, climb, swim and scramble along the Dorset coastline. Companies such as Land And Wave and Jurassic Watersports offer the chance to explore caves, leap from rocks and generally play in the sea along the Jurassic Coast.
Rock pooling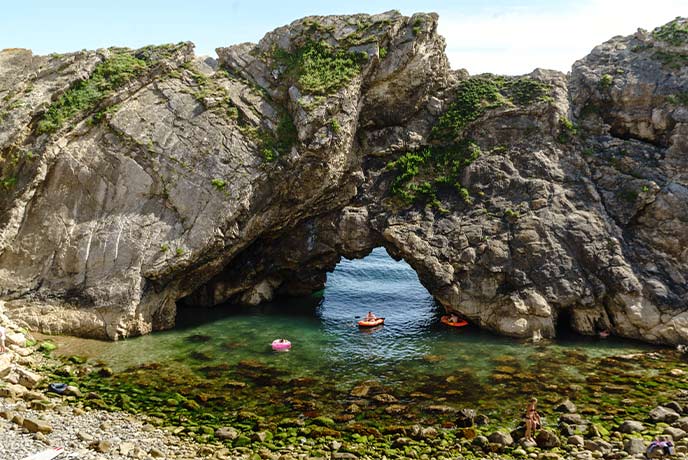 If you or your little ones are budding marine biologists, grab your guidebook and head to the beach for a spot of rock pooling. Kimmerage Bay, Lulworth Cove, Monmouth Beach in Lyme Regis, Charmouth Beach and Sandsfoot Castle are well-known for their fantastic rock pools. Nothing is as exciting as finding a crab, spotting a fish or peering under rocks for little ones, making it a great family activity. Just remember to leave everything as you found it and pop critters back in their homes.
Picnics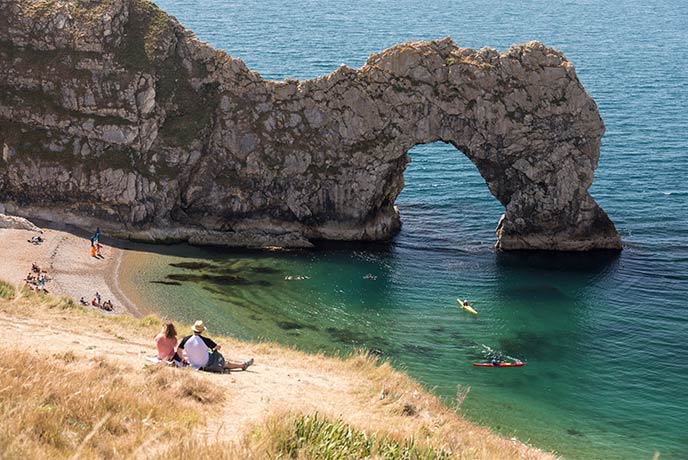 Nothing screams holidays more than a picnic, whether that's on a sandy beach, a cliff top field or along the coastal path. Pack your picnic basket with a selection of local goodies, from cheeses and charcuterie to crisp lettuce and homemade hummus, and something sweet for after. (And let's not forget Dorset knobs, a regional favourite!)
Places to visit
With the likes of fossil hunting and village hopping at your fingertips, Dorset promises a rather special array of places to visit. Discover incredible natural landmarks and explore cobbled streets as you soak up everything this idyllic county has to offer.
Golden Cap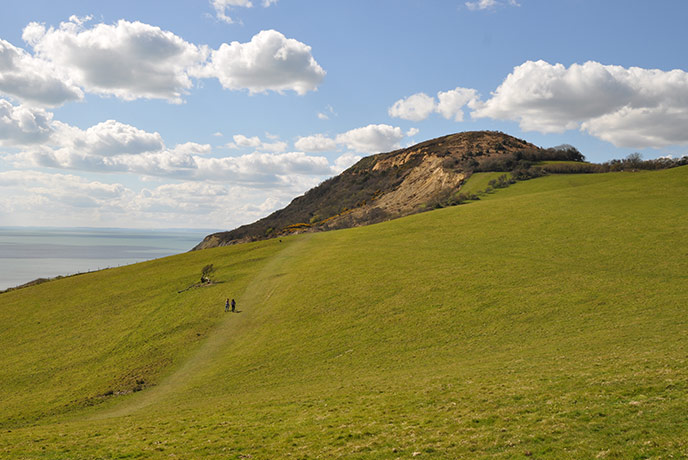 The highest point on the south coast, the Golden Cap is a lofty addition to any Dorset coast itinerary. Towering over the ocean at an impressive 191 metres, this cliff-top destination is a firm favourite amongst walkers, and promises reaching views along the coast. There are many walking options to choose from, including circular romps from Seatown, but our favourite has to be the Golden Cap short walk, which boasts all of the views with considerably fewer steps. Pack a picnic and enjoy one of the best views in Dorset.
Lyme Regis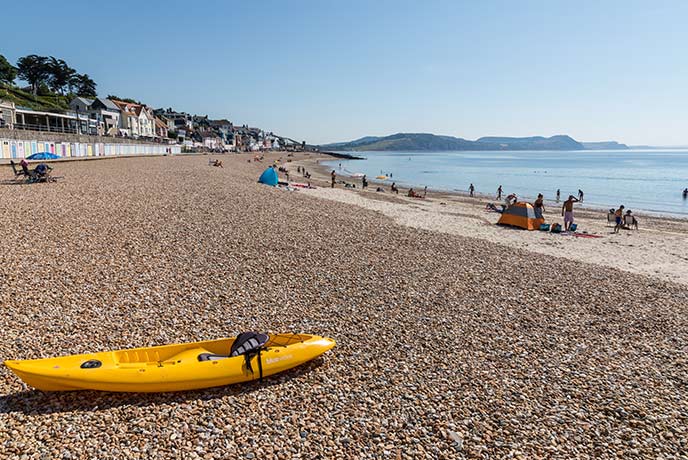 Known as the 'Pearl of Dorset' Lyme Regis lies on the coast in west Dorset and boasts gloriously sandy beaches, backed by colourful beach huts, making it a great place for a lazy beach day. This pretty town has so much more to offer, too. Take a walk down to The Cobb, the harbour of the town with its iconic curve, and you'll get some of the finest views along the coast, or stroll through the pretty streets and peek into the excellent range of small, independent shops before indulging in a tasty dish from a local eatery.
Kids will love the Lyme Regis Marine Aquarium with hands-on feeding, or you can walk along the cliffs to Charmouth. Inspiring the likes of Jane Austen (whose book Persuasion was set here) and John Fowles (whose book The French Lieutenant's Woman was made into a film, starring Meryl Streep), a visit to this gorgeous town is a must – take a look at our webcam for a taster.
Isle of Portland and Portland Bill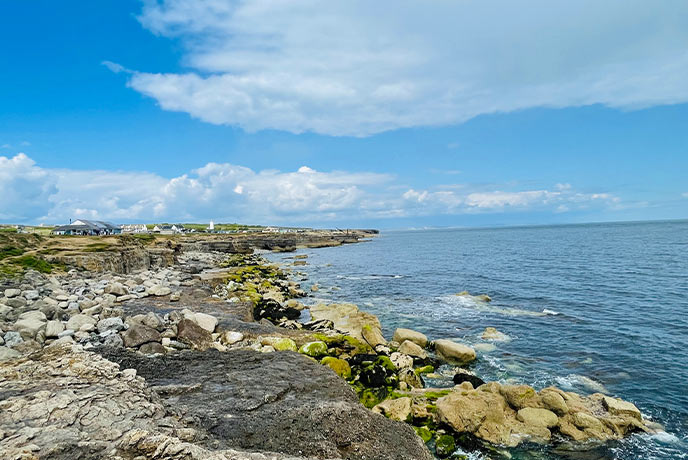 Jutting out from Weymouth, the Isle of Portland is the southernmost point of the Jurassic Coast and is joined to the mainland by Chesil Beach. Four miles long and a mile and a half wide, it's a natural paradise for wildlife as well as a great location for outdoor activities such as rock-climbing, abseiling, diving and sailing. If you're after some exploration on foot, there's a fantastic 9.5 mile walk following the South West Coast Path along the dramatic cliff tops around the island, while Portland Castle, one of Henry VII's coastal forts, is well worth a visit.
The distinctive red and white striped lighthouse of Portland Bill, in operation since 1903, has to be one of the most recognisable lighthouses in Britain, and climbing Bill's 153 steps to its top (a climb of 41 metres) will give you truly epic views of the Dorset coastline and out to sea over the glistening rocks and crashing waves. Down at land level it has an excellent visitor centre where you can learn all about the Isle of Portland. Please note there is a minimum height requirement of 1.1 metres to climb the lighthouse.
Charmouth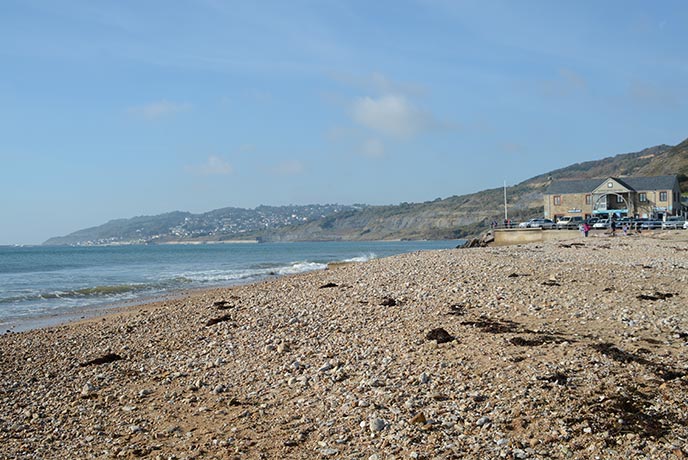 Once a holiday haunt for the likes of Jane Austen and Catherine of Aragon, and a bolt hole for Charles II as he tried to escape England, Charmouth lies in the heart of the UNESCO World Heritage Jurassic Coast. With a beach world-renowned for its fossils, the area draws enthusiasts from far and wide to hunt the shoreline where you can literally pick them up as you walk along the beach.
The village of Charmouth itself is ever so pretty, with elegant Regency houses and cottages lining the streets, with plenty of places to eat - from an old country inn to fish and chips. The River Char runs through the village and is perfect for a riverside stroll towards the lovely village of Whitchurch Canonicorum.
Old Harry Rocks
Situated on Handfast Point at the southern end of Studland Bay lies this incredibly impressive landmark, known collectively as Old Harry Rocks. Old Harry himself is a single chalk stack that stands further out to sea, but he forms part of a collection of chalky formations. He was once accompanied by another stack known as Old Harry's Wife, but it tumbled into the sea back in 1896 due to erosion.
Accessed via the South West Coast Path, this natural phenomenon was created thousands of years ago when Old Harry and the Isle of Wight were linked. As with any landmark, there's lots of theories as to where the peculiar name came from, from a local pirate named Harry Paye or the devil himself. Either way, it's a stunning stretch of the South West Coast to explore from Studland to Handfast Point, with wide grassy areas to sit and relax, or enjoy a picnic.
West Bay and Bridport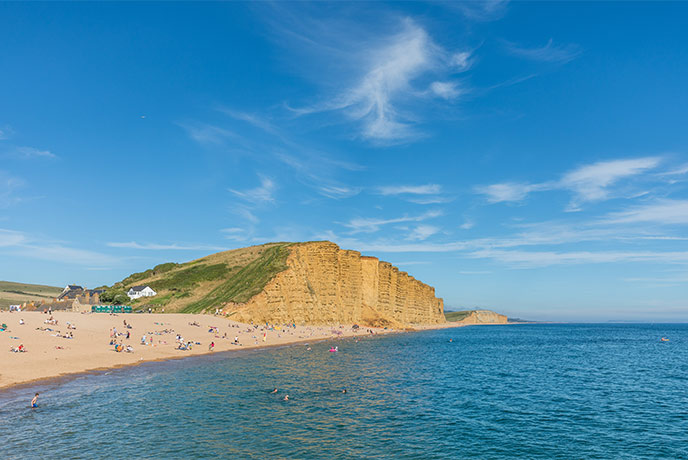 Originally known as Bridport Harbour, West Bay is a pretty harbour settlement just over a mile south of Bridport. A fishing village surrounded by extraordinary countryside, the views are simply spectacular from the cliff tops surrounding the village or from the end of the Jurassic Pier, where you can see all the way to south Devon and Portland.
Fans of the TV hit Broadchurch starring David Tennent and Olivier Colman might recognise the area, as it was filmed here, meaning West Bay enjoyed a surge in visitors in recent years. After you've explored, head to nearby Bridport, a bustling market town famed for its rope-making heritage, where you can take a tour of Palmer's, the only thatched English brewery, or take a stroll around its collection of independent shops. You're also close to the natural landmark of the Golden Cap, which offers a fantastic hillside walk with exceptional sea views.
Places to eat and drink
We've hand-picked the best places to eat and drink by the coast in Dorset to make sure you're in fine fettle for your days out.
The Pig - on the Beach, Studland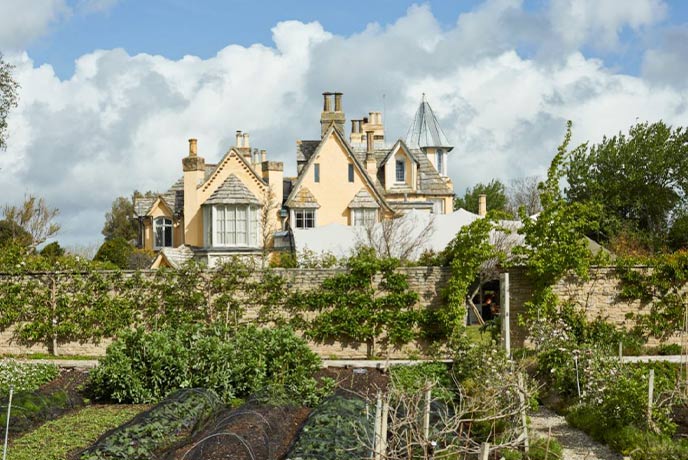 The Pig – on the Beach is just perfect for a special occasion meal, where everything is sourced locally and from their own walled kitchen garden where possible. Part of The Pig collection, here you'll eat in the conservatory restaurant with sea views and taste simple British garden and sea foraged food - each ingredient sourced from the doorstep or its 36 local producers each within a 25-mile radius. The menu is very much driven by what is available in their garden, so the menu changes with the micro seasons, creating new and exciting dishes every day.
The Station Kitchen, West Bay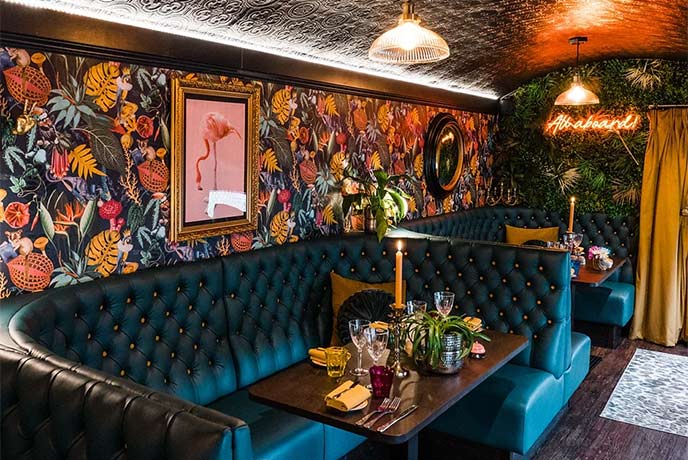 The quirky Station Kitchen is well worth a visit for its unique setting – you can either dine in the old railway station or on one of their train carriages, the oldest dating from 1911. With super-friendly staff and a pretty setting, the food is second to none with a focus on seafood (Lyme Bay lobster, anyone?), while there's a 'Little Locos' menu for children under 10 years old. Offering light lunches through to evening dinner, this is an excellent choice when in the West Bay area.
Oyster & Fish House, Lyme Regis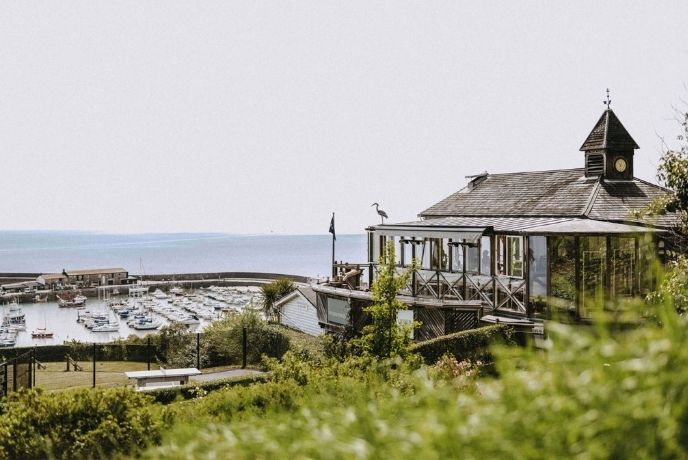 This award-winning restaurant has been a firm favourite in Lyme Regis for years, with beautiful views over the coastline. The light, bright dining room is wrapped by a large outdoor terrace, making it a wonderful place to visit whatever the weather. As the name suggests, the focus at Oyster and Fish House is on exceptional, seasonal fish and seafood caught off the south west coast, with an a la carte menu as well as a kid's menu. If you're after something super special, 'Mark's Kitchen Table' offers the opportunity to have lunch or dinner cooked by Mark in his own home.
The Guildhall Tavern, Poole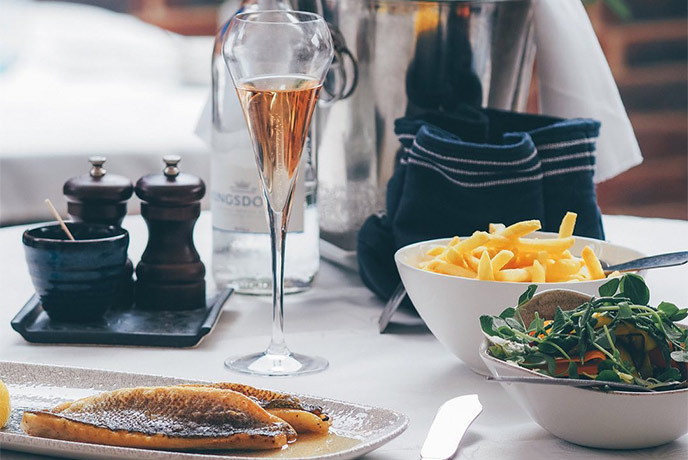 This stunning, award-winning seafood restaurant lies in the heart of Old Town in Poole. The Guildhall Tavern prides itself on its relaxed, elegant setting where you can enjoy dishes from the a la carte menu, the set menu or the inspiring tasting menu with an accompanying wine flight. From Rock oysters to fillet of Dorset beef, you're guaranteed a meal to remember – it's not surprising it's such a favourite with locals and visitors alike.
The Anchor Inn, Bridport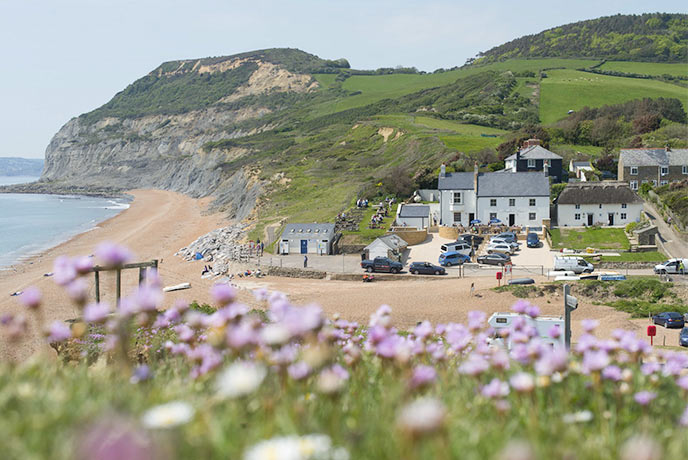 Just steps from the beach at Seatown, The Anchor Inn is a firm favourite for craft ales, beers and spirits as well as exceptional food. Running for over 160 years, this first-come, first-served eatery is quite small and doesn't take bookings, so get there early to sample their seafood specialities or for a tip-top glass of something sparkling from nearby Furleigh Estate. Head to the terrace in warmer weather for the views, while you enjoy a post-meal walk around The Golden Cap Estate which is just next door.
If you're keen to start your seaside adventures in Dorset, take a look at our beautiful collection of cottages in Dorset, with a fantastic selection situated by the coast.