The Down-Low on Rip Currents
Warmer weather is well and truly on its way and for many of us the thought of long, sun-filled days on the beach beckons. With most lifeguards returning to the beaches from May, most people can't wait to get back into the water after a winter spent hibernating.
Every year, our lifeguards provide us with an extraordinary service. They work incredibly hard to make sure our beaches are as safe as possible, and ensure everyone can continue to enjoy these beautiful havens safe from harm. However, this year, whether you're heading to a beach with lifeguard cover or otherwise, it's best to familiarise yourself with the dangers that come with swimming in the sea so that you can stay safe and happy.
Whereas some hazards are easier to keep an eye on, like tide times and making sure your sun cream stays topped up, there are other dangers which are less obvious. Rip currents, often falsely called rip tides, are some of the most frequent causes of lifeguard rescues, and yet unfortunately are something that many of us know little about.
To put it simply, when water flows towards shore, all that water has to find a way back out to sea again. This is when rip currents occur. The water that was on shore, then rushes back out through deeper channels between sand banks and can pose a real risk to unsuspecting bathers.
Main ways to spot a rip:
- Discoloured or dark water
- A change in surface conditions, like foam or fewer waves
- Debris, seaweed or sand in the water extending into and beyond the surf
An easy way to spot rips is to look for generally calmer water on either side of consistently breaking waves – this is the water running back out to sea.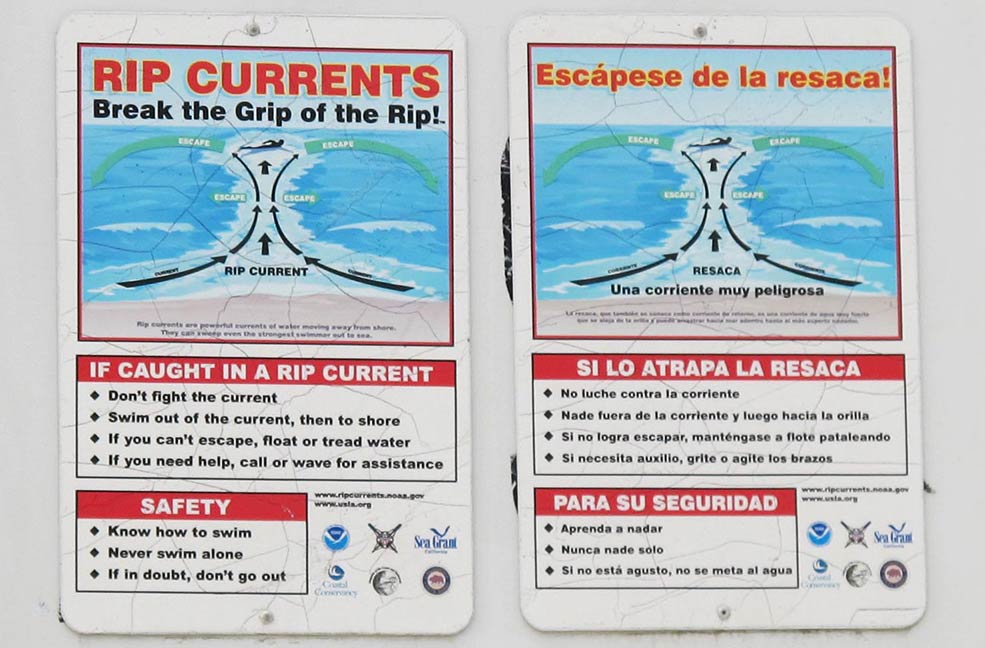 What to do if you get caught in a rip:
- First and foremost, do not panic as this quickly leads to impaired judgment and exhaustion. Stay calm and float on the water surface. Raise your arm in the air to attract attention.
- Always stay on your bodyboard or surfboard if you have one, and never try to leave it. Remain on your board, and keep your arm above your head to signal for help.
- Do not try to stand. Rips naturally occur in deeper channels between sandbanks; however even in waist deep water, a person can be overwhelmed and pulled away from shore.
- If possible, shout for help.
- If there is no lifeguard, swim parallel to the beach as this will take you out of the rip.
- Be aware of your situation; assess but do not panic.
These may sound obvious, but it's very easy for people to panic and get confused. Fortunately, many of our beaches have cover, so bathers are always under the watchful eye of a qualified lifeguard. However, it's best to familiarise yourself and avoid rips altogether!
The myths about rips:
- Rip currents and undertows are not the same thing.
Rip currents don't pull people under the water but away from shore. Often, rips can actually take people back into the wave zone.
- Swimming against a rip has nothing to do with your ability to swim.
Even very strong swimmers will quickly become exhausted. If you want to swim out of a rip, you must swim parallel to the beach.
- Rip currents aren't just found when there's heavy surf.
It's true that the larger the surf the greater the speed of the rip, increasing the risk; however, rips can be just as hazardous on days with moderate surf. You should always be aware.
- Calm water does not mean you're in the clear.
Often, many swimmers will opt for the calmer-looking water in between breaking waves. Unfortunately, this is usually the rip. It's always best to swim in designated areas, between the red and yellow flags, as this will have been specifically chosen by qualified lifeguards who will be able to keep watch.
- Rip currents should never be used like waterslides.
It's true that lifeguards will use rip currents to get to people faster and help them to safety. However, this takes years of experience and training and should never be attempted by novices.
- Rips are not just found in the sea.
Rip currents can also be found around river mouths, estuaries and man-made structures such as piers.
For more information, you can always ask your lifeguard for tips on which areas are best to avoid.