When it comes to dinner time in Dorset, you're spoilt for choice, with countless cosy pubs, chic restaurants, and quirky cafés vying for your attention - not to mention the host of Michelin recommended restaurants! But after a day spent adventuring along the South West Coast Path or nipping around the rolling countryside on your bike, there's one cherished British meal that beckons above all else: a wonderfully traditional fish and chips.
What could be better than plonking yourself down on one of Dorset's many beautiful beaches with some freshly battered cod and the chunkiest of chips for company – utter heaven! Throw in some mushy peas and perhaps an onion ring or two and we'd be happy to lounge with our chippy dinner and the glittering ocean in front of us for hours (if the food lasts that long, that is).
Feeling hungry? Let's tuck into our round-up of the best fish and chips in Dorset…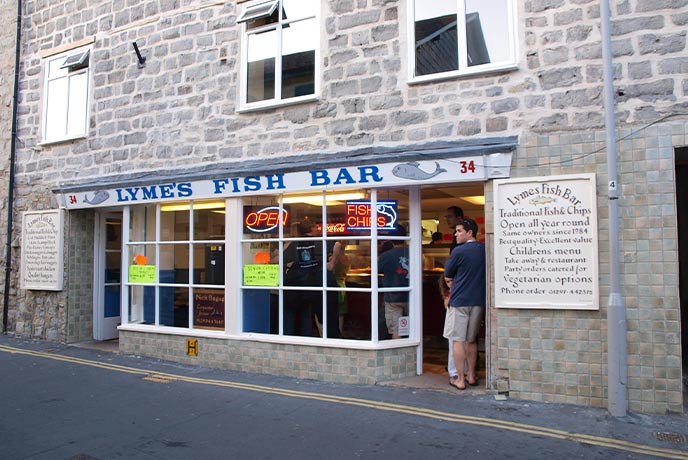 34 Coombe Street, Lyme Regis DT7 3PP
If you're looking for a traditional fish and chips you can take away and enjoy ocean-side, then a visit to Lyme's Fish Bar in Lyme Regis is an absolute must. The destination town of Lyme Regis has lots of mouth-watering eateries to choose from, but when only battered fish and chunky chips will do, this family-run shop has been satisfying the hunger pangs of locals and visitors for a quarter of a century – so they won't let you down.
All their fish is filleted on-site, guaranteeing freshness in every delicious bite. Pair this with their hand-cut Maris Piper chips and you've got a recipe for a truly idyllic beachside meal that's just the ticket after a day splashing in the waves and fossil hunting along the coast. Don't worry if you're not feeling fishy, a range of burgers, chicken, and veggie options ensures every taste is well and truly catered for. Check out our fabulous Lyme Regis webcam for a sneak peek at where you can enjoy your tasty treat!
Rachel's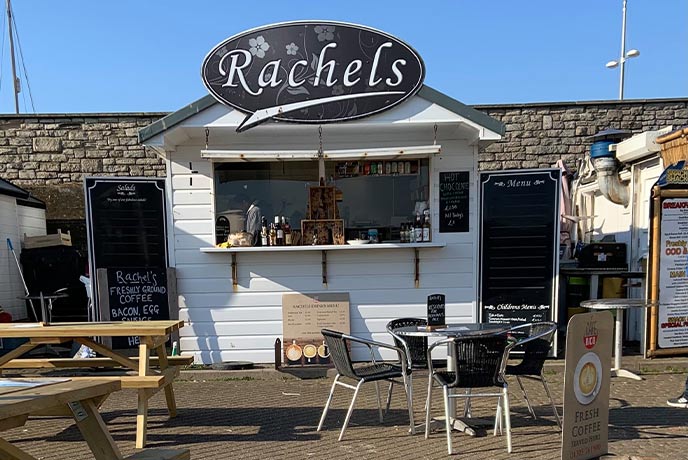 18 Quayside, West Bay, Bridport DT6 4GZ
We are big believers in the adage that the best things come in small packages, which is why Rachel's family-friendly eatery is high on our list for an unbeatable fish and chips in West Dorset. Overlooking the idyllic West Bay, this wooden kiosk hides within it a jaw-dropping range of fresh fish and local delights. While seafood of all shapes and sizes adorns the menu – from juicy prawns to a whole lobster – it's the fish and chips that steal the show. A light and crispy batter encases the fish, while fluffy chips round off the experience perfectly – you couldn't ask for a better feast while soaking up the waterside atmosphere.
Wash it all down with a crisp white or a glass of Pimm's for that extra special summer kick, and you'll quickly become one of their many regulars. Making the most of the summer vibes, Rachel's is only open in the spring and summer months, so make sure to check their social media before heading down – we wouldn't blame you if you tailored your entire stay around a visit to this Dorset gem.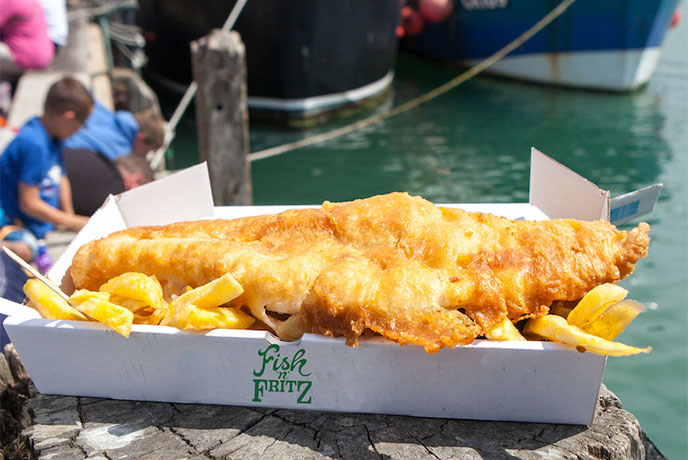 9 Market Street, Weymouth DT4 8DD
Home to the tantalising Weymouth Food Festival, this seaside town is well-known for its fabulous food and vibrant atmosphere. Lending its tempting aromas to the air of Weymouth, Fish 'n' Fritz is ready and waiting to ply you with the best of British comfort food. The menu features all your chip shop favourites from haddock and scampi to the humble (but oh so delicious) chip butty! There's also a gluten-free menu to ensure no one is left out of this most cherished of seaside traditions. Oh, and you'll find all the usual sundries to pile on your chips, including mushy peas, curry sauce, and Heinz baked beans.
When it comes to dining, you have a couple of fantastic options to choose from. Take your fish and chips to go and find a pretty perch along the waterfront, or you can settle down inside where the airy restaurant provides a welcoming place to enjoy your fishy feast.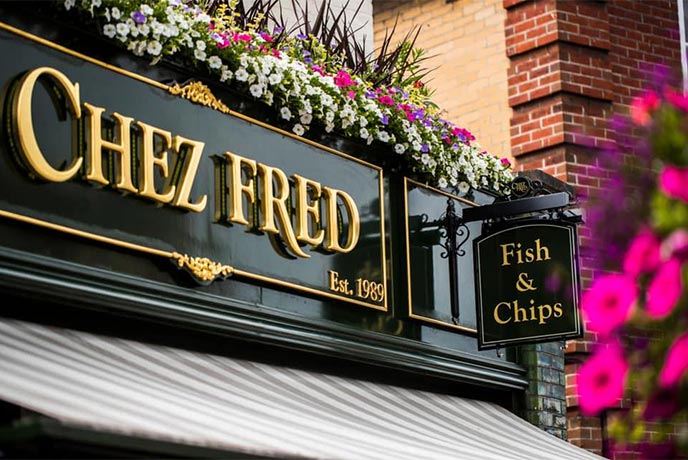 10 Seamoor Road, Westbourne, Bournemouth BH4 9AN
To the eye, Fred's might look like a traditional pub, but inside you'll find a far greater tradition at work. Run by three generations of the Capel family, this Bournemouth institution has been providing hungry patrons with supreme fish and chips since 1989. You'll find responsibly sourced fish and fresh-from-the-farm potatoes on the menu, along with the catch of the day, so you know you're getting the best and freshest fare when visiting. Alongside the usual suspects, the homemade likes of cod fishcakes, pea fritters, and coleslaw add some nice touches to the menu.
Vegan and veggie options ensure there's something for everyone, while the Sprat Pack menu provides tasty treats for the little ones – alongside some wonderfully entertaining puzzles that keep the kids occupied while teaching them about sustainability and the ocean. Eat inside or take your Fred's feast to go – the choice is yours!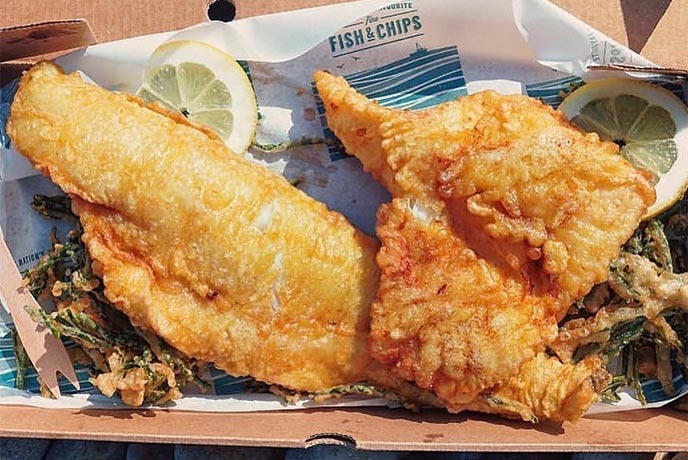 1a Olde Stables, Victoria Square Roundabout, Portland DT5 1BJ
A stone's throw from the epic 18-mile-long Chesil beach (which is dog-friendly all year round in case you have the pooch with you), you won't be short of choices when it comes to picking a backdrop for your cod and chips from Chesil Chippie. This award-winning joint has a truly enviable menu, with all the classics peppered with some creative additions to shake things up. Dine on tempura samphire, garlic and thyme mushrooms, or fresh pineapple fritters, or tuck into mouth-watering vegan crispy calamari – we love classic fish and chips but it's hard to resist these tempting sides!
Chesil Chippie is also close to one of the best walks in Dorset, the stunning Golden Cap walk, making this eatery perfectly placed for a post-walk feed of epic proportions. Nothing makes a climb easier than the promise of freshly cooked treats at the end!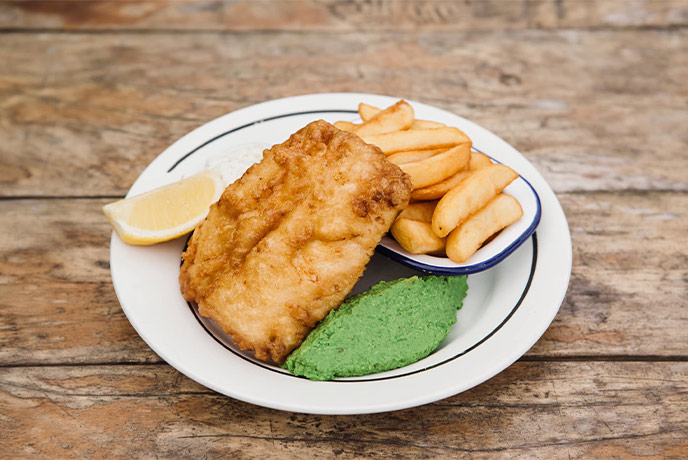 Beach Road, Burton Bradstock, Bridport DT6 4RF
Perched right above the beach at Burton Bradstock along the stunning Jurassic Coast, Hive Beach Café is one of Dorset's best beachside eateries – the food brings you in and the view ensures you never want to leave. While basking in the scenic surrounds, you can dine on a superb collection of locally sourced seafood and homemade delights. From a classic fish and chips (obviously) to sea bass or a wonderfully fresh crab sandwich, the restaurant's menu will have you pondering and perusing for hours – good thing you can sip on a glass of your favourite tipple as you choose!
Of course, if you prefer to enjoy your food with sand between your toes, then a takeaway fish and chips is always an option. You can even start your beach day off with a breakfast bap and a refreshing dip in the sea. To remember your visit, the Hive Beach Café shop is full of fantastic mementos, from local coffee and gin to their very own collection of seasonings – you can actually take the taste of their fish and chips home with you!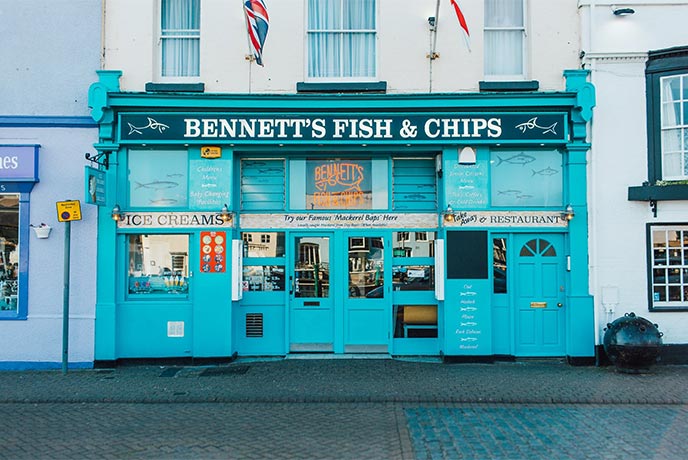 14 Trinity Road, Weymouth DT4 8TJ
With collection options all over Weymouth thanks to their hunger-quelling Chip Trucks, as well as a wonderfully welcoming restaurant along the harbour, a Bennet's fish and chips is never far when visiting Weymouth. If you're looking to take your fried feast to go, you can choose from the likes of tempura king prawns, salt and pepper crispy shredded chicken and black pudding fritters alongside the traditional fish and chip shop menu – visit around Easter and you might even be able to get your hands on a deep-fried crème egg!
Inside the family-run restaurant on the harbour's edge, you can tuck into an equally satisfying array of foodie delights, with the fisherman's lunch the seafaring answer to a ploughman's – you might want to wear loose trousers for this one! The atmosphere inside is relaxed and uber welcoming, making it a great place to sit back and sink a few drinks as you enjoy a proper Dorset fish and chips feast.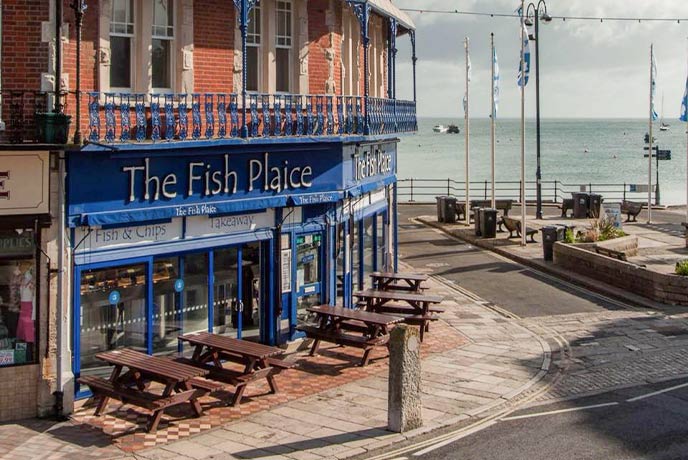 14 The Square, Swanage BH19 2LJ
Oh, how we love a clever name! This chippy is certainly the plaice to be if you're hankering after some fresh fish and chips when visiting Swanage. Nestled on the pretty quayside, there has been a fish and chip shop in this spot since at least the 1970s. You'll find an equally traditional menu, full of fresh ingredients expertly prepared. Tuck into homemade fish cakes, a range of burgers and pies, or a classic battered sausage – who can resist! They also host gluten-free days, which provide everyone with the chance to sample their famous fried fares, and Different Fish Thursdays, which make the most of the locally caught fish on offer.
Enjoy your feast perched outside the restaurant, surrounded by sea views, or take your food on a stroll and find your own special spot – there are lots nearby! Combine your classic fish and chips with a ride on a steam train or a stroll along the Victorian pier for the ultimate taste of nostalgia.
Ready to taste your way through the best fish and chips in Dorset? Explore our lovely holiday cottages and start planning a holiday itinerary that features plenty of opportunities to partake in Britain's favourite takeaway.