I like to think of myself as a bit of a cook, and I recently met local Devon chef Olivier Guyard-Mulkerrin, a winner of Channel 5's Marco Pierre White's Kitchen Wars. While brandishing a lethal-looking speargun, the Frenchman explained how he sources much of the seafood that appears on plates at Les Saveurs, the restaurant he owns in Exmouth, Devon. Now, while not everyone is willing to brave the cold to go speargun-hunting like Olivier, Devon does offer many amazing opportunities for visitors who want to try their luck with rod and reel, or simply a handline. And not only can you catch your own supper while staying in your Devon holiday cottage, you also get to see this bountiful county from an entirely new perspective. Here are six of the best options:
---
Beer Boats
Heading out in a small boat and dangling a line for mackerel is a quintessentially English seaside activity – like snoozing on deck chairs and tying hankies on heads. Boats can be hired all round the coast, but nowhere can mackerel hunting be enjoyed quite as effortlessly as from the lovely old fishing village of Beer in East Devon. Located in a gorgeous cove on the Jurassic Coast, you can wander down the steep slipway, chat to guy called Simon, and, for £20, simply hire a small motor boat kitted out with rods and hand reels for an hour or so. Simon will give you a few tips and off you go – trawl with the handlines out, cast a line, or simply bob around in Lyme Bay, soaking up the sun and the unique scenery. Keep your catch and cook it up at home.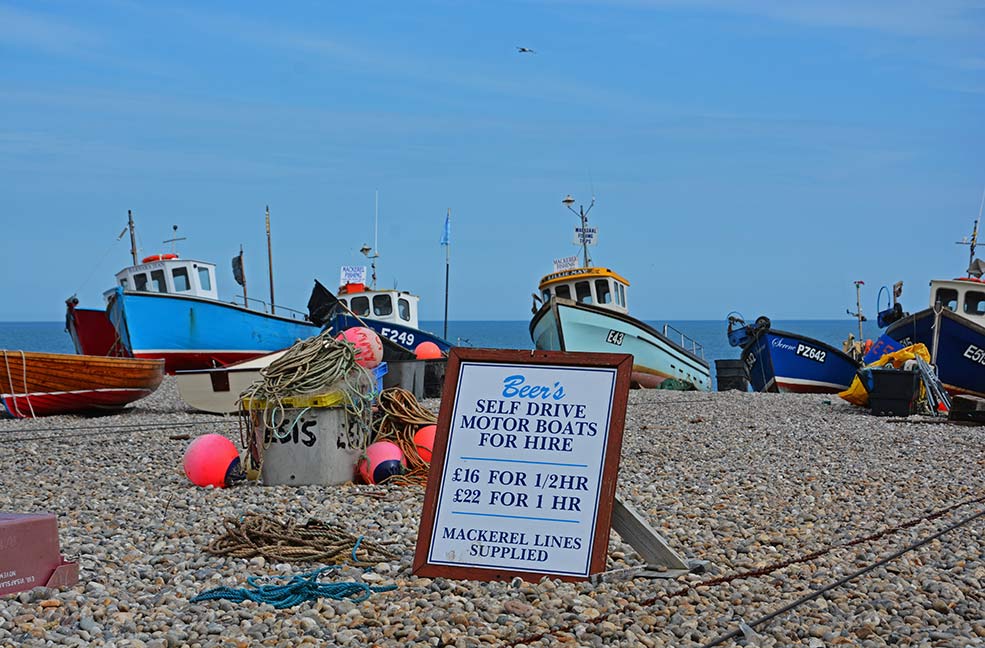 ---
Rock Stars, Castaways and Crabbers
The landlubbers among you can still enjoy fishing in Devon without setting foot in a boat. For experienced anglers, the Atlantic-facing points of North Devon's craggy coastline offer excellent rock fishing – particularly Baggy Point, Morte Point and Capstone Point at Ilfracombe. From these spots you can expect to land dogfish, cod, grey mullet, bass, rays, congers and triggerfish. Rock fishing can be dangerous, however, and you need to have the right gear. Nearby Appledore offers good conditions for the occasional angler – bass, mackerel and dogfish can all be caught from the Quay. Many local shops sell cheap rod-and-reel rigs, and kids will really enjoy using crab lines from the Quay (although crabs caught here – and along most of coast – should be put back, as they're not right for the pot).
---
In at the Deep End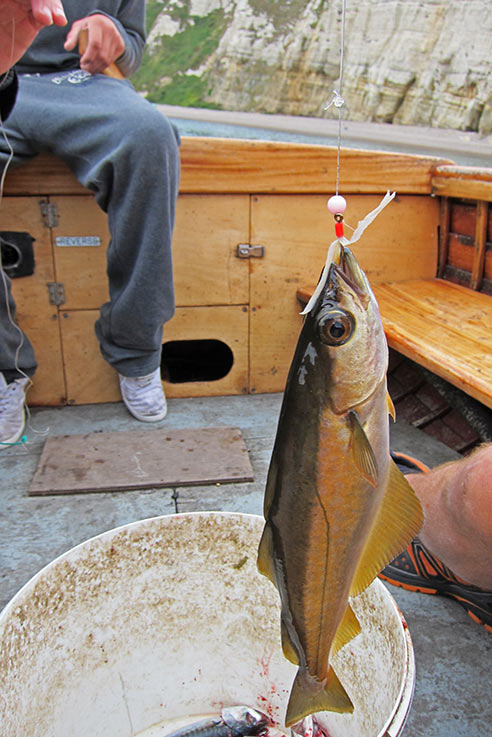 If small-craft and rock angling doesn't float your boat, try some deep-water sea fishing with Phoenix Charters, who take a maximum of 6 people up to 20 miles off shore from Salcombe in South Devon. You can try your hand at everything from reef to wreck fishing, and species you can expect to hook include bass, cod, pollock, ray, sole, plaice, conger eel, mackerel and shark. The sharks are tagged and returned to the wild, but you can take the rest home and cook them. Or, if you lack the Nigella gene, take advantage of their 'You hook it, we cook it!' offer, and get your catch prepared and served on a plate to you at the Kings Arms pub in Salcombe. You can even eat your catch in the comfort of your own Devon holiday cottage, thanks to the Tiffin Box 'Cook your Catch at Home' option, where the crew will come around to your place, prepare your fish, cook it, serve it and clear up.
---
On the Fly
Of course not every aspirant angler is a wannabe sea dog; some will prefer to master the quiet and noble art of fly fishing, and the rivers of Devon will not disappoint. Devon County Fly Fishing offer fly-fishing courses for first-timers and improvers across the county in relaxed sessions with a professional coach. Various terrains and techniques can be explored, from riverbank angling to boat fishing on lakes, and species targeted include trout, carp and pike.
---
Yak Attack
Kayak fishing has soared in popularity in recent years, and Devon has some premium launch spots that give paddlers access to hidden bays, coves and caves and sunken rock formations, where a kaleidoscopic array of fish can be found. The kayaks used for Yak fishing are typically very stable, sit-on-top models, fitted with rod holders and gear and catch compartments. If you have your own equipment, check out the excellent online resource run by Andy Benham, who recommends Ladram Bay near Sidmouth, Teignmouth and Meadfoot Beach in Torquay as good launch points. This form of fishing is exciting and challenging – caution and a degree of sea knowledge is of course required, along with basic safety gear such as a life jacket. As well as selling the requisite equipment, AS Watersports in Exeter offer tuition.
---
Go Spearfishing
Finally, if you do fancy discovering your inner Olivier, you can take a beginner's spearfishing course with Go Spearfishing at a number of venues in South Devon (beaches between Exmouth and Plymouth, including Torquay, Torbay, Brixham and Salcombe) and North Devon (between Croyde and Ilfracombe). There's a choice of two courses: the Quick Fire Course is 3 hours long, costs £45 and equips people with the basic skills required for spearfishing, including essential equipment, breath-holding techniques and fish recognition; the more advanced Spearo Course takes place over a full day and also includes foraging advice and lessons on cleaning and cooking your catch.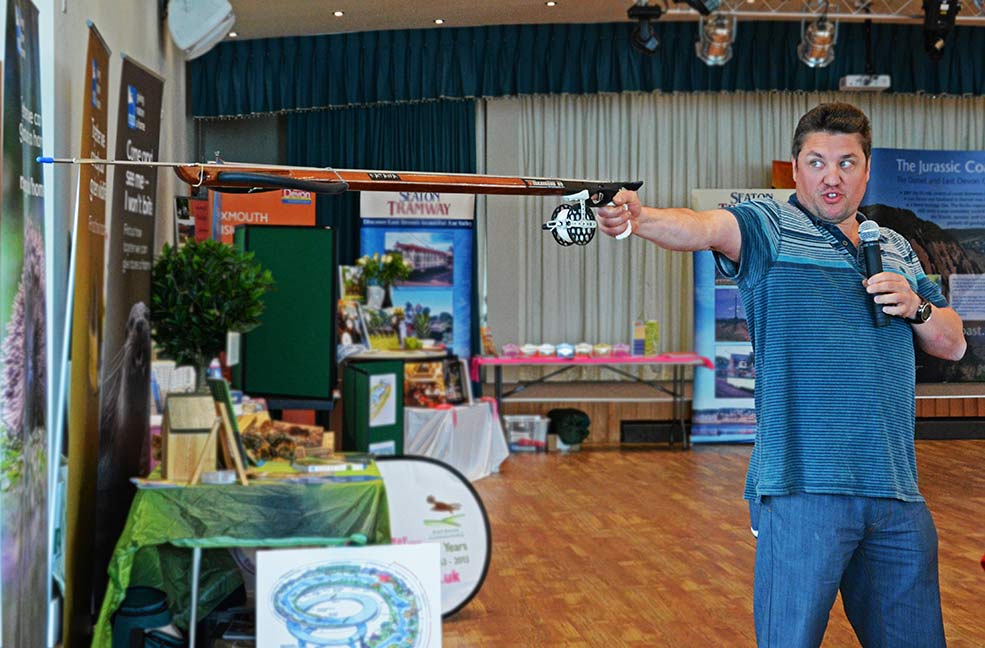 By Pat Kinsella of Cool Places