Offering a wide range of events and festivals, beautiful beaches and walks along more than 100 miles of coastline and enough food festivals to keep the die-hard foodies among us more than satisfied, Dorset is absolutely buzzing with character and Lyme Regis is most certainly the jewel in its crown.
Surrounded by a beautiful coastline (check out the webcam at Lyme Bay, courtesy of Poco Pizza), spectacular countryside and the world-famous Cobb harbour, Lyme Regis is a much-loved spot for visitors all year round. And, when you come and stay in one of our cosy cottages and visit this historic seaside resort for yourself, you'll soon see why.
While the draw of the coast and the fascinating geological history of this West Country holiday spot is more than enough to entice you into discovering this popular seaside town, Lyme Regis is also very well known for its quality food and drink offerings.
Whether you're in the mood for fish and chips, local oysters courtesy of celebrated chef Mark Hix or want to sample locally sourced produce in the much-loved Robin Wylde restaurant, Lyme Regis has got you more than covered. Boasting myriad pubs, cafes and restaurants, it's the perfect destination for any lover of a fine dining experience and we've collated some absolute must-visits.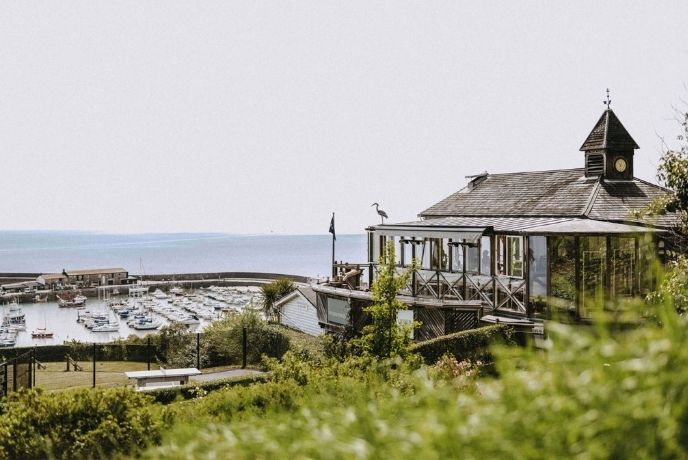 Cobb Rd, Lyme Regis DT7 3JP
If you're in search of fine local produce, a trip to this much-loved seafood restaurant will not disappoint. Run by chef, restaurateur and food writer, Mark Hix, the Oyster and Fish House serves up some of the best locally sourced food, including freshly caught fish and seafood courtesy of Lyme Bay Reserve fishermen. Offering panoramic views of the Jurassic Coast and famous Cobb harbour, the Oyster and Fish House provides indoor and outdoor seating, although there is limited cover on the latter so you'll be glad of a blanket when the temperature drops.
The menu changes on a daily basis and depends entirely on what the local fishermen have managed to catch that day, so you can be sure that the seafood is as fresh as possible. Open five days a week, this popular restaurant also caters to the vegetarians among us by offering up a meat-free menu, as well as delicious options for children, too. There's also an on-site shop where you can buy some of Mark Hix's cookbooks as well as other books and prints to choose from. All in all, you simply can't come to Lyme Regis without taking a trip to the Oyster and Fish House.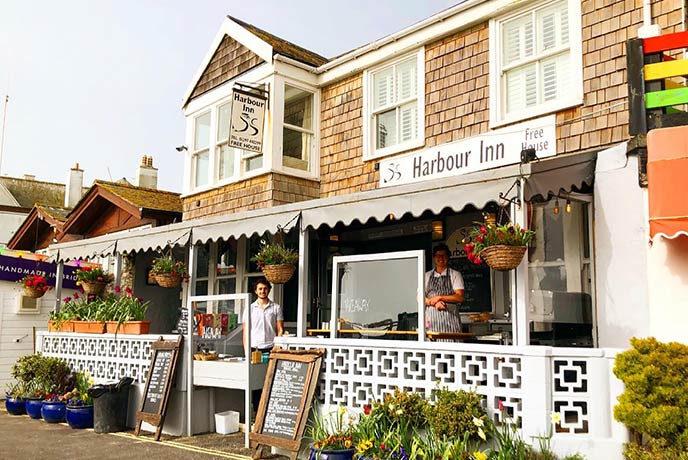 23 Marine Parade, Lyme Regis, Dorset DT7 3JF
Located on the beach front and offering up breathtaking views across Lyme Bay and the Cobb, the Harbour Inn is a family-run restaurant with a reputation for serving up a unique dining experience for locals and visitors alike.
Providing indoor seating in the air-conditioned restaurant, this popular eatery also offers a private beach area for visitors wanting to dine alfresco on a hot summer's day.
At the Harbour Inn, there's a real focus on locally sourced produce and, unsurprisingly when you consider its location, fresh fish. Whether you're looking for a tasty catch of the day, a hearty fish pie or some local shellfish, you will not be disappointed. There are also vegetarian options on the menu and, if you like to sidestep dairy and gluten, the friendly staff will do their best to accommodate any food intolerances. There's also an extensive dessert menu for those with a sweet tooth and a varied children's menu will mean the little folk will go home with a full tummy, too.
Bringing a four-legged friend? No problem: the Harbour Inn welcomes well-behaved dogs in the indoor and outdoor dining areas and, as you're a stone's throw from the beach, you can easily take them for a runaround after you've eaten.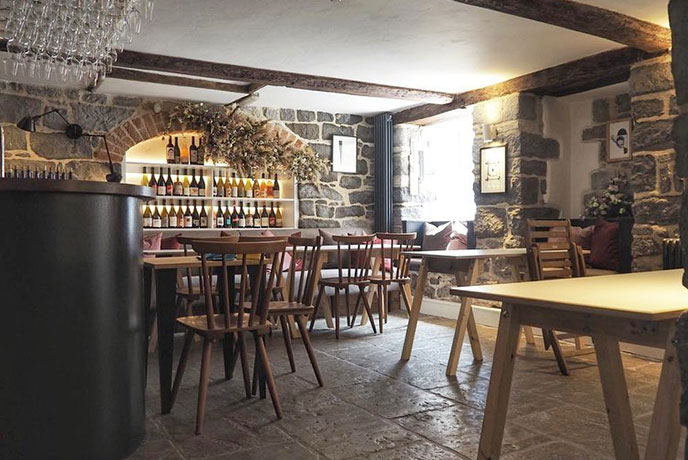 63a Silver Street, Lyme Regis DT7 3HR
Lovers of fine dining will not be disappointed with a trip to this popular restaurant. Run by TV chef Harriet Mansell, this iconic eatery has earned itself a reputation among its peers for creating delicious dishes with local and seasonal ingredients as well as foraged food.
Not only does the Robin Wylde Restaurant offer up some of the most delicious menu choices, it also happens to boast a 400-year-old wine cellar and sister restaurant, named Lilac, just a short walk away. Both the Robin Wylde Restaurant and Lilac restaurant and wine bar feature in the Michelin guide and, when you visit either of these much-loved eateries, it's easy to see why.
Offering up a varied menu of snacks, hearty meals and delicious desserts, the Robin Wylde Restaurant belongs on any foodie's to-do list but it's perhaps not an ideal choice for vegans and vegetarians. Since there's a strong emphasis on local fish and seafood, the restaurant does not currently operate a vegan menu. And, while it's a spectacular experience for adults, the tasting menus do not cater to children and babies so it's best to call in the babysitters for this particular fine-dining experience.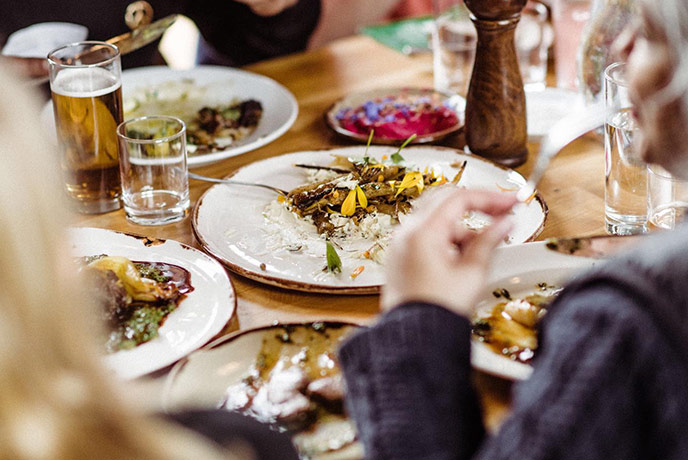 Park Farm, Trinity Hill Rd, Axminster EX13 8TB
You simply can't take a trip to Lyme Regis without spending some time at the iconic River Cottage. Created by TV favourite, Hugh Fearnley Whittingstall, River Cottage is the true beating heart of the much-loved brand.
Situated just a couple of miles from Lyme Regis, this beautiful farm is home to the River Cottage Kitchen and Store, which has recently opened and welcomes visitors for breakfast and lunch. Since it is a working farm, the management asks that all visitors prebook in advance and, if you've got a four-legged friend in tow, you can be sure that they will be given a warm welcome here.
Whether you're in the mood for a hearty kedgeree, light bite or a slice of delicious cake, the menu options have you more than covered. Much of the ingredients on the menu have been produced on site at the farm or sourced from local producers that share the same values as River Cottage. Once you've enjoyed a tasty bite in the kitchen, take a trip to the on-site store where you can buy some of the recipe books and recreate the dishes for yourself at home.
River Cottage also runs events and cooking courses throughout the year. Prebooking is essential and you can choose from a range of events, such as chef demonstrations and seasonal feasts, and a whole host of courses including baking, gardening and foraging.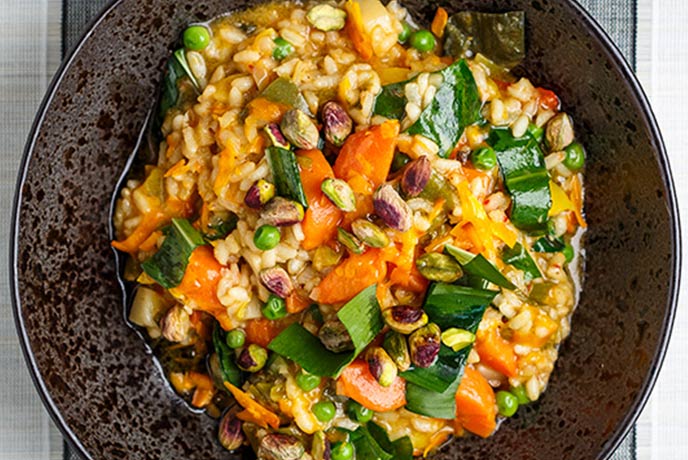 1A Coombe St, Lyme Regis DT7 3PY
Not in the mood to dine out? Tierra Kitchen has the solution: enjoy delicious vegetarian and vegan meals delivered to your doorstep. Offering a full takeaway and delivery menu, Tierra Kitchen places health and wellbeing at the very core of its business. With a selection of healthy, delicious meals designed to boost your immune system and created using locally sourced ingredients wherever possible, this place is perfect if you're looking to enjoy a hearty meal in the comfort of your holiday cottage.
Offering free delivery to the Lyme Regis area between Wednesdays and Saturdays, you can simply browse the menus and call the kitchen with your order (but be sure to place your order before 2pm for delivery on the same day). If you're in the local area and want to pop in and place your order, you will be most welcome. There's also some outdoor seating if you want to enjoy your takeaway on site. Whether you feel like indulging in a hearty casserole, a delicious pasta dish or a tasty curry, Tierra Kitchen has it all.
And, if you want to take a taste of Tierra Kitchen home with you after your holiday, you can buy a copy of one of their cookbooks in the on-site shop and recreate the dishes for yourself at home.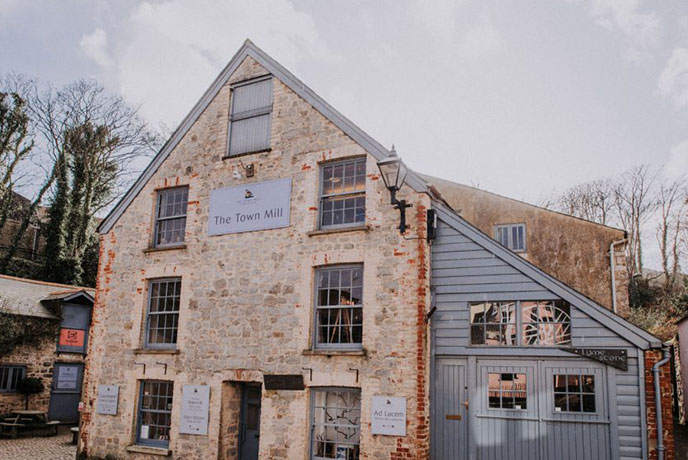 Mill Ln, Lyme Regis DT7 3PU
Set in a beautiful cobbled courtyard, The Town Mill offers a fascinating experience for visitors looking for a hearty meal with a side helping of history and heritage. This ancient watermill is situated in the artisan quarter of Lyme Regis and offers daily mill tours and shows visitors how stoneground wholemeal flour is milled on a daily basis. There's also an on-site shop where you can buy the milled flour and try your hand at artisan baking at home.
In addition to the watermill, there is also a variety of local traders, including art galleries and an on-site restaurant, The Strawberry Tree. Specialising in offering a taste of Spanish cuisine to its visitors, The Strawberry Tree serves up a variety of delicious cakes and treats during lunchtime and operates a tasty tapas menu from 6pm onwards. Booking around lunchtime is not necessary but you'll certainly want to prebook for the evening as it does tend to get booked up, and with good reason. Offering a selection of indoor and outdoor dining tables, The Strawberry Tree is well worth a visit.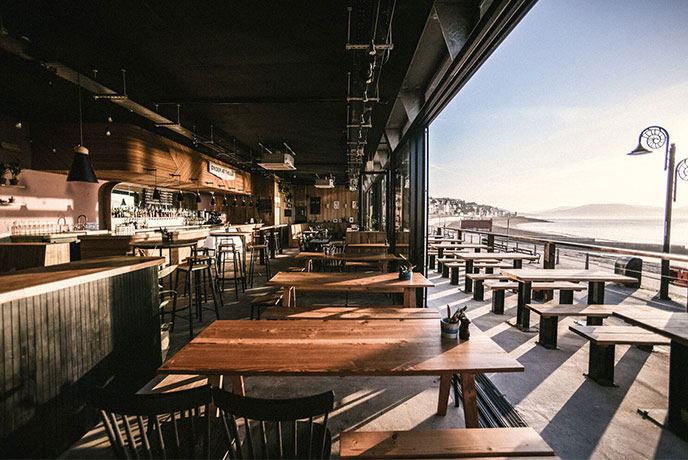 Marine Parade, Lyme Regis DT7 3JH
Situated right in front of the beach, views really don't get any better than this. Offering spectacular scenes across the Jurassic Coast, Swim Restaurant is perfect if you're looking for a pleasant meal with an equally pleasant view. This restaurant, cocktail and wine bar operates a full menu for breakfast, lunch and dinner, as well as a pretty impressive selection of craft beers and cocktails. Choose from some locally sourced seafood, a filling burger or a tasty piece of cake to accompany your warming coffee: there is something for everyone at this lovely spot.
Whether you visit in the warmer months or opt for a winter break, the views here are well worth experiencing in all weather conditions. Dogs are most welcome here, too: bring your pooch and take them for a runaround on the beach afterwards while you walk off your lunch.
There's also a lively calendar of events with live music and party nights featuring throughout the year, so keep an eye out on their Facebook page for those.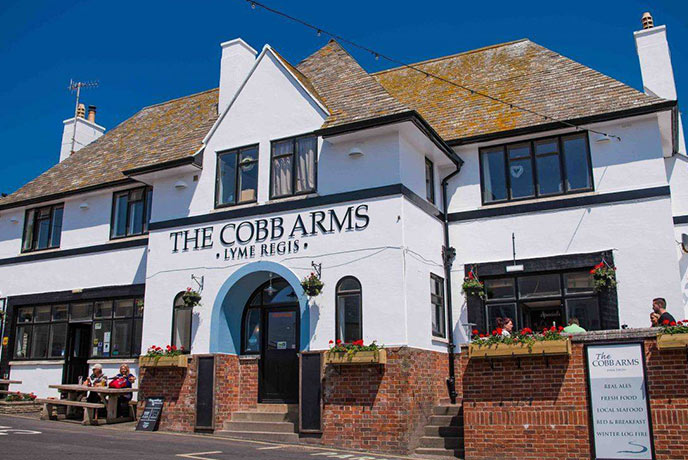 Marine Parade, Lyme Regis DT7 3JF
Love a proper traditional pub? Us too. Located over the road from the harbour and Cobb, this family-run pub is situated on land that was previously used by local boat builders. Now a strong part of the Lyme Regis local community, this much-loved pub offers a variety of hearty dishes and a fine selection of real ale. Set just a short walk from Sandy Beach, The Cobb Arms offers both indoor and outdoor seating for guests looking to dine out for lunch and dinner, and welcomes well-behaved dogs, too.
Unsurprisingly, owing to its location, seafood features quite heavily on the menu. Choose from delicious scampi, tasty fishcakes and aromatic fish curries, or opt for a pub classic such as a hearty burger and chips. Vegetarians and vegans won't go hungry: there are a selection of meat-free dishes available, as well as dairy-free options. There's also a children's menu available, so the whole family will go home with a full belly.
When you've finished enjoying your meal, walk across to the Cobb nearby and take in the spectacular views of the coastline and iconic harbour.
If you've yet to tick Lyme Regis off your bucket list, we'd highly recommend you get it booked in the diary. Whether you want to stay in the heart of Lyme Regis and discover what makes this seaside town so popular, or you want to stay a little further afield and explore what else Dorset has to offer, we guarantee you'll go home with a good taste in your mouth.