Locally-caught, fresh fish in a crispy batter, with a generous helping of light and fluffy chips. Add mushy peas and tartare sauce to the mix, and you've got yourself one of Cornwall's most loved dishes.
Cornwall is undoubtedly a foodies' paradise, with a huge selection of restaurants, cafes, and places to grab a quick bite. There are a few 'staple' foods, though, that have long been considered must-haves when in the duchy. These firm favourites include the humble pasty, delicious cream tea (jam first please) and, of course, a generous helping of locally-caught fish and chips.
In this blog we take a look at where you can find the best fish and chips in Cornwall. The only thing left for you to do now is pick up your fish and chips of choice and head to a beautiful spot to dig into your truly Cornish dinner with a view. Put simply, there's nothing better!
North Cornwall
For great meals with the family, or a bite to eat as you emerge from the surf, The Living Space is a relaxed eatery where you can sit on sofas and gaze at the spectacular view. Their fish and chips includes beer battered market fish (just check their specials board for the 'fish of the day') and chips, with Watergate Bay's own ketchup, tartare sauce and lemon. Fish and chips always taste better by the sea, and after a stroll around this idyllic beach, it's hard to resist the comforting smell of beer-battered fish wafting from the open-plan kitchen. The Living Space also serves burgers, steak, and curry; your usual staple pub grub with something for everyone.
How can you go to one of Cornwall's most loved towns and not have fish and chips? Family run Flounders is the place to go for a takeaway fish and chips in Newquay. Serving battered haddock and cod, squid, scampi and plaice, as well as pies, burgers and jacket potatoes, there is something for everyone at Flounders. Head to the beach or a clifftop bench to add to the enjoyment of your scrumptious meal.
Rick Steins is brimming with a range of fish to choose from, from haddock and cod to lemon sole and sea bass, either battered or grilled, along with home-made chips, mushy peas and Rick's famous tartare sauce. The restaurant also features many of the famous chef's other seafood dishes such sea bream, moules marinière, grilled lobster and shucked oysters, so there's always plenty to whet your appetite. Known for being some of the best fish and chips in the area, it is no wonder Rick Steins gets busy during the summer. There is also a restaurant and takeaway service at Fistral Beach in Newquay. So head to the harbour and to enjoy your fish and chips in style while watching the world go by around you.
Serving up your traditional favourites of lightly battered haddock and cod, with hake and plaice also on the menu (check daily to see availability). Seasmiths focuses all their attention on fish and chips with some homemade sauces, making their meals particularly delicious. Being so close to the coast, Seasmiths is perfect for a post beach day meal while watching the sunset on the dunes.
South Cornwall
Serving locally caught fish from Falmouth Bay and owned by a fishmonger whose family has run a fish and chip shop for three generations, Mariners knows its stuff! Alongside your haddock and cod, you can have scallops and chips, as well as fish tapas, burgers, wraps and chicken. Veggie and vegan alternatives are also available, along with gluten-free options. All you need to do now is head to the water's edge in Penryn or Falmouth to complement your meal perfectly.
In 2019 Harbour Lights was a top 10 finalist in the National Fish & Chip Awards, and while it didn't quite bag the top spot, it's got an enviable reputation in Cornwall. Located on the highstreet in Falmouth, Harbour Lights is a stone's throw from the waterfront, or a short walk from Falmouth's beaches, so there are plenty of scenic spots to enjoy your fish and chips. There is an option to dine in or take out meaning you can enjoy your fish and chips on the harbour or even at the pub below the dining area. With a choice of the regular fish, cod and haddock, there are also the catches of the day which can be found in the ordering area. All the fish used is caught locally at Newlyn and delivered to the restaurant daily.
The Coddy Shack is one that caters for all, and is dog friendly (bonus!). Offering cod and haddock as well as plaice, scampi and burgers, all of which can be taken out after a day at the beach. Alternatively, sit in and enjoy your beautifully prepared seafood in the restaurant area while listening to some live music, alongside a well-stocked bar. Despite being just outside of Looe, the Coddy Shack can get very busy.
West Cornwall
Crowned one of the best fish and chip shops in the UK in 2021 by the National Fish & Chips Awards, Frasers is a must visit, with over 21 years of providing delicious fish and chips under their belt. Offering gluten free fish and chips as well as hake, along with other resident chip-shops goods such as burgers, sausages and a variety of soft drinks. There's also a shop in Helston so you can get double the tastiness in West Cornwall. You can order online for collection or when you walk in. Why not find a spot along the promenade in Penzance or head to a spot with a view in Porthleven to enjoy your fish and chips. Have a look at our Penzance webcam to check the conditions.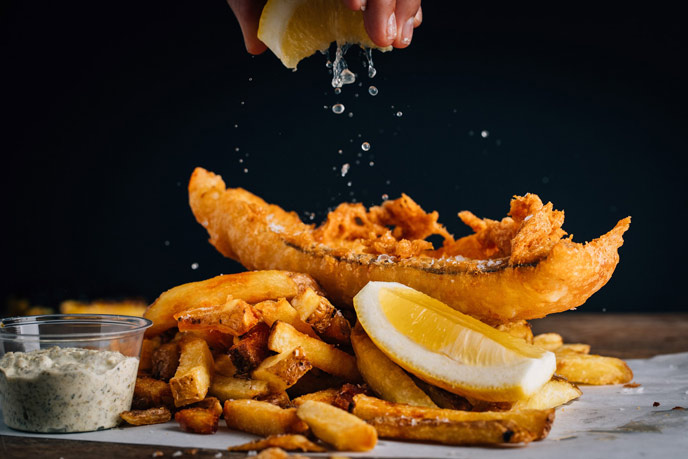 Landed is supplied with beautiful fresh seafood which changes daily due to what the fishing boats bring in. Their food is known for being high quality and inventive - with options like buttermilk fried monkfish, seafood chowder, the 'seadog bao' and brown crab mayo loaded fries, all featuring on the menu. The pea fritters are pretty special too. There are themed nights throughout the year so it is certainly worth keeping an eye on their facebook page. So head to Porthleven, get your delicious fish and chips with a twist, and watch the boats come in and out of the harbour.
Richard Beck has been running this fantastic fish and chip shop and restaurant for many years (dating all the way back to 1971), and the consistently long queues are testament to the freshness of the fish served here. Serving haddock, cod, plaice, and hake, you can take your pick of fresh fish at Becks fish and chips. There is the option of gluten free and regular fish and chips, all locally sourced and something they are very proud of. Located just outside of St Ives, there are some wonderful places to sit and enjoy your food, such as Carbis Bay Beach with beautiful views out to sea - a picture perfect backdrop for your feast.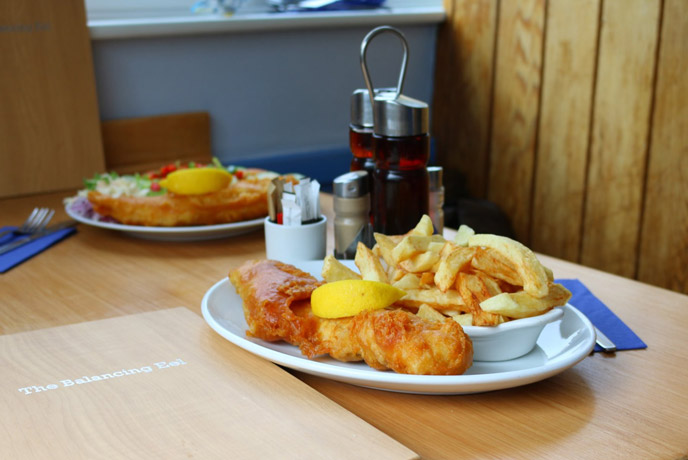 In the heart of St Ives and amongst the action, the Balancing Eel offers delicious fish and chips with the option to dine in or take out. It is the perfect location to sit in the bustling harbour and enjoy your Cornish fish and chips, or on one of the beautiful beaches in and surrounding St Ives. The Balancing Eel offers dine-in and takeaway services (check their facebook for dine-in information) with all the usual suspects for a chippy.
Choose between battered or grilled haddock, cod, sea bass, hake, or try something new like battered scallops or steamed mussels. Harbour fish and chips has a seafood focused menu and with the option to dine in or takeout, your seafood cravings will be satisfied with complimentary views of the harbour in the wonderful town of St Ives.
If you're after a reliable chippy with a range of fish available, alongside all the trimmings, then Sanders is your place. Offering the usual battered haddock and cod as well as plaice and scampi, with other meat and vegetarian options available (pies, sausages and burgers). There is the option to dine in or take out, perfect for fitting in around your plans.
Located in the heart of the fishing community in Newlyn, you couldn't get fresher fish unless you fished it yourself. As its name suggests, Mackerel Sky Seafood Bar offers a range of seafood dishes, so you can choose from fish and chips, scallops or a crab sandwich to name a few options.. Eat in or take out to a spot on the harbour to watch the fishing boats coming and going while enjoying your meal - just watch out for those seagulls!
Another fabulous chip shop offering super fresh fish and chips and open all year round, apart from Christmas and Boxing Day. Staples haddock and cod are on the menu, with a gluten free batter option. Lewis's is perfectly located for sitting on the harbour and watching the world go by, or sitting at home with everything you need to make a good evening to hand.
For somewhere to stay so you can try out one, or all, of these amazing places to have fish and chips, see our cottages in Cornwall.