If you're heading to heavenly Devon for a well-deserved break, the foodie in you will be delighted to learn that this county in south west England has a dining scene to die for. It's certainly worth loosening your belt notch to indulge in the glorious food on offer.
Devon offers three restaurants with Michelin stars, namely the Masons Arms near Exmoor, Thomas Carr 1873 in the seaside resort of Ilfracombe, and Michael Caines' Lympstone Manor. In addition, there's a number of utterly delectable eateries recommended by the Michelin Guide, located in North, East and South Devon as well as in the Dartmoor region.
Whether you prefer rich game, the freshest seafood or are seeking out a vegan feast, Devon's range of splendid gastro pubs and restaurants offer the warmest of welcomes and breathtaking views. And, of course, the chance to feast on the finest local produce, all prepared by some of the country's leading chefs.
From a majestic country manor to a smart town eatery or a traditional inn with a modern twist, read on to find your ultimate Devonshire dining experience.
Michelin star restaurants in Devon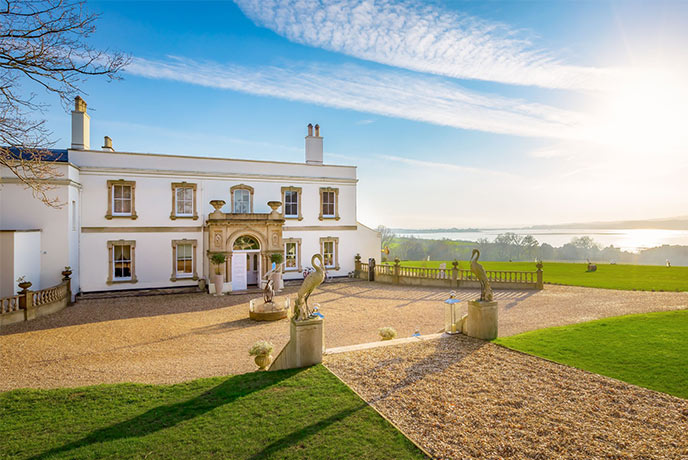 Courtlands Ln, Exmouth EX8 3NZ
One Michelin Star
Boasting one Michelin star, Lympstone Manor is located at a luxury manor house hotel near Exmouth. The grounds of the Georgian house occupy 28 acres, and you'll enjoy sweeping views from the restaurant, skimming over the vineyard as you gaze towards the Exe estuary.
Inside, it's an opulent setting for a memorable meal. Think cosy armchairs upholstered in duck egg blue velvet, full length powder blue drapes, marble flooring and original cornicing.
Chef Michael Caines oversees the menus and sleek service, which include a four course lunch option and an eight course tasting feast. The latter includes a fish version for those who prefer seafood.
Local flavours are evident throughout, deliciously showcased in dishes such as salted Newlyn cod, Darts Farm beef, Brixham turbot and Beauvale blue cheese. For those with a sweet tooth, do save space for dessert. The delectable Mont Blanc is surely a heaven-sent creation featuring chocolate chantilly, chestnut mousse and tonka bean ice cream.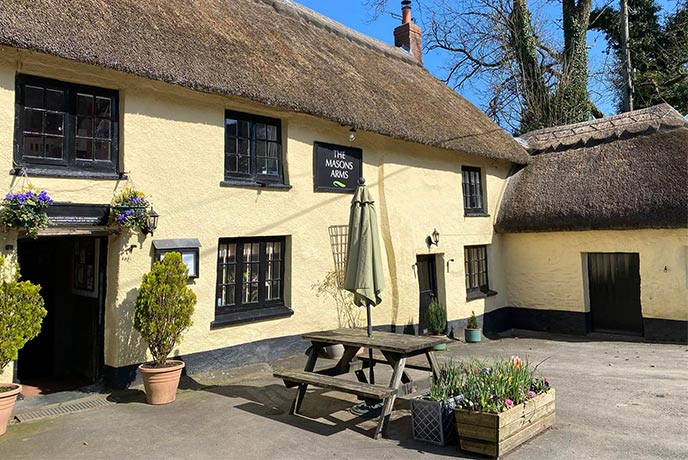 Knowstone, South Molton EX36 4RY
One Michelin Star
Overlooking the green hills of Exmoor, the Masons Arms is a chocolate-box thatched English village pub dating from the 13th century. Sipping a pre-dinner drink in the snug bar, with its vast fireplace and beamed ceiling, makes for a relaxing start to your evening.
Make the move to the dining room and you'll find a menu of French and modern British classics. The set lunch deals are an absolute steal, and you can sample the likes of cauliflower soup with truffle cream, sea bream fillet with salmon mousse sausage, and blackberry creme brulee with honeycomb ice cream.
The a la carte menu, meanwhile, includes delights such as a Thai-style scallop salad, Exmoor fillet of beef with red wine jus, and a pineapple tart tatin.
Where else on earth could you dine beneath a Greek frescoed ceiling in a thatched country inn with views over the rolling green landscape, while being served dreamy dishes made from the freshest local produce?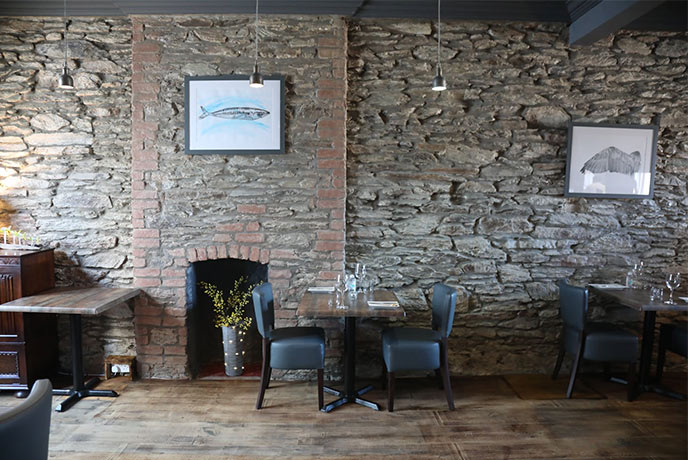 63 Fore St, Ilfracombe EX34 9ED
One Michelin Star
The hilly, Victorian seaside resort of Ilfracombe is the setting for Thomas Carr 1873, which is located on Fore Street, close to the harbour in the heart of town. 1873 references the year that the former police station was built.
As you might expect, fish is often the star of the show here, where you can sample a range of sublime seafood creations. Presentation is colourful, playful, and tastebud tickling. Keep your camera at the ready as the server approaches your table if you want to make your friends and family green-eyed with envy.
From earthy beetroot risotto or succulent duck to local mackerel, sea bass, or monkfish, menus make the most of what's seasonal and delicious. The setting is packed with character too, with exposed stonework, deep hues and fun seaside-themed wall art.
Michelin recommended restaurants in North Devon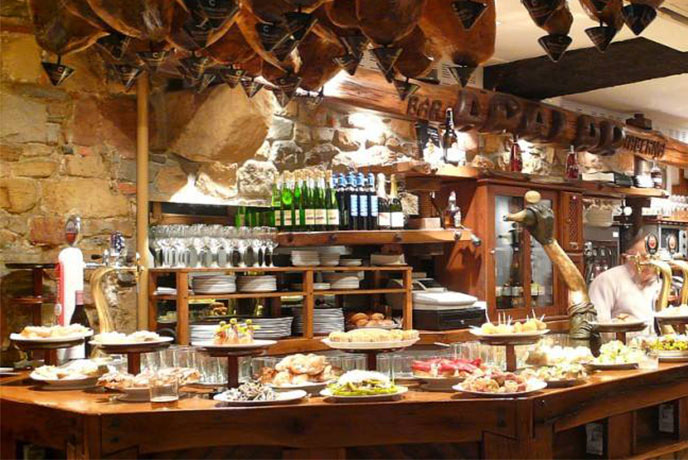 20 St James Pl, Ilfracombe EX34 9BJ
Bib Gourmand
This coastal restaurant and self-professed wine room is just a hop, skip and jump away from Ilfracombe quay. Recommended by the Michelin guide, the eatery is a worthy recipient of a prestigious Bib Gourmand award.
Large, plate glass windows ensure the interior is flooded with light, while the compact size gives it a cosy, convivial feel. The set menu is incredibly good value and offers you the chance to devour a balanced range of dishes that are brimming with flavour. This is altered daily to suit the season and freshest available produce.
If you want to impress your Instagram followers you might have to beat the chef to it, as the photogenic dishes proudly and regularly feature on the restaurant's feed. Well who could resist snapping the likes of venison with sherry and pickled walnut ketchup or freshly-made ravioli with apple, celeriac, rosemary and parmesan before tucking in?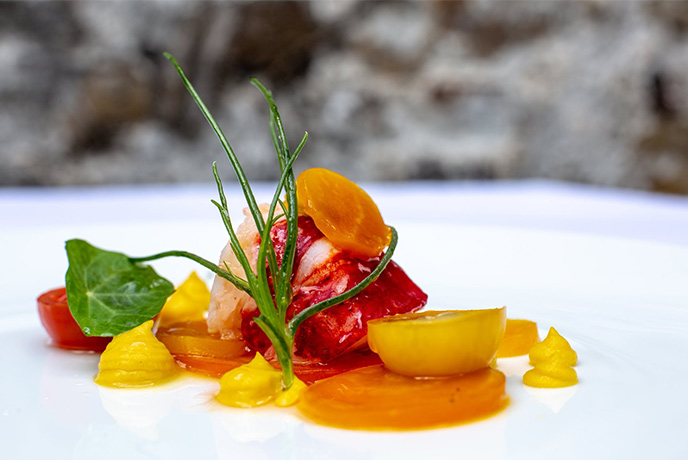 14 Maiden St, Barnstaple EX31 1HA
The North Devon riverside market town of Barnstaple is where you'll find the Michelin-recommended Maiden Arch. What cautiously began as a pop-up venture has now become firmly rooted in Devon's gastronomic scene, moving next door in the process.
Exposed brickwork, clean white paintwork, warm wooden tables and a soaring vaulted ceiling provide an elegant yet rustic backdrop for a sumptuous meal – once you've climbed the spiralling stairway to reach the upper floor dining room.
Dishes feature faultless contrasts and blends of textures and flavours on both the Signature and the Exmoor menus. The former is reserved for Fridays and Saturdays, while the latter is served on a Wednesday or Thursday.
Inventive dishes make great use of varied ingredients, evident in creations like tortellini with nasturtiums and rosemary brown butter; brill with clams, caviar and oyster emulsion; and a tobacco ice cream.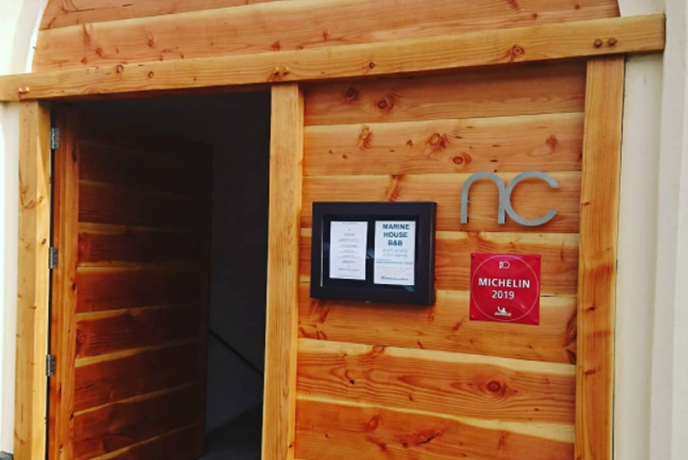 South St, Woolacombe EX34 7BB
The Michelin Guide recommends the wine pairings as well as the food at this diminutive North Devon eatery. Positioned just a block back from one of the finest beaches in the UK, Noel Corston offers just eight diners per day the chance to feast at 7pm sharp.
The seats are clustered around the open kitchen, so you can witness first-hand exactly what goes into the flavour sensations you're experiencing. North Devon's UNESCO Biosphere Reserve is used as the larder, with the daily tasting menus reflecting the produce currently in season.
Corston's ethos is to showcase the unique blend of ingredients that characterise this very special part of the British Isles. He is merely at the helm of a team that includes foragers as well as fishermen and farmers. For an experience with a very local flavour, this intimate venue acts as the best possible introduction to what foodie North Devon is all about.
For more on what you can enjoy in the area, check out our list of things to do in North Devon.
Michelin recommended restaurants in South Devon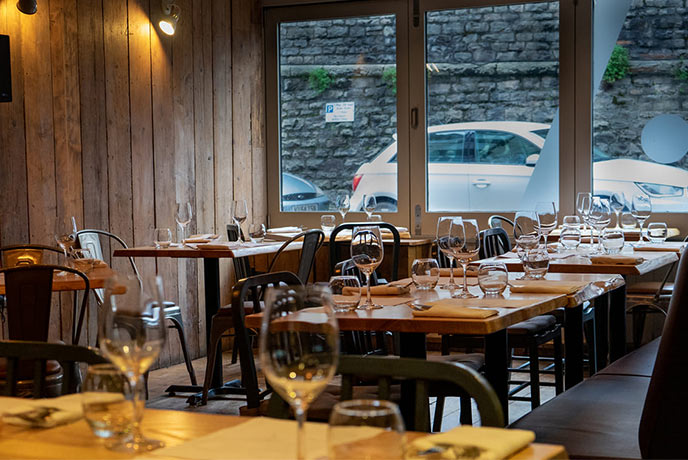 5 Lower St, Dartmouth TQ6 9AJ
Bib Gourmand
The head chef's heritage gives you some idea of what Andria is all about. Luca was born in France, brought up with Italian home cooking and honed his craft here in the UK. Local produce inspires the menu, which has a firm focus on contemporary European cooking.
Ingredients from nearby English Riviera towns inspire the small plates served at this Dartmouth eatery. During your visit, you also can sample foods from all over Europe.
Start, for instance, with local monkfish prepared Kentucky style or Tuscan fennel sausage. Before moving on to Brixham crab, Torbay scallops, beef and ale tart or Iberico pork loin.
Do save some room for a sweet course. Highlights here include an Italian-style Bailey's affogato, chocolate mille-feuille with hazelnut gelato or a British sticky toffee pudding – albeit a more inventive version that's served with yoghurt sorbet, sea salt and earl grey.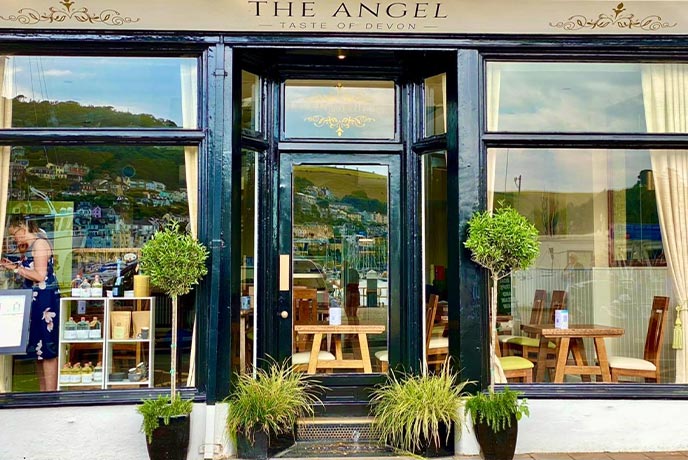 2 S Embankment, Dartmouth TQ6 9BH
This riverside establishment boasts a long and impressive culinary heritage. It's where celebrated chef Joyce Molyneux pioneered modern British cuisine during the 1970s. Now, it's all about the 30-mile menu carefully orchestrated by fellow female head chef Elly Wentworth.
Tear your eyes away from the stunning views over the water for a moment to feast them on your plate. Attention to detail is everything here, from the soothing laid-back decor to the specially made crockery and locally sourced handmade chocolates.
This Dartmouth restaurant has won multiple awards both locally and nationally. It's all about giving diners an authentic 'taste of Devon'; whether you opt for a Brixham crab risotto or duck terrine, corn-fed chicken or herb gnocchi, and rhubarb & custard choux or a platter of south west cheeses.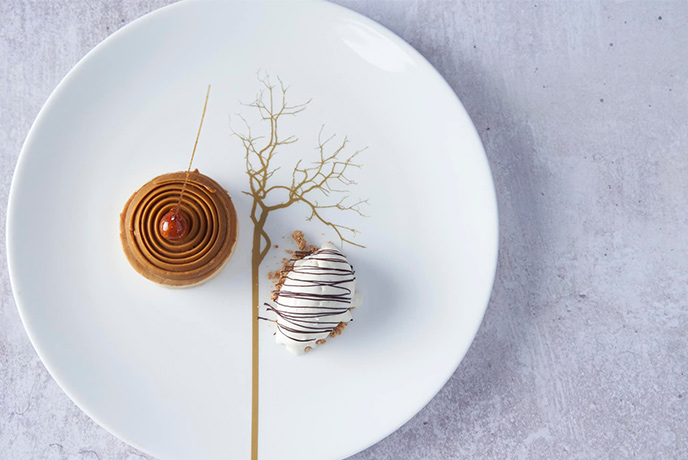 9 Mill St, Kingsbridge TQ7 1ED
Bringing yourself to tuck into the delicious dishes served at Jamie Rogers' Twenty Seven can be quite a challenge, as they are veritable works of art. Great use is made of attractive flora to create a glorious feast for the eyes featuring intricate, filigree leaves or the prettiest, most delicate flowers.
The fact that this fine dining restaurant is located within a former warehouse ensures a welcoming, laid-back atmosphere without a trace of stuffiness. Again southern Devon's produce forms the backbone of the menu, which is infused with creative combinations of ingredients.
Seafood features alongside local meats, cheeses and vegetables. You can try hand-dived Beesands scallops or a brie creme brulee as a starter then a Thai-style Salcombe lobster thermidor or a fillet of beef from Borough Farm. Desserts like a white chocolate delice with cointreau and mandarin sorbet round things off very nicely indeed.
For more on where to stay and visit, have a read of our guides to South Devon's best villages and things to do in South Devon.
Michelin recommended restaurants in East Devon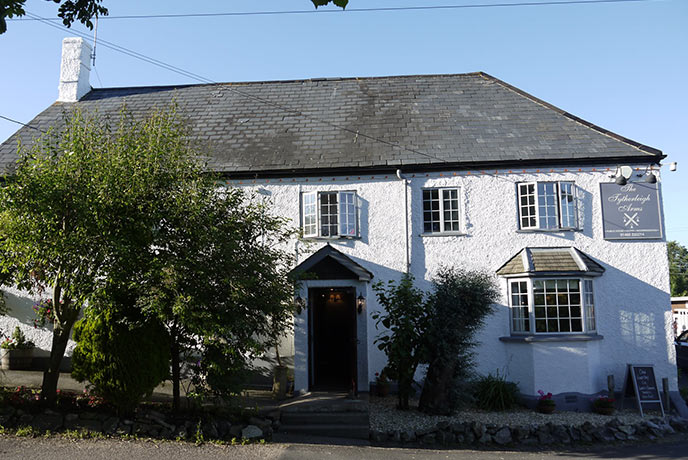 Tytherleigh, Axminster EX13 7BE
Positioned on the border between Dorset and Devon, the Tytherleigh Arms near Axminster occupies a fully renovated 16th century inn, complete with charming features like an original fireplace and wooden beams.
The menu is a well-judged mix of British pub classics and more contemporary dishes with a Mediterranean influence. While there's a good wine list, the real ale fans among you will want to seize the opportunity of trying local brews from the Branscombe and Otter brands.
The food is art on a plate made from seasonal produce. Try butternut squash tortellini, cumin roasted monkfish or onion tart tatin, or opt for simple pub dishes like fish and chips, burgers or steaks. For pud, how does a pistachio and matcha opera cake, tonka bean and chestnut parfait or blood orange set cream sound?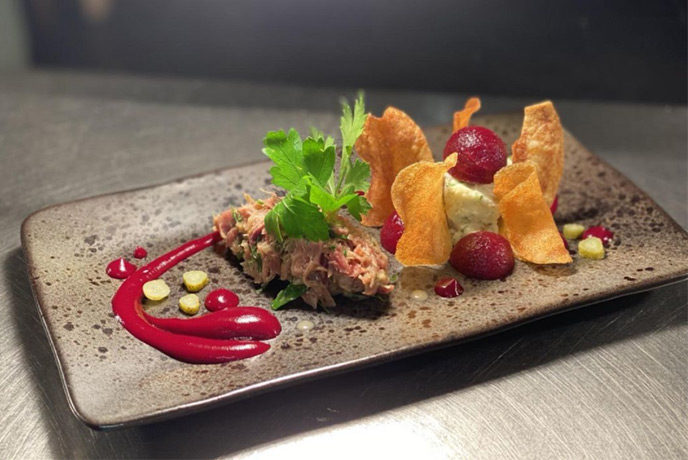 178 High St, Honiton EX14 1LA
You know you're in the safe hands of a foodie family when they own the local Otter brewery – which is exactly the case at The Holt in Honiton. Cookery classes are also offered here, and many of the ingredients used are preserved, cured, pickled or smoked on-site.
It's a relaxed, honest and wholesome kind of menu here, with a keen focus on homemade and locally sourced food. The flavours, however, are inspired by dishes from all over the globe.
Carnivores will love the crisp black pudding with smoky duck mash and the char-grilled steak with red wine sauce. While seafood fans will adore the steamed mussels starter and Sri Lankan fish curry main.
Vegetarian options include buffalo mozzarella with basil pesto and an aubergine version of the same curry. Typical desserts include a light-as-air lemon and almond cake or a French-style prune, armagnac and chocolate torte.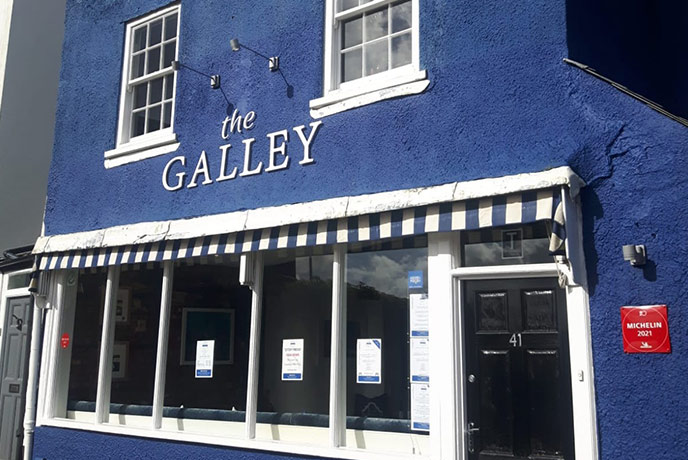 41 Fore St, Topsham, Exeter EX3 0HU
Nautical shabby-chic is the name of the game at The Galley in Topsham. While the outlook gives diners delightful views over the Exe estuary, Royal blue glasses and simple white crockery is particularly aesthetically pleasing when set against an exposed brickwork backdrop.
You cannot miss the exterior, with its rich blue paintwork and cheery striped awning. The first Insta-moment of your visit, perhaps? Once you step inside, though, it's all about the food – with a glass or two of excellent wine thrown in for good measure. Oh, go on then.
The menu's pretty platefuls showcase fine local produce. Plus, the fact that the father-and-son team prioritises desserts will please anyone with a sweet tooth.
From the pea and new-potato terrine and prosecco-battered plaice to cheesecake with cinnamon crumb and burnt apple jam, dining here is a fresh and inventive experience from beginning to end.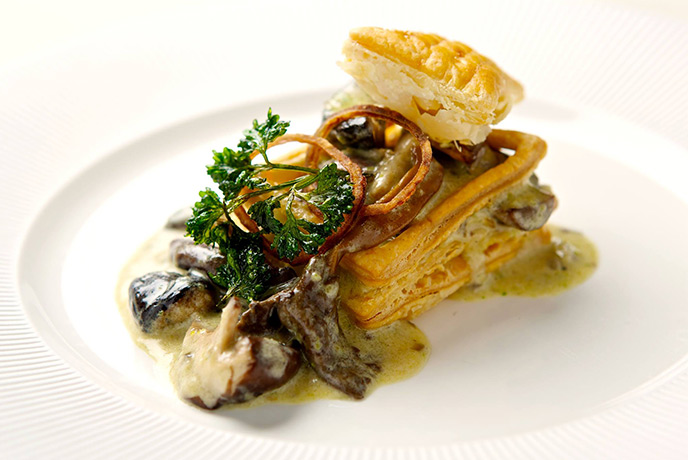 The Triangle, Kenton, Exeter EX6 8LS
Situated slap-bang on the edge of Kenton village green, Rodean is just seven miles from the city of Exeter and close to picturesque Powderham Castle. Once the local butcher's, it's now one of Devon's finest family-run restaurants.
The decor is an eclectic mix of contemporary furnishings, traditional wood panelling and exposed stonework. The menu does much the same, enhancing classic dishes by adding a perfectly-judged dash of modern flair.
Diners may pick from around half-a-dozen dishes for each course. Begin, perhaps, with a game bird terrine, Chalk Stream trout or a ratatouille with Sharpham brie. Before devouring pork belly with fondant potato, a wild mushroom open lasagne or the catch of the day.
Desserts range from classics like sticky toffee pudding to lime panna cotta or a local cheese platter. Count us in!
Michelin recommended restaurants in Dartmoor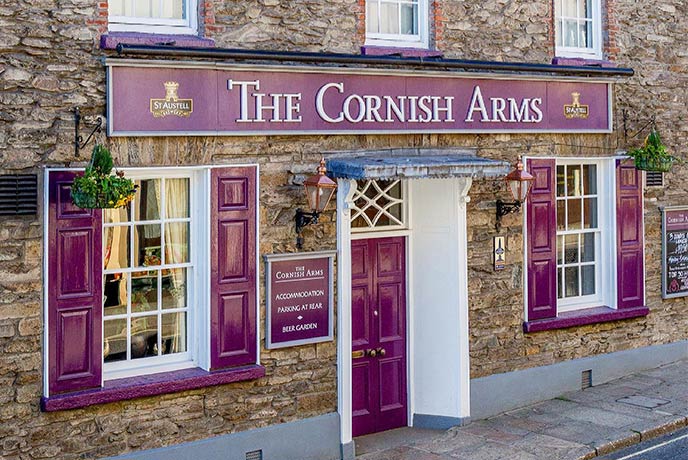 15 West St, Tavistock PL19 8AN
Bib Gourmand
The snug outdoor beer garden is one of this Dartmoor pub's main attractions during summer, but to step inside in winter is to feel thoroughly at home among painted stonework, warm polished wood flooring, leather banquettes and pops of tartan.
This pub is run by the folk behind St Austell ales, so they know a thing or two about Devonshire hospitality. You'll find the fact that local drinkers rub shoulders with visiting diners only adds to the appeal of this place.
Dedicated vegan and kids' menus are offered alongside the usual lunch, dinner and Sunday lunch options. The vegan options are a highlight, including imaginative combinations like Japanese-style hispi cabbage, salt-baked beetroot and roasted Cornish cauliflower.
Meat and fish fans can also pick between the likes of a pheasant scotch egg and Brixham crab ravioli followed by Newlyn cod or braised ox cheek. Vegans can also enjoy the pub's signature sticky toffee pudding served with caramelised banana and butterscotch sauce – but without the optional banoffee ice cream.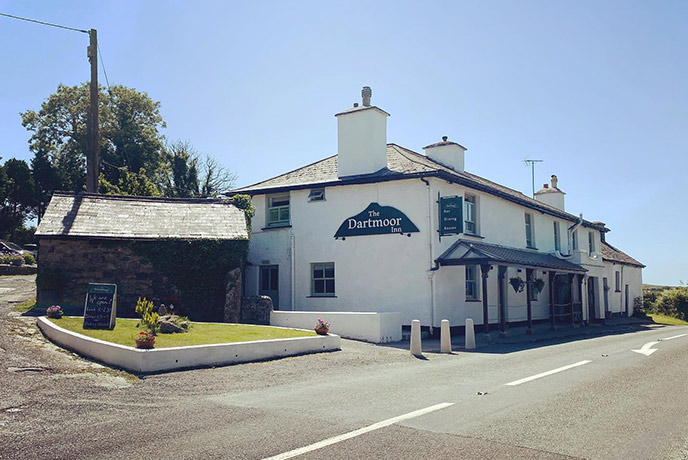 Moorside, Lydford Nr, Okehampton EX20 4AY
This traditional Dartmoor pub's interior is rich in deep, warm woods and stone slab flooring, yet is lifted by contemporary touches like panelling painted duck egg blue and spotlights dotted across the white ceiling.
The regularly-changing menu is overseen by the family team who run this place, and they extend the warmest of welcomes to each and every guest who stops by. Quite rightfully, they're very proud of their cosy local inn.
Typical menus include starters such as wood pigeon, whipped goat's cheese and gin-cured trout, served with Jerusalem artichoke, heritage beetroot and pickled cucumber respectively to keep things interesting.
For a main, you can move on to the likes of Creedy Carver duck breast with carrot, red cabbage and orange, butternut risotto with candied seeds, halibut with curry broth or a simple but juicy steak burger. Sweet options to round off your meal include chocolate brownie with orange caramel, coffee affogato or banana and rum parfait.
If you've indulged a bit too heavily in the exceptional fine dining on offer in Devon (and who can blame you), you may want to walk off a few calories with one of Devon's most scenic strolls.
And if you're looking for somewhere to stay, browse our range of gorgeous Devon holiday cottages.