Coastal resorts, dramatic cliffs and beautiful sunsets; there's a lot that Devon gets right. But, if you ask us, the food and drink scene is the beating heart of this popular English county. Whether you're looking for a cream tea, a wholesome pasty or a pint of locally brewed ale, Devon has you well and truly covered; and a holiday in Devon is simply not complete without sampling a tasty plate of fish and chips.
While Devon is famed for its fine selection of places to eat out, whether you're looking to dine out in the North Devon area or enjoy some local cuisine in the southern part of the county, you'd be hard pushed to find fresher, more delicious fish and chips than you will in this beautiful part of the West Country. And, not only does Devon serve up some of the tastiest catches, it also offers a vast selection of beautiful beaches, providing the perfect backdrop to enjoy a fish-and-chip takeaway. And, since Devon is home to two coastlines, the freshest and tastiest fish is a guarantee.
So, whether you're taking in the spectacular scenery and following some of Devon's finest walks, or planning a day with the family on the beach, a generous plate of locally sourced fish and hand-cut chips will most certainly be the icing on the cake - here are some of our favourite places to get 'em.
Sylvesters Fish and Chip Shop, Appledore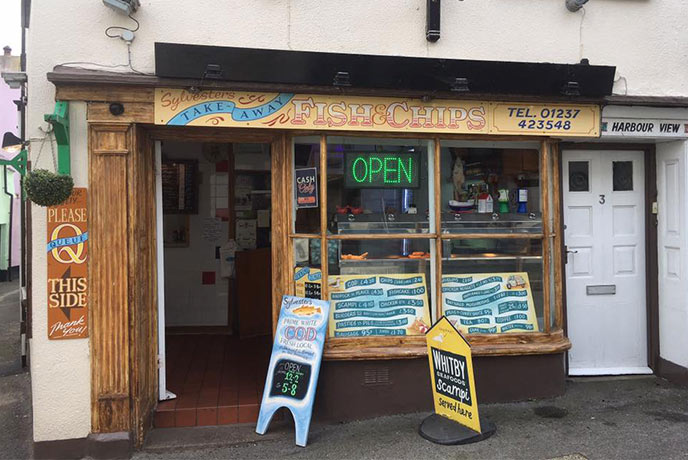 The Quay, Appledore EX39 1QS
Specialising in serving up local fish and freshly cut chips in paper (no polystyrene packaging here, folks), this much-loved fish and chip shop is set in the heart of Appledore. Choose from a menu of tasty local fish and seafood and take your meal to enjoy on Appledore beach. Take a look at their social media to get inspired!
Sitting on the estuary of the Taw and Torridge rivers, this beach offers the perfect backdrop to enjoy a serving of traditional fish and chips. If you time your visit right and land in August, you'll be able to watch the comings and goings of the Appledore and Instow Regatta Week which takes place on the beach while you tuck into your meal.
Stowaways Restaurant and Tight Lines Chippy, Ilfracombe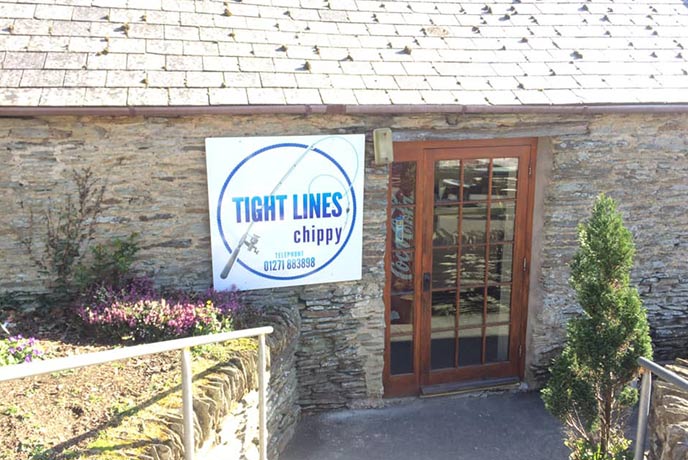 Stowford Farm Meadows, Bridge Park Lane, Ilfracombe EX34 0PW
Set in the heart of Ilfracombe and offering up plenty of indoor seating, this popular restaurant also provides a full takeaway service. Offering a varied menu including all of the traditional fish-and-chip classic dishes, there is also a daily carvery available if the mood takes you.
Fancy a walk before you tuck in? Take the 2km steep walk to Wild Pear Beach and reward yourself with a tasty fish-and-chip moment on the beach once you arrive. This rocky beach is a little piece of heaven and benefits from being protected from the offshore wind, so it's the perfect place to enjoy an alfresco meal. Check out their social media for more details.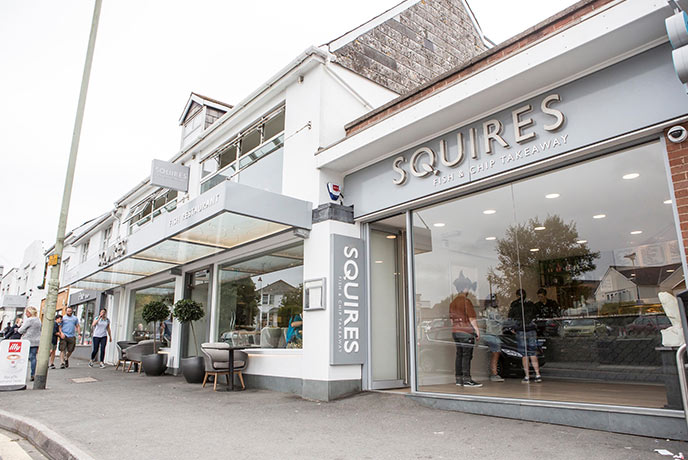 Exeter Road, Braunton EX33 2JL
Situated in Braunton, this award-winning restaurant offers the perfect place to sit down with the family and enjoy a long lunch. With seating for up to 130 people set across two floors and a click-and-collect service available for takeaway orders, this popular restaurant has been in business for over 50 years and serves up a tasty menu of fresh fish and delicious chips cooked to order.
1 Oakland Park, Barnstaple EX31 2BX
Offering indoor seating in the restaurant as well as a full takeaway service, this multiple-award-winning restaurant is much loved by locals and holiday makers alike. Specialising in serving up soft, flaky cod in a light, crispy batter, this restaurant really does fish and chips like no other. With a focus on supporting local businesses and sourcing fish sustainably, The Pelican is well worth a visit for any fish and chip connoisseur.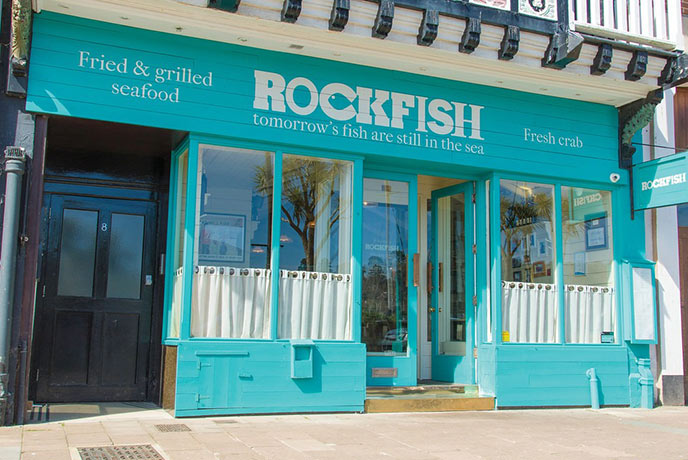 8 South Embankment, Dartmouth TQ6 9BH
Established in 2010 by famous seafood expert, Mitch Tonks, Rockfish was the first restaurant owned by the Rockfish brand to open in the South West. Offering up a full takeaway service which is available at the Lower Ferry on Lower Street, visitors can also choose to dine in the restaurant and enjoy a delicious plate of fish and chips.
With a focus on sourcing sustainably caught fish, you can be absolutely sure that the fish on your plate has been caught that very same day, meaning freshness and quality are absolutely guaranteed. Looking for a special gift? Visitors can also purchase a range of seafood books written by Mitch Tonks and take a taste of this much-loved restaurant home with you.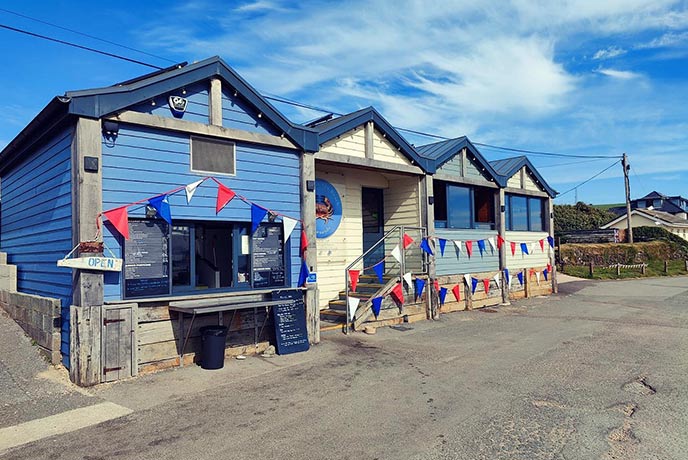 Beesands TQ7 2EH
Known by locals as 'The Shack', this café and takeaway serves up delicious fish and chips as well as offering vegan options, too. Members of Food and Drink Devon, Britannia at the Beach has been established for over 40 years and is situated directly next to the shingle beach at Beesands.
There's free parking located close-by so once you've parked up and picked up your order, set up camp on the beach and enjoy some time out with the family over a delicious portion of fish and chips.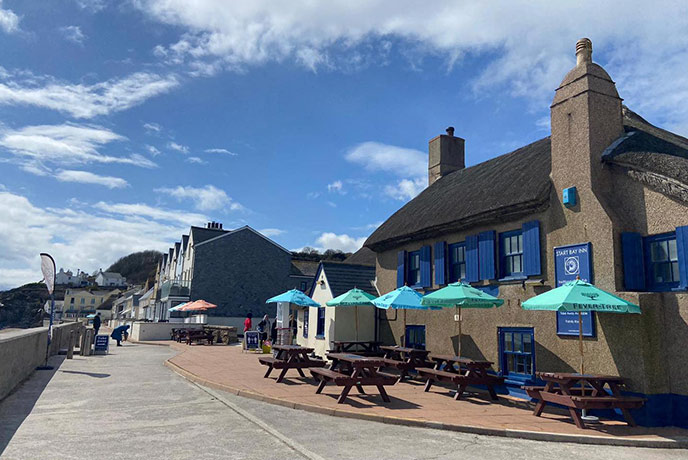 Torcross, Kingsbridge TQ7 2TQ
Family run since 1977, this restaurant dates back to the 14th century when it was then known as The Fisherman's Arms. With a strong focus on local produce, real ales and ciders and seafood specialities, this popular restaurant is set right on the beach, offering the perfect place to watch the sunset over a tasty takeaway. There are also branded hoodies, T-shirts and bamboo coffee cups to purchase if you're looking for a gift, as well as gift vouchers available, too.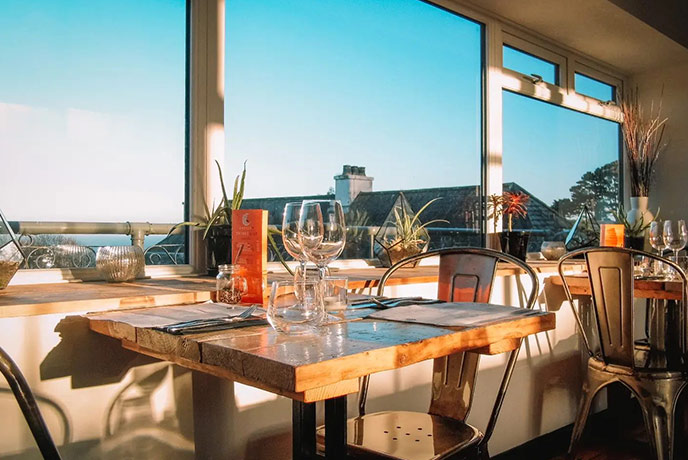 New Road, Stoke Fleming TQ6 0NR
Established in 2015, Radius 7 has earned itself a strong reputation for serving up delicious fish and chips to locals and day-trippers alike. Wherever possible, the produce is sourced from local allotments, harbours and farms and there are plenty of seafood options for visitors to choose from.
Got a four-legged friend with you? No problem: take a seat in the bar area for dining where well-behaved dogs are welcome. There's also a full takeaway service available if you want to take a stroll and enjoy your meal in the great outdoors.
West Devon
TJ's & LJ's Fish and Chips, Tavistock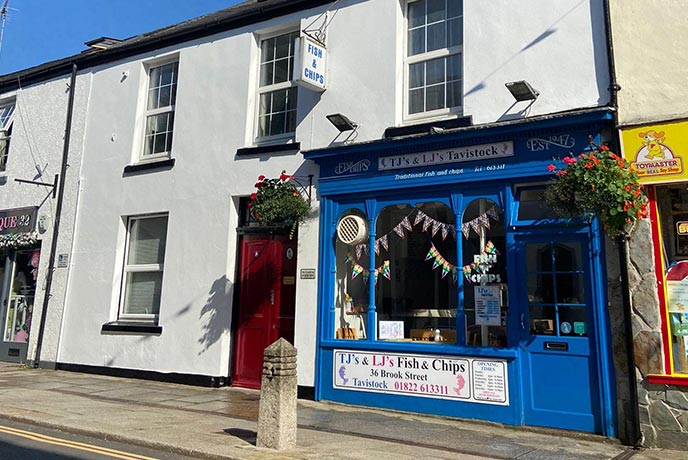 36 Brook Street, Tavistock PL19 0HE
Lovers of traditional fish and chips simply must take a trip to this family-owned restaurant. With lots of indoor seating and a full takeaway service available, there's plenty of menu options here to satisfy all tastes and dietary requirements. With wheelchair and buggy access available, this restaurant offers free street parking and is located in the heart of Tavistock.
Fancy a stroll? Take your fish and chips down to the canal. Got kids? Follow the canal a little further and you'll stumble upon The Meadows which offers a full children's playground, a bowling green and tennis courts.
73 West Street, Tavistock PL19 8AJ
Offering online ordering for takeaway or local delivery (within the Tavistock area), family-run Mickey's Plaice is much loved by locals. In addition to the classic fish and chip menu options we all know and love, this restaurant also offers gluten-free batter, lots of vegan options and a full menu for children.
The Famous Chippie, Horrabridge
17 Station Road, Horrabridge PL20 7ST
Serving up generously sized portions (one portion of chips is plenty for two), this fish and chip shop has earned itself quite the reputation over the years. The fish is coated in a light, crispy batter and the chips might just be the tastiest ones we've ever been lucky enough to try.
Although there's no indoor seating here, the local park is a two-minute walk away and there are lots of benches to sit on and enjoy your takeaway while the kids burn off some energy on the play equipment. If you've got a thirst on, we also highly recommend you pop to The London Inn, located just a few doors down from The Famous Chippie, and get yourself a pint of local ale to wash down your feast.
East Devon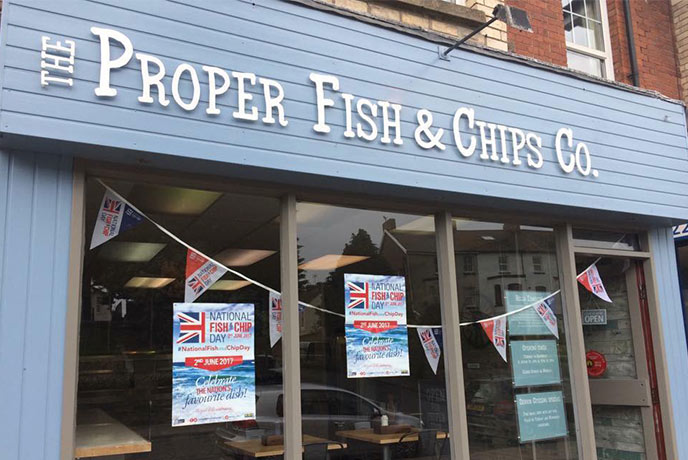 73 Exeter Road, Exmouth EX8 1QD
With a strong focus on local produce and famous for providing world-class fish and chips served in entirely plastic-free and biodegradable packaging, The Proper Fish & Chips Co. does exactly what it says on the tin.
The potatoes used to make the chips are sourced from Williams Potatoes in Starcross, Devon, and the fish comes from a British fishing trawler named Kirkella. This means that the fish that ends up on your plate can be traced back to where it was caught that very same day. And it doesn't come any fresher than that.
Bloaters, Sidford EX10 9RL
With a car park located conveniently at the back of the café, Bloaters has become very popular for die-hard fish and chip fans. Serving up all the traditional favourites such as flaky cod, succulent haddock and delicious plaice, this fish and chip shop also offers choices for children as well as some vegetarian options.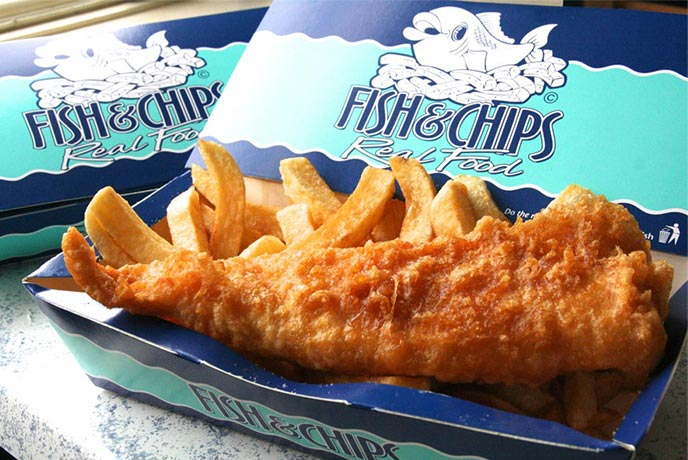 7 Chapel Street, Budleigh Salterton EX9 6LX
Serving up Norwegian cod, Brixham haddock and locally sourced plaice, Budleigh Fish and Chips has been family-run since 1937 and is a strong part of the local community. All of the fish is sustainably sourced and is always supplied by Marine Stewardship Council (MSC) registered companies, and is filleted and frozen at sea within just a few hours of being caught, meaning you'll most certainly taste the difference.
Choose to sit in the café or take your takeaway to the beach. Gluten-free batter is available here, too, and there's plenty on the menu to make sure all tummies are well and truly satisfied.
Smart Fish Bar, Exeter
123 Exwick Road, Exeter EX4 2BH
Known for great portions at great prices, you simply can't visit Exeter without taking a trip to the Smart Fish Bar. Offering up the classic fish and chip menu options as well as scampi and other seafood dishes, this popular fish and chip shop uses fresh oil every day which results in extra-fresh batter and the tastiest chips. Take a look at their social media to get that appetite going!
Take a trip to the heart and 'sole' (sorry…) of the West Country and sample some of the finest fish and chips in the country. Whether you want to eat out or bring a tasty takeaway back to your holiday bolthole, Devon most certainly promises to deliver a tasty catch of the day.