When it comes to making the most of the great outdoors, Dorset really has you covered with a variety of beautiful dog-friendly beaches, some seriously snap-worthy walks, and a collection of cycle routes that make you excited to dig out the lycra and lunchbox.
Cycling is a fantastic way to get out and explore our beautiful Dorset countryside that's great for all ages and abilities. It's also inexpensive and brilliant for your mental and physical health - not to mention it's nice and gentle on the environment!
Whether you're looking for a family cycle beside the seaside, a pootle through peaceful villages or a more exciting experience off-roading on a forest track, we've got it covered!
Alongside the wonderful National Cycle Network routes there are numerous lesser known opportunities for you to get out and about on two wheels, so here is our guide to the best bike rides in Dorset.
Stour Valley Way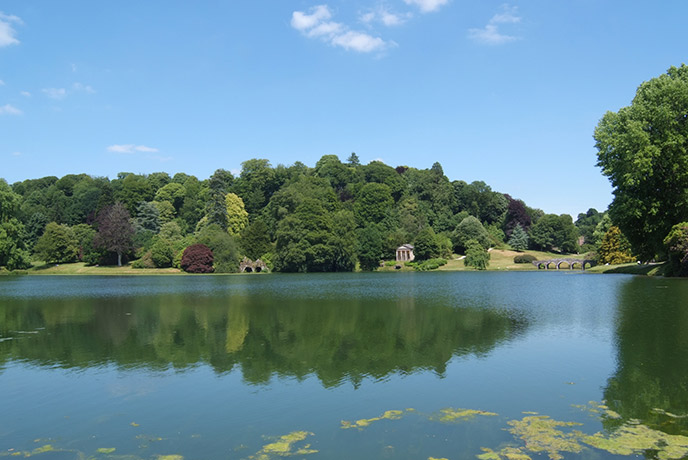 Best for: Tranquillity seekers/wildlife lovers
• Distance: 2 - 64 miles (3km - 103km)
• Difficulty/terrain: Easy to intermediate/Riverside path, quiet lanes
• Starts/Ends: Hengistbury Head, Christchurch - Stourhead, Wiltshire
• Parking: Stour Valley Nature Reserve, Hengistbury Head
• Landmarks: River Stour, quiet countryside, village churches, rural pubs
• Bike hire: Avon Tyrrell Activities Centre
This meandering route follows the course of the magnificent River Stour as it winds through the Dorset countryside and the cycle path runs along the south side of the water. Although the full length of this waymarked Stour Valley Way, which uses a mixture of quiet roads, sunken lanes and paths, runs for 64 miles it is of course possible to enjoy it in smaller, more manageable sections.
The Stour Valley Nature Reserve makes a great start and end point with parking and a café for refreshments. Kingfishers, woodpeckers and some 120 different species of birds have been recorded here and there are several circular routes available ranging from an easy 2 miles upwards. Another option is the Vine Inn to Stour at Spetisbury Loop, which covers 28 miles of blissful countryside with the excellent Vine Inn in Wimborne as a handy pitstop.
Horton Tower Loop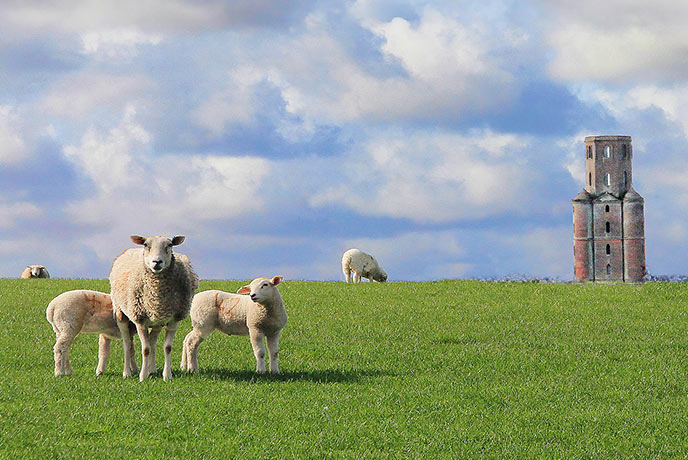 Best for: History lovers
• Distance: 10 miles (16km)
• Difficulty/terrain: Easy – Moderate/Heathland, gravel tracks, bridleways, some on road
• Starts/Ends: White Sheet Car park, Holt Heath
• Parking: White Sheet Car park
• Landmarks: Chalbury Church, Horton Tower Folly
The Horton Tower Loop is named after a red-brick Gothic tower thought to have been built in around 1720 by Humphrey Sturt, possibly as an observatory. Standing seven stories high, it dominates the landscape for miles around and makes a great navigation point.
This circular cycle route also passes by the nature reserve of Holt Heath, the 15th Century Chalbury Church and picturesque Monmouth Ash. There is an option to combine this route with the Witchampton Cycle Route to make a longer 22 mile (35km) route. Refreshments are available along the way at the Cross Keys pub at Mannington and The Horton Inn.
Castleman Trailway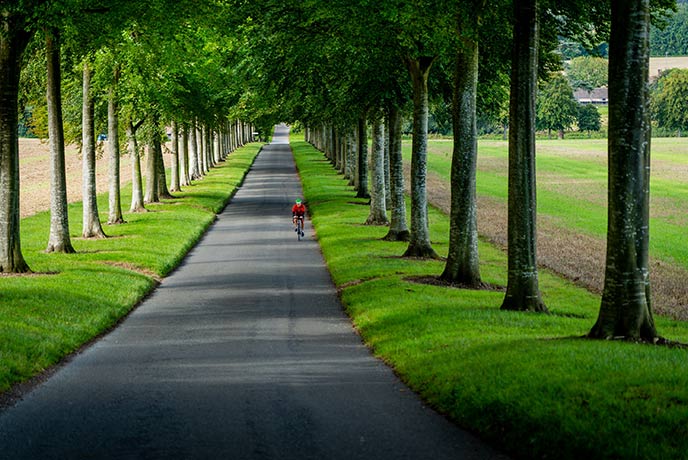 Best for: Laid-back cyclists
• Distance: 16 miles (26km)
• Difficulty/terrain: Easy/disused railway line, woodlands
• Starts/Ends: Bournemouth/Poole to Ringwood
• Parking: Upton Country Park, Delph Woods, Moors Valley Country Park
• Landmarks: Upton, Avon Heath and Moors Valley country parks
• Bike hire: Wheelie Bike Hire
This easy trail in East Dorset is named after Charles Castleman who built the original railway line that connected Dorset to the wider network. The line went out of use in 1964 and in recent years it has become a popular cycling and walking track. The route is fairly flat and takes you through peaceful forests, quiet heathland and over babbling streams.
As well as the abundant wildlife, there are also some interesting archaeological sites that are well worth a look along the Castleman Trailway. Three Scheduled Ancient Monuments are located on the ridge near the Cannon Hill Plantation including Bronze Age Barrows looked after by English Heritage. The trail can also be done in smaller sections including Upton Country Park to Merley (4 miles), Merley to Stapehill (2.4 miles), Stapehill to Dodman's Crossing (3.3 miles).
The Promenade - Hengistbury Head to Sandbanks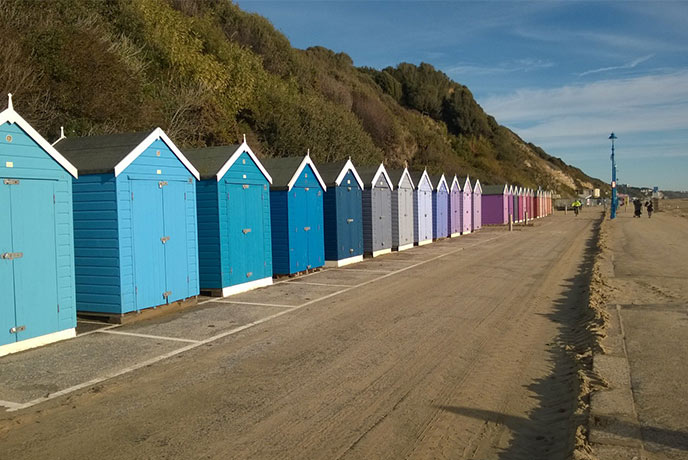 Best for: Sea views and ice cream
• Distance: 3 - 10 miles (4.5 - 16km)
• Difficulty/terrain: Easy/mostly paved seaside promenade
• Starts/Ends: Hengistbury Head to Sandbanks
• Parking: Several all along route, including a beach carpark at Sandbanks.
• Landmarks: Southbourne Beach, Boscombe Beach and Pier, Bournemouth Beach and Pier as well as Durley Chine and Alum Chine
This enjoyable and relaxing seafront cycle makes a great day out for all the family and is often known as the Promenade Route. The track follows the seaside promenade passing glorious beaches for 10 miles between Hengistbury Head and Sandbanks but it is also possible to do a shorter section, for example the 3 miles between Bournemouth Pier and Boscombe Pier. Cycle Hire is available at Bournemouth Pier, or you can pick up a 'Beryl Bike' at the start of your journey and leave it at the end.
The pleasure of this ride is that you can stop as often as you like and there are plenty of picnic spots, cafes, restaurants, drinks kiosks and ice cream stalls all along the way.
It is important to bear in mind that during peak season (July/August) no cycling is permitted between 10am and 6pm. At all other times cyclists are asked to keep their speed to a relaxed 10mph.
The Rodwell Trail
Best for: Families
• Distance: 2 miles (3.5km)
• Difficulty/terrain: Easy/traffic free path
• Starts/Ends: Westham Bridge, Weymouth & Ferrybridge, Wyke Regis
• Parking: Weymouth
• Landmarks: Chesil Beach, Portland harbour, Fleet lagoon, Sandsfoot Castle
This lovely traffic free route is a shared-use walking and cycling path that makes up part of the much longer National Cycle Network Route 26 which runs from Portland to Portishead. It follows the old Portland Railway line with views out to sea of Portland Harbour, the wonderful Chesil beach and the famous Fleet lagoon.
The trail, which opened in 2000, also passes near Sandsfoot Castle built by King Henry VIII in 1542 which is free to enter. You can extend your ride by a further 2.3km which will take you out to Fortuneswell and the Isle of Portland.
Hurn Forest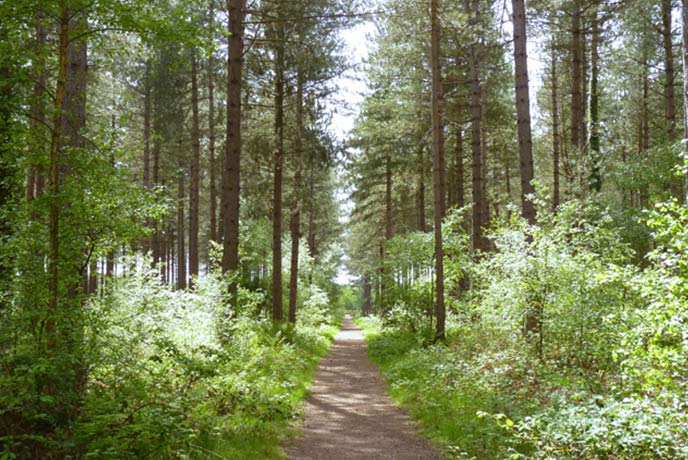 Best for: Mountain biking
• Distance: 2miles+ (3.5km)
• Difficulty/terrain: Easy – moderate/ woodland, heath, ponds
• Starts/Ends: Near Ferndown
• Parking: Matchams Lane car park
• Landmarks: Miles and miles of conifer woodland
The Hurn Forest is a peaceful area of woodland close to Bournemouth and the Moors River skirts along the edge of the reserve which is maintained by Forestry England. The tracks in and around the forest are relatively flat and this makes it a great place for kids and beginners to mountain biking to get some experience.
With miles of quiet wooded paths lined mostly with conifer trees, this is an ideal spot to take the time to explore and do some easy-going off-roading.
East Lulworth Cycle Ride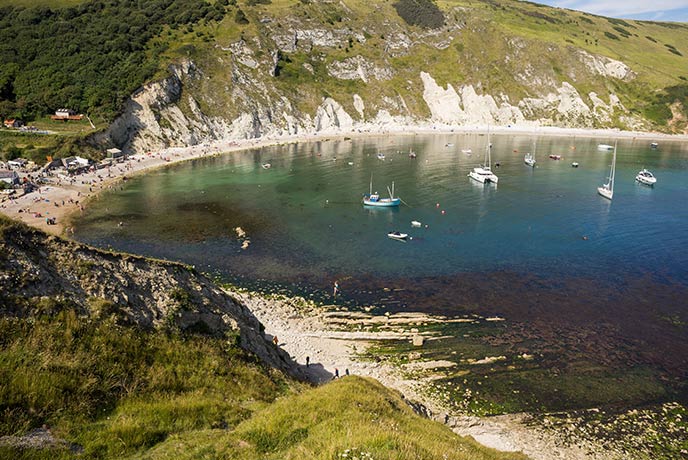 Best for: Landscape lovers, confident on-roaders
• Distance: 18miles+ (29km)
• Difficulty/terrain: Moderate/quiet roads, some steep climbs
• Starts/Ends: Wareham Quay to Lulworth circular
• Parking: Purbeck sports centre, West Lulworth,
• Landmarks: Lulworth Castle, Lulworth Cove
• Bike hire: Cyclexperience Purbeck
This is an exhilarating ride through the beautiful countryside surrounding Lulworth Castle, with the option of extending the route down to the picturesque beach of Lulworth Cove. The ride takes you through the pretty village of Wool where you can find the ruins of Bindon Abbey, West Holme with a café and farm shop, and the hamlet of Coombe Keynes with a peaceful 13th century church.
The East Lulworth Cycle Ride really takes in some of the true treasures of rural Dorset. The highlights however have to be Lulworth Castle, a magnificent building, steeped in history and Lulworth Cove which has to be one of the most photogenic locations in the whole of the county.
North Dorset Trailway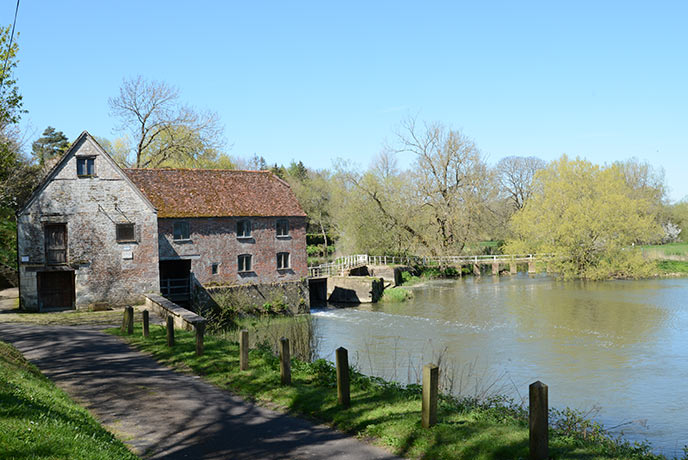 Best for: Wildlife lovers
• Distance: 14 miles (22km)
• Difficulty/terrain: Easy – moderate/ countryside, riverside; flat, well-maintained path
• Starts/Ends Sturminster Newton to Spetisbury
• Parking: Sturminster Newton/Spetisbury/Blandford Forum
• Landmarks: Hambledon Hill, River Stour, pretty villages
This walking, cycling and horse riding track runs along the route of the old, disused Somerset and Dorset Railway line and takes you through some picturesque villages of the Blackmore vale. Places of interest along the North Dorset Trailway include Spetisbury Rings Iron Age hillfort, Milldown Nature Reserve, Badger Brewery visitor's centre and Stalbridge 15th century market cross.
You can dip in and out of the route from Sturminster Newton to Spetisbury, take in the superb views of Hambledon Hill, and follow the course of the meandering River Stour, which is a haven for wildlife, looking for otters, deer and kingfishers as you go. This path also joins with the Wessex Rideway, Stour Valley Way (see above) and the Jubilee Trail.
The old railway line, closed to rail traffic in 1966, provides an ideal route for the trailway as it links many of North Dorset's towns and villages and has been levelled, surfaced and widened to around 3m making for comfortable, safe riding.
NCN Route 2 - Lyme Regis to Dorchester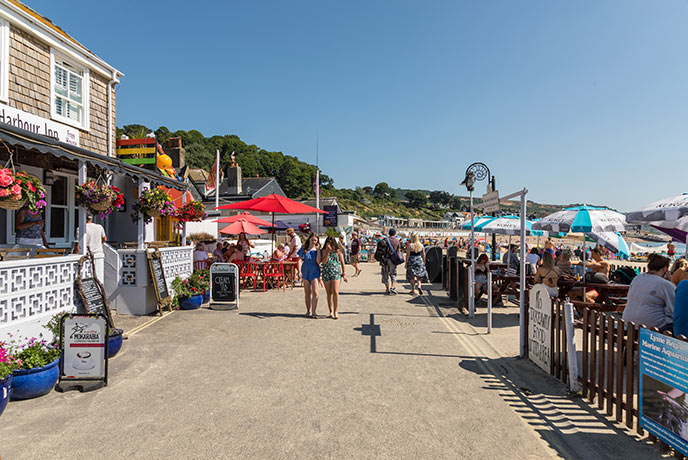 Best for: Adventurous day trippers
• Distance: 30 miles (48km)
• Difficulty/terrain: Moderate – difficult/ some on and off road, with some steep ascents
• Starts/Ends: Lyme Regis to Dorchester
• Parking: Lyme Regis, Charmouth, Abbotsbury, Dorchester
• Landmarks: Hardy's Monument, Valley of Stones, Jurassic Coast
• Bike hire: Jurassic Cycles
The National Cycle Network Route 2, when complete, is a long distance route that runs from Dover in Kent to St Austell in Cornwall. This section in West Dorset is very special albeit a little more challenging. It runs between the towns of Lyme Regis and Dorchester and is usually manageable in a day. But, of course, you can do as much or as little of it as you want and there is the opportunity to take a number of short detours to places such as West Bay, Charmouth or Lambert's castle.
The route starts on the dramatic Jurassic coast at the historic town of Lyme Regis, which has long been famous for its fossil hunting (and mouth-watering eateries); passing through the village of Marshwood Vale you then arrive in Bridport, a great place to pause and get refreshments. The second section around Abbotsbury is full of interest including the impressive Valley of Stones, Abbotsbury Stone Circle and Hardy's Monument, erected in 1844 which provides stunning views of the surrounding countryside. The route ends in the bustling market town of Dorchester.
This route also links with NCN Route 26.
Moors Valley Country Park & Forest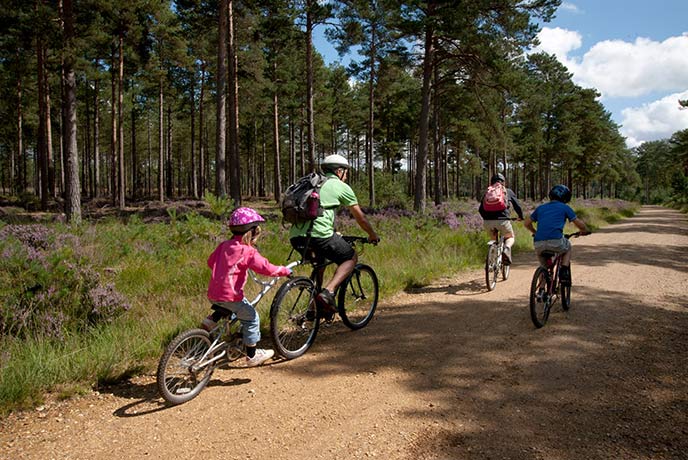 Best for: Peace-seekers
• Distance: 2 – 7 miles (3km – 11km)
• Difficulty/terrain: Easy to challenging/gravel and surfaced waymarked paths
• Starts/Ends: Moors valley Country Park & Forest
• Parking: Onsite in Ringwood
• Landmarks: Forest, parkland, railway
• Cycle hire: Available onsite
First opening in 1988, the Moors Valley Country Park covers more than 200 acres and is hugely popular with hikers, horse riders, runners and dog walkers. However, with its various graded waymarked routes laid out specifically for cyclists, it is a wonderful place to explore on two wheels too!
The cycle trails range from easy to moderate to challenging. The easy 'Forest Road' is the central circuit and suitable for all abilities. There is then the option of extending into the 'Through the Forest' track which winds through miles of woodland and heath, with the route marked by blue arrows so you can't get lost.
And for the more adventurous there is the Bike Park. This is an exciting place for experienced cyclists to develop their skills. Designed in conjunction with local riders and Forestry England, these natural elements require balance and riding skills to traverse and jump. The Pump Track is a sculptured track that includes berms and dips and encourages the rider to "pump" their way around the track with limited pedalling.
Bikes, including children's, trailers and tag-a-longs are all available to hire onsite. This route can also join up with the Castleman Trailway (see above).
If this has got you excited about exploring Dorset on a bike then take a look at our charming range of holiday cottages, the perfect spots from which to start and end your daily adventures.