Sand-swept beaches, dappled woodlands, and a swathe of idyllic countryside that's inspired many paintings in its time, Dorset is a patchwork of beauty we just can't get enough of… nor can some of the nation's finest chefs it seems.
Oh yes, making full use of the county's astonishing natural larder, Dorset's foodie scene is a smorgasbord of culinary delights, with many Michelin recommended restaurants calling this quiet corner of the South West their home (not to mention a whole fleet of food festivals ready to blow your taste buds away). Fresh seafood courtesy of Dorset's stunning coast and farm-to-fork goodness line the menus of these epic establishments, creating a tour de force of local ingredients and flavours.
But don't take our word for it, put these delectable eateries to the taste – sorry, test! – with our guide to the top Michelin restaurants in Dorset…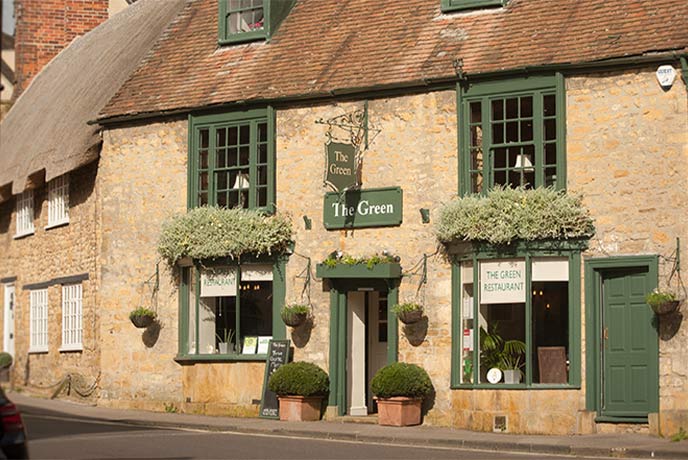 3 The Green, Sherborne DT9 3HY
Bib Gourmand
Having received the coveted Bib Gourmand for the fifth year in a row, The Green in Sherborne continues to wow hungry patrons with its Mediterranean style dishes and beautiful listed location. From the golden-glow of the historic building to the lovely patio where al fresco dining is a sun-soaked must, it's easy to get swept up in the atmosphere of this Michelin recommended restaurant.
The menu is just as eye-catching, boasting an ever-changing selection of creative dishes that meld classic themes with new ingredients and techniques. Tuck into home smoked trout, Georgian spiced lamb, and vegan burgers, or turn to the desserts and opt for a dash of spice with a carrot and ginger sticky toffee pudding.
Of course, with a menu that changes with the seasons, you can always expect something new and delighting, giving you endless excuses to visit this much-loved eatery.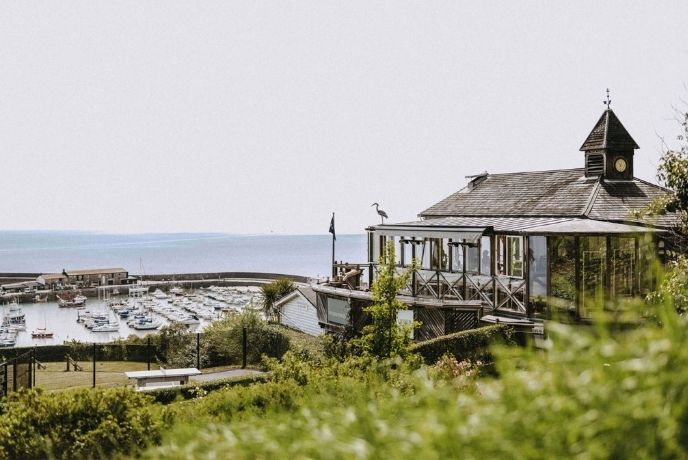 Lister Gardens, Cobb Road, Lyme Regis DT7 3JP
One of the best places to eat in Lyme Regis and a powerhouse of expertly prepared seafood, The Oyster & Fish House is the place to go for those looking for a taste of the Dorset coast with views to match. Ingredients are brought in from the day boats, giving you access to some of the freshest seafood in the county.
Feast on the likes of scallops, shellfish, and lobster straight from Lyme Bay alongside an assortment of local flavours – the scrumpy fried pollock is our new favourite way to take our fish and chips! Or, for those who like to bring the heat, the tandoori John dory (try saying that three times faster) is packed with flavour and served alongside Bombay potatoes and pickled red onion salad. Finish it all off with an uber-comforting pud in the form of Bramley apple pie or Norfolk treacle tart – not forgetting the cheese course, of course!
Eat inside the bright and airy Michelin recommended restaurant or take your dining experience to the terrace for sweeping sea views you can enjoy with the dog by your side.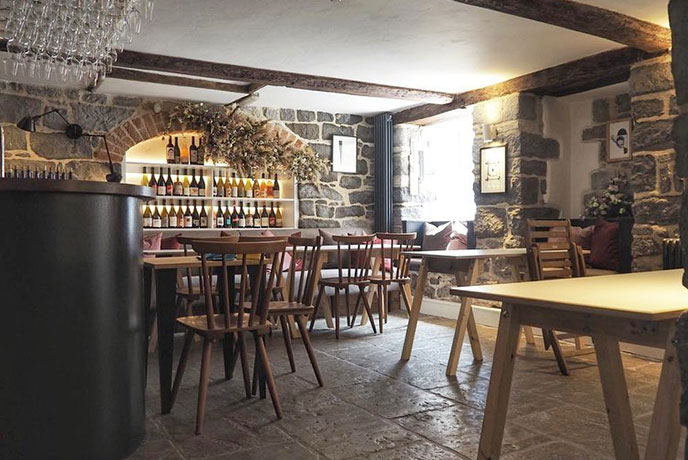 63a Silver Street, Lyme Regis DT7 3HR
Another Michelin recommended restaurant to find its home in Lyme Regis, Robin Wylde offers guests an intimate space in which to enjoy an incredible menu that really shines a spotlight on Dorset's natural larder, from the fields to the hedgerows.
Offering a seasonal tasting menu, you'll be led through a series of dishes that perfectly encapsulate the surrounding area using ingredients that have been lovingly gathered - you can even join them for a foraging walk yourselves. Embark on a journey through the likes of duck spring salads, lamb with English rose and fava bean harissa, and game flatbread, all the while enjoying a fascinating peek behind the curtain of each dish.
Choose your accompanying drink from their superb wine list or turn to their knowledgeable sommelier for the perfect pairing to your experience.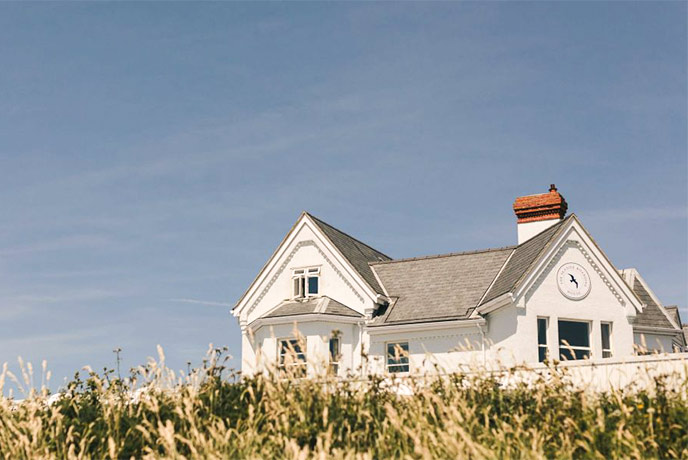 Cliff Road, Burton Bradstock DT6 4RB
Making the most of its cliff-top perch, the Seaside Boarding House has you covered whether you want a six course banquet to really fill the corners or a light lunch after a stroll on the beach – dogs are welcome on the terrace and in the bar so you can bring the whole pack!
Alongside sea views and a welcoming dining room, you'll find a seasonal menu worth your attention. Surrounded by the sea and sweeping farmland, Seaside Boarding House focusses on locally sourced ingredients that elevate the simple yet delicious dishes. Choose between steamed mussels, fried Torbay sole, and grilled pork chops at lunch, and bavette steak, fried globe artichoke, and Portland crab in the evening.
An extensive wine list accompanies the menus, with a bar stocked full of superb whistle-wetters, from refreshing cocktails to soothing nightcaps.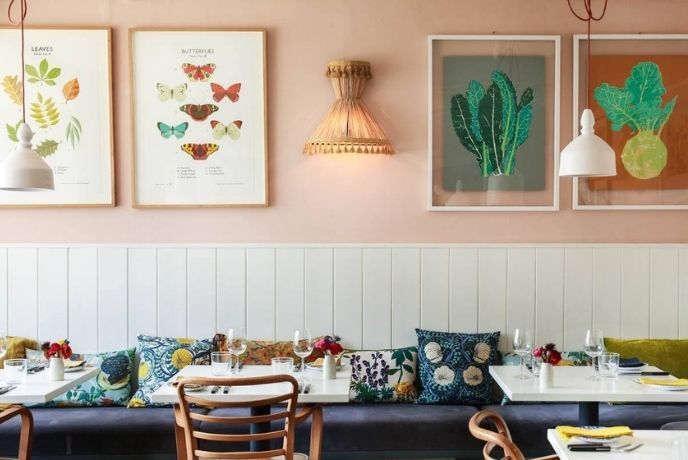 4 The Square, Beaminster DT8 3AS
A colourful setting in Beaminster, exciting menus, and even its own homeware and food shop, Brassica is a breath of fresh air we can't stop inhaling! We're particularly in love with their film and food suppers, which combine much-loved movies with a themed menu to match.
The menu takes its inspiration from the Mediterranean, taking you on a spirited journey through locally sourced dishes that pack a flavourful punch. Stop by for brunch and baked eggs, tomatoes, 'nduja, and grilled focaccia, lunch and a generous helping of Agretti, black garlic, and crispy polenta, and dinner for a round of braised organic pork shoulder ragu with red wine and soft polenta. During the week, you can opt for the Prix Fixe menu, which offers Michelin grade cooking for a fraction of the price.
Friendly, vibrant, and with dishes that are quick to draw a smile, Brassica is one for those looking for a relaxed meal and a spot of retail therapy.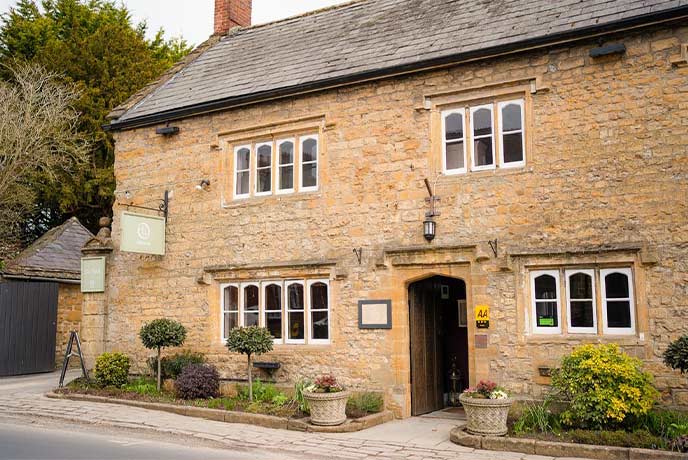 3 Prout Bridge, Beaminster DT8 3AY
From small plates to slap-up Sunday lunches, and with a myriad of vegan, veggie, and gluten-free options available, Ollerod is a haven of delicious choices. Making the most of the surrounding farmers, fishing boats, and growers (and the kitchen's very own garden), each dish explores Dorset's bountiful land and sea to incredible effect.
Taste your way through a selection of small plates, which vary from loaded rosti bites to charcuterie, or delve into something a little heartier with beer battered haddock and chips or Ollerod's outstanding take on a ploughman's, complete with ham hock terrine and grilled focaccia. The sourdough pizza menu is well worth an indulgence too, whether you fancy the creamy wiles of carbonara (oh yes, this is a pizza topping too!) or the show stopping Burrata pizza, which comes topped with a whole Burrata, because… well… why not!
In the winter months, the fire is lit and the snug calls for cosy moments, while the summer promises sun-soaked afternoons on the terrace. It really is wonderfully easy to be spoiled for choice at Ollerod.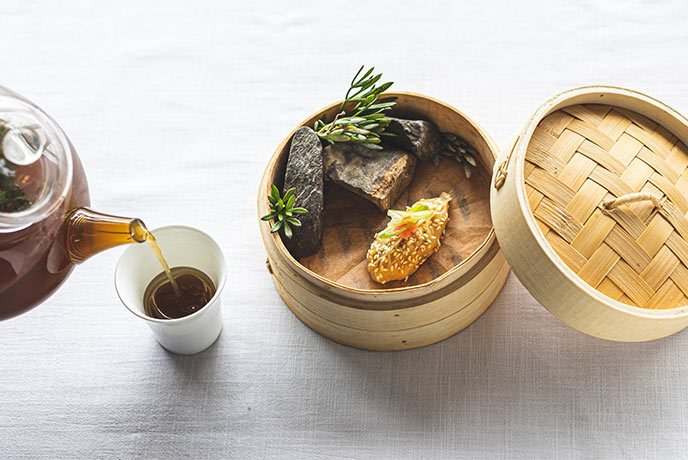 1 Custom House Quay, Weymouth DT4 8BE
Situated on a bustling quay in Weymouth and within a Grade II listed fish market, Catch is the ultimate place to indulge in some sublimely fresh seafood – you can even pick some up to take home from the artisan fishmonger downstairs.
With menus that change with the seasons (and often the tides), you're in for an ever-changing culinary adventure when visiting Catch, whether you book in for the four-course tasting menu at lunchtime or the Saturday night eight course extravaganza. Some of the dishes you can expect to devour here include sourdough with smoked mussel butter, Portland crab dumpling, and cured Weymouth sea bass served with artichoke and young leeks – is it possible to swoon more over a menu?
Not to worry if you prefer under the ground to under the sea, as the lovely team at Catch are more than happy to create vegetarian and vegan tasting menus with advance notice.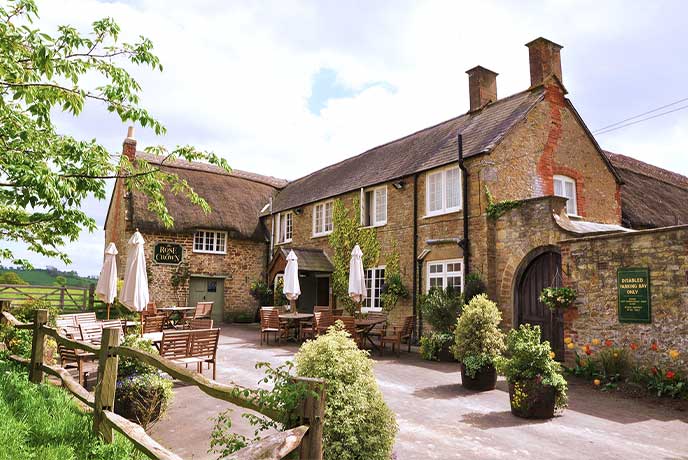 Trent, Sherborne DT9 4SL
With tradition baked into its core, 14th century inn The Rose and Crown is the pub equivalent to a warm hug – especially in the winter months when the fires are lit. Of course, the beer garden makes summery visits a dream too, with the idyllic inn providing the perfect spot for a refuel after a ramble through the surrounding countryside.
The menu is a mouth-watering mix of pub classics (with a Michelin twist, of course) and bold dishes that tempt you into trying something new. Dishes such as hake Kiev, butternut squash and sage macaroni cheese, and hare saddle might make it rather difficult to choose only one, but you can make the decision safe in the knowledge that whichever one you opt for, it will be worthy of the Michelin guide and another visit.
The Rose and Crown also offer Michelin quality food on a smaller scale, simply pop in for a lip-smacking drink at the bar and peruse the bar snacks menu for a tempting collection of pork pies, scotch eggs, and sausage rolls.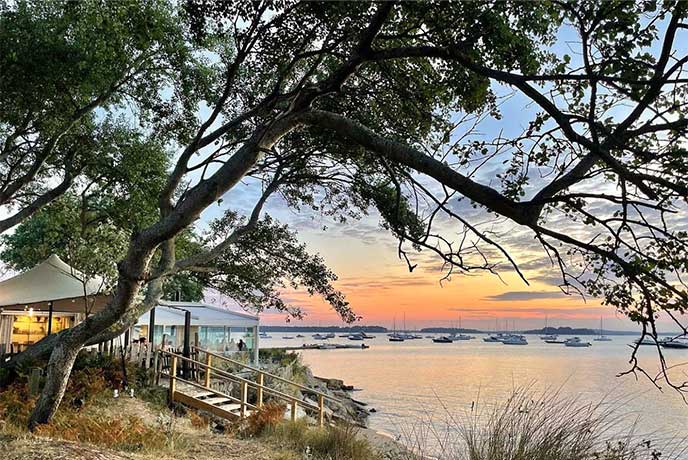 Ferry Road, Studland BH19 3BA
Basking in reaching views across Brownsea Island and the peaceful waters of Poole Harbour, Shell Bay is all about location, location, location and fish, fish, fish!
Starting as a shack and growing into the incredible Michelin-recommended restaurant it is today, Shell Bay promises sea views and seafood by the bucketload, and if you visit in the evening, you add sunsets to the list. A stunning mix of indoor and outdoor seating ensures you're covered whatever the weather, and the a la carte menu does a phenomenal job of drawing your attention from the surrounding views. Dine on Poole Bay oysters, beetroot tartare, and smoked venison croquettes, or simply stop by for a glass of something sparkling as the sun sets around you.
Dogs are welcome at Shell Bay, so the whole family can stop by and enjoy the glistening sea views and coastal menu that earned this waterside bistro a spot in the recent Times' 20 best places to eat seafood.
Feeling hungry? Dorset's drool-worthy collection of Michelin restaurants is waiting to lead you on a culinary adventure through the flavours of the Westcountry. Enjoy your food-fuelled stay with one of our lovely self-catering holiday cottages, the perfect base for your foodie travels.