There's nothing like a play to sweep you away for a little while. It's a chance to follow along with someone else's story as you contemplate the themes and questions posed through the power of theatre. And this is exactly what Everyman from Miracle Theatre delivers: a torrent of provocative messages that never fail to ask the questions that get you pondering life, the universe, and everything in between.
We recently donned our theatre-viewing best (which means comfy shoes and a glass of wine in hand) to go and see Miracle Theatre's returning hit, Everyman, and boy, were we glad we did. Here's our rundown of the much-loved, Cornish Miracle Theatre company and their superb show that's currently taking the South West by storm.
An introduction to Miracle Theatre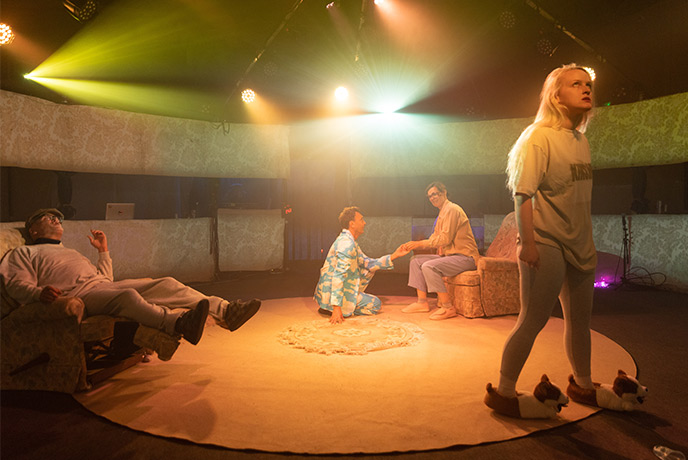 Specialising in open air theatre and delivering an eclectic line-up of rolling shows, you're always within reach of a cracking bit of entertainment when the bright pink Miracle Theatre show bus hits the road – don't forget to wave if you see it! Since its formation in 1979, Miracle Theatre has become a household name in the South West, as each and every performance delves into a new tantalising tale or fascinating fiction.
Over the years, well-loved stories have been imaginatively retold through creative collaborations, with Waiting for Godot, The Tempest and Aladdin amongst the back catalogue. Clever stages and skilful use of technology combine to create wonderfully off-beat performances that never fail to entertain, whether by putting a smile on your face or a tear in your eye – spoiler, Everyman does both!
With venues ranging from the Princess Pavilion in Falmouth to the famous Minack Theatre in Penwith (as well as venues in Devon and Dorset), the rotating roster of locations is fantastic as it allows you to enjoy a brilliant range of backdrops from beaches to cliff tops. It also means you can browse the line-up for a venue near you. This year, a streak of Miracle pink will be heading up the motorway to Brighton for the annual Fringe festival, giving even more people access to Miracle's special brand of theatre.
Everyman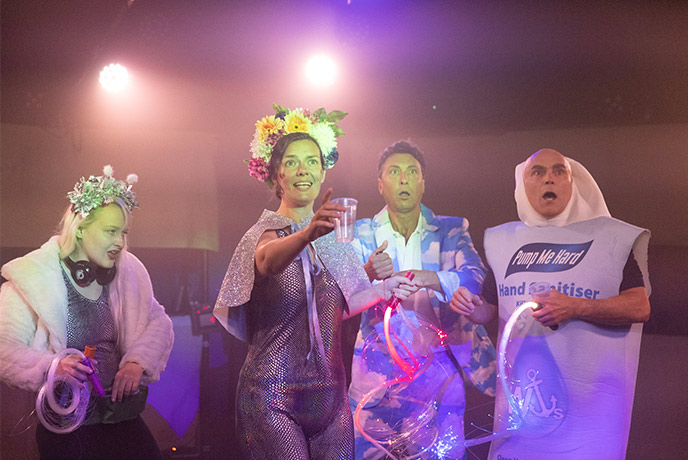 Returning for a second sweep after a hugely successful first run, Everyman is Miracle Theatre's current must-see show. Taken from Carol Ann Duffy's ground-breaking adaptation, the performance follows the journey of Everyman after a visit from Death sends him on an increasingly frenzied pilgrimage as he tries to measure the value of his life. The show asks many questions of the audience, encouraging deeper exploration of how we treat the world throughout our lives.
The cast features four incredible thespians who bring life to each character they play (we were particularly impressed by the lightning-fast costume changes), as well as a superb crew who have really managed to create a multi-dimensional experience.
The new portable structure (dubbed The Fleapit) creates a completely unique experience. Settle down in your booth to enjoy a 'theatre in the round' performance that's enhanced by subtle audience participation and genius use of lights, projections, and even smells, creating a totally immersive experience.
With strong language and some intense themes, it's safe to say that Everyman is best suited to those who are 15 and up. It's also safe to say that tissues are advisable as you follow the frantic journey of Everyman as he tries to bargain with Death and cling to life.
Booking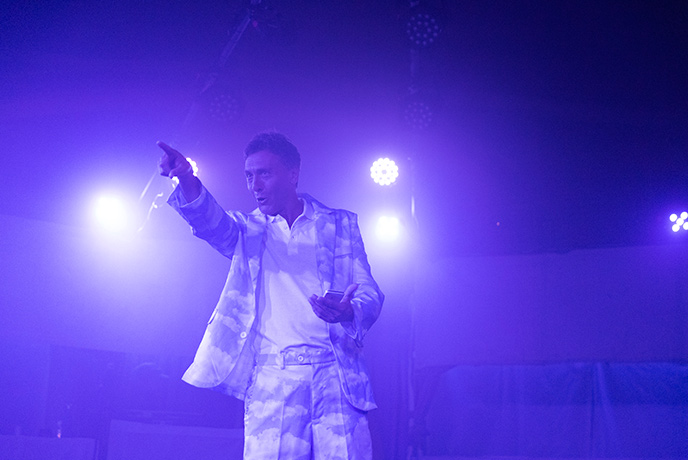 If you're as excited as us about Everyman (yes, we're definitely ready to see it again), then head over to Miracle Theatre's website to check out the upcoming dates. If you have six friends who also love a bit of mind-bending theatre, then why not book yourself a whole booth in The Fleapit for an extra special experience at one of the Cornwall or Bristol shows?
For Bristolians, Everyman will be showing between 4th May and 8th May before heading back to Cornwall for 13 performances in Porthtowan. It's then up to Brighton Fringe for the final week in May. Tickets are selling fast, so gather up your theatre besties and make the most of this jaw-dropping tour.
Afterthoughts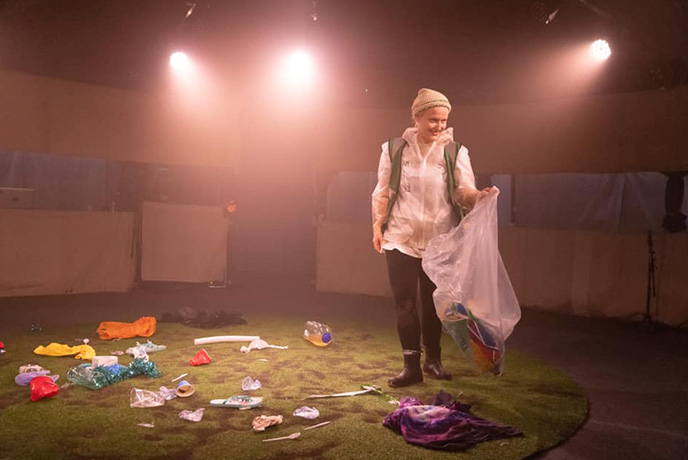 With a powerful environmental message, a lot of viewers have reported gaining a renewed appreciation for the world in which we live. To help you get started, Miracle Theatre has collated a variety of community projects you can get involved in, whether it's protecting the planet or its inhabitants. After all, if Everyman has taught us anything, it's that we shouldn't wait for Death to call before we contemplate the impact we've had on this world.