Dartmouth is a beautiful estuary town in South Devon. It is surrounded by green hills and overlooks the stunning River Dart. It has the famous naval college and a nice central park, the Royal Avenue Gardens. It also has interesting historical features such as Dartmouth Castle and Bayard's Fort.
All these things make Dartmouth worth visiting at any time of the year. But, if you are lucky enough, or wise enough, to make your visit coincide with the Dartmouth Food Festival, then you are in for an absolute treat.
This year the Dartmouth Food Festival runs from Friday 22 Oct 2021 to Sunday 24 Oct 2021. The festival has been running for nearly twenty years, and in that time it has established itself as one of the South West's top events. It is an absolute must for foodies and culinary connoisseurs. But what makes it so special is that it is not just for gourmets, but for families as well. Although I love food as much as the next person, I am by no means a foodie, but I bring my family every year to experience a lively, interesting, free festival in such a beautiful setting. That's right, I did say free! Incredibly, apart from a small charge for some specific events, the majority of activities at this weekend long festival are still completely free, thanks to strong support from the event's sponsors and patrons.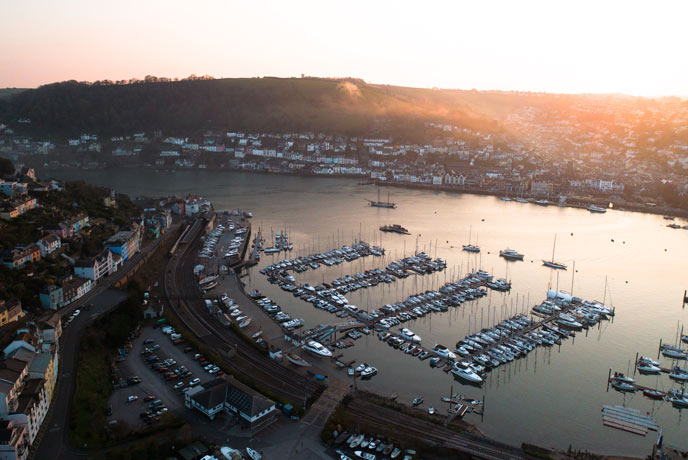 What's on
The weekend is a busy and engaging mix of celebrity chefs, demonstrations, tastings, and markets, all running alongside a general hubbub of music, parties and fun. You can go and listen to big names, or wander in the side streets and find a random food stall offering incredible street food. Taste, listen and be inspired to try new things.
Some of this year's highlights include making bread from scratch, fresh fish workshops, a cheese masterclass, seasonal salad seminar and a talk on making an excellent cream tea, jam on top obviously, we are in Devon!
There is also a Crack a Crab workshop, demonstrating how to cook a freshly caught crab, and what to accompany it with. Or you might enjoy a celebration of Scotch Eggs by Surf and Turf Kitchen on the Friday morning.
Another fun event on the Friday is a chance for amateur chefs to show off their best Sausage Rolls. Simply bring your cold sausage roll, savoury or sweet, meat or vegetarian, to the Community Café, Market Square at lunchtime.
Children are not overlooked at the festival. There is a Family Area in the Royal Avenue Gardens with arts and crafts, biscuit decorating, and of course face-painting. On the Saturday at The Flavel Church, right next to the gardens, there will be hands-on opportunities for pizza-making and bread-making. As well as this, there will be a chef's demonstration aimed at children in the gardens on Sunday morning. No charge, for this, just turn up and encourage your little ones to get hands on around food. If your children are already a dab hand in the kitchen, they can enter their cupcakes into the Children's Decorated cupcakes competition. Bring four cupcakes to the Community Café at lunchtime on the Saturday, in a covered container with name, age, phone number, and ingredients.
There are all types of food at the festival, from British classics to world foods. But, with a town with such strong links to the sea, where the quay is regularly crowded with children crabbing, it would be rude to overlook seafood, and so all types of seafood are rightly celebrated. There will also be pasta and pie making, pizzas and street food. With your mouth watering at the mention of such delights, you'll no doubt be wondering what you will wash all this good food down with, and that is an excellent question. Well, when sponsors include Salcombe Gin and Michael Sutton Cellars, you will not be surprised to hear that you will easily find both wine and gin tasting events alongside other liquid delights, and great wine talks.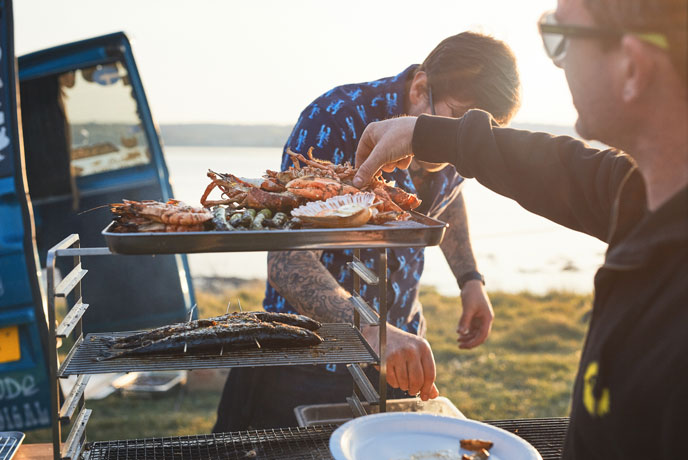 One of the household names at the festival is renowned wine-expert and acclaimed wine-writer Will Lyons. Another name you will probably recognise is Mitch Tonks. Being a local, with fish restaurants all over the area, including Dartmouth itself, Mitch is heavily involved. Mitch Tonks is primarily known for championing great seafood. He is a well-respected chef, restaurateur, and author. His restaurants have won numerous awards and The Caterer name him as one of the top 100 most influential foodies.
Ben Quinn is fast becoming a name in the food world, having worked at top restaurants, including Fifteen Cornwall, before co-founding Woodfired Canteen. Woodfired Canteen has built a dedicated fanbase who enjoy hosted dinners in usual locations, such as beaches and clifftops.
Nick Evans worked under Stephane Delourme at The Seafood Restaurant, working his way up to Senior Sous Chef. He then became Head Chef at St Petroc's Bistro, before his current role as Head Chef Lecturer at Rick Stein's Cookery School. Jane Baxter did many things in the world of cookery before joining Riverford, where she wrote the recipes for the two Riverford Farm Cook books. Henry Dimbleby MBE is co-founder of Leon Restaurants. Elly Wentworth was runner up in Masterchef Professionals before becoming the Head Chef at Dartmouth's renowned restaurant The Angel. Charlotte Pike is a writer and broadcaster, author of five cookery books and well-respected cookery teacher. Orlando Murrin is an experienced food writer and editor. Matt Tebbutt presents Food Unwrapped and Saturday Kitchen. Mark Hix is a celebrated chef and food writer who also hosts an annual food festival in Lyme Regis. Jenny Chandler is the author of several cookbooks, including Cool Kids Cook. Jamie Rogers was the Head Chef of Langdon Court Hotel before opening his own restaurant, Twenty Seven by Jamie Rogers, in Kingsbridge, Devon. These names and scores of others will demonstrate, encourage, teach and entertain around 20,000 visitors to the 3-day festival.
In and around Dartmouth
With all these great names, and mouth-watering activities on offer, you will definitely not be bored, but while visiting South Devon I'd recommend extending your visit to embrace some of the other highlights of this magnificent region. One of my favourite things to do is drive along the A379 out of Dartmouth towards Start Point. I am convinced that this is one of the nicest drives in the country, taking in the absolute delights of Blackpool Sands, (regularly nominated as one of the top 10 beaches in England), the inland lake at Slapton Ley, and the lighthouse at Start Point. I also love the beautiful village of Dittisham (pronounced Ditsum). Another local highlight is the jazz age National Trust property of Coleton Fishacre. Or why not take the ferry to Kingswear which connects you to the delights of The English Riviera.
The official location of the festival is the Royal Avenue Gardens which you can't miss in the centre of town, but activities take place all over town. My best advice is to book one or two of the additional cost events and spend the rest of the weekend wandering around and seeing what sparks your interest. You will be sure to find much to delight you, and if you need any more inspiration of what to do in Dartmouth, check out our Things to do in Dartmouth blog.
Getting there
Follow the M5 to Exeter then the A38 towards Plymouth. At the Totnes turn, take the A384 all the way to Totnes. In Totnes, take a right turn at the major set of traffic lights, and follow the A381 following signs to Dartmouth. You will see signs to a Park and Ride on the roundabout near to a large supermarket on the approach into Dartmouth. I strongly recommend parking here and taking this park and ride as there is little to no parking in town and a large area of the town centre will be cordoned off for the festival.
Public Transport to Dartmouth is not easy, but one option is to take the steam train from Paignton. This is a beautiful way to travel and would certainly start your weekend in style. The nearest regular train station is in Totnes, with trains arriving from London or Birmingham. Totnes is also the nearest stop for National Express coaches. The 12 miles to Dartmouth can then be completed by bus, by catching the Stagecoach Gold Bus directly to Dartmouth. Or an alternative from Totnes would be to catch a boat down the River Dart.
For somewhere to stay nearby, check out our self catering Dartmouth cottages.