Reaching out through five counties and covering almost 800 square miles, it's easy to say there's plenty to see and do when visiting the Cotswolds… but where do you start?
Whether your interests lie in nature, pretty villages or exciting attractions, we've cherry-picked the very best things to do in the Cotswolds so you can just turn up and get straight into the action in this stunning Area of Outstanding Natural Beauty.
Walking
Rolling hills, meadows of wildflowers, rivers that tootle along peacefully, there's little doubt as to why the Cotswolds has been named one of the most beautiful places in the UK. So, what better way to see it in all its natural glory than on foot.
The Cotswolds Way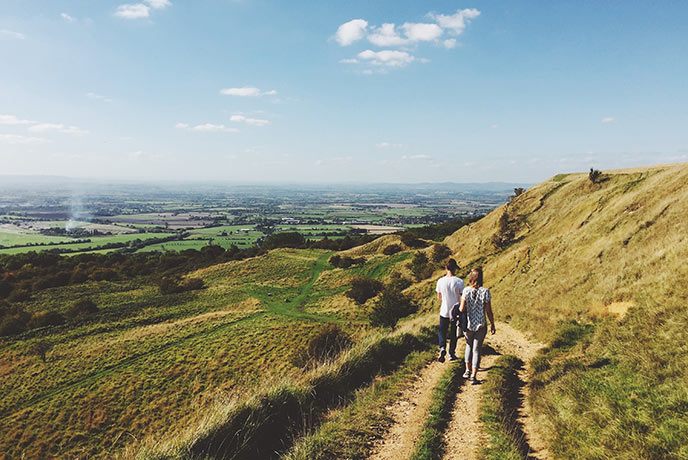 Soak up everything the Cotswolds has to offer by embarking on this 100-mile stretch of walking bliss (don't worry, we're not suggesting you tackle it all at once). Taking 10 days to complete (if you wanted to smash it in one trip), this stunning route takes in some of the best places in the Cotswolds including Cleeve Common, Winchcombe and Broadway Tower. Simply choose a section and chip away at this cracking walk bit by bit – while also making the most of the dipped-in-honey Crown & Trumpet Inn, which not only sits joyously close to the Cotswolds Way but welcomes dogs! Check out some other fantastic dog-friendly pubs in the Cotswolds here.
The Blossom Trail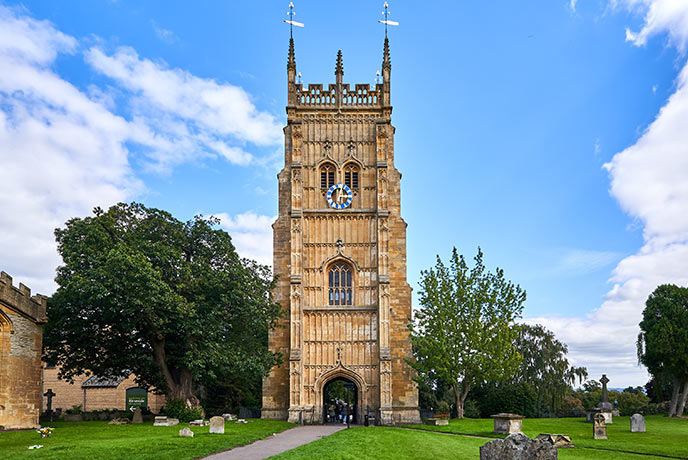 Another stunning stretch you can divvy up and enjoy in different visits, The Blossom Trail is perfect for springtime wanders. You can find signposts for this floral trail throughout the Vale of Evesham, making it a winningly easy trail to pick up wherever suits. Seriously cute lambs, cherry blossoms, apple trees and a hearty selection of farm shops for those all-important snack stops, walking this trail in Spring is the best way to clear the mind of winter as you look forward to brighter and lighter days.
If you want even more walks to fill your holiday with, here are some of the best circular walks in the Cotswolds.
Historical sites
If there's one thing the Cotswolds are definitely not lacking, it's history. From jaw-dropping palaces to postcard-ready castles, there is plenty of history to explore in the Cotswolds.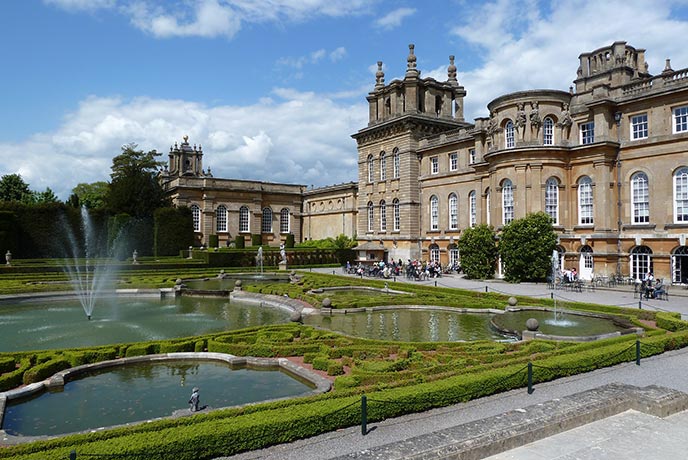 A UNESCO World Heritage Site and the birthplace of Sir Winston Churchill, Blenheim Palace is a firm favourite when it comes to the top things to do in the Cotswolds (as well as the best places to visit) as it appeals to history buffs as well those who love a pretty garden and puzzling maze. There are lots of interesting rooms to explore, not to mention the five cafés and restaurants on-site where you can pick up a range of treats from pizza to an afternoon tea to one of the best Sunday lunches in the Cotswolds.
You can learn all there is to know about this fascinating and grand monument to British history in our complete guide to visiting Blenheim Palace.
Sudeley Castle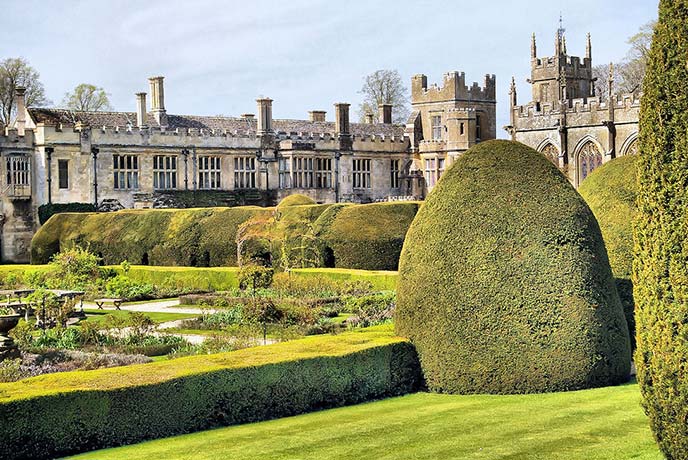 A little less grandiose than Blenheim but by no means less impressive, Sudeley Castle is a true hidden gem of the Cotswolds with 10 magnificent gardens that rival the surrounding countryside for beauty. Inside the castle itself, you'll find a series of fascinating exhibitions that delve into the rich history of the castle, including tragic love letters and a Victorian pedometer – who'd have thought! While in the grounds, there are two unique things to steal your attention: one of the largest public collections of rare and endangered pheasants as well as the resting place of Queen Katherine Parr.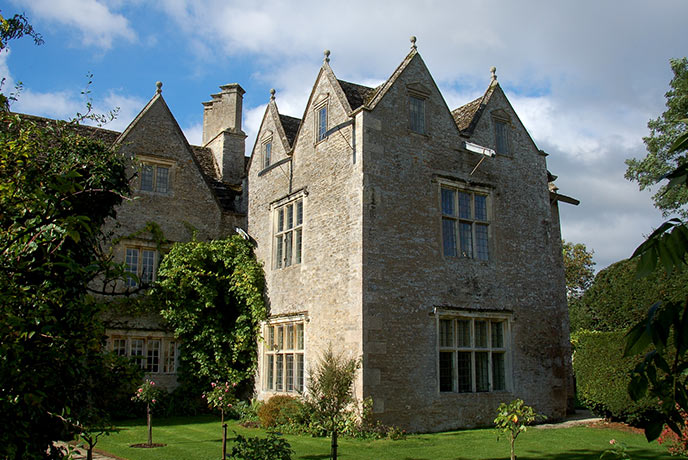 Who wouldn't want to seek peace and inspiration at the same place that William Morris (renowned British textile designer) described as 'heaven on Earth'? This unspoilt manor house, adjoining farm and gardens is a beautiful place to soak up some of that Cotswolds charm – it's also a pretty spectacular place for a cream tea.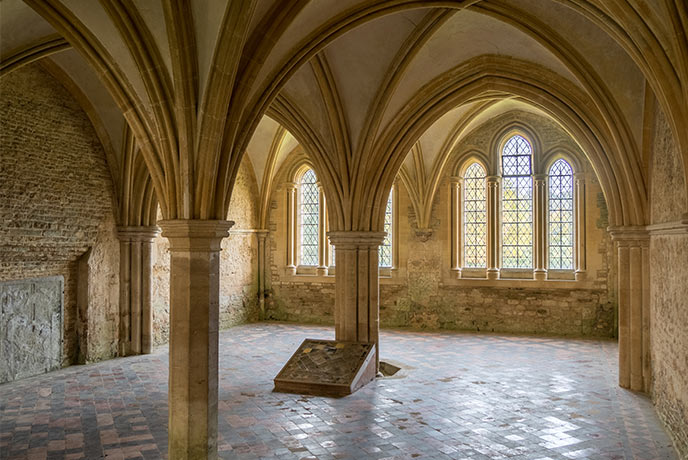 While not strictly in the Cotswolds (oops), Lacock Abbey is well worth a visit – especially if you're a fan of Harry Potter. Featuring in Harry Potter, Wolf Hall, Downton Abbey, Pride and Prejudice and Fantastic Beasts: The Crimes of Grindelwald, this famous abbey is a superb family-friendly trip. Lots of events throughout the year keep the kids entertained while the enchanting history and surrounding walks provide hours of fun and intrigue.
Villages
All claiming the title of 'prettiest village in the Cotswolds' and all staking a pretty good argument, a visit to the Cotswolds isn't complete without at least one foray into a honey-stoned village that's been plucked straight from a fairytale.
Castle Combe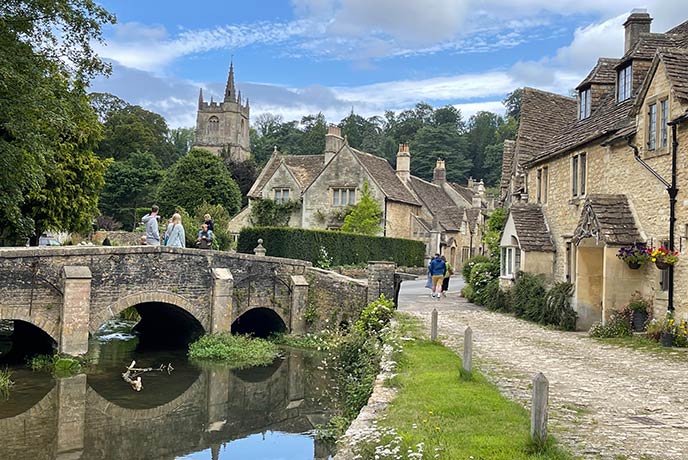 Another location that's no stranger to the big screen is the insanely picturesque Castle Combe. With a babbling brook, cobbled streets, and race track, we mean idyllic bridge (but seriously, there is a racing circuit for anyone wanting to burn some rubber), Castle Combe is as charming as you can get. It's also home to one of the many Michelin star restaurants in the Cotswolds, Bybrook Restaurant at The Manor House, so you can dine in absolute luxury during your visit – oh, go on then!
Stow-on-the-Wold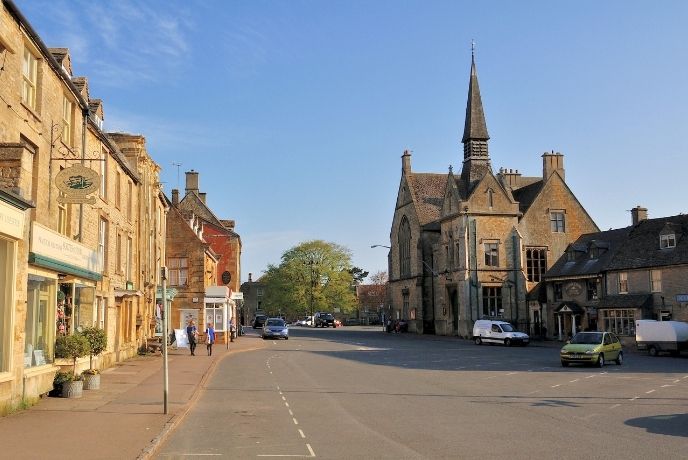 Ready to escape to a town that's somewhere between Tolkien and Disney? With the famous north door that's cosied in between two ancient yew trees and a high street that's full of some of the best antique shops in the UK, you can really step up the history factor here. Mill around the characterful shops and streets as you dip in and out of the seriously tempting collection of delis (we do love a deli for a foodie treat). It's a quintessential way to spend a day in the Cotswolds.
These are by no means the only pretty Cotswold villages you can whisk away to, so why not check out our list of the prettiest villages and towns in the Cotswolds to really fill your camera roll up with chocolate-box sights!
Attractions
We love the classic bucket list places when it comes to holiday itineraries, but we also love the hidden gems out there. You know, something a little different to add that extra oomph to your stay.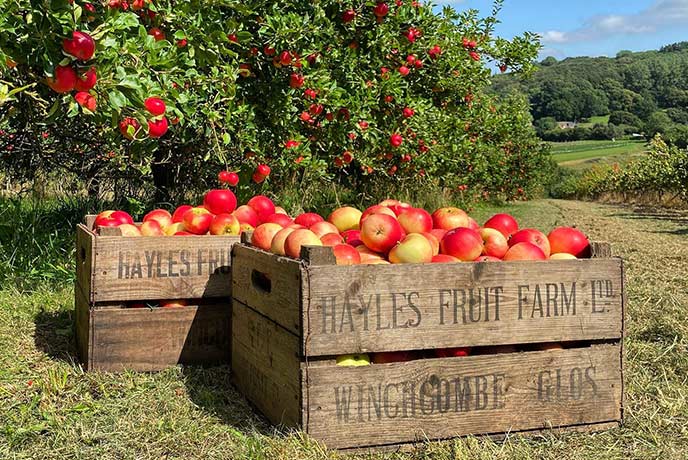 Let's talk about strawberries. Delicious, sweet, juicy strawberries that you can't quite believe you get to eat and call it fruit! Well, here at Hayles Fruit Farm on the outskirts of Winchcombe, you can pick your own – yes, we're aiming for the juiciest ones out there! These strawberries (or rather the fields) have been growing since 1880, so when you walk down the lines of vivid green and red, you're walking through history as well as nature. The farm also makes its own apple juice and cider from apples grown in the orchard so if you're feeling fruity, there's no better place to be.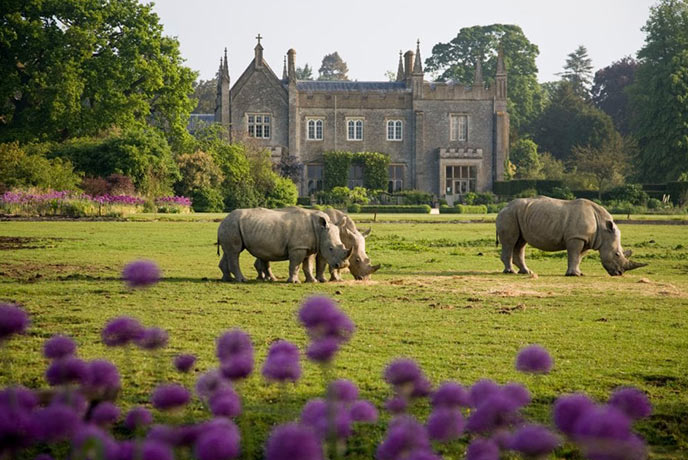 If you can't unleash your wild side when you're on holiday, when can you! At Cotswold Wildlife Park & Gardens you have 160 acres in which to go wild. From big cats to tiny lizards, you can get up close to some amazing creatures – make sure to visit the Madagascar exhibit for some seriously cuddly faces. You'll also find glorious gardens where you can stretch your legs and settle down to a treaty picnic – have you ever picnicked with rhinos and giraffes? Or make the most of the Oak Tree Restaurant, which serves tasty meals packed with fresh, local ingredients.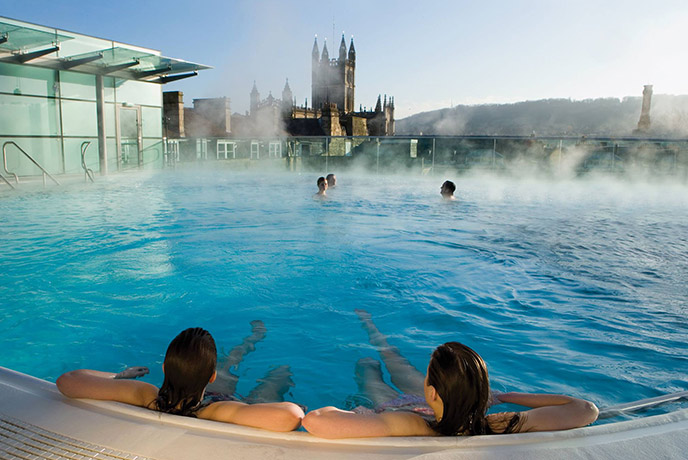 When in Bath, do as the Romans did! At Thermae Bath Spa, you can slip into deliciously warm natural waters and let the tensions of life just float away in the mineral rich water as the Romans and Celts did thousands of years ago. Whether in the day or night, indoors or in the breath-taking rooftop pool, this spa experience is utterly fabulous and the perfect way to wind down for your holiday. Deep breath in, deep breath out, and relax…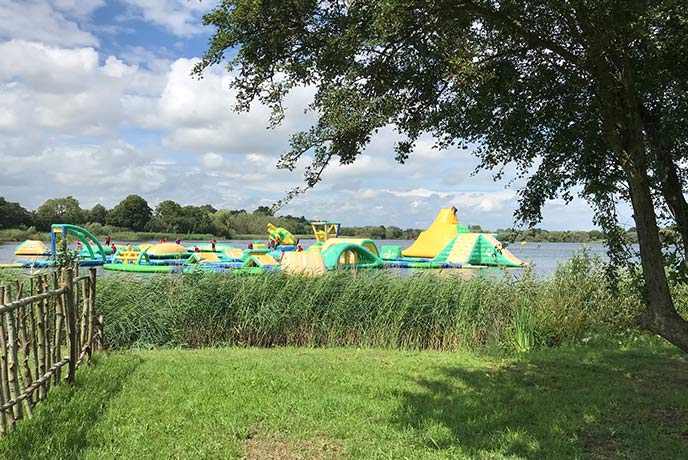 Did you expect to find beach day on the list of possible days out in the Cotswolds? Thanks to Cotswold Country Park and Beach, you can pack up the towels and arm bands and plunge into the wonderfully refreshing waters of the lagoon before enjoying that all-important BBQ on the beach. To add even more excitement into your day, you can hire everything from SUPs to mini electric boats or you can head back to land for some pedal karts and mini golf.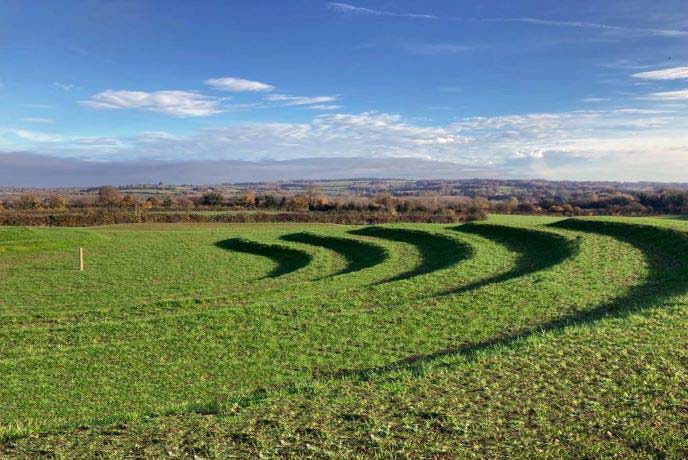 If you're holidaying in the Cotswolds this summer, we recommend heading to the wonderful Amphitheatre Berrybank Park, where you can enjoy music, theatre and comedy in the heart of the Cotswolds. Enjoy sunny pre-show picnics in the 12 acres of orchard and wildflower meadows, before settling down for an unforgettable open-air event.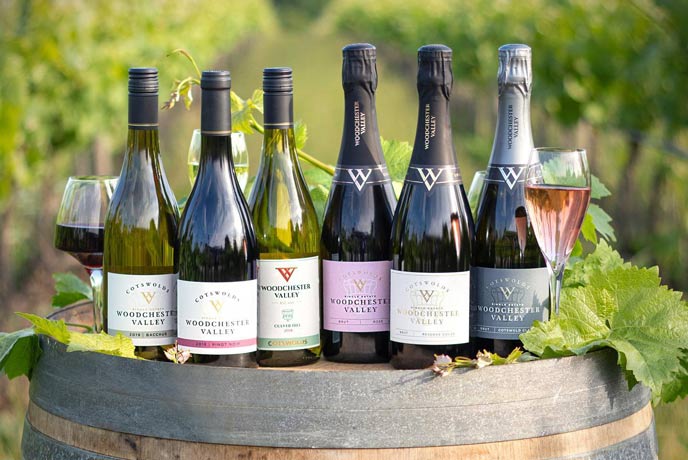 For an indulgent day out full of gorgeous wines and beautiful Cotswold countryside, head down to Woodchester Valley Vineyard. This local vineyard was set up in 2007 and is home to some truly splendid award-winning wines. Enjoy a guided tour of the 56-acre site before settling down for a tutored tasting session with a wine expert.
Eating out
We're not sure if eating out is technically a "thing to do" but we definitely base days around it… So, who's ready for an elegant afternoon tea the Duchess of Bedford would be proud of.
Piles of sandwiches, lashings of clotted cream on scones and tiny little cakes that we somehow always save room for… we all love an afternoon tea. The delightfully quaint Cotswold Garden Tea Room has really hit the nail on the head when it comes to this adored British tradition. From its location in a quintessential Cotswold village to the decadent amounts of sweet and savoury treats, this is one meal that can definitely be classed as a day out!
Grab the blankets, plates and *ahem* wine, it's time for a picnic! And where better to stock up for this holiday classic than a local deli. Broadway has got everything you could possibly need or fancy from locally grown fruit and veg to picnic must-haves like fresh sausage rolls and a whole dairy-worth of cheese.
Expand your foodie tour even further with our guide to the best places to eat in the Cotswolds, which will take your taste buds through all the best restaurants, pubs and cafés.
Are you ready to get out and about in the beautiful Cotswolds? Our lovely cottages are the perfect base for your idyllic holiday.