The Michelin star is the ultimate accolade when it comes to dining out, all over the world. Originating from a selection of guide books by the French tyre company Michelin, the Michelin star system has since become the hallmark of outstanding cuisine and hospitality. Restaurants can be awarded one, two or three stars, and stars are awarded sparingly. There are only seven restaurants in the whole of the UK – and 135 in the world – with the illustrious stamp of three Michelin stars.
Those planning a holiday in the English countryside will thus be delighted by the range of Michelin star restaurants the Cotswolds has to offer. Dine at Michelin star restaurants in Warwickshire, Wiltshire or Gloucestershire and you can expect top-notch cuisine, executed and presented with flair and packed with flavour. For Insta-worthy pictures of your plate and stunning scenery, there's no better place in Britain to sample Michelin-starred cooking.
Those Michelin stars are notoriously hard to come by, however, which is why this guide also details a great range of Michelin recommended restaurants. These offer the chance to enjoy superb food close enough to Michelin standard to be endorsed by the famous guide. Where these are concerned, our advice is to get in while you can. By your next stay in the Cotswolds, a coveted star award could mean longer waiting lists for such a sublime dining experience.
Cotswolds restaurants with Michelin Stars
The Dining Room, Easton Grey, Malmesbury, SN16 0RB
One Michelin Star
Of all Michelin restaurants in the Cotswolds, The Dining Room's location is breathtaking – a classic English country house with a star-spangled eatery. This place quite rightly boasts two Michelin stars, plus a green star for sticking to sustainable produce.
The head chef is widely travelled and harnesses Japanese influences in particular throughout his dishes. There are plenty of these to pick from, as separate vegan, vegetarian and pescatarian menus are offered alongside the main Dining Room options. Local produce is a big thing here, as there is an orchard and beehives on site.
Superlative views over the formal gardens can be savoured while diners feast on the likes of chorizo risotto, red mullet, lobster, local beef, shiitake mushrooms and white miso. Desserts, meanwhile, include unique delights such as the 'chocolate frog'. It's the place for the ultimate indulgence in the most luxurious of settings – perfect for a romantic evening for two.
Le Champignon Sauvage, 24-28 Suffolk Road, Cheltenham, GL50 2AQ
One Michelin Star
While the 'wild mushroom' name may be a little incongruous, Le Champignon Sauvage is certainly serious about food. Known as the ideal venue for landmark birthdays and anniversaries, the married couple who run it have polished the decor, dishes and service over three decades at this pick of the Michelin star restaurants in Cheltenham.
Desserts here are one of the highlights – expect to be bowled over by imaginative, elegant sweet treats featuring unusual ingredients like wood sorrel, Thai spices or marigold. Savoury dishes, meanwhile, tend to combine the best of British and French influences.
Despite all the acclaim, Le Champignon Sauvage is unpretentious and offers good value. Diners can enjoy seasonal set price menus for lunch or dinner, each comprising two, three or four courses. The interior is elegant, yet unfussy, adding to the feeling that this place is subtly brilliant rather than prone to shouting about its charms. This is definitely one to save for a special occasion.
The Royal Oak, The Orchard, Whatcote, CV36 5EF
One Michelin Star
Keen historians will be intrigued to learn that Oliver Cromwell allegedly stayed at The Royal Oak in 1642, on the eve of the Battle of Edgehill. Whether you care about the veracity of that or not, the character of this place is undeniable, while the food is simply sublime. The bar is warm and snug, while the dining room has a lighter, brighter and more modern feel.
A 'farm to fork' ethos dictates the menu at The Royal Oak, and the chef's favourite ingredients include foraged flora, organic produce and game from the neighbouring estates. This eatery is run smoothly by a husband and wife team, who oversee the accomplished kitchen and seamless service respectively.
A Sunday lunch menu is offered, as well as lunch and dinner between Thursday and Saturday evenings. Plum picks include the wood pigeon, partridge ravioli and quince crumble, all acclaimed at this one Michelin star Cotswolds pub. Not one to be missed, the Royal Oak is sure to be the highlight of your holiday.
Restaurant Hywel Jones, Lucknam Park, Colerne, SN14 8AZ
One Michelin Star
Of all the excellent and elegant eateries found in the Cotswolds, Restaurant Hywel Jones is one of the most polished and opulent. The anticipation builds as visitors approach via Lucknam Park's mile-long drive, with tall trees nodding overhead and the manicured grounds unfurling before them.
The Welsh chef has been here since 2004 and has honed his craft in that time, resulting in Michelin-starred tasting and a la carte menus. Vegetarians are also well catered for via dedicated menus featuring clever cooking and using ingredients like squash, artichoke, cauliflower and hispi cabbage.
Michelin-acclaimed specialities include Scottish scallops with smoked eel, Wiltshire lamb accompanied by cumin, yoghurt and granola, and the vanilla creme brulee with gooseberry and elderflower. If this doesn't have you salivating, we don't know what will!
Bybrook at The Manor House, Castle Combe, SN14 7HR
One Michelin Star
Search for Bybrook and you'll be directed to the 'Exclusive' site, which just about sums up this refined restaurant. In the photogenic location of Castle Combe, this eatery was awarded its fifth consecutive Michelin star in 2021.
The setting is charming and packed with character, with stained glass windows, colourful coats of arms and studded, high backed leather dining chairs. Although the look is formal, the feel is more relaxed.
Bybrook specialises in tasting menus, and there are six-course standard and vegetarian menus to choose from. Food is drawn from various parts of the UK – think Isle of Wight tomatoes, Somerset strawberries, Hereford beef and Cornish brill. Wine pairings and cheese boards can be added as optional extras, although we don't reckon you'll need much persuasion!
Michelin recommended restaurants in the Cotswolds
These exceptional Cotswolds restaurants may not have a Michelin star to their name (yet!), but they come highly recommended by the prestigious Michelin guide. So you can be sure of exquisite fine dining and word-class hospitality.
Michelin restaurants in Gloucestershire
Purslane, 6 Rodney Road, Cheltenham, GL50 1JJ
Tucked away close to Cheltenham's main thoroughfare, Purslane features a smart grey and sunny yellow interior, and the restaurant has the feel of a welcoming local eatery. Small in size and family-run, dining here feels like an intimate and exclusive yet laid-back experience.
The name is derived from a coastal, often foraged plant. Although this Gloucestershire town is nowhere near the coast, Scottish and Cornish fish does feature on the menu – alongside the likes of freshwater trout or eel from the Wye and Severn region.
Menus change every two months, and there are fixed price a la carte, light lunch and tasting menus available: the latter can be accompanied by a wine flight. Depending on season, highlights might include the likes of Orkney scallops, Charmoise lamb and Herefordshire blackberries. The light lunch option makes Purslane a great place to stop for a more informal, but still exceptional, bite to eat while you explore Cheltenham.
The Daffodil, 18-20 Suffolk Parade, Cheltenham, GL50 2AE
A must for fans of the art deco era, The Daffodil is housed in what was once a Cheltenham cinema. The interior was designed by TV star Laurence Llewelyn-Bowen. As you might expect, it leans towards the bohemian and borders on the flamboyant, making great use of original items such as vintage film projectors.
If you love a little Hollywood glamour, this is the venue for you – not least the balcony cocktail and champagne lounge. There is an extensive wine list too. Food is brasserie style, and steaks from the Josper grill melt in the mouth.
On weekends, you can book in for a classic or vegan afternoon tea on Saturday or go for Sunday lunch. The a la carte menu features a range of interesting options, such as roast peperonata salmon, pork belly with pineapple ketchup or aubergine katsu curry. With dedicated vegan, children's and dessert menus, there's something for every diner at The Daffodil.
Old Butcher's, 7 Park Street, Stow-on-the-Wold, GL54 1AQ
This one-off eatery is located inside what was formerly the village butchers, and features a colourful and playful interior. The Old Butchers menu includes classics alongside Mediterranean style cuisine, and all is overseen by the husband and wife team who met at Louise's London pub. Pete was once Bibendum's Head Chef.
Frugal and adventurous types alike will love the nose-to-tail ethos here. While seafood lovers will be delighted by the fact that lobster, oysters, langoustines, mussels, crab, scallops and other fishy flavours feature heavily on the menu.
From tempura courgette flower or prawns to the beer battered catch of the day, surf and turf burger or T-bone steak, there are plenty of small plates, seafood specialities, charcoal grills and salads to select from. Diners can also indulge in cheese boards featuring Stinking Bishop and desserts like 'chocolate nemesis' or treacle tart. Sign us up!
Churchill Arms, Paxford, GL55 6XH
In the picture postcard village of Paxford near Chipping Campden, the Churchill Arms has a local slant when it comes to decor as well as food. The chef and owner took the photos of the Cotswolds that adorn the walls himself.
This is a snug, convivial pub offering a warm welcome and an impressive range of delicious dishes, created by a chef who has trained under Marco Pierre White, Gordon Ramsay and Marcus Wareing. The focus is on classics, with Nick Deverell-Smith's own contemporary twists adding interest.
The brevity of the menu makes it no less appealing, and features mouthwatering flavours like whipped goat's cheese, tiger prawns and pork T-bone steak. For dessert, fudge or an espresso martini are offered alongside a range of elegant picks comprising choux pastry, feather-light sponge or zingy citrus flavours. Any restaurant that lists an espresso martini as an official dessert on the menu gets our vote!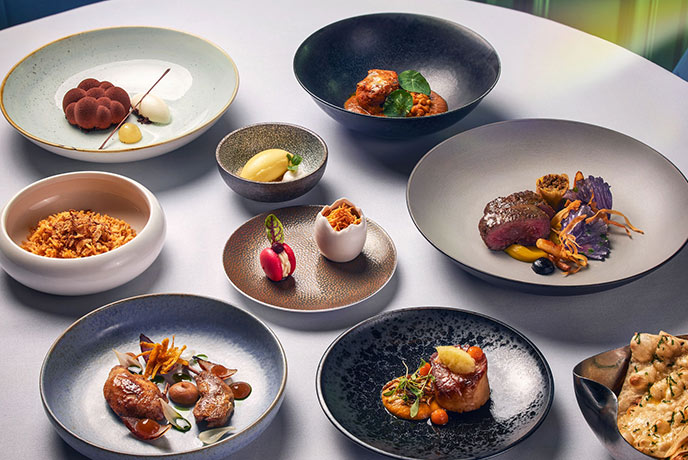 Prithvi 37, Bath Rd, Cheltenham GL53 7HG
Prithvi is a smart restaurant with stylish interiors comprising dark walls and lavish velvet chairs. It provides refined Indian cuisine that is thoughtfully created and beautifully presented. Dishes offer a heavenly amalgamation of memorable flavours and textures, all served with elegant and attentive service.
Browse the a la carte menu or opt for the spectacular tasting menu. Tantalising starters include potato shingara, tandoori spiced quali, and galician octopus. For the main course, indulge in fallow venison with parsnip and black garlic or barbecued lobster with tandoori spiced carrots, mint & chaat masala and lobster shell curry. Round off an exceptional meal with one of their unique and delectable desserts or a classic selection of cheeses.
The dishes at Prithvi are a feast for the senses, bringing all your favourite Indian flavours with added sophistication and creative flair. It's no wonder that this Michelin recommended restaurant has over 1,300 five-star reviews on TripAdvisor. Dinner at Prithvi is sure to be an unforgettable dining experience.
Michelin restaurants in Oxfordshire
The Bell Inn, Langford, Oxfordshire, GL7 3LF
It's difficult to resist the charm of the 16th century Bell Inn's cosy, convivial interior. This fuss-free eatery offers some of the finest food and wine served among the rolling hills and honey toned buildings of the Cotswolds. Langford is also a traditional English village that's brimming with appeal.
The Bell Inn easily lives up to the standard you might expect from Michelin star restaurants in Oxfordshire. Both the vibe and the menu are relaxed, while the wine list certainly leaves diners spoilt for choice. There are also various craft ales on tap.
With a large beer garden where summer diners can enjoy splendid vistas over open countryside, The Bell Inn's menu highlights include flatbreads and pizzas from its own oven, as well as succulent steaks and fresh fish dishes. A range of pub classics like homemade burgers are offered, alongside several more imaginative combinations like Chicken Milanese. We're already dreaming of alfresco summer days at The Bell Inn!

The Wild Rabbit, Church Street, Kingham, Chipping Norton, OX7 6YA
The village of Kingham has been firmly pinned to any British foodie's map thanks to Alex James of Blur, the man behind the annual Big Feastival held here. If you're a fan of Daylesford organic, then you'll love this place, as it's also under the ownership of Lady Bamford; meat and vegetables served at The Wild Rabbit are sourced from her estate.
The fresh flavours of these local ingredients permeate the menu here, and the dishes are expertly executed by the Head Chef and his team. Diners can enjoy a reinvigorated interior, with wider windows enabling soothing views over this scenic area. Features like flagstone floors have been retained, although they may be more level than found in times gone by.
A very balanced menu gives this place broad appeal, with a couple of meat, fish and vegetarian dishes featured. Choices like the Daylesford cheddar tart, Wye salmon and market garden courgette reflect the pub's ethos of championing local produce.
Michelin restaurants in Warwickshire
5 North Street, Winchcombe, GL54 5LH
What this diminutive eatery lacks in size, it more than makes up for with flavoursome food. 5 North Street is run by a husband and wife team and is deservedly popular with residents of Winchcombe and the wider local area. The location is classic Cotswolds – a picturesque English village with honey coloured stone and a gentle rolling green landscape.
The chef here has worked with some of the biggest names in the business, and creates dishes that are as aesthetically pleasing as they are delicious. Local produce underpins the menu, and regional beverages can also be sampled.
With lunch, evening, Sunday lunch and vegetarian menus, there's plenty of choice for non-carnivores as well as meat devotees. While there is a range of delectable desserts to pick from, those who simply crave a little taste of something sweet can instead order tea or coffee with fudge and truffles. With unfussy but extraordinary food and a welcoming team, we think you'll love 5 North Street.
Michelin restaurants in Wiltshire
The Potting Shed, The Street, Crudwell, Malmesbury SN16 9EW
It's well worth heading south of Gloucestershire and Oxfordshire to sample one of our Michelin recommended restaurants in Wiltshire, The Potting Shed. Located in central Crudwell, close to Malmesbury, this is the place to go for locally sourced, seasonal produce, cooked and served with an impressive level of culinary flair.
Many of the ingredients in fact come from The Potting Shed's kitchen garden that occupies a two acre site. Meals are served in a laid-back, light-filled space with original beams and modern decor. It's a simple yet very satisfying place to enjoy honest, unpretentious yet delicious and beautifully presented meals.
The stars of the ever-changing menu typically include the fish of the day, pan-fried lemon sole or chicken, halloumi and beef burgers, steaks and the chateaubriand for sharing. Sunday roasts served at The Potting Shed are also some of the best in the area, so we recommend that you time your visit accordingly!
Michelin restaurants in Worcestershire
Russell's, 20 High Street, Broadway, WR12 7DT
In the heart of one of the Cotswolds' prettiest villages, Russell's occupies a honey-toned stone house with terraces to the front and rear. This is a comfortable and relaxed restaurant, with a relaxed ambience, warm welcome and good, modern British cuisine.
Local Cotswolds and Vale of Evesham produce influences the menu, which changes on a daily basis to reflect the availability of local ingredients. These typically include asparagus, cheeses, meats, game, preserves and pickles.
The a la carte menu features around half a dozen dishes, typically split as three meat, two fish, and one vegetable based dish. Chicken, monkfish, lamb, sweetcorn, beef and pollock are accompanied by the likes of Thai green curry, lemon thyme jus, ratatouille or braised salsify. While puddings make use of ingredients like parsnips, stem ginger and bay leaves.
Why not take a look at the charming Cotswolds cottage Park Farm House available for your short break or holiday in this picturesque, foodies' paradise?
If this list of foodie musts has got your stomach rumbling, check out our guide to the best Sunday lunch in the Cotswolds to add even more lip-smacking meals to your holiday agenda.