When it comes to the Cotswolds, the easiest list to create would be places not to visit… because that list would be a whopping zero places long! The ridiculously pretty villages and towns alone could be (and are) their own list, as each storybook village boasts golden cottages of Cotswold stone laced with hanging flower baskets and winding rivers – not to mention lots of antique shops to explore, vineyards to discover, and historic (even dog-friendly) pubs where you can wet your whistle.
So, while Chipping Norton and Stow-on-the-Wold are of course must-visit places (seriously, do go and check out St Edward's Church for a sight straight out of Tolkien), this holiday checklist is all about the sights in and around the towns from unique, historic gardens to buildings of near regal importance.
Clear your camera roll and pull on your comfiest pair of shoes, it's time to explore the best places to visit in the Cotswolds…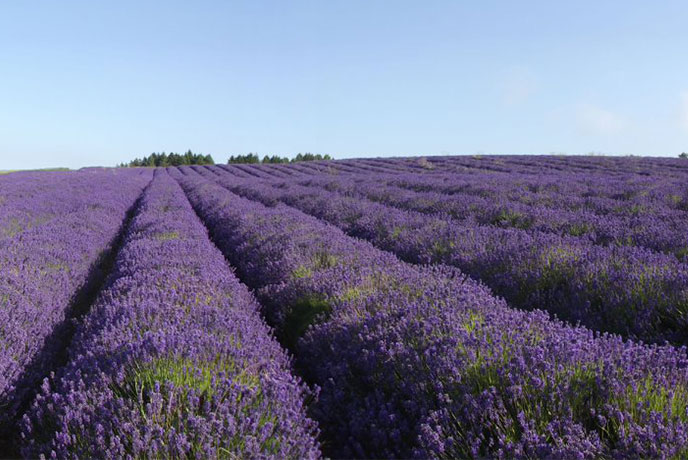 For an Area of Outstanding Natural Beauty, it might seem impossible to pin down the most beautiful view… Well, Cotswold Lavender certainly gives it a good try between the months of June and August when the sweet-smelling fields turn into a rolling carpet of purple.
Having spent 20 years turning 70 acres of gently sloping Cotswold countryside into row after row of lavender varieties – over 35 to be precise – this family farm is now one of the most beautiful (and relaxing) places in the Cotswolds. Making the most of what seems like every shade of purple, the fields make for a very calming walk with the family, which can be extended through the neighbouring wildflower meadows and the fantastically child-friendly beechwood trail. Finish it all off with a visit to The Cabin where you can pick up all the lavender-scented products you could want – oh, and some locally-made ice cream! Dogs on leads are welcome, so pack the whole family up for this aromatic day out.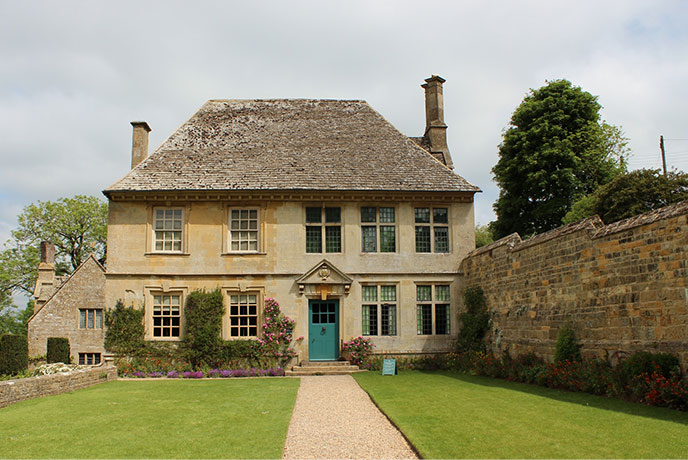 If you love snooping around an attic and discovering long-forgotten trinkets, then you'll love the eclectic collection at Snowshill Manor, which was accumulated over the years by the eccentric architect Charles Wade. From suits of armour to bicycles, there are thousands of bizarre toys and objects to discover around the honey-hued manor.
The gardens offer an equally tempting sight thanks to their Arts and Crafts design, which has nothing to do with tissue paper and glue… we checked! Designed by Charles Wade and his friend Mackay Hugh Baillie Scott, the gardens offer secluded ponds, winding pathways, and plenty of borders overflowing with gorgeous flowers and plants that add an air of magic whatever the season.
Of course, it wouldn't be a visit to a National Trust property without a stop-off at the café, gift shop, or second-hand bookshop where you can pick up some souvenirs to start your own Wade-inspired collection.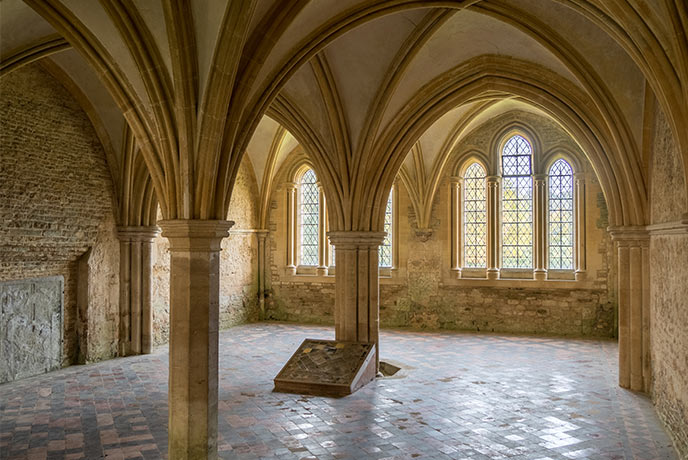 Nestled in the heart of the historic village, Lacock Abbey has been many things in its time including a nunnery, the birthplace of photography and even a set for Harry Potter.
Nowadays, this fascinating abbey is open to the public through the National Trust, giving you the opportunity to get some great Potter-themed selfies while discovering the intriguing past of this former monastery turned quirky country home. A visit to the Fox Talbot Museum is also a must as it holds a variety of interesting facts and memorabilia about William Henry Fox Talbert, one of the fathers of photography. With surrounding views like the ones found in Lacock, is it any wonder why William wanted to find a way to immortalise the scenery!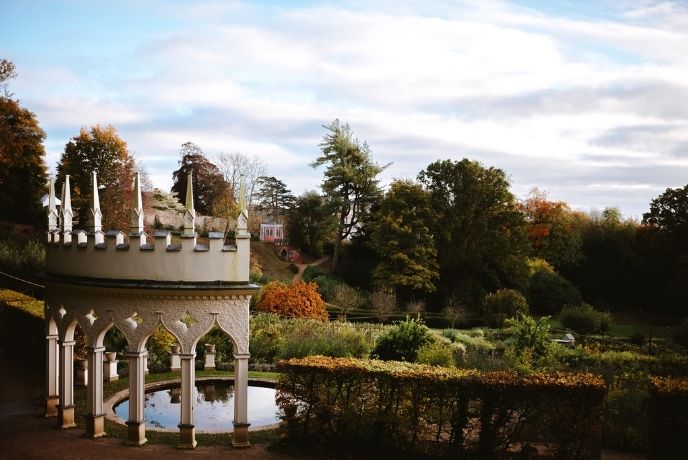 Not only is Rococo Garden one of the top things to do in the Cotswolds, but it's also one of the most visited gardens thanks to its startling style and fascinating exhibitions. Superbly restored to its fabulous former glory, the Painswick Rococo Garden is the last remaining rococo garden in the UK, making it very deserving of its place on the Historic England Register of Parks and Gardens.
As you walk around the oh-so-colourful gardens, you'll be met by sight after sight of lavish 18th-century style, which instantly provides decadent party vibes (possibly our new favourite backdrop for a day out). Follow the winding serpentine paths that lead to all manner of curiosities and marvel at the incredible views from one of the charming follies. Oh, and did we mention there's a maze? As you near the end of your visit, why not pop into the equally decadent café for freshly ground coffee or pick up some plants and get started on your own 300-year-old garden!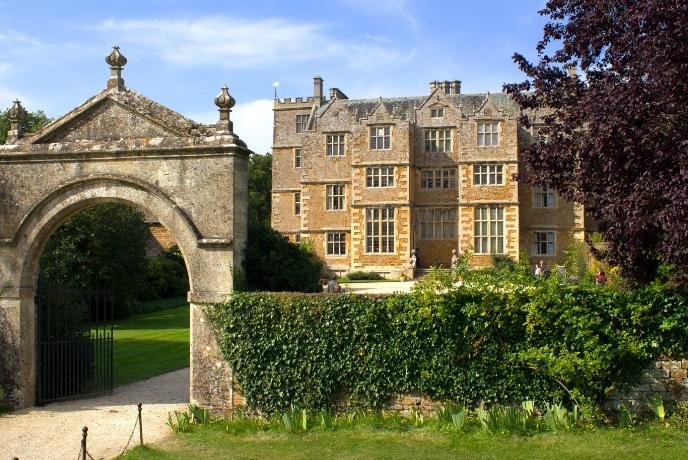 Taking the term 'unspoilt' to the next level, Chastleton House remains practically untouched by modern influences. Instead, this Jacobean country house keeps its roots firmly planted in the 1600s when it was built by wool merchant, Walter Jones. In fact, it wasn't until 1991 that the house was finally shown a little TLC as it underwent a full (and costly) restoration.
Although the restoration was extensive, the National Trust never modernised the building or surrounding gardens, to make sure visitors could enjoy the house the way it was meant to be enjoyed. The result? A beautiful house seemingly suspended in the past that allows you to take a stroll through history. In keeping with an untouched timeless feel, you won't find a café here but the grounds more than make up for this with plenty of spots for a dreamy picnic in the sun.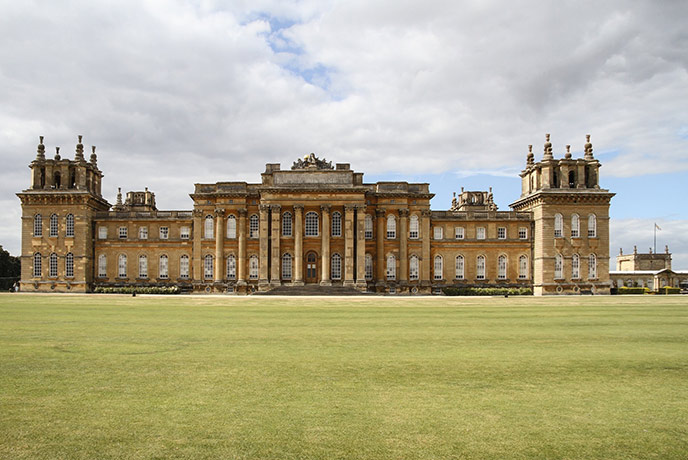 There might be lots of historical places to visit in the Cotswolds, but only one holds the title of palace. Given to John Churchill as a thank you present from Queen Anne, Blenheim Palace has had a remarkable history, even before its grand construction. It's perhaps most famous as the birthplace of Winston Churchill, although one of the trees has given this fact a run for its money after appearing in Harry Potter and the Order of the Phoenix – yep, the Cotswolds really is a great place to visit for Potterheads!
It's not just history and trees at this extravagant palace either, as a slew of cafés and restaurants, as well as 2,000 acres of beautiful gardens and countryside walks, combine to make an endlessly entertaining trip. We're particularly partial to a Sunday lunch or an afternoon tea in The Orangery Restaurant – when else are you going to eat finger sandwiches in an actual palace! Or visit at Christmas and marvel at the spectacular lights and tempting markets.
Check out our complete guide to Blenheim Palace to discover all the fascinating things to do here.
Arlington Row, Bibury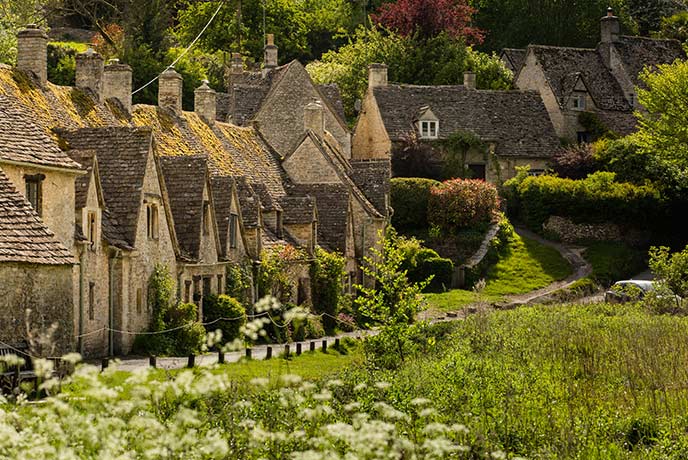 Possibly one of the most photographed rows of cottages ever (and one of the prettiest sights in the Cotswolds), Arlington Row is on the top of a lot of people's must-visit lists for very good reason. The iconic cottages, which can actually be seen on British passports alongside Big Ben and the white cliffs of Dover, are around 700 years old, making it all the more impressive that they're still lived in today.
Now, just because the Arlington Row is the most snapped part of Bibury, doesn't mean the rest isn't worth exploring. You can treat yourself to something special in the William Morris Tea Room or, for a fishier experience, try the local delicacy at the Bibury Trout Farm, where you can sit down to a delicious meal in the café or catch your own!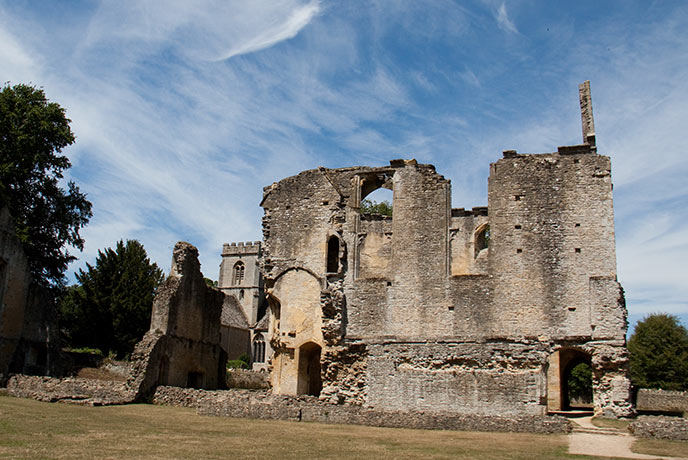 They might be an eerie sight, but that doesn't make the 15th-century ruins of Minster Lovell any less stunning. Built in the 1430s by one of the richest men in England, the Minster Lovell Ruins have a somewhat dark past, with the apparent disappearance of Frances Lovell puzzling historians for generations. Even after a rumour popped up in the 18th century that a skeleton was found in a hidden vault, no truth was ever uncovered.
Today, you can wander around these fascinating ruins pondering the myths yourself before heading into the nearby village of Minster Lovell, which boasts charming views along the River Windrush.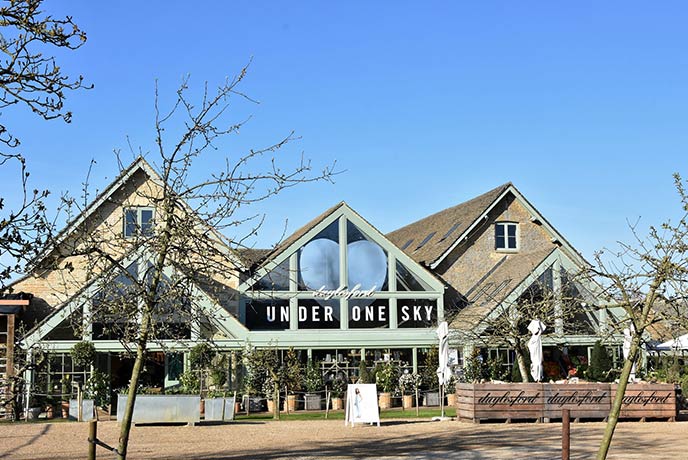 A garden centre might not be top of your list for places to visit in the Cotswolds, but Daylesford Organic is different… and not just because it has a prosecco bar (although that definitely helps). This fabulous farm has everything covered for a day out from stunning walks around the 2,000 acres of farmland to a catalogue of fun events and workshops including a cookery school and floristry courses.
And if that doesn't plant the seed for a fun day out, then the artisan farmshop and eateries will surely do the trick! Sidle on into The Trough Café for an airy open kitchen experience, head over to The Old Spot Restaurant for everybody's' favourite wood-fired pizza or relax with a drink in hand at The Legbar. You can also whisk yourself away to the nearby Bamford Wellness Spa for a blissfully relaxing end to your organically fuelled day.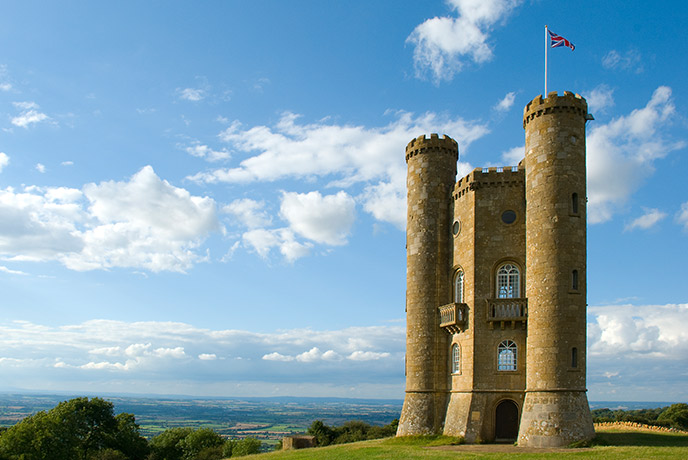 With pretty sights and countryside views for days, it might seem impossible to name the best view in the Cotswolds. Well, Broadway Tower has certainly found a brilliant hack for this as rather than offering one view, it offers 360 degrees of them, which span a whopping 16 counties from the very top! The tower itself is situated within a 200-acre estate full of idyllic parkland (and quite a few deer) and stands at an impressive 332 metres above sea level thanks to the lofty heights of Beacon Hill.
While climbing the tower, a series of fascinating exhibitions will lead you through the constantly changing history of the tower from early warning systems to an eccentric artists' retreat. You'll also find one of the best circular walks in the Cotswolds nearby so you can continue to enjoy the beautiful Cotswolds scenery on foot (or e-bike if you fancy a more laid-back day trip).
Towns and villages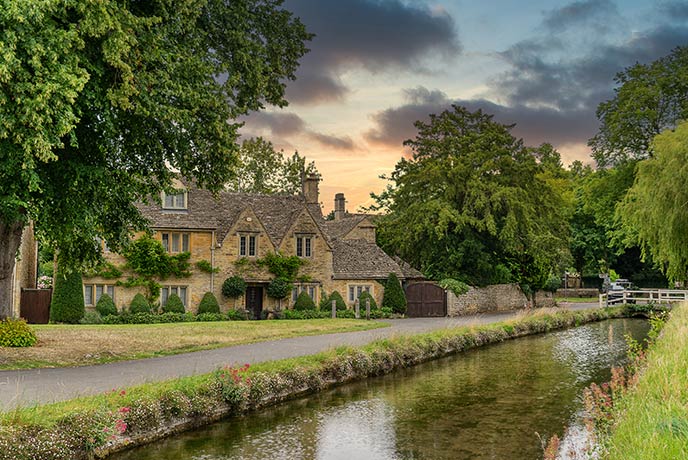 Did you really think we were going to forget the many beautiful towns and villages found in the Cotswolds? We wouldn't dream of it!
Perched atop a hill with views of the rolling countryside around, lies the ancient market town of Stow-on-the-Wold. Here, you'll find the enchanting St Edward's Church and a lovely farmers' market every second Thursday of the month. Even strolling through the honey-dipped streets is a thing of beauty, something that can be said of most of the towns in the Cotswolds.
One of the (many) villages in the Cotswolds vying for the title of 'prettiest village', Castle Combe's undeniable aesthetic charm has landed it many roles in film and TV. A gently winding river runs through the village, adding to the idyllic setting, while a 900-year-old pub provides thirsty travellers with a seriously traditional pitstop.
Fooling nobody with its macabre name, Lower Slaughter (as well as Upper Slaughter) provides another beautiful place to explore in the Cotswolds. This frozen-in-time hamlet boasts crooked cottages, a picturesque river, and lots of lovely countryside walks - not to mention the ancient mill that was mentioned in the Doomsday Books in 1086!
Check out our guide to find even more breathtaking towns and villages in the Cotswolds.
Feeling inspired by all the Cotswolds has to offer? Take a look at our honey-hued cottages in the Cotswolds and start planning your idyllic stay and fun-filled itinerary.