Who needs the Good Food Guide when you have the insider lowdown on all the best places to eat in the Cotswolds? From cosy pubs or award-winning cafés to that special occasion Michelin-starred restaurant, these are the top eateries for any situation.
Perhaps you prefer a laid-back pub meal or to sample modern British classics at a highly polished kind of place. Or maybe you simply want to drop in during the afternoon for scones with jam and clotted cream. These cafés, pubs and restaurants can all be found among the glorious golden stone buildings and rolling green landscapes of the Cotswolds - not to mention some stunning Cotswolds vineyards and welcoming farm shops!
Keep reading to whet your appetite for delicious Sri Lankan street food, classic French cuisine or traditional pub grub to remember.
Find your perfect Cotswolds cottage getaway here.
Best restaurants in the Cotswolds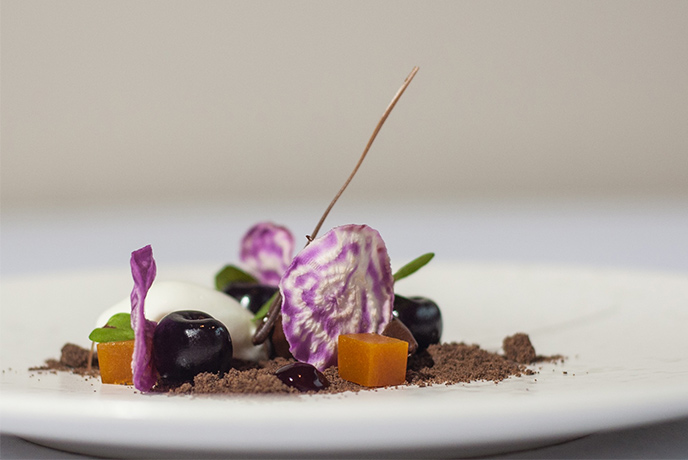 Tucked away in Cheltenham's exclusive Regency district, Lumiere is an upmarket eatery that comes with the Michelin-recommended stamp of approval. Here you can dine in style on delectable British dishes, often featuring a unique, innovative twist.
Due to the location, Lumiere makes the ideal first port of call on a night out in the historic city centre. You're spoiled for choice when it comes to post-dinner drinks venues in this part of town.
Lots of white linen and mirrors on the walls give Lumiere's long dining room a light, bright look, while the food menu is small, seasonal and perfectly formed. Matching wine flights are available to accompany your four, six or eight course feast, though you'll need to request a vegetarian menu in advance. The same applies to other special diets.
The desserts served at Lumiere are outstanding, providing those with a sweet tooth with something truly special. Don't forget to take a snap before diving in, as the presentation is just too picture-perfect not to share!
A typical menu might feature Wye Valley asparagus plus Cornish Gill plaice or Sladesdown Farm duck. Followed by raspberry souffle or British cheeses with red onion marmalade. As you can see, local produce is a big deal here.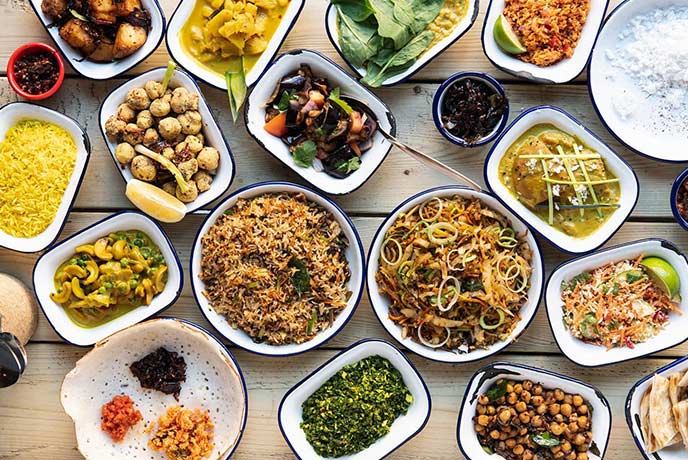 There's no reason why your Cotswolds dining experience must reflect the locale, when you could take your tastebuds on a tropical trip to Sri Lanka!
Situated in the St. Paul's district, The Coconut Tree is all about Sri Lankan street food, colourful cocktails and superb service. Anyone with a penchant for the offbeat will love this eclectic, vibrant dining space, where you can look up to see palm-tree adorned ceilings from your wooden bar stool perch.
Sri Lankan cuisine naturally features lots of delicious meatless options, giving vegans and vegetarians plenty to pick from at The Coconut Tree. Dishes range in size from 'short eats' to larger platefuls, and are designed for sharing. Though you might not want to!
If you've never sampled a pineapple, goat or salmon curry before or love the sound of a 'hopper' savoury pancake made with coconut milk, then you need to snag a table at The Coconut Tree. Save space for a few after-dinner 'cocotails' though.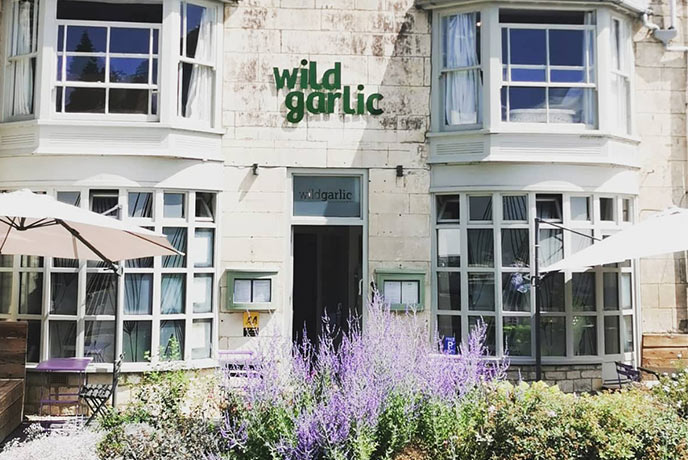 Nailsworth is a bustling Cotswolds town close to Stroud and home to the no-nonsense Wild Garlic. Here you can expect a contemporary take on British cuisine. Boast not one or two but three AA rosettes, service is attentive yet completely free from pretension.
Prime your senses for a surprise when booking a table at this place: the eight course tasting menu served each evening is a secret until the food arrives at your table. To make sure the surprises are all good, do make sure you advise of any dietary requirements in advance!
Locally sourced produce that delivers on flavour is what Wild Garlic is all about. You can count on the wine flight or carefully matched soft drinks to give your food even more depth.
Dining at Wild Garlic is an amazing experience in the truest sense of the word, as every plateful is a closely-guarded secret. If you adore surprises, this one's for you: if you abhor them, then perhaps steer well clear – but you might just be missing out.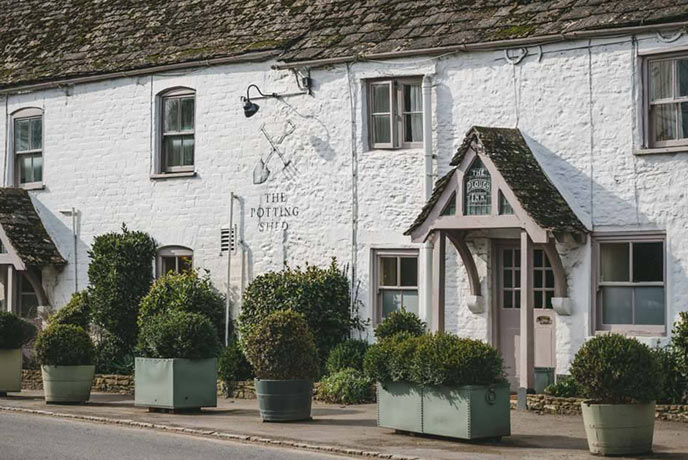 There's nothing like a country pub to make you feel that you've arrived in the heart of rural England. The Potting Shed boasts not only a character-packed public bar but also a snug, barn-like dining space. The ultimate gastropub for your Cotswolds shortlist.
Praised this place for its laid-back ambience, wholesome food and modern-meets-traditional décor, if you fancy a post-dinner drink after dining here, then you certainly haven't got far to go.
Menu highlights at The Potting Shed include big, juicy burgers or fish and chips cooked to perfection as well as more inventive dishes like confit of duck or a cheesy vegetable bake. Starters are unmissable, whether you plump for a regional double Gloucester souffle, the black pudding scotch egg or spicy tiger prawns.
There are vegetarian, gluten-free and vegan options to ensure everyone's taste buds are thoroughly satisfied after your visit.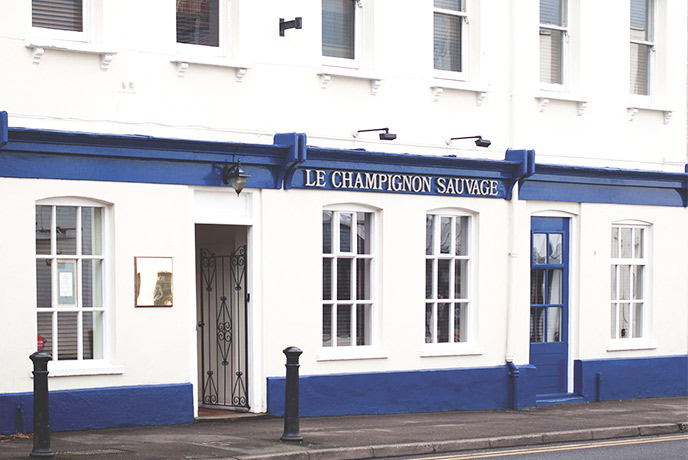 Many discerning diners will have heard of this eatery. Ideal for a special occasion, its reputation and Michelin star precede it.
The food and service are as polished as the gleaming silver cutlery and shining wine glasses: husband-and-wife team David and Helen are absolute experts at what they do. David is in charge of the menu, which features French classics made from the finest local produce, while Helen is responsible for front-of-house.
The sleek, elegant interior is also a string to Helen's bow – it's smart and comfortable yet allows the food to take centre stage. Just as it should.
From a light Cornish mackerel dish to the rich, satisfying Brecon venison, dishes are well-judged and executed with flair. Expect irresistible desserts and unusual ingredients to be part of your experience, as well as great value when opting for a set menu.
Best pubs in the Cotswolds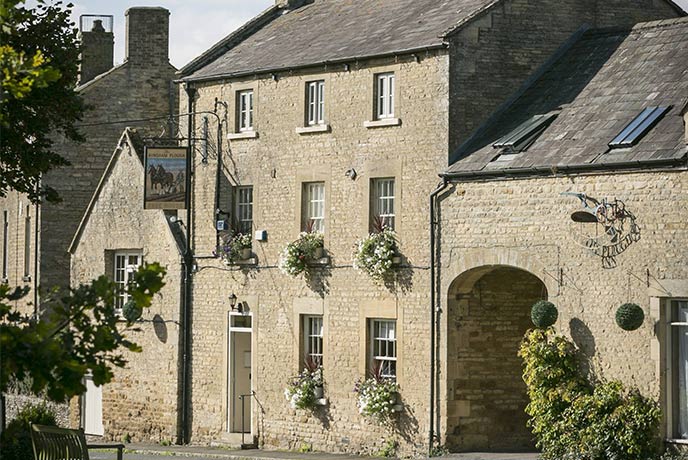 If you want to find the perfect pub in the heart of the Cotswolds then you've got it. The Kingham Plough lies between Stow-on-the-Wold, Chipping Norton and Moreton-in-Marsh, so it's a cinch to reach from any part of the region.
The Kingham Plough somehow manages to make its dual roles as 'proper' local pub and upmarket place to eat seem effortless. There's a beautifully refurbished, well-appointed interior which is contemporary yet timeless, and the owners take good care to offer a warm welcome to each and every dinner guest.
The menu is similarly well-balanced and makes interesting reading – how does 'Mark's sourdough', 'Smokin' Bros salmon' or a fusion Santa Fe salad grab you? Heartier offerings, meanwhile, include local pork pies, woodfired gurnard or lamb or a selection of steaks. You can even order woodfired iceberg lettuce.
If you can't resist tart tatin, panna cotta or the cherry and chocolate feast that is a Black Forest gateau, then make sure you save space for pudding.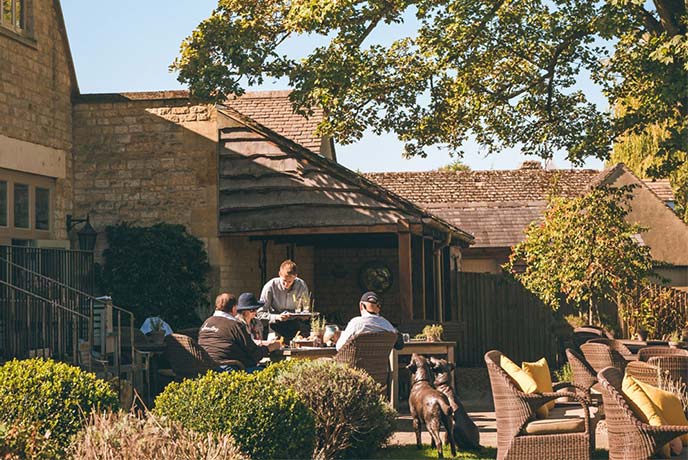 What could sound cosier and call to mind the cutest English wildlife than 'The Feathered Nest'? You can find this ornithologically-named pub in Nether Westcote, a Cotswolds village that lies directly east of pretty Bourton-on-the-Water.
Nether Westcote is a diminutive village, which might help to explain why it's somewhat overlooked. Don't let that put you off though. Here you'll delight over dining on delectable, triple AA rosette awarded cuisine with sweeping views over the surrounding countryside. Perhaps while experiencing that buzz that only comes from discovering a real hidden gem.
The convivial bar is ideal for sociable types. Expect affable (and lucky) locals, a blazing fire and even live music on selected nights.
Tasting, plant-based, children's and Sunday lunch menus ensure you have plenty of choice. Whether you go for roast carrot with curried aubergine, lamb with Evesham asparagus or steamed halibut with confit chicken. Yep, meat with fish is indeed a thing here – and a very fine idea at that.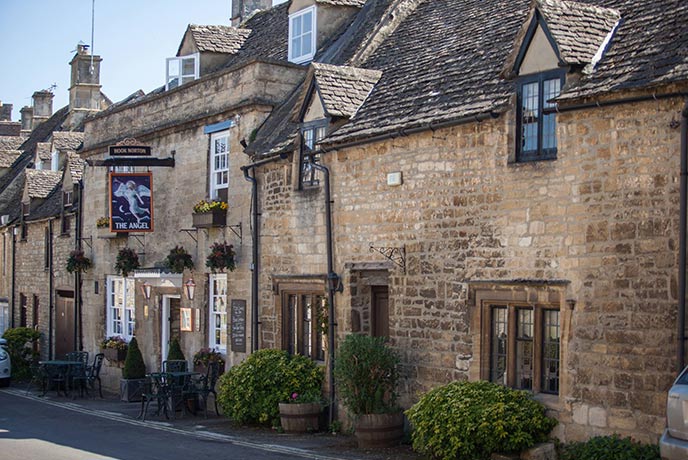 What is not to love about The Angel in Burford? 'Gateway to the Cotswolds' location – check. Traditional English coaching inn – affirmative. Fabulous food – definitely.
The Angel has been family run since 2011, so the Kings have had over a decade to hone their craft. And it shows – in everything from the contemporary-meets-class decor to the perfectly-poured pint you'll savour at the bar while awaiting dinner.
In fact, amongst accolades, it has also been voted 'best destination pub'. Much of that is down to the carefully crafted menu, which features meaty delights like chicken liver parfait and the house burger or pie of the day alongside lighter choices like pan-fried hake, Thai green veggie curry or ravioli stuffed with peas and shallots.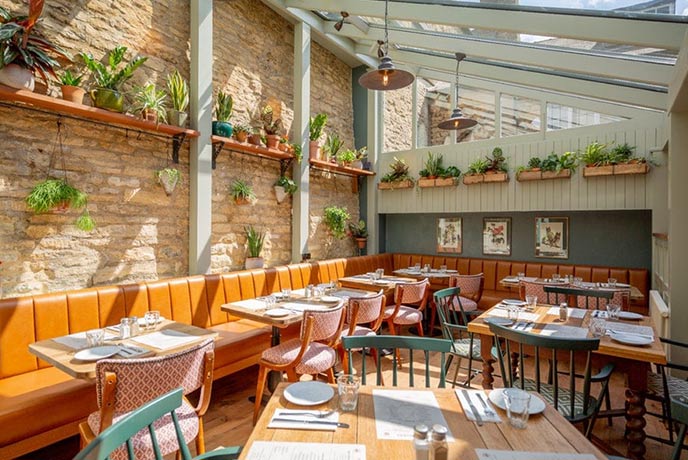 It may have a moniker that calls to mind the Prime Minister's country retreat, but The Chequers of Chipping Norton can be found at the heart of this Oxfordshire town. If you hanker after a down-to-earth, old-school pub then this could be the one for you.
That's not to say there aren't some delicious new flavour combinations to sample on the menu. Far from it – how does spinach and ricotta ravioli with a tomato fondue, or a pork fillet encased in filo pastry and parma ham served with sweet potato terrine grab you?
All the British pub favourites are also present (and very correct), of course, from Cumberland sausage and mash to London Pride battered fish or a substantial pie of the day. A specials board with daily options and an ever-changing range of puds also help to keep your options interesting. The Chequers welcomes dogs in the bar area, so there's space for your favourite furry friend too.
Explore our pick of the best dog-friendly Cotswolds pubs to find other pup-tastic pubs.
Best cafés in the Cotswolds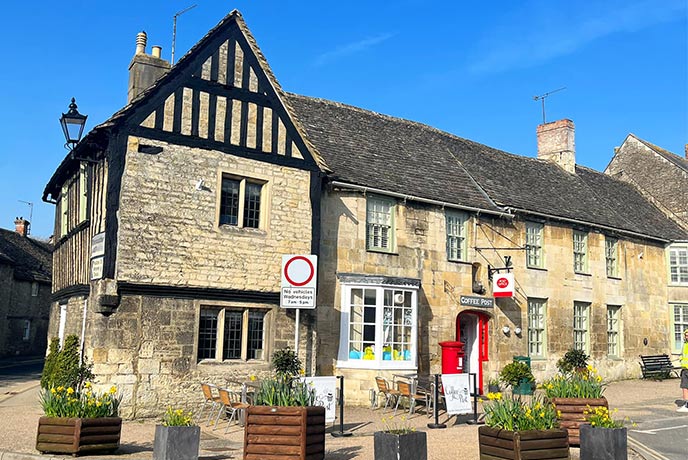 The standard of the cakes is so high at The Coffee Post that local brides and grooms often opt to feature them as a major part of their big day. If that's not enough to tempt you into this award-winning Cotswolds café, then how about a charming location in the centre of a honey-toned Gloucestershire village?
As well as making custom cakes to order for local folk celebrating a big occasion, The Coffee Post serves everything a great café should. The usual fare such as hot and cold drinks, sandwiches and toasties is complemented by a few surprises, such as slushies in summer, old school bakes and of course high quality coffee.
Make sure you pay a visit before 2pm on weekdays or 1pm on a Saturday, or you might just end up sorely disappointed.
Martha's Coffee House, Moreton-in-Marsh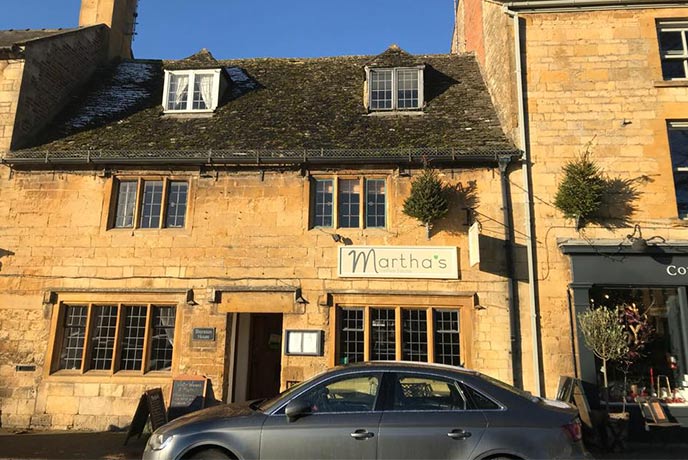 Martha's in Moreton-on Marsh is such a well-kept secret that it has no website – presumably the steady influx of locals and visitors means it doesn't even need one!
The cream teas win this place lots of praise and you might be unable to resist sampling a bacon and brie toastie served with chilli jam. Or the avocado on sourdough perhaps if your tastes are more millennial – here this modern classic comes with a poached egg, pickled red onion and Greek feta.
Other culinary delights include scones with bacon and maple syrup, plus the usual array of freshly cooked breakfast and brunch staples.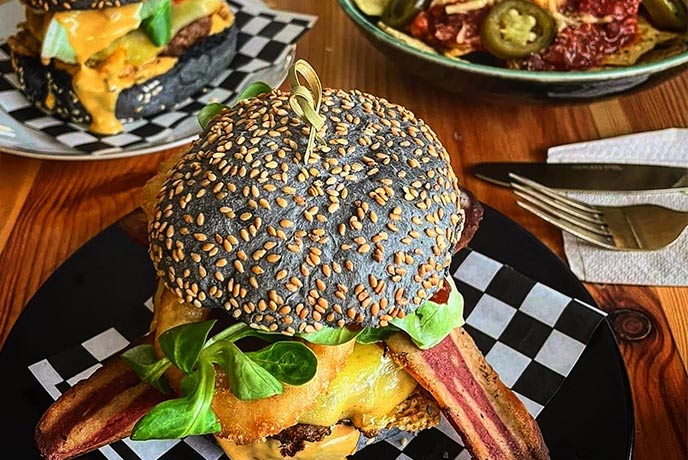 Our final pick of the Cotswolds eateries is one for the vegans among you. Whether you steer clear of meat on a regular, permanent or occasional basis, Lilith's in Cheltenham will see you right.
You can find this 100% independent, vegan-owned eatery on Winchcombe Street in the centre of town, and all food is locally sourced or made on the premises. The owners began with a market stall, but their offering was so successful that there is now a branch in the big city of Bristol in addition to the Cheltenham one.
Expect the unexpected here as well as a range of delectable meatless dishes. You can add CBD oil to your drink alongside plant milk, enjoy a burger in a black seeded bun or sample a range of 'can it really be vegan' cakes.
Looking for more Cotswolds inspiration? Have a read of our guides to the top things to do in the Cotswolds and the best Cotswolds markets. If you're planning a stay, browse our wonderful holiday cottages in the Cotswolds.