Delve deep into the rolling hills of the Cotswolds and among the pretty villages and towns, and you'll discover hidden treasures – a unique collection of flourishing gardens and arboretums so beautiful that even a King owns one!
Whether you just love to be amongst nature or fancy yourself as the next Monty Don, these stunning green spaces, from huge tree collections to Georgian pleasure gardens, will leave you in awe of their beauty and full of inspirational ideas to take back to your own garden.
From privately-owned Edens to National Trust-run estates, these gardens offer a grand day out that cater for all, with many offering play areas, themed walks, workshops, cafés and shops to explore. And some are even dog friendly, so your four-legged friend can join too!
Here are just a few of the finest gardens that the Cotswolds has to offer.
Hidcote, Chipping Campden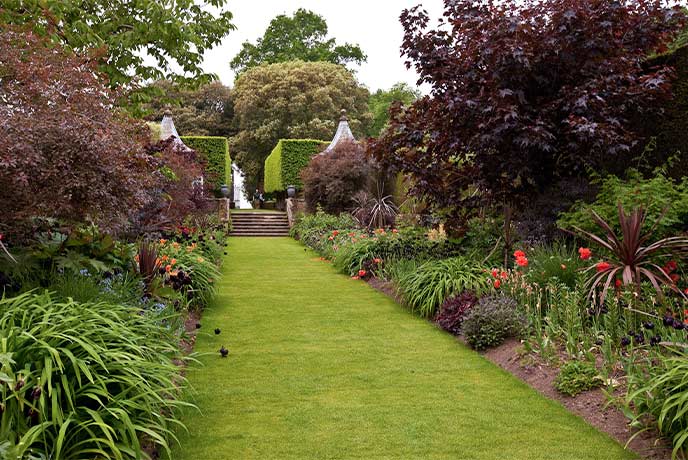 Hidcote Bartrim, Chipping Campden GL55 6LR
This spectacular Grade I listed garden was designed between 1907 and 1938 by Major Lawrence Johnston. Very much inspired by the Arts and Crafts movement, Hidcote comprises of small, intimate spaces or garden 'rooms' over 10.5 acres. The spaces are formal in design close to the house, but the further away you explore the more naturalised the gardens become, eventually blending effortlessly with the surrounding countryside. Major Johnston went on many plant-hunting exhibitions to South Africa, China and the Alps, bringing species back to fill the garden and bring him critical acclaim in the gardening world.
With gorgeous flower beds, mature yew hedging, exquisite glass houses, lawned walkways, secret spaces around every corner and an overwhelming feeling of peace, this is a stunning garden tucked away near the pretty Cotswold village of Chipping Campden. Hidcote was gifted to the National Trust in 1948, and has a café, shop, second hand bookshop (tucked away in the chapel), and a plant shop. Please note, if you're planning on arriving between 10am and 1pm, Hidcote is operating a booking system for the car park. You can find details on the website.
Westonbirt Arboretum, Tetbury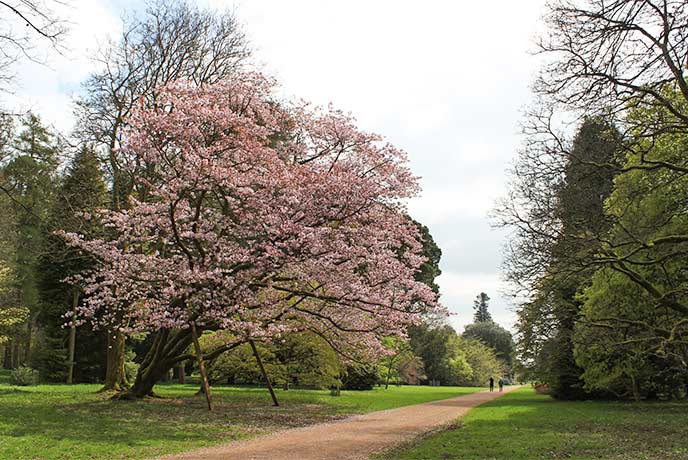 Waste Drive, Tetbury GL8 8QS
A garden that solely focuses on trees, Westonbirt Arboretum is an informal yet stunning green space home to 15,000 specimens and over 2,500 different species from all over the world. Developed over 200 years ago by Robert Holford, a wealthy landowner with a passion for plants, he financed plant collecting exhibitions all over the world on a quest to find beautiful, rare and extraordinary trees – many of which still live in the arboretum today. Today, the 600-acre estate is run by Forestry England and is famous for its unique collection of maple trees and rhododendrons, as well as its unique collections of Bladdernut, Lime (there's one tree that's 2,000 years old!) and Walnut trees. A day out at Westonbirt offers plenty of walking along the meandering paths and open spaces, making it perfect for families and dogs too.
Make sure to pop to Westonbirt Woodworks where you can watch as traditional craftspeople work with the wood from fallen trees to create beautiful pieces, and you can even have a go yourself (this must be booked in advance). You can bring your own picnic (best sourced from a local farm shop) and relax in the dappled shade of an overhanging tree, or pay a visit to the onsite restaurant if you're peckish. There's also a shop to pick up a memento of your visit. If you're staying in the Cotswolds at Christmas, you can stop by in the evenings when the incredible arboretum is lit up with colourful light displays, turning the already beautiful trees into a kaleidoscopic celebration of Christmas.
Bourton House Garden, Gloucestershire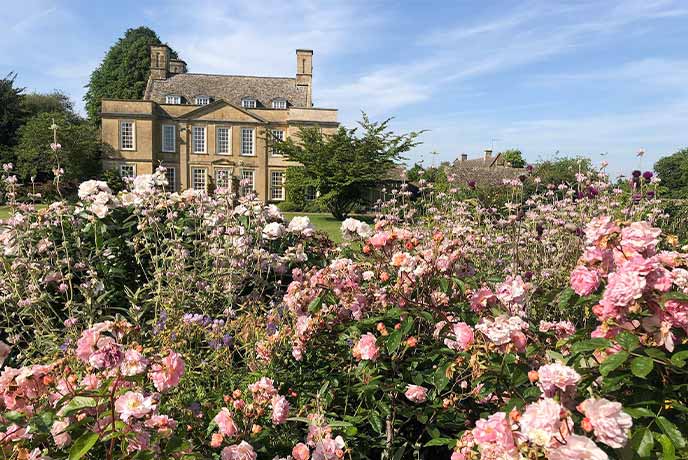 Bourton on the Hill, Gloucestershire GL56 9AE
This once-neglected house and garden, that has been a site for a dwelling since the late 16th century, was magically brought back to life over a 25-year period when the Paice family bought the estate back in 1983. Together with a fantastic gardening team led by Head Gardener Paul Nicholls, the three-acre garden that surrounds the 18th century manor house was meticulously restored to uncover beautiful topiary, spring-fed water features (including a raised basket pond from the Great Exhibition of 1851), wide herbaceous borders filled with rare, unusual and exotic plants, a shade house and a raised 18th century walk through the garden, which offers beautiful views of the surrounding Cotswold countryside.
A new walk was introduced in 2013 that explores the seven-acre walled pasture filled with specimen trees. These gardens open seasonally (please check the website for details), Tuesday through to Friday, with late summer being a particularly good time to visit. Afterwards, head to the nearby market town of Moreton-in-Marsh for a bite to eat and a stroll around the pretty high street, lined with an array of independent shops.
Painswick Rococo Garden, Painswick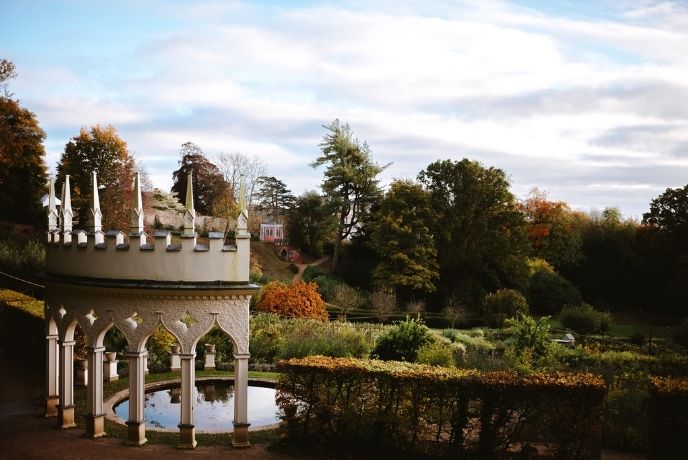 Gloucester Road, Painswick GL6 6TH
Designed in the 1740s as an English country gentleman's pleasure garden by Benjamin Hyatt, Painswick Rococo Garden is Grade II* listed and the only surviving example of a rococo garden in England. Brought back from ruin in 1984 after historians found a painting of the house and gardens, today it's a beautiful Georgian style garden in which to get lost in. With fantastical landscapes, eccentric follies, beautiful views, hidden pools, winding paths and a formal vegetable garden, it's the ultimate outside space for entertaining – it's not hard to imagine decadent masked balls or intimate soirees taking place here. As you walk under the stunningly white gothic arches, battlements and pinnacles of the Exedra, sit in contemplative silence in Eagle House, a Grade II* listed gothic summerhouse and discover the Red House, a garden pavilion with a fireplace and surrounded by woodland, you'd be forgiven for thinking you were in a dream.
Today cared for by the charitable Painswick Rococo Garden Trust, it's carefully maintained by four gardeners and over 40 volunteers to keep it as close to the original vision as possible. Kids will love the rustic wooden play area and maze, while there's a café for drinks, cakes and snacks, and a plant shop. While visiting, take time to walk around the picturesque village of Painswick, whose famous churchyard has 99 beautifully clipped yew trees – legend has it that the Devil himself won't allow the 100th to grow – even today, every time an 100th is planted, another one dies. The yews are held in such high regard there's a festival set around their annual clipping, which takes place in September, where something called Puppy Dog Pie is served (don't worry, no puppies are harmed in the making!).
Kiftsgate Court Garden, Chipping Campden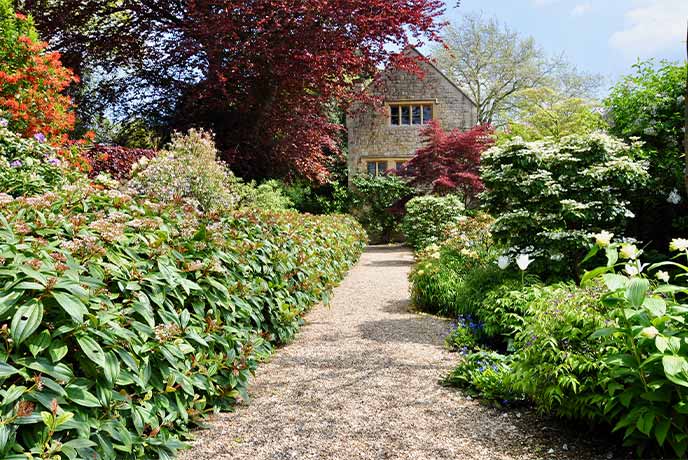 Mickleton, Chipping Campden GL55 6LN
Designed, created and maintained by three generations of women, Kiftsgate Court Garden has a decidedly organic feel to it. The upper gardens set around the house flourish in harmonious colour schemes, where the famous, giant Kiftsgate rose rambles luxuriantly. The lower, more sheltered gardens offer a wonderful setting for plants and flowers from warmer countries, while the modern water garden (formerly a tennis court) is an oasis of calm. The garden is a botanical delight whatever time of year, from the pink and white magnolias set amongst the bulbs and early perennials such as anemones, while the summer welcomes peonies, roses and geraniums, to name but a few of the beautiful flowers you'll find on display.
With a perennial wild garden, fruit trees, huge terracotta pots filled with tender summer plants, sunken gardens, bluebell woods and gorgeous views across the countryside towards the Malvern Hills, this is a stunning formal garden to explore when you're looking for a peaceful escape. There's a fantastic tea room and two picnic areas outside of the main garden should you wish to bring your lunch with you. There's also a gift and plant shop to peruse.
Cerney House Gardens, Cirencester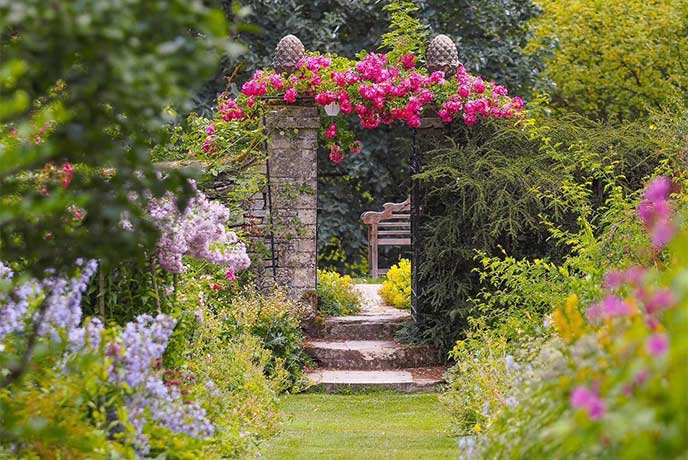 Cerney House, North Cerney, Cirencester GL7 7BX
This jewel of a secret garden is hidden away in the countryside not far from Cheltenham. Owned by the Angus family and set around a Victorian walled garden, Cerney House Gardens was developed by the late Lady Angus and her daughter, who fell in love with the garden instantly when they first viewed the property. Another one to follow an organic approach, flowers and plants tumble wildly from their borders, paired with an abundance of bees, butterflies and insects, creating an Eden that's teeming with life, with traditional favourites such as roses filling the air with their magnificent scent.
The busy, working kitchen garden is sure to inspire the budding chef and gardener alike, while a new herb garden is currently in development. There are nature trail walks through the gardens and the woodland, a Potting Shed shop where you can buy a selection of plants, heritage vegetables and even cut flowers to take home with you, plus the Bothy – a self-service tea room for refreshments.
Highgrove Gardens, Tetbury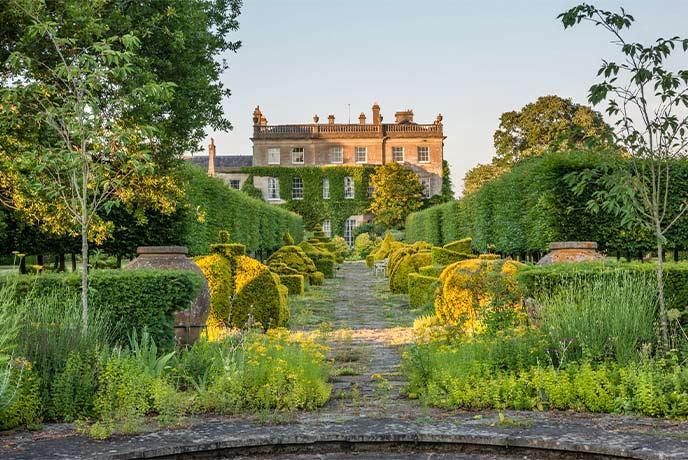 Highgrove, Tetbury GL8 8TN
Designed and created by none other than HM The King Charles III himself over the past 35 years, Highgrove Gardens is an astonishing place to visit if you catch it on one of the days that it's open to the public. Embodying His Majesty's commitment to sustainability and all things organic, Highgrove is important for its vast array of both flora and fauna. With different themed gardens such as a kitchen garden, cottage garden, carpet garden, stumpery (a verdant home for ferns and hostas) and wildflower meadows, each are beautifully cared for and have sought inspiration from all over the world, creating a riot of colour and life.
The arboretum offers a shaded stroll amongst the acer, beech and cherry trees, as well as magnolias, which are a favourite of His Majesty. With a fantastic restaurant and shop, as well as various guided tours available (such as the decadent Champagne Tea Tour), is really a right royal day out. Entry is by pre-booked ticket only, so make sure to book ahead of your visit, and as Highgrove is the private residence of their Majesties the King and Queen Camilla, certain requirements and restrictions are in place – take a look at the website for details.
Batsford Arboretum, Moreton-in-Marsh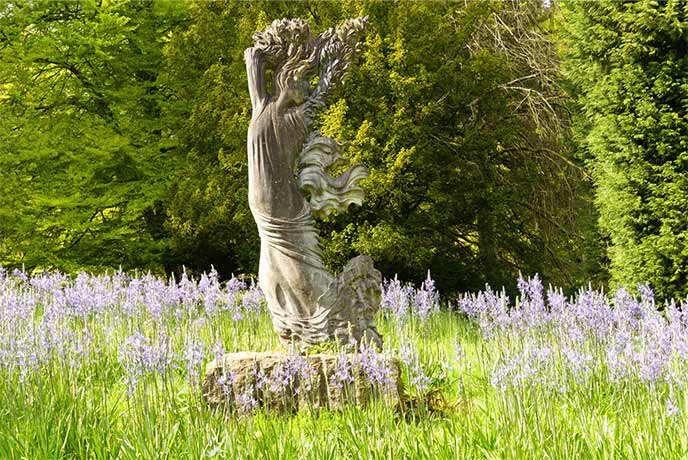 Batsford, Moreton-in-Marsh GL56 9QB
Situated to the north-west of Moreton-in-Marsh, Batsford Arboretum is a stunning 60-acre estate home to a collection of rare trees, shrubs and bamboos interlaced with weaving paths, wild gardens and streams with breathtaking views across the Evenlode Valley. Famed for its 100 different magnolia cultivars and a substantial collection of Japanese cherry trees and acers, a visit to Batsford is fantastic whatever time of year you visit; with its swathes of snowdrops, daffodils and bluebells and cherry blossom in spring through to the riot of colours from the maples in autumn.
The Garden Terrace Café is particularly lovely for its views from the wooden deck, while any botanist will love to peruse the walled garden plant centre. Little ones will love a visit to the Cotswold Falconry Centre right next door, home to 150 birds of prey, which can be seen in free-flying demos every day, while Cotswold Archery has a dedicated archery range at Batsford that offers pre-booked sessions for all abilities from eight years upwards.
Snowshill Manor and Garden, Broadway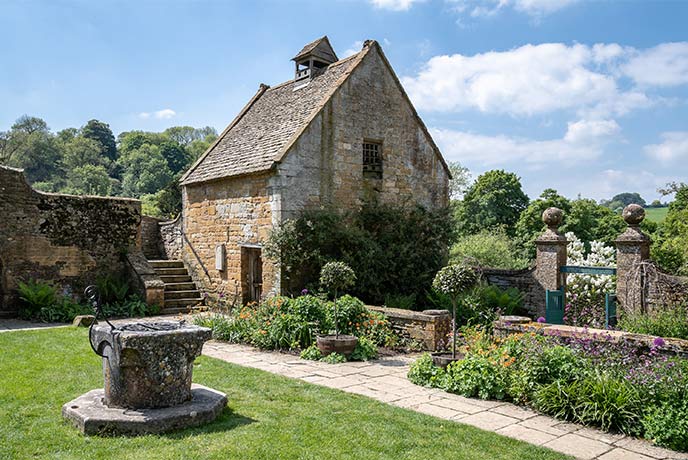 Snowshill, Broadway WR12 7JU
Home of the marvellously eccentric Charles Wade, Snowshill Manor and Gardens is a truly unique place to visit. The garden was designed by Wade and his Arts and Crafts architect friend Mackay Hugh Baillie Scott, turning what was a muddy farmhouse into a series of garden rooms, impressive topiary and overflowing flower borders, with terraces and walkways running throughout. Very much in the Arts and Crafts style, which had come about as a backlash against Victorian mass industrialisation, the focus in the garden (and in the house) was about reviving traditional craftsmanship and the beauty and honesty of simple design.
Original features such as the dovecote and cow byres were restored, with one of the cow byres becoming an outdoor dining area. Today, it's a lovely garden to explore, with quirky pieces of art tucked amongst the flowers, such as the Nychthemeron (a beautiful outdoor clock) and the miniature Cornish fishing village of Wolf Cove. The garden is a welcome balm after the busyness of the astonishing full-to-the-brim house, and there's a café on site with a second hand bookshop to rummage about in too. If you're visiting during the summer months, make sure to pay a visit to nearby Cotswold Lavender, which boasts stunning swathes of purple, highly-scented fields to walk through and take amazing photos, or take a gentle walk through the surrounding Cotswolds countryside.
Sezincote House & Garden, Moreton-in-Marsh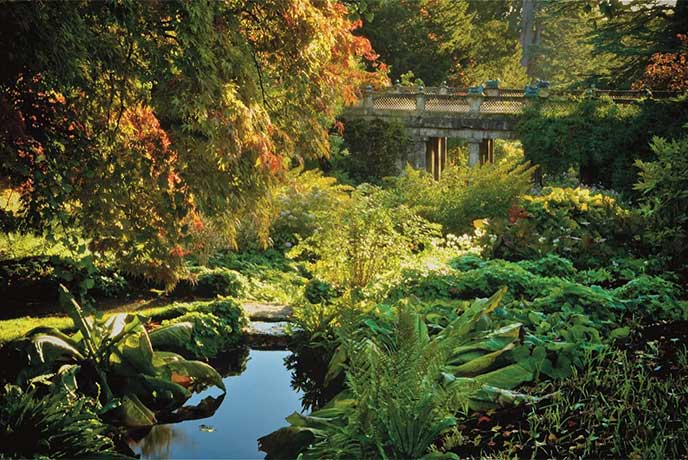 Moreton-in-Marsh GL56 9AW
For a taste of India in the heart of the Cotswolds, head to Sezincote. Imagined by John Cockerell after many years in India and designed by his architect brother Samuel Pepys Cockerell (who had never visited India), they replaced the original Tudor house with a Mogul Indian Palace complete with a weathered copper onion dome and set about redesigning the garden into a Moghul paradise. Unfortunately, during the Second World War Sezincote fell into disrepair until it was saved in 1968 by Sir Cyril and Lady Kleinwort who set about restoring it.
Today, it's a beautiful place to explore with a spring-fed water garden filled with rare plants, an Indian bridge, a temple to the goddess Surya, a snake pool with its own three-headed cobra and a small pavilion to name just a few of the unique things you'll stumble across. Afterwards, why not head to nearby Daylesford Organic for a bite to eat, collect some goodies to take back to your cottage or even book yourself onto a course such as floristry, cookery or gardening.
The Garden at Miserden, Stroud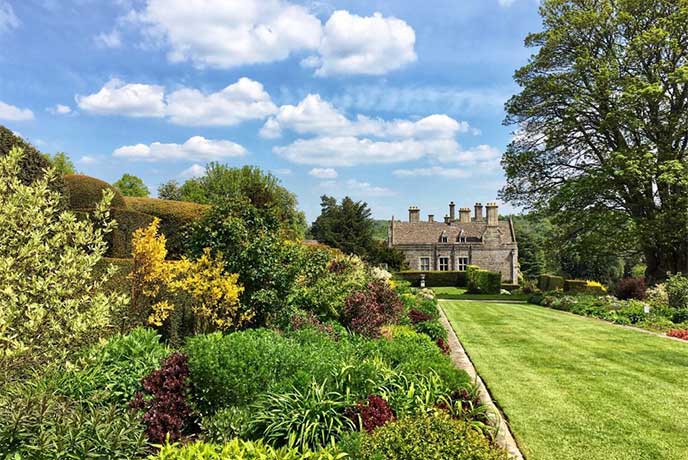 Miserden, near Stroud GL6 7JA
This quintessentially English walled garden is simply stunning and a must-visit if you're after a tranquil afternoon escape. The Garden at Miserden was designed back in the 17th century and is well-known for its huge mixed borders – said to be some of the longest in private ownership – that includes roses, clematis, shrubs and plants that flower from spring through to autumn, offering a kaleidoscope of colour. Winning many awards over the years, the gardens are part of a wider, 850-acre estate and although Miserden House isn't open to the public, it offers a wonderful backdrop to the garden, especially in spring when it's covered in Wisteria.
The established yew hedges and ancient trees (including a 200-year old sycamore tree that's grown through a Cotswold stone wall and a mulberry tree planted in 1620) frames the rest of the garden, which includes a fountain and stone summerhouse. If you're feeling peckish after all that exploring, head to the Glasshouse Café, or if you're feeling particularly decadent, book yourself an afternoon tea, served in the beautiful setting of the 17th century walled garden.
If these glorious gardens get your green fingers twitching, start planning your garden-filled getaway today by taking a peek at our beautiful cottages in the Cotswolds.