With its rural charm, rolling hills, buzzing market towns and chocolate-box villages, the Cotswolds offers nearly 800 square miles of unspoilt countryside to explore. It's a vast area that straddles five counties, mostly within Oxfordshire and Gloucestershire but reaching up as far as south Warwickshire and skimming the edges of Worcestershire and Wiltshire too.
It's named after the rolling hills that characterise the area and amounts to the largest Area of Outstanding Natural in England. After the Lake District and Yorkshire Dales national parks, it's also the third largest protected landscape in the country. Geology is king here, and the whole place is known for the bedrock of Jurassic limestone which creates a unique habitat, not to mention creates the iconic golden-coloured Cotswold stone.
But along with the bucolic views and intriguing geology, there is a burgeoning food and wine culture. Along with traditional pubs and innovative restaurants - not to mention some cracking farm shops - there are several vineyards in the area making the most of this scenic pocket of the UK and producing some of the best wine in the country…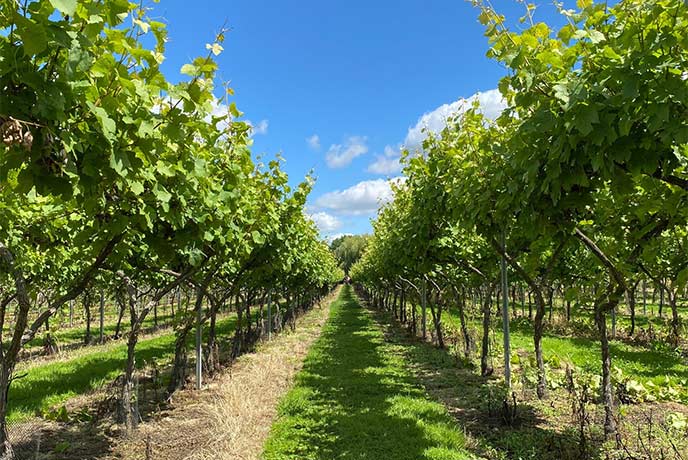 An English winery with a taste for the impeccable, at Little Oak Vineyard they don't do things the easy way. They insist on growing Siegerrebe, which produces a delicious wine but can prove tricky to grow in these climes. But their rave reviews and awards speak for themselves.
Sat on a sandy silt loam site with excellent drainage, Little Oak Vineyard proves the perfect sport for a spot of viniculture in the Cotswolds. It all began back in 2005 when owner Steve Wilson planted five vine varieties to see how they grew. After an impressive few years, the first grape harvest happened in 2009. It produced just six bottles of wine (and they were promptly enjoyed by friends the very day they returned to the vineyard).
Now the vineyard is home to some 1,700 vines which have produced 3,500kg of harvest grapes and 2,500+ bottles of wine. In 2019 they scooped the Bronze Medal in the Decanter Sparkling wines of the world and in 2020 Little Oak Vineyard was listed as one of the 50 Great Sparkling Wines of the world.
Keen to try it for yourself? Book on to a vineyard tour and wine tasting experience. If you fall in love, you could always treat yourself to an annual Vine Lease and Maintenance package. Afterwards head up the road to explore Hidcote, a 20th century garden complete with lawn games run by the National Trust. For more ideas on where to go, read our guide on the best places to visit in the Cotswolds.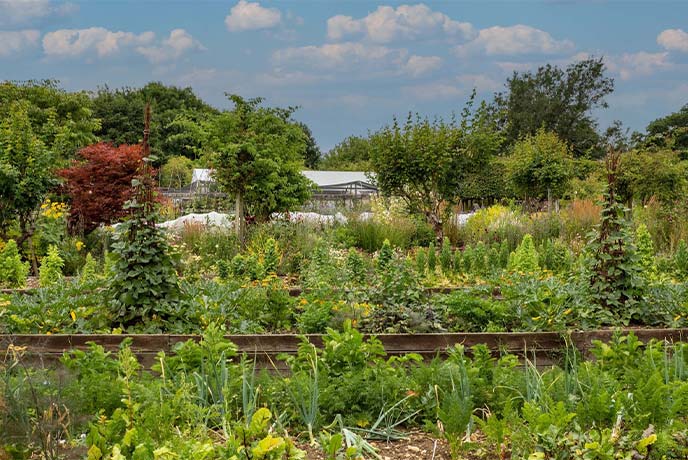 Situated in a garden that offers social and therapeutic horticulture to adults living in Oxfordshire, Bridewell vineyard is nestled next to the walled working garden. The vineyard helps to fund the crucial work carried out at Bridewell, as well as provide a strong focus throughout the year as the vines and grapes require plenty of tending too.
October is a busy month here, with a mix of gardeners and volunteers visiting the site to pick the grapes and get them across to the winemaker on the same day. You can visit during the summer open days, or pick up the wine at local shops including Finstock Community Shop, Hampers Food and Wine Co in Woodstock, Eynsham Cellars in Eynsham and Teardrop Bar in Oxford's Covered Market.
Not only will you be supporting this wonderful service, but you'll be in for a treat too. Jancis Robinson, the Financial Times wine correspondent, described this wine as: "Clean, crisp, a distinct note of walnuts. Refreshingly dry."
Afterwards, why not meander past North Leigh Roman Villa to see the well-preserved ruins of a Roman villa. It's about 30 minutes away by car.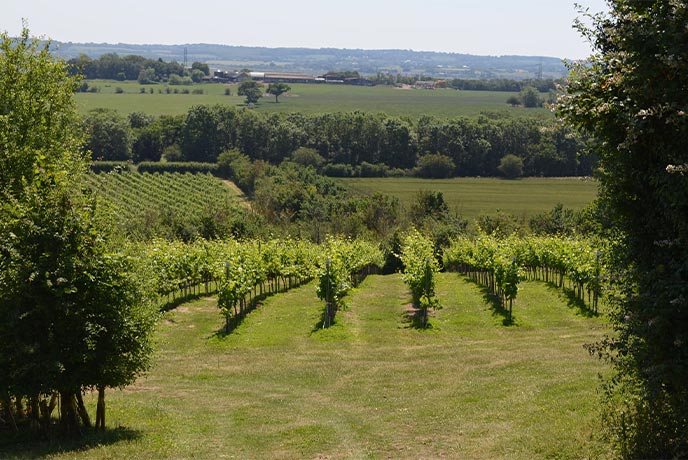 A micro winery with big plans, Freedom of the Press is located in the Cotswolds hill where they focus on producing small batches of still wine. It all begins with finding the best fruit. They work with a few nearby vineyards in the Crouch valley, an area renowned for its perfect climate for English grape growing.
Then they select the right method and vessel. They have oak barrels, stoneware amphora and concrete eggs, and match the right one to the nature of the fruit and the style of wine they are after. Keeping things small means attention is given to individual barrels, and as such unnecessary intervention is kept to a minimum.
Interested? They hold regular tasting events where you can learn more about their unique winemaking process. From Easter onward there are also regular opening times, so you can swing by to pick up a bottle or treat yourself to a glass onsite. They can also arrange tasting and tour sessions, as long as there are around 6 - 10 people in your group.
If you're looking for something to do afterwards, the ruins of Minster Lovell Hall, a 15th century Oxfordshire manor house are nearby. The rural setting, beside the River Windrush, is a gorgeous spot to while away an afternoon.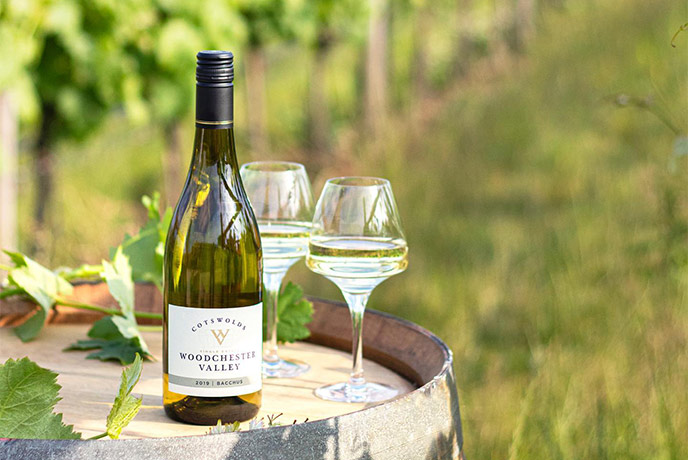 Established in 2007, this 56-acre site on steep limestone slopes produces award-winning English still and sparkling wines.
There are three sites in total, all within the Cotswolds AONB. The family-owned vineyard grows 10 grape varieties which are used to make a range of white, red and rose wines. Each year the grapes are handpicked then lightly pressed with a cool, slow fermentation to save as much of the aromatic and characteristics of the grapes as possible.
If you'd like to learn more, you can visit for a guided tour and tasting where you'll learn their story and find out how they make their award-winning wine. Choose from a sparkling afternoon tea, cheese and wine tasting or a vineyard walk. Alternatively, head to Cellar Door, their shop on the Bath Road just outside of Nailsworth. Here you can try some wines and stock up.
Afterwards walk off your wine on the Woodchester Park boathouse walk, where you'll take in 18th century landscape, Victorian manor house and a network of lakes surrounded by woodland and wildlife. Keen hiker? Check out some more of our Cotswold walk suggestions.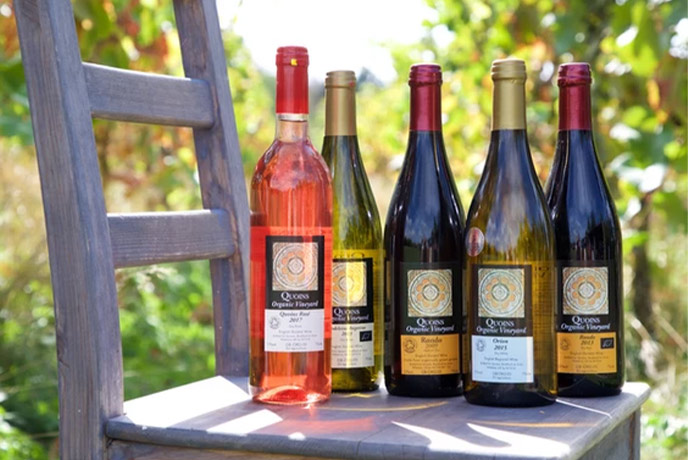 A small traditional vineyard, nestled on the edge of the Cotswolds, this organic vineyard produces around 3,000 bottles each year. Impressively, this modest yield comes from just one hectare of vines.
If organic status is important to you, look no further. Quoins Organic Vineyard is registered with the Soil Association and it's also biodynamic which means they avoid all inorganic fertilisers, pesticides and herbicides.
It's not just about the end result here. Amongst the vines you'll find wild flowers, over a hundred fruit, nut and forest trees and lots of wildlife.
If you'd like to visit and learn more, they are running tours from September. Contact the team to arrange a group tour, and they are happy to tailor it to your requirements. You could have an in-depth discussion about organic production, or a simple picnic under the cherry blossom. Alternatively, they run open days throughout the summer months.
Despite the rural setting, you're just over 6 miles out of Bath which is worth an afternoon of anyone's time. Our top pick? Thermae Bath Spa - Britain' s only natural thermal spa.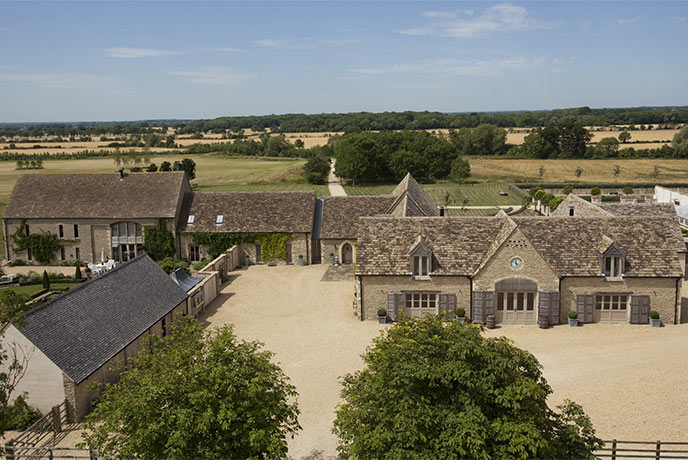 A family-run vineyard in the Cotswolds, Poulton Hill Estate produces limited batches of wine from grapes harvested by hand. Today there are some 9,750 vines planted across the south-facing slopes of the estate, producing up to 20,000 wines a year including everything from white Bacchus, Seyval Blanc and Phoenix to the red Pinot Noir, Regent and Rondo.
Over the years the wines here have scooped numerous awards, from a bronze medal for both their Arlington White and Arlington Red at the WineGB Awards 2020, to a Bronze in the Zesty and Zingy category for their Bulari Sparkling Rosé at the World's Finest Glass of Bubbly Awards.
Keen to do their bit for the environment, the estate is planted with wildflowers and grazed by rare-breed sheep (Jacob's Sheep and Olde English Babydoll Southdown Sheep) who keep the vines tidy and fertilise the soil.
If you'd like to explore yourself, book on to a tour which runs June through to September and enjoy a tour of the vineyard before sampling some wines at their Cellar Door.
Afterwards take a trip to The Cotswold Water Park. Spanning 40 square miles, this area includes 180 lakes which attracts thousands of breeding and water birds year-round.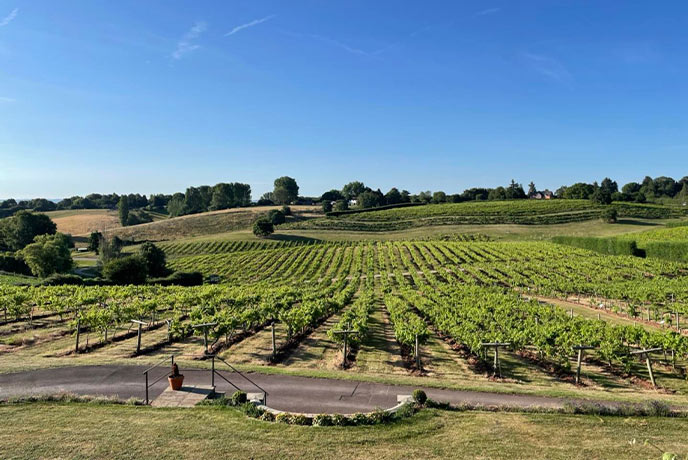 Craving Tuscany and Bordeaux? Head to one of England's oldest vineyards and you might just find your craving satisfied. Spread out across 75 acres of south facing slopes, you'll find endless views of rustling vine leaves and a passion for good wine.
The first vines here were planted in 1973 on a site of just half an acre to see how they grew. 75 acres later, it's fair to say it was an experiment that paid off and the vineyard now produces some 250,000 bottles.
If you'd like to have a sip, book on to one of the Saturday or Sunday wine tasting experiences where you'll enjoy a flight of five still and sparkling wine, along with palette cleansing water and crackers, and tasting notes. Alternatively, the weekend lunchtime grazing menu at the onsite brasserie sounds like a leisurely alternative. We wouldn't be able to resist the cheeseboard.
If visiting in spring, head to Gwen and Vera's Nature Reserve afterwards for a glorious daffodil display. Check out more pretty sights in the Cotswolds.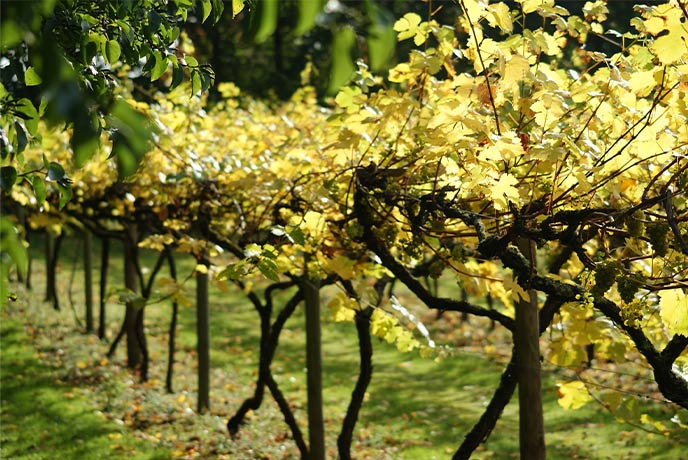 Bow in the Cloud is a small, family-run vineyard located on the outskirts of the ancient market town of Malmesbury. There are three acres of vines here, including bacchus, schonburger and seyval blanc. This produces some 2,000 bottles a year, which are usually sold locally.
The vineyard is sat on a small pocket of cornbrache, atop oolitic limestone. This not only keeps the soils well drained, but warm too. Each year the harvest happens in September or October and often locals come along to lend a hand.
Visit the website for up-to-date information on tours, as they run on select dates throughout the year. Opt for the cheeseboard experience, which includes a selection of local cheeses, bread and biscuits to enjoy during your wine tasting. Alternatively, the vineyard is just down the road from the Horse and Groom in Charlton if you fancy a more substantial lunch and dog friendly pub.
Pick a charming holiday cottage and begin your wine tasting tour of the Cotswolds.