If you want to combine a Christmas shopping trip with some of the most beautiful towns and villages in the country, then why not pay one of the fine Cotswolds Christmas markets a visit this year?
Held in locations like Cirencester, Broadway, Winchcombe, Bath, Cheltenham, Moreton-in-Marsh, Chipping Campden and Gloucester, these markets offer a large assortment of stalls so you can tick off everyone on your Christmas list. Or venture outside the Cotswolds main settlements and you can also shop for Christmas gifts and decorations at the likes of Blenheim Palace and Sudeley Castle.
Wherever you go, it's not all about picking up presents. Festive markets held during late November and December offer an array of treats for the senses, from warming mulled wine or hot chocolate topped with whipped cream and mini marshmallows, to all sorts of edible delights. Treat it as a night out with dinner and you could feast on gourmet hot dogs, dirty fries with all kinds of toppings or a pulled pork burger.
In fact any of the gorgeous, honey-toned Cotswolds villages are great to visit at Christmas. Fairy lights and decorated fir trees make them look even more inviting than usual. Bourton-on-the-Water, for example, is particularly beautiful to visit at Christmas, and its central Christmas tree is an enchanting sight. Even smaller places like Burford tend to make an event of their annual Christmas lights switch-on, and will often have at least a few small stalls to shop at during your visit.
Whether you fancy a big Victorian-style market plus some outlet shopping, heading off to discover the glittering grounds of Sudeley Castle or combining a city break in Bath with one of the best Christmas markets in the land, here are 15 of the finest Christmas markets in the Cotswolds area.
Gloucester Quays Winter Market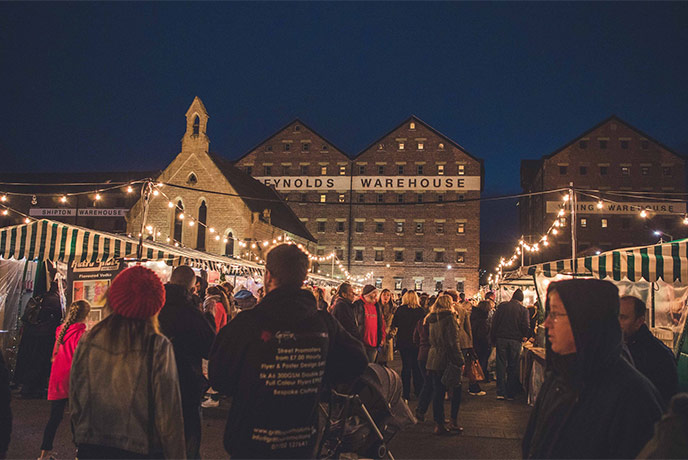 Every weekend from the 4th of November through to the 17th of December 2023
St Ann Way, Gloucester GL1 5SF
See the city of Gloucester come alive with festive magic at one of the winter markets. Held at the Quays, the market opens on Saturdays and Sundays.
It's not all about the stalls at this Cotswolds Christmas market, though there are over 90 to choose from. The city's November and December market also offers live music and street entertainment, a ferris wheel and an open air ice skating rink.
This is the largest Christmas market in the southwest of England. Expect a broad range of items for sale, plus many delicious food stalls to warm the belly and soul.
Visitors can also enjoy shopping at the Gloucester Quays outlet shopping village on St Ann Way.
Blenheim Palace Christmas Market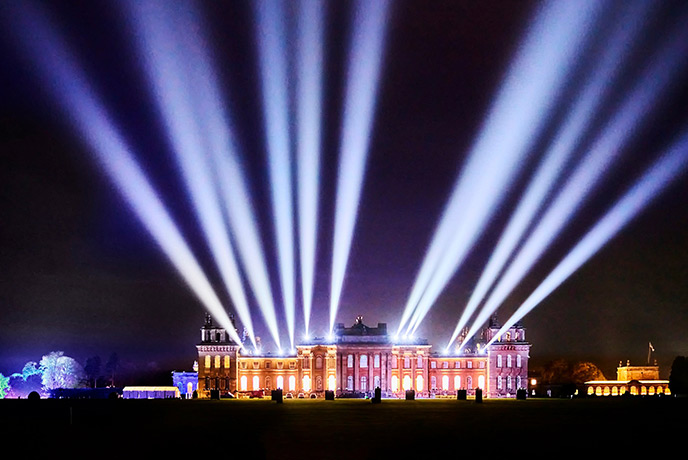 17th of November to 17th of December 2023
Great Court, Blenheim Palace, Woodstock OX20 1PP
Shopping at the Christmas market at Blenheim Palace is so much more than a mere retail experience. Visitors can also wander among the winter wonderland in the grounds, and sample delicious seasonal specialities at the food and drink stalls.
It's also possible to venture inside one of the greatest palaces in Britain. The rooms inside the grand residence are transformed for the festive season, taking on a magical Sleeping Beauty theme for 2023. The Great Court, meanwhile, plays host to an array of traders offering one-off artisan, craft and designer goods for sale.
Bath Christmas Market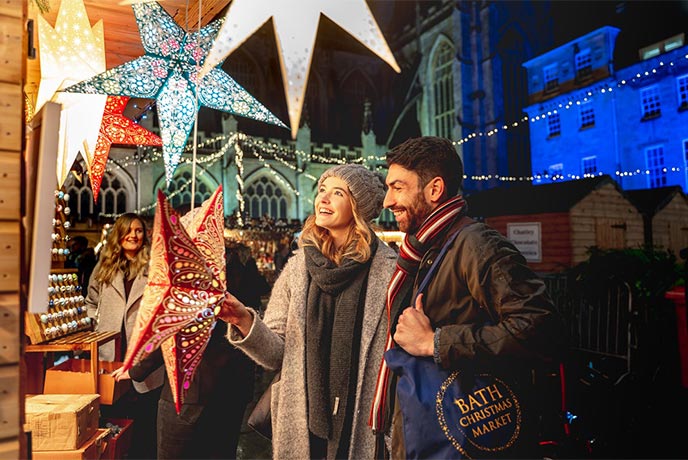 23rd of November to 10th of December 2023
Bath City Centre, Bath BA1 1LZ
Beautiful Bath's twinkling Christmas market is one of the best known and loved in the UK. Taking place between late November and early December, it's the one-stop shop for local residents and visitors who wish to stock up on unique Christmas decorations and gifts.
This market runs for less time than some, so you'll need to plan ahead if you want to include this one on your pre-Christmas schedule. For the two-and-a-half weeks, the city centre is transformed into the most magical place to be as part of the city's 'Bath at Christmas' celebrations.
More than 170 wooden chalets are in attendance, selling goods including the likes of handmade jewellery and handcrafted Christmas decorations.
Broadway Late Night Christmas Shopping Market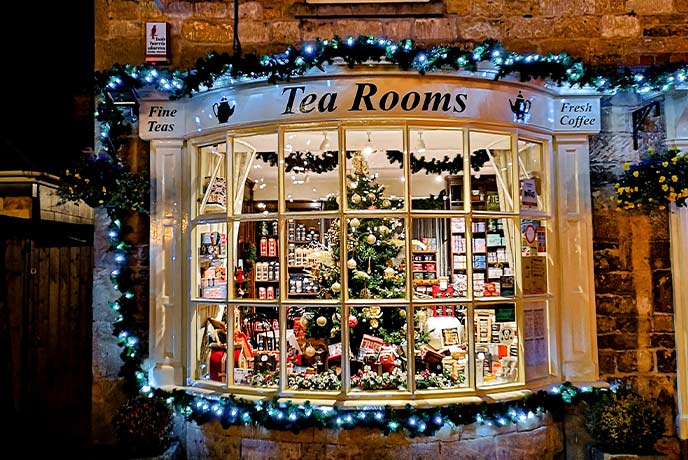 24th of November and 1st of December 2023
High Street, Broadway WR12 7DT
For two nights only, the picturesque Cotswolds village of Broadway is transformed into a festive shopper's paradise. Between 5:30pm and 8:30pm, local retailers fling open their doors to welcome locals and visitors seeking unique items to give at Christmas or decorate their homes with.
This Christmas market in the Cotswolds is an annual event that takes place during two consecutive Friday evenings. What better way to get the weekend off to a good start than to peruse the range of quality goods on offer while enjoying live music and street entertainment?
Plenty of shops even offer free mulled wine and mince pies to shoppers, while pony-drawn sleigh rides keep younger visitors smiling.
While you're in the area, be sure to check out Broadway Tower – one of our recommendations for the best places to visit in the Cotswolds.
Sudeley Castle Spectacle of Light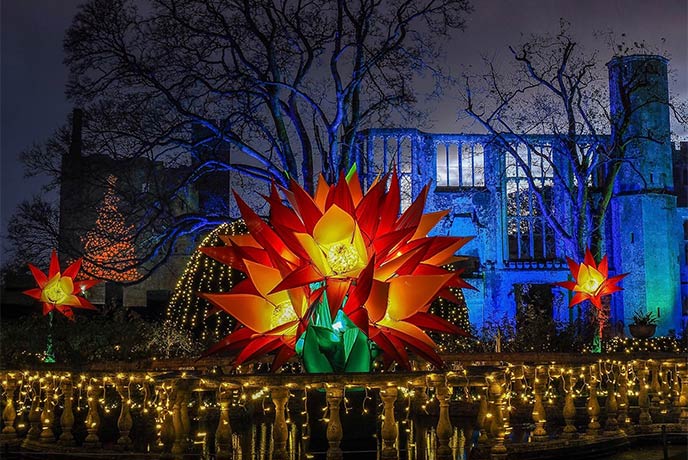 24th of November to 30th of December 2023
Sudeley Castle and Gardens GL54 5LP
Sudeley Castle has been operating its Spectacle of Light festival for some time now, and 2023 marks its eighth year. The popular celebration sees the castle and its grounds come to life after darkness has fallen, displaying a dazzling range of festive illuminations, with characters from the Wizard of Oz joining the celebrations this year.
Visitors can follow the trail around the grounds while sipping a spiced, warming glass of wine or an indulgent mug of creamy hot chocolate. Discover attractions like shimmering water features, the hypnotic Field of Fire, lantern-lit pathways and flowers that flicker like candlelight.
The Castle Terrace is brought to life by a range of food and drink stalls, where you can buy deliciously salty hot dogs, delectable doughnuts, chilli-topped fries and much more. Once you've had your fill, head off to the shop where you can find an array of unique gifts.
Moreton-in-Marsh Christmas Market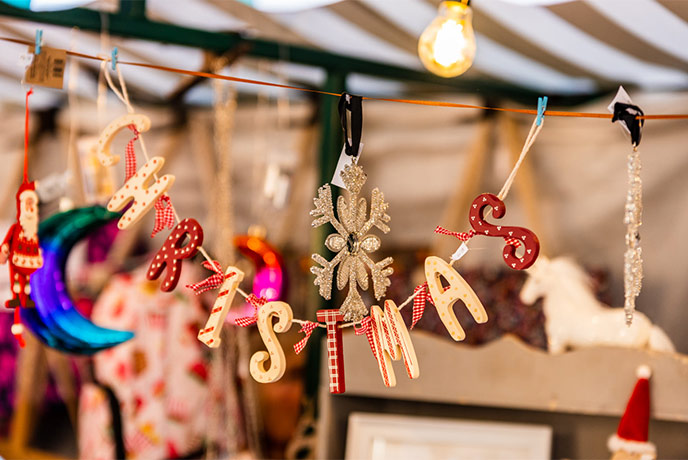 25th of November 2023
High Street, Moreton In Marsh GL56 0AX
This Cotswolds Christmas Market is timed to tie-in with the lights switch-on in one of the area's prettiest villages. The market operates all day long, from 9am until late, and kids can also fulfil their wish of visiting Father Christmas here after midday.
A wide range of around 80 stalls offers all sorts of festive goodies, from edible and quaffable treats to unique handmade items perfect for gifting and decoration. If you want to plan ahead for Christmas in the future, it's worth knowing that the last Saturday in November is when the Moreton-in-Marsh market will always take place.
Cirencester Advent Street Market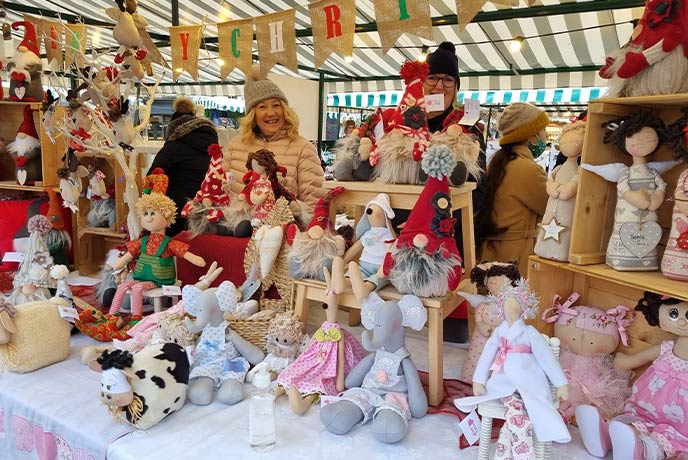 25th and 26th of November 2023
Market Place, Cirencester GL7 2NY
This Cotswolds Christmas market kicks off the festive season in Cirencester just before advent. The event is held in and around the Gloucestershire town's aptly-named Market Place, and takes place on a Saturday between 10am and 6pm.
The town goes all out to please locals and impress visitors with live music from carol singers, a lavishly decorated fir tree and of course a series of sparkling Christmas lights. Adjoining Castle and Cricklade Streets are also dressed for the festive season.
Don't miss the big lights switch-on at 4pm, which is set to include silent fireworks and realistic snowfall. Before or after this, you can also shop for gifts and homeware at 100-plus stalls.
Chipping Campden Christmas Market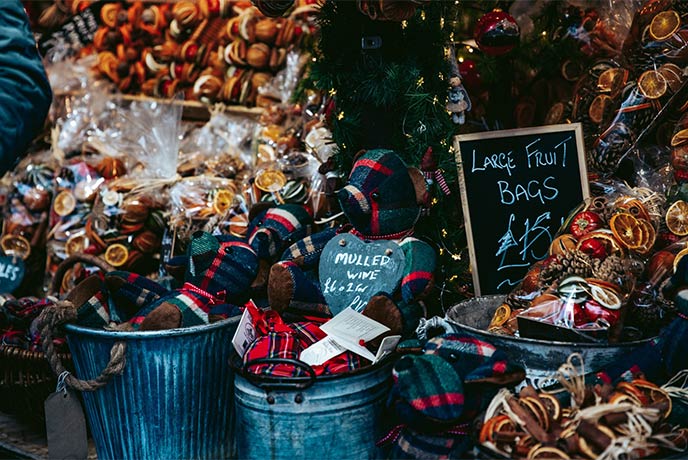 2nd and 3rd of December 2023
High Street, Chipping Campden GA55 6AL
Head to picturesque Chipping Campden on the first weekend of December this year to shop and see the Christmas lights. The historic, honey-toned buildings of the High Street are trimmed with twinkling Christmas finery and you can gather with friends and family by the large, illuminated tree.
Wandering along a traffic-free street is one of the pleasures of attending this market, as the main thoroughfare is closed to cars all day long. When twilight beckons, the festive lights switch-on also takes place.
The Town Hall, Market Square and High Street are lined with stalls for this one-day spectacular, selling everything from edible seasonal treats to cards, decorations, crafts and toys.
Cirencester 2-Day Christmas Market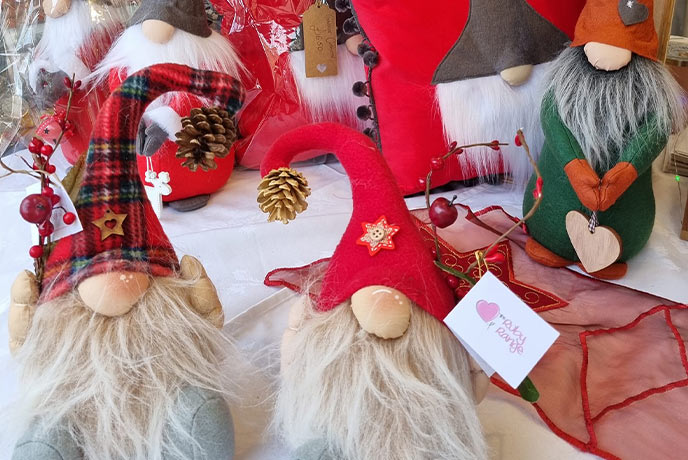 TBC
Market Place, Cirencester GL7 2NY
The two-day Christmas market in Cirencester takes place in addition to the advent event held during later November. Like the earlier celebration, it's centred on Market Place, and the town comes alive with lights, live music, a large tree and over 100 stalls.
This second market in the Gloucestershire town gives locals another two days to shop for gifts and goods after advent and the Christmas countdown has actually begun.
Winchcombe Christmas Festival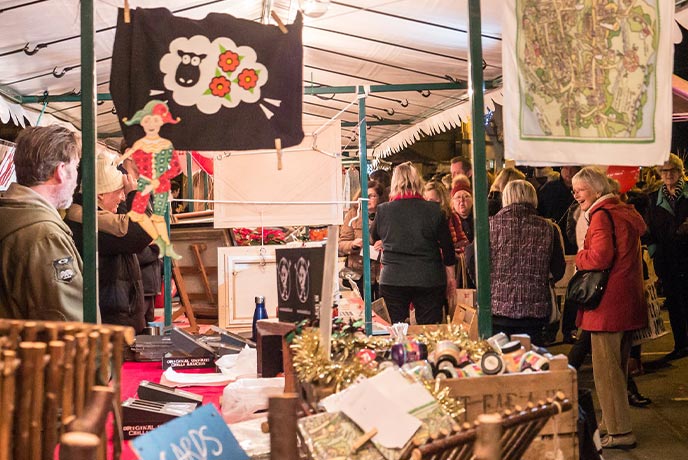 8th and 9th of December 2023
High Street, Winchcombe GL54 5LT
This year, the Winchcombe Christmas Festival is adding a second day to its celebrations, to give even more time to soak up the festive atmosphere. Christmas trees line the festival, while more than 40 stalls and a range of other events mark the start of the mediaeval town's festivities.
Local shops open late to attract visitors, and there are choirs singing carols to serenade you as you shop. Other entertainment includes Morris dancers, street performers and live bands.
Cheltenham Christmas Markets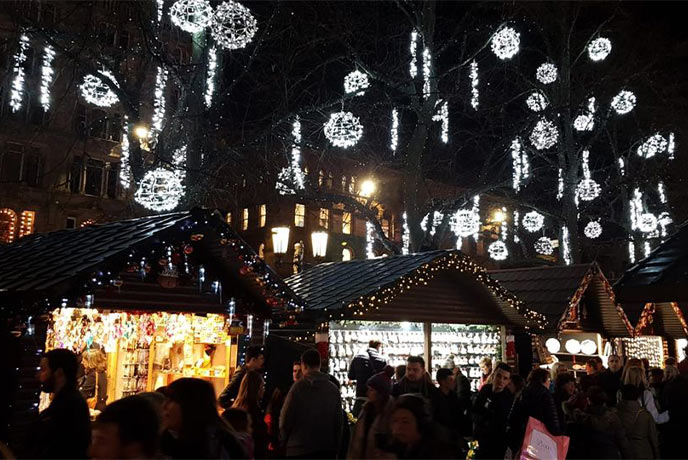 16th to 19th of November and 14th to 23rd of December 2023
Promenade, Cheltenham GL50 1PY
Celebrating Christmas this year with no less than two fabulous markets, Cheltenham is amping up the festive cheer in 2023. In November, the Christmas Gift Market will be offering a superb selection of retail gifts, from homeware to festive foodstuffs, while chalets offer a quiet spot to sit and take in the scenes.
In the run-up to Christmas Eve, Cheltenham also offers its Christmas Arts & Crafts Market, which lines the Promenade with wonderful local traders with stalls laden with creative creations.
Cirencester Festive Farmers' Market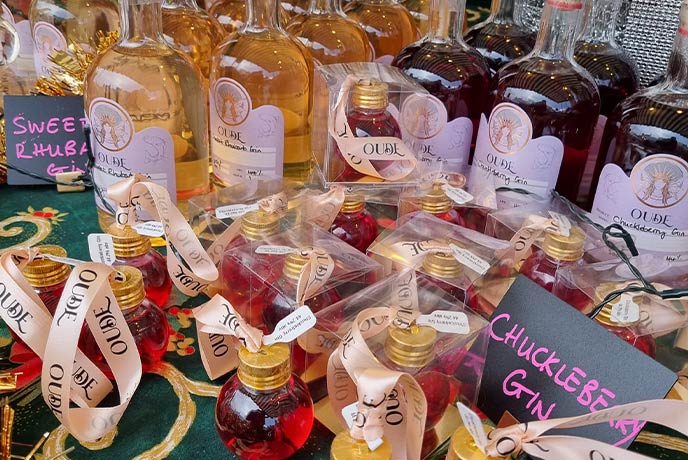 TBC
Market Place, Cirencester GL7 2NY
Cirencester offers shoppers a number of Christmas markets in the Cotswolds. The festive Farmer's Market is a food-focused take on the town's seasonal celebrations.
It's not solely about goods you can feast on, though this is the main focus. If you want to make up your own Christmas hampers this is the place to come. Pick up everything here from locally-grown fruit and veg or fresh meat products to home baked pies and a range of beers, wines and spirits with a regional flavour.
Discover the best farm shops in the Cotswolds.
Cirencester Christmas Gift Market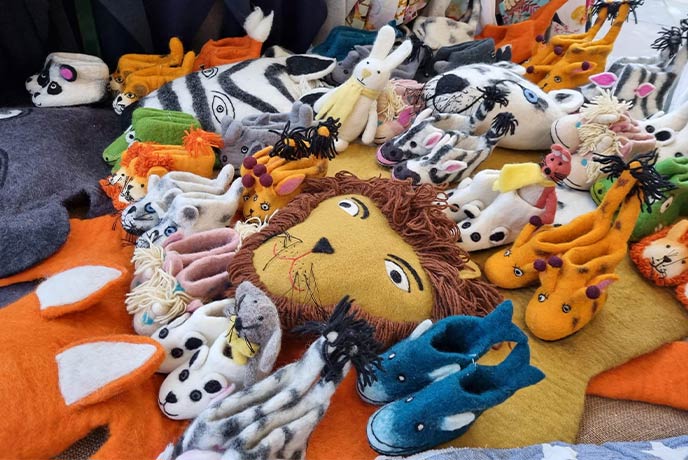 19th of November, and 10th, 17th, 19th, and 21st of December 2023
Market Place, Cirencester GL7 2NY
Also held around Market Place in Cirencester is the town's specialist Christmas Gift Market. Here you can pick up every present you'll need for the festive season, and it's held over two Sundays in the middle of December.
Cirencester's Christmas Gift market complements the town's Advent, Farmer's and Two-Day markets, which make up the daily selection of stalls present here throughout late November and December.
Stroud Christmas Markets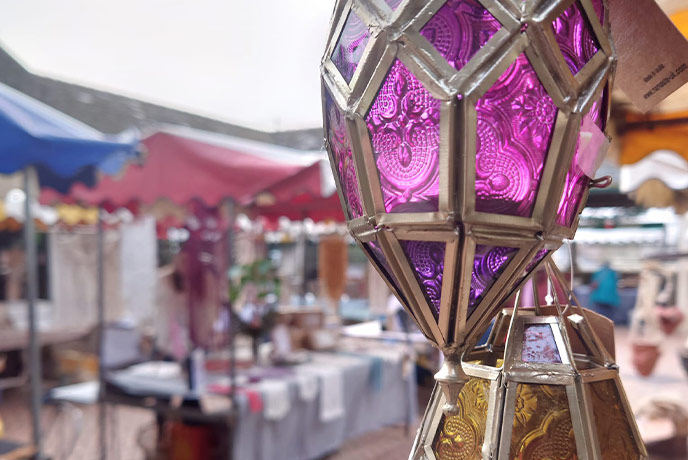 20th to 22nd of December 2023
Cornhill Market Place, Stroud GL5 2HH
The Christmas market in Stroud is also ideal for last-minute shoppers. This one is held between 20th and 22nd of December, and offers festive foods, gifts and craft items for sale when Cornhill Market Place becomes the centre of attention between 9am and 4pm.
It's possible to pick up some truly lovely gifts here if last year's stalls are anything to go by. Handmade candles in vintage china cups, colourful Moroccan lampshades, scented vegan soaps and sumptuous silk ties were among the goods being sold previously.
Eager to get stuck into the festivities? Book your stay in a charming Cotswolds cottage this winter and immerse yourself in the Christmas spirit.