There are few things that can improve upon the idyllic countryside the Cotswolds is known for… but a Sunday lunch is one of them. Whether it's after an invigorating walk that manages to completely erase the working week as you amble past hill, crook and wood or before an afternoon spent dozing in the sun in a beer garden somewhere as your soul recharges, a Sunday roast is the cornerstone of the weekend and loved by many (if not all). There's just something about a perfectly golden and crispy potato that stands above all other foods, side dishes or mains.
And where else is better to kick off the walking boots and settle down to a proper, week-defining feed than in the rolling hills and honey-hued tones of the Cotswolds where locally sourced ingredients create a feast like no other. That's right, this treasured Area of Outstanding Natural Beauty is renowned for its rich farmland, which creates beautiful backdrops for Sunday strolls as well as the basis for an unabridged Sunday lunch.
Have we whetted your appetite enough? Good, let's get started on our list of the best Sunday lunches in the Cotswolds…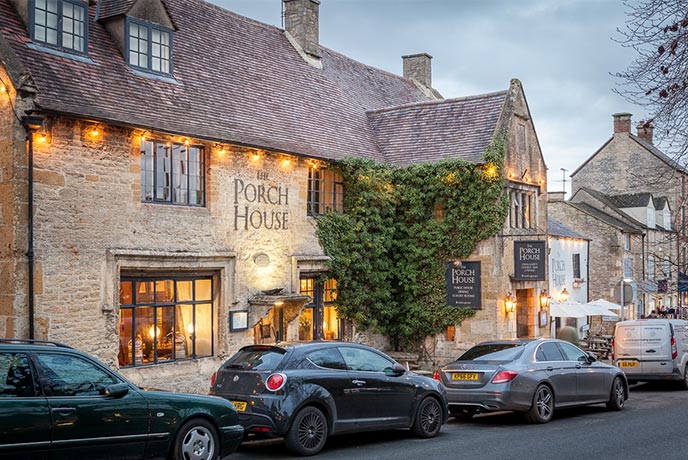 This 'unapologetically British' inn boasts a Sunday roast that will give even Granny's Sunday fare a run for its money. Do we believe them? Absolutely! Making the most of seasonal veg from the best farms around, you can expect a Sunday dinner that tastes as good as the surrounding countryside looks. Set within the golden tones of Stow-on-the-Wold (one of the prettiest towns in the Cotswolds), this ancient inn – possibly the oldest in England – has been serving up enviable Sunday lunches for centuries giving the fabulous Cotswold inn plenty of time to perfect deliciously crispy roasties.
On the Sunday menu, you'll find all the usuals from dry-aged roast beef to vegan Wellington and even a sharing roast. That's right, round up your favourite person and dig into a whole roasted chicken for two, complete with pigs in blankets. Oh, and this classic country inn is one of the dog-friendly pubs in the Cotswolds – bonus!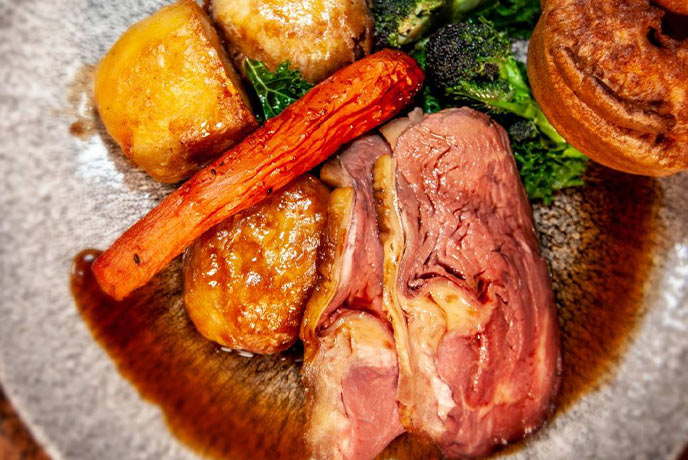 Could the Kings Head be in the running for the best Sunday lunch in Cirencester? With a relaxed and welcoming atmosphere alongside some seriously impactful grub cooked up by Head Chef Pasquale Russo and his team, we certainly think so! Alongside a cocktail menu to die for, you can find yourself dining on a supremely satisfying Sunday lunch menu full of seasonal goodies that have come straight from farm to fork.
Whether you're more of a pork belly person or you believe there's no greater sight than stone bass on a bed of new potatoes, there's something on this classic menu for every taste. And when the roast becomes a tried and tested favourite, return for their afternoon tea and entirely new (and no less delicious) foodie experience.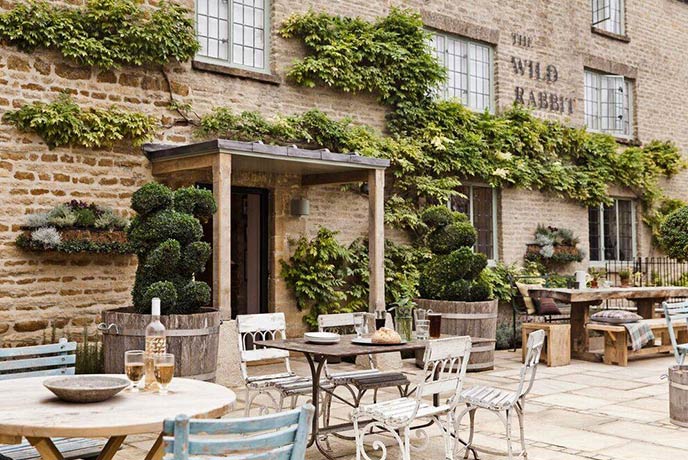 On our list of the top Michelin-starred and recommended restaurants in the Cotswolds, The Wild Rabbit is a wonderful example of British cuisine. Before you even begin to tuck into your slow-roast shoulder of lamb or miso-glazed pumpkin, the atmosphere of the restaurant will get you in the mood for great food thanks to the open kitchen and subsequent theatre of the chefs at work.
When your glorious plate arrives, you can expect an organic mix of vegetables that are grown in their very own market garden alongside meat from their sister farms at Daylesford Organic. This use of fresh, local ingredients really sets the food apart and shows us that their place as a Michelin recommended restaurant is deserved.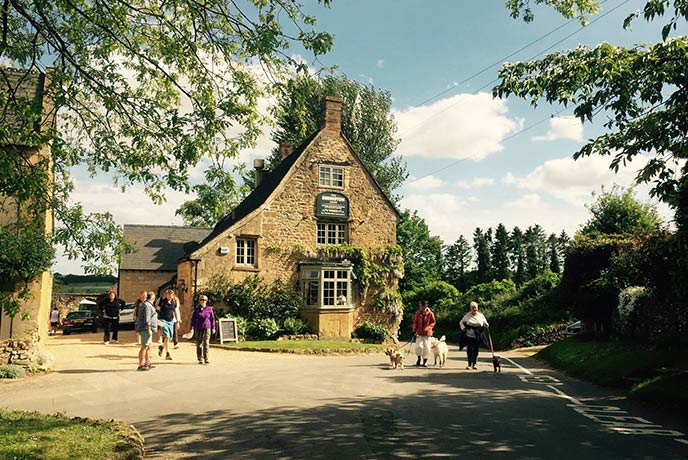 If you're looking for somewhere to feast and refuel after a Sunday walk in the Cotswolds, then there's no place better than The Ebrington Arms. Situated slap bang in the middle of the beautiful countryside that supplies the local produce, this traditional inn understands the power of fresh veg.
After a morning spent exploring the incredible scenes surrounding the nearby Broadway Tower, head to the hidden village of Ebrington near Chipping Camden for a Sunday roast with all the trimmings. Now serving this traditional Sunday meal at lunchtime and in the evening, you can tuck into a pile of roasties and Yorkshire pudding at any time of day.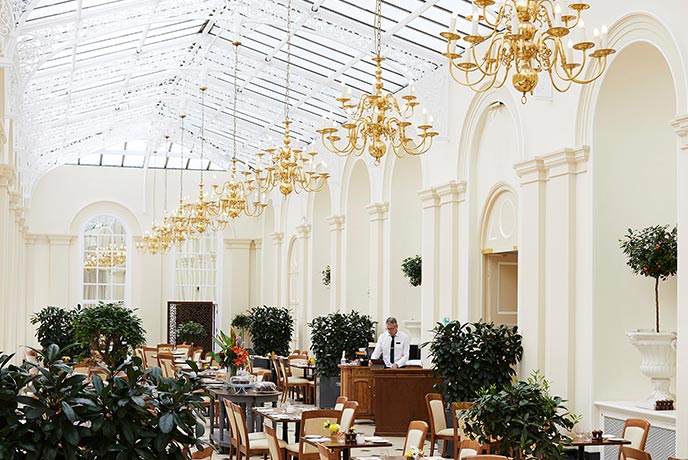 It's not often we can recommend an actual palace for a dining experience so when the opportunity arises, we jump on it! Prepare your stomach for a royally good Sunday lunch at The Orangery Restaurant, which is situated in the incredible Blenheim Palace and sits happily on our list of top things to do in the Cotswolds.
With beautiful high, greenhouse-style ceilings and views over the pristine grounds, there's no place quite like the Orangery for lunch. When your eyes finally fall to the menu, you'll see all your Sunday favourites including roast sirloin of beef and vegan Wellington (as well as an Oxford cheese board for an extra treat). Once your plate is licked clean (yep, even when dining in a palace), it's time for a stroll around the magnificent gardens and corridors of this impressive piece of history.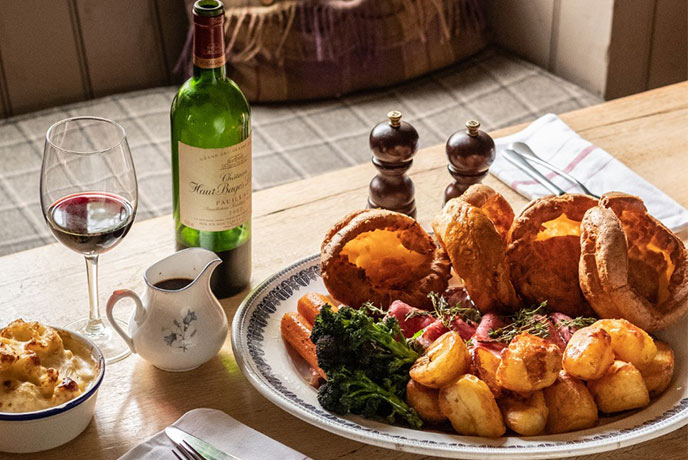 Fancy taking your valiant steed out for a Sunday ride before pulling up and enjoying your roast dinner? Well, The Bell in Sapperton has you covered with parking for cars and horses – who knew! Yep, this dog-friendly country pub is all about welcoming vibes and good food, which has earned them many awards and accolades.
From nut roasts to longhorn beef, the Sunday menu is jam-packed with local goodness, adding even more rustic charm to this fabulous find in the Cotswolds. Now, please excuse us – we're off to take our horse out for an evening on the town!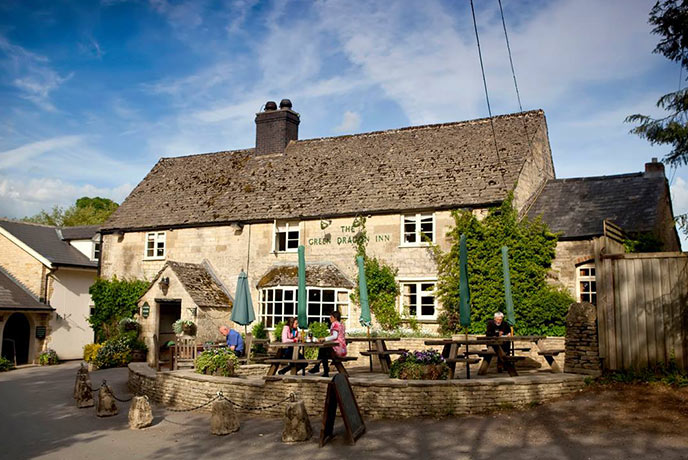 Whether you're after roaring log fires in the depths of winter or flower-scented alfresco dining on a balmy summer's day, The Green Dragon with its thatched roof and idyllic position is here for your quintessential Sunday roast experience.
Providing patrons with a welcoming retreat since the 17th century, you'll find everything you could possibly wish for to accompany your Sunday lunch from real ales to a superb wine list that features wines from Europe and all over the world. On a Sunday, you can look forward to all the staples from Yorkshire pudding to sage and onion stuffing as well as some fantastic vegan and vegetarian options.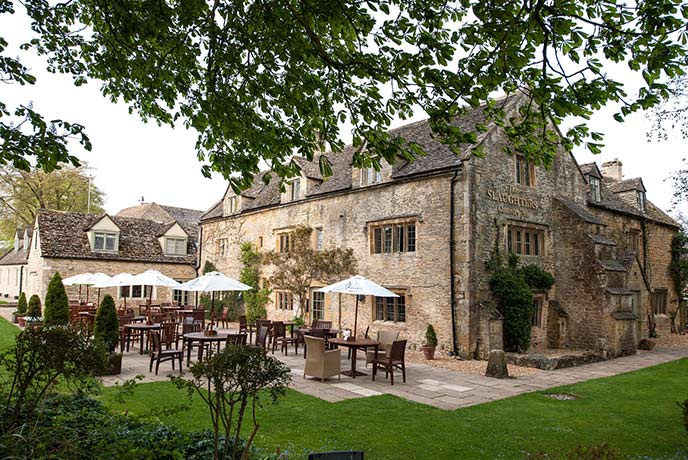 While we all love a plate piled high with Sunday staples, sometimes it's nice to have the option of enjoying all the flavours of a roast without the mountain of spuds and lakes of gravy. Enter The Slaughters Country Inn with their ingenious rolls.
Of course, you can still go the whole hog (or the whole butternut squash if you're so inclined), but for those with a lighter appetite, you can opt for a roast beef roll with horseradish or roast pork and apple – bite-sized heaven! Round your classic dinner off with a bread and butter pudding and a stroll around the timeless charm of Lower Slaughter and we can enter the new week with a satisfied smile on our faces.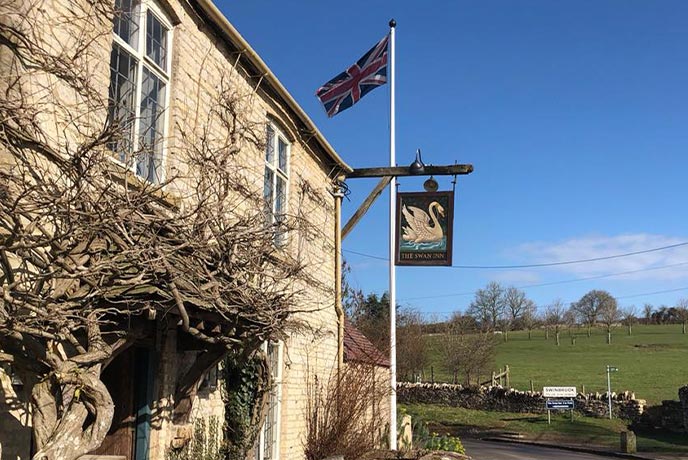 With ingredients so local they've probably travelled a shorter distance to the table than you have, there's little wonder as to how The Swan Inn has built such a stellar reputation amongst locals and visitors alike.
Packed with character and relaxed charm, it's easy to unwind into a Sunday stupor, especially after a proper feast of Gloucestershire pork and Cotswold beef and lamb – and of course a spot of crumble for good measure. Fall in love with the rustic décor and beautiful beams as you sip your way through a couple of local ales during a hazy Sunday afternoon.
Looking forward to a weekend away and the promise of a Sunday lunch? Explore our welcoming cottages in the Cotswolds and start planning your lunch – ahem – we mean holiday.