Falmouth is a hub for food and drink in Cornwall. Many of these establishments focus on using local ingredients as much as they can, bringing the Cornish touch to cuisine from around the world.
From Falmouth cafes and restaurants to creative food vans, there's so much choice in this Cornish seaside town. Award-winning fish and chips, pasties and cream teas are just a few of the classic foods you'll find on the streets of Falmouth. But don't start the debate on where you should pick up your pasty, there are at least five shops to choose from so try all of them and let us know your favourite.
Outside of the classic, you'll find Italian, Caribbean and African cuisine gracing the cobbled lanes. Perfect for those who like trying something a little bit different. There really is something for every taste and budget here.
Before you start browsing this tantalising list of restaurants, take a look at our holiday cottages in Cornwall to really get you into the holiday spirit.
Here are some of my favourite places to eat in Falmouth:
Recently awarded the accolade of best fish and chips in the country, you'd be hard-pressed to find better batter than Harbour Lights. The takeaway is a slick operation but usually has a queue out of the door in the summer. The restaurant is a family-friendly environment which looks out over the Custom House quay and the river.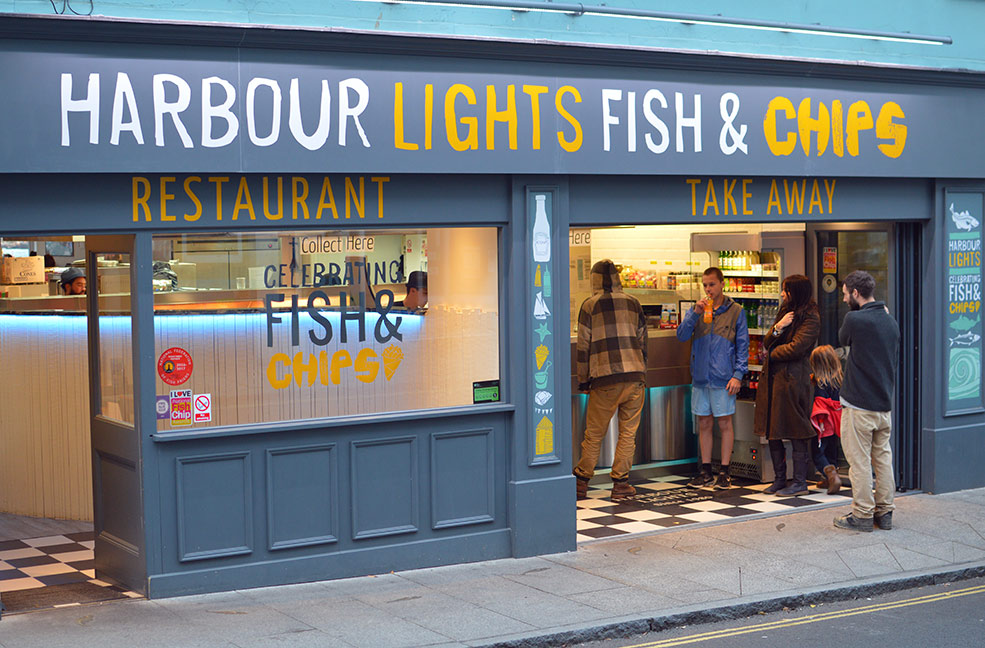 Home of pizza and pies overlooking Custom House Quay, this is a cosy hang out for lunch or dinner. Family friendly and a lovely atmosphere with a roaring fire downstairs in the winter. Oh, and copious amounts of cider. What more could you need?
African-inspired dishes with a colourful décor to match, Amanzi is a great Falmouth restaurant for special occasions. In the summer months, you can usually find some street food being served outside for a tasty treat on the go.
The Wheelhouse
Tucked down an alleyway off the high street, this seafood-lovers paradise is the place to go if you want the freshest fish in town. You'll have to book a table, especially in the summer, as the Wheelhouse is well known far and wide.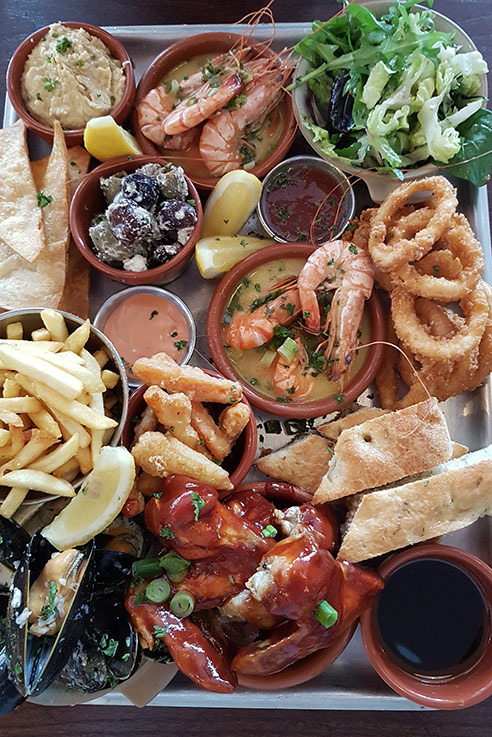 One of my favourite places, Gylly Beach Cafe is a versatile place to eat, serving everything from cakes and coffees to themed nights with set menus. In the summer there's a barbecue menu served on the decking and a more formal menu inside. Perfect for a Sunday afternoon by the sea at any time of the year.
Located below the high street, stepping into the Brig transports you to a pirate ship. They serve up amazing pub-style food (with a barbecue sauce to die for) but their speciality is cocktails. And in true pirate style there is obviously lots of rum.
This waterfront pub has been recently refurbished and looks out over Custom House Quay, near The Stable and Harbour Lights. Sit outside on a summer evening with a pint or head upstairs to the restaurant to enjoy their latest menu.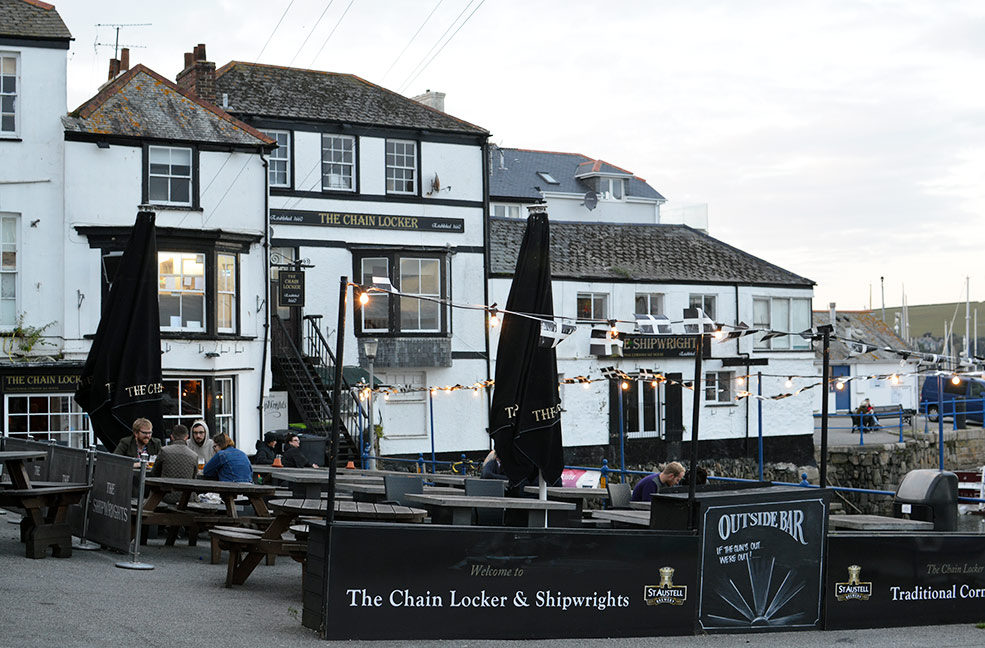 A tiny Tapas bar and café tucked away in the terraces of Falmouth town. Serving up an evening menu on Thursday, Friday and Saturday this cash-only, no-bookings-please restaurant is a real gem that transports you to the Mediterranean as soon as you step through the door.
De Wynn's
Getting cream teas right since 1822, De Wynn's has been a permanent fixture in Falmouth for quite a while now. Falmouth's oldest tea shop welcomes you with classic decor and winning smiles every time.
Usually found at the heart of Falmouth, the Fal Falafel food van has become a firm favourite of mine. They serve fresh falafel right before your eyes, way better than anything you'll find in the supermarket. A vegan-friendly, tasty option if you're looking for lunch on the go.
But that's not all. These are some other places of note that you might like to check out:
Palacio Lounge
Dolly's
Thai Orchid
The Shed
The Shack
La Cave
Oliver's
Stones Bakery
Star and Garter
Rick Stein's
Cribbs