Cornwall has long been a mecca for artists. For more than 200 years, painters, sculptors, potters and illustrators have been drawn to not only the stunning Cornish scenery and the famous clarity of light, but also the strong, nurturing creative communities.
In the 19th century the first artistic centres began springing up in coastal villages in the far west, such as St Ives, Newlyn and Lamorna. Although these places still retain that vibrant, creative atmosphere to this day, there are new artistic hotspots springing up elsewhere too, as artists form thriving communities in towns such as Falmouth and Padstow. From the time of J.M.W. Turner in the early 19th century, the painter said to have started it all, to the avant-garde art of Barbara Hepworth and Peter Lanyon in the 1960s and those making their own innovative and indelible mark today, there can be no doubt that the spirit of Cornwall continues to inspire.
So to help you navigate the Cornish artistic landscape, here is our carefully curated guide to some of the most exciting and accessible painters living and working in Cornwall right now. We introduce you to them, show you where to find their work and even how to set your own creativity free by joining one of their exciting workshops!
Born in Dorset in 1961, Kurt Jackson studied Zoology before attending the Ruskin College of Art. In 1984 he settled with his wife in Cornwall and since then has continued to combine that love of art and nature and environmental and political awareness in his work. Jackson's focus on the natural world and its protection has led to artist residences at the Eden Project and on the Greenpeace ship, Esperanza. He has become renowned for his trademark plein air large scale paintings often created in the wilds of the Cornish landscape.
His most recent exhibition was a culmination of a three year love affair with the dramatic topography and heritage of the beautiful Kenidjack Valley near his home in West Cornwall. Jackson's work is nothing if not immersive, digging into not only the beauty of place but also its history and people, essentially finding what makes it tick.
Where to see his work
Kurt Jackson is based in St Just in Penwith in West Cornwall, where you will find his gallery – The Jackson Foundation.
Upcoming exhibitions
Clay Country, Jackson Foundation – From 19th March 2022.
Mermaids Tears, Jackson Foundation – From 19th March 2022.
Solo Summer Exhibition, Jackson Foundation – From 26th August.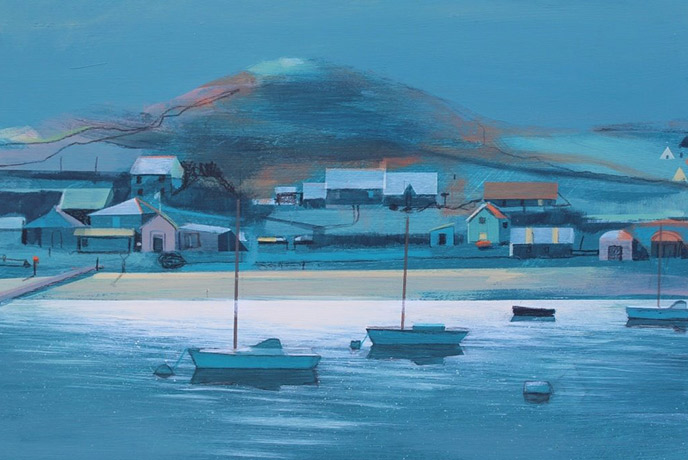 Lindsay was born in Cheshire and since coming to Cornwall to study at Falmouth College of Art and Design in 1996, he has made his home in Hayle.
His work is characterised by bold aerial landscapes, minimalist and modern interpretations of place that are clean, light and bright, resonant of a 'California' style of painting. Lindsay paints what surrounds him and what he feels makes Cornwall special. He says:
"Many of my Cornish paintings study the areas where sea meets land. I am drawn to the water – surfing, sea swimming and sailing, all giving new perspectives, and for me an important part of enjoying life in Cornwall. Another perspective is viewing the landscape from above; inspired when I was young by seeing Peter Lanyon's paintings."
Favourite locations of Alasdair's include the Art Deco style lido: the Jubilee Pool in Penzance, Newlyn Harbour and the beaches of St Ives, all from a soaring bird's eye point of view.
Where to see his work
Alasdair Lindsay is based at Krowji in Redruth but his work can be seen in the Cornwall Contemporary Galley in Penzance and the Atruim Gallery in Truro.
Upcoming exhibitions
Open Studios, Krowji – 28th May – 5th June 2022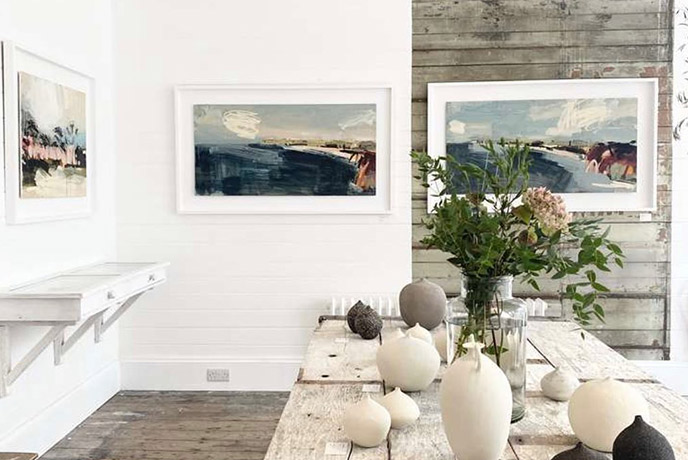 Maxine Hart has been living in Cornwall and finding inspiration in the wild landscapes of the area since 2008 when she moved with her family close to the Helford River. She uses her daily walks in the countryside as her inspiration, absorbing the changing colours and temperament of the landscape and reinterpreting that into her work.
Her distinctive charcoal drawings and mixed-medium paintings capture the Cornish countryside in an exciting, dynamic way. She says:
"I combine my drawing qualities in my paintings, scratching, layering, often on board which allows me to etch the charcoal or pencil into the paint, mixing mediums, always experimenting, always chasing the image taken from my sketches or photographs, making the work take on its own form and directed purely by the painting process once back in the studio."
Where to see her work
Maxine's work is on display at the Budock Vean Hotel in the Helford Passage and on her website. She has also exhibited at Morgan's Gallery in Falmouth.
Workshops
Workshops are available for art groups or just as a one to one lesson. Although Maxine specialises in charcoal drawings and landscape paintings, any medium can be used. Contact her here for details.
Jon Tremaine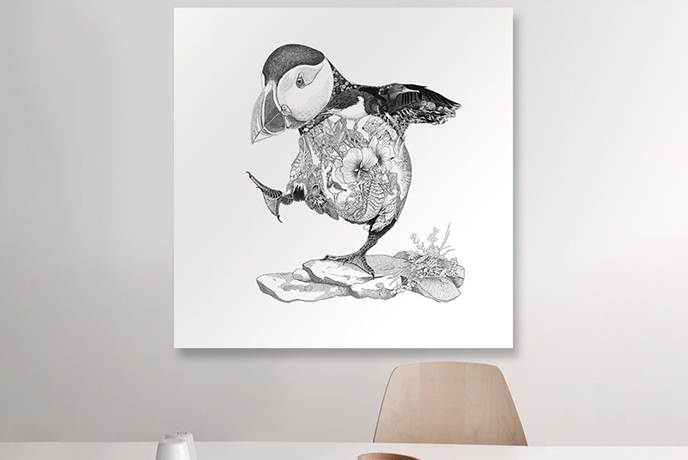 Cornish wildlife artist Jon Tremaine grew up in Truro and spent a muddy childhood developing a passion for the flora and fauna of the British countryside. His art demonstrates this deep love of nature and his incredibly detailed pen and ink drawings of birds and animals, which takes hundreds of hours to create, intuitively capture the characters of these creatures.
His style is certainly one of a kind as the body of each creature also contains a world of tiny details, plants, leaves, fungi, flowers and insects, all delicately woven into its shape. The closer you look the more you see!
Where to see his work
Jon's gallery and working studio is situated at The Old Forge Lelant, just outside of St Ives. As well as seeing his art you will also have the opportunity to meet and talk with him as Jon can usually be found working at his drawing board detailing his latest piece.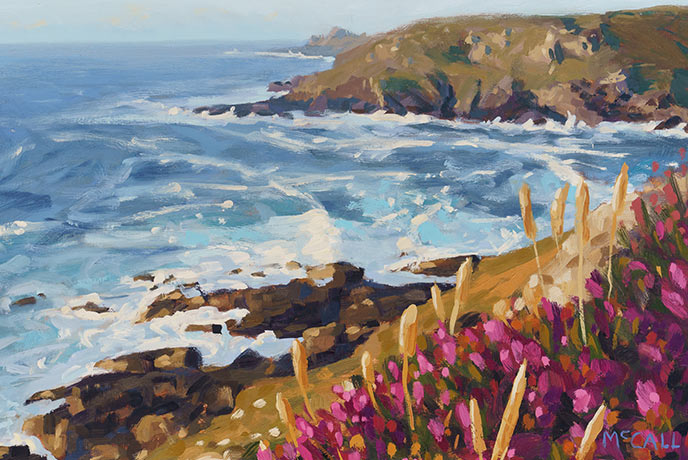 Laurie McCall moved to Cornwall when he was 10 years old and quickly developed a passion for the sea and surfing. Today his work combines those loves with his talents as an artist and graphic designer. His recent collection, 'Surfscape' was dominated by dreamlike oil paintings of breaking waves on the Cornish coast.
As well as these somewhat idealistic scenes, Laurie's portfolio is diverse and includes photography and experimental collages that create abstract compositions of the Cornish landscape. Much of the materials used in these mixed media compositions comes from paper, vintage books and magazines picked up at local car boot sales. The collages neatly juxtapose contemporary ideas with found nostalgic pieces of the past.
Whether he has a surfboard under his arm, a camera or a paintbrush in his hand Laurie is always in search of the perfect wave, the perfect Cornish seascape.
Where to find his work
You can find original paintings, prints and greetings cards by Laurie at -
Bathsheba Surf Shop, Perranporth,
Breakers Beach Cafe, Trevaunance Cove, Saint Agnes,
The Cornish Pizza Company, Saint Agnes
Truro Arts 26 River St, Truro
Four Crows Gallery, Porthleven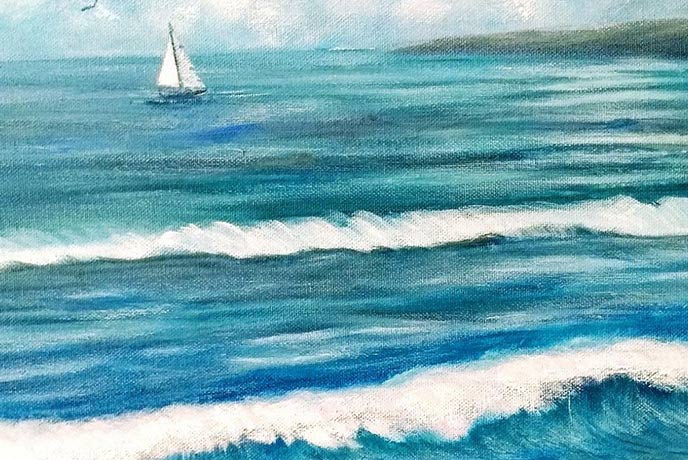 Charlotte Trevains was born in Cornwall in the 1970s and can trace her family's Cornish roots back to the 1600s. Her affinity for her home and love of art have been interconnected, lifelong passions.
Charlotte creates original pieces often from pastel sketches undertaken outside in the beautiful landscape that is her source of inspiration. Her paintings depict classic Cornish scenes - towering cliffs, wild seascapes, waves lapping sandy shores and boats bobbing on the tide.
Aware that Cornwall's beauty can also drive a consumerism which can be destructive to the environment that she loves, Charlotte has an ethos of creating art in as green and sustainable a way as possible. She produces mostly original works, with very limited prints for each piece. Equally important to her is the buyer's connection with the piece, along with making original art affordable to all those on a budget who fall in love with her work.
Where to see her work
Charlotte's work can be seen on her website and at The Mirva Gallery, Chapel Street, St Ives.
Upcoming exhibitions
Camel Art Society, Padstow – June 2022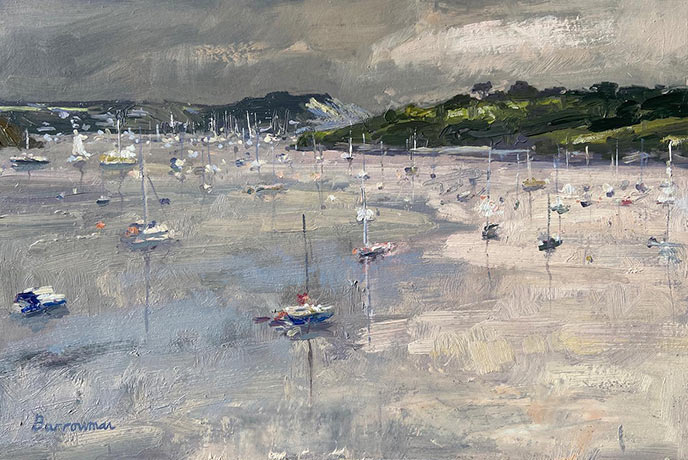 Award winning artist Andrew Barrowman spends hours walking in the Cornish countryside catching the changing light on the sea and sky in his work. Producing large scale oil landscapes and seascapes Andrew can usually be found working outside in all weathers. However his recent book 'Views from the Studio Window' showcases a series of 120 paintings of the same view from his studio window which were painted from February 2020 and continued throughout lockdown until February 2021. These small studies capture the changing seasons and moods of a familiar, yet unreachable landscape.
Originally from Stratford on Avon, Andrew moved to Cornwall with his wife in 1996 and now teaches oil painting at the St Ives School of Painting as well as running workshops from his studio.
Where to see his work
The Custom House Gallery in Porthleven.
Upcoming exhibitions
Solo Exhibition, Royal Cornwall Museum, July 23 – December 23 2022
Group show of representational and figurative painters, The Crypt Gallery St Ives, August 2022
Workshops
Andrew runs workshops for small groups from his studio in Redruth all year round and during the spring and summer will take individuals for plein air oil painting in various locations around Cornwall. Contact him for availability.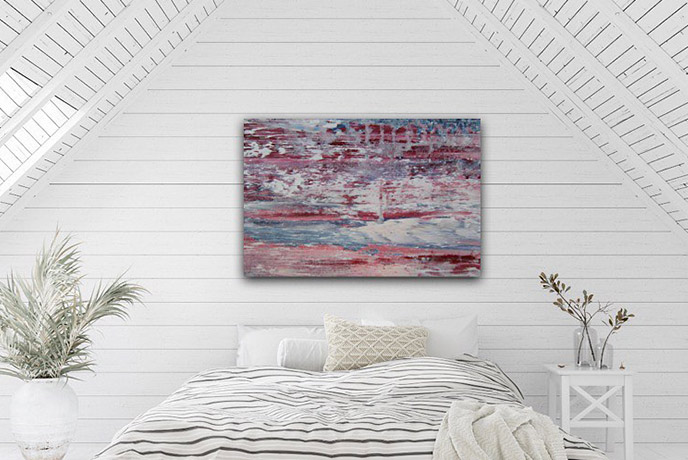 Opening her first gallery in St Ives in 1995 Alexandra Dickens is a longstanding part of the vibrant artistic community of the town. By her own admission, her passion for colour, texture and form though unwavering has been ever-evolving since she first started painting in her teens.
Her work is an abstract and energetic look at the seascapes that Cornwall is so famous for and which provide endless, unpredictable inspiration. Alexandra's paintings play with colour and technique often taking on an almost ethereal air. She says:
"Indulging my passion for colour, light, texture, being impulsive, being creative, being experimental, being authentic, is being who I want to be."
Where to see her work
Alexandra's work can be seen intermittently throughout the year at the Alexandra Dickens Gallery in St Ives and by appointment at her studio, contact the artist for details.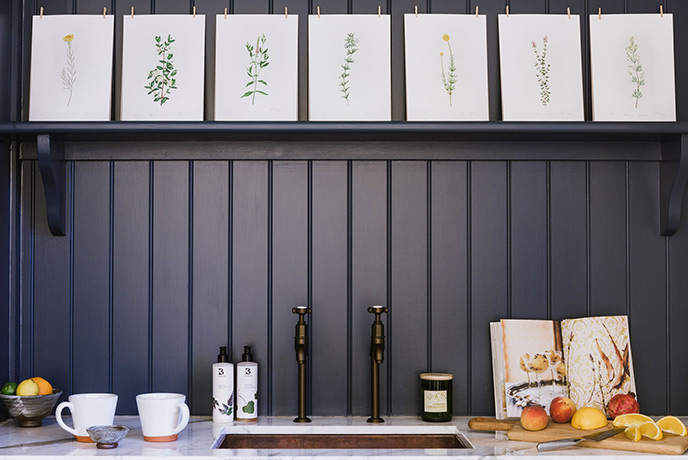 Sarah Jane Humphrey is an award winning botanical illustrator whose stunningly detailed work is a beautiful lesson in observation and accuracy. A Royal Horticultural Society Gold Medal winner she takes a curiosity and scrutiny of nature to the next level with her meticulous drawings of seaweed, flowers and insects, unsurprisingly Sarah has also had work commissioned by international brands such as the Body Shop.
After studying at Falmouth University she made Cornwall her home and in 2018 opened her own shop, Botanical Atelier, in Falmouth.
Where to find her work
Sarah's work can be seen in her lovely little shop/gallery No. 19a Arwenack Street in Falmouth.
Workshops
Sarah runs workshops in botanical painting for children and adults. From learning how to paint in watercolours to using inks for illustration, there are classes at various venues across Cornwall and also online for those who can't visit or would feel more comfortable working from home.
So far venues for 2022 will include: The Cornish Bank, The Hotel Meudon and Trebah Gardens. See her website for details.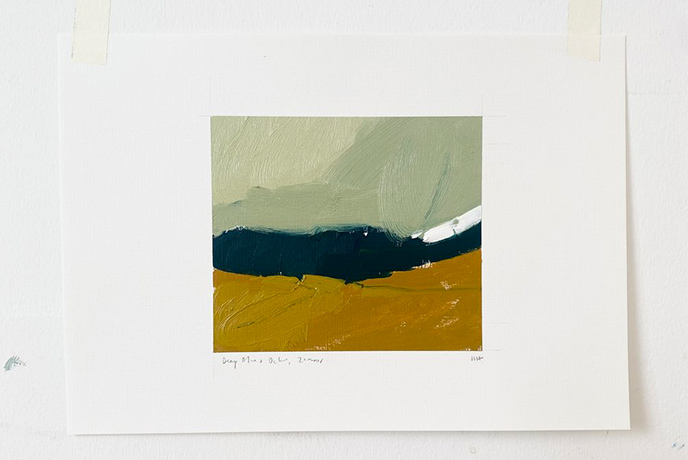 From a beach hut above Porthgwidden cove, Martha Holmes captures the essence of the Cornish coastline through abstract studies of colour and light. Her work is emotively charged by a deep connection to the ocean and its ever-changing influence on the landscape.
Inspired by the Cornish masters - Heron, Hepworth, Nicholson, Scott, Bray - Martha's works in oil immerse the viewer in an emotional dialect, born from a deep-rooted connection to the land where she grew up.
Abstract in form, often with large flat areas of colour, Martha's work captures a raw and honest sense of the landscape - her own experience communicated through colour and expressive mark making.
Where to see her work
Beyond the beach hut, Martha Holmes has a studio space in a collective gallery with four other artists and ceramists called Morgans, 49 Arwenack Street in Falmouth.
Upcoming exhibitions
Group Show, Morgans, Falmouth – From 4th March 2022.
Solo Exhibition, New Craftsman Gallery, St Ives – From 28th May 2022.
Lee Stevenson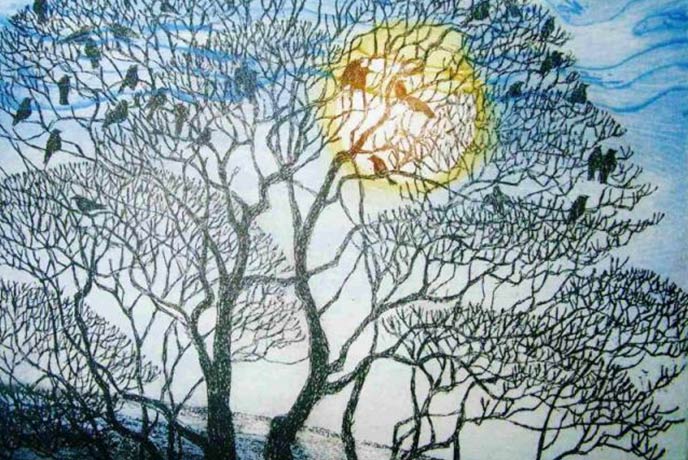 Lee Stevenson was born in Cornwall and now lives at Long Rock near Penzance. His work incorporates an incredibly diverse range of mediums including oils, watercolours, etchings, woodcuts and printmaking of an equally varied choice of subjects, from dramatic seascapes painted close to his home to life studies and still-life sketches.
"Being surrounded by the sea on three sides feels a bit like living on an island. It gives you a very strong sense of place and an affinity with this particular landscape. Drawing from observation is the basis of all my work. It is a record of both what I can see and how I am feeling at the time."
Above all, as his wide array of work illustrates, Lee loves to experiment and see what treasures and happy accidents emerge.
Where to see his work
Lee's work is available to see at a number of galleries around Cornwall including:
The St.Ives Society of Artists
The Roundhouse, Sennen
The Cowhouse Gallery, Perranuthnoe
The Salt Cellar, Porthleven
Workshops
Lee offers workshops in fine art printmaking for small groups and individuals, giving hands on experience with proper equipment and skilled instruction from a professional printmaker. Contact him for details.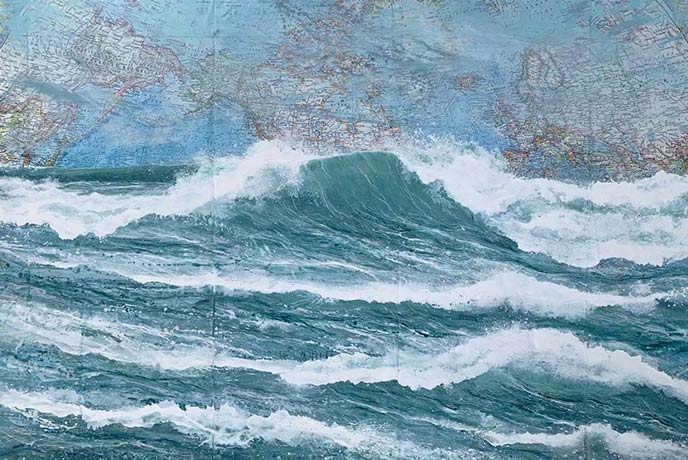 Kit Johns is a young and up-and-coming artist who lives on the Lizard. His exciting work is bringing a contemporary twist to the age-old tradition of Cornish landscape painting with bold, atmospheric pieces that explore the untamed nature of the coast. His paintings capture the many and varied seasons and moods of the sea, from calm and serene to wild and animated.
In some of his most recent work Kit has created paintings with unusual and engaging layers of interest by using old navigation charts and maps as his canvas. The teasing traces of the old charts peep through the paint like ghost images.
As well as his paintings Kit also experiments with resin, drypoint etchings, screen-prints and collages made from driftwood and found objects.
Where to find his work
Beyond the Sea Galley, Perranporth
The Summerhouse Gallery, Marazion
The Square Gallery, St Mawes
Workshops
Kit Johns teaches three day courses specifically aimed at those who want to learn to paint the coast and sea. The courses are held at the Newlyn School of Art, see their website for details.
For a broader view of Cornwall's artistic past and present check out our guide to the art galleries of Cornwall or take a look at our guide to antique shops in Cornwall for some inspiration on where to pick up some rare finds.
Discover Cornwall's unique art scene from one of our beautiful cottages in Cornwall.