Renowned for famous landmarks such as Cheddar Gorge and Wells Cathedral, the popular festival of Glastonbury, and of course delicious treats aplenty thanks to cheddar cheese and cider, Somerset has long been a favourite with visitors.
And while you likely associate the county with stunning landscapes, beaches might not immediately spring to mind. Well, we're here to change that because Somerset's beaches deserve to be listed amongst the county's biggest draws. After all, what pairs better than a beach day and an ice cold cider!
The county's coastline spans much of the Bristol channel and offers a delightful assortment of beaches, from miles of pebble and sand to dramatic cliffs and wildlife rich marshlands. Perhaps the biggest draw to Somerset's coastline is its fascinating geology; it's one of the best spots in the country to go looking for fossils.
The coastline is also conveniently located down one length of the county, making it easy to access from many popular towns. So, if you're ready to plan your next coastal adventure, let's take a look at some of the best beaches in somerset…
Brean beach, nr Weston-super-Mare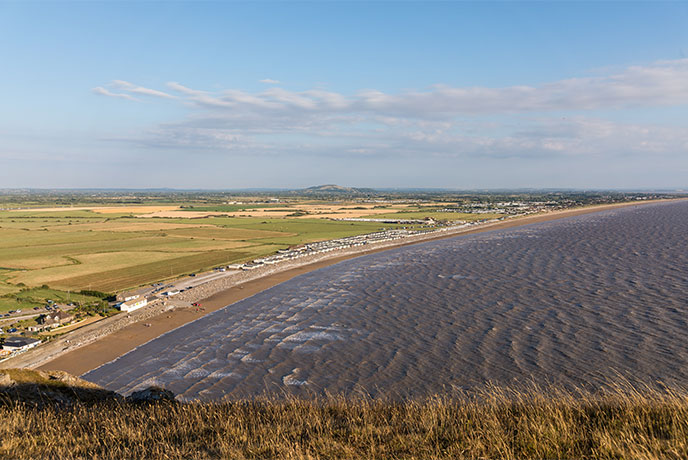 - Lifeguard cover: No
- Toilets: Yes
- Parking: On and near beach - Dog friendly: Yes
Just two miles down the coast from Weston-super-Mare you'll find Brean beach. At seven miles long, it's one of the longest stretches of sand in Europe. Thanks to the sheer scale of it, there is always plenty of room for beach goers looking for a fun packed day on the shoreline. It's popular with families thanks to the space, as well as for those looking for a more adrenaline-packed beach day… jet skiing, anyone?.
When it comes to dog friendly beaches, Somerset has plenty, but thanks to its size and year-round dog friendly policy, we think Brean beach is the pick of the litter! Coastal walkers will be in their element here too thanks to the hard-to-miss 97m headland. Whether you count yourself a keen walker or not, it's well worth a wander up to Brean Down during your visit. Your climb is rewarded with views across the Somerset Levels where you can look out for some of the county's best landmarks like Glastonbury Tor and the Mendip Hills.
History fans won't want to leave, as the Down is dotted with archaeological sites including the remains of a 19th century fort. Back on the flat, low tide will treat you to the exposed mud flats, which while quite a sight, are best enjoyed from a distance for safety's sake.
Kilve beach, between Minehead and Bridgwater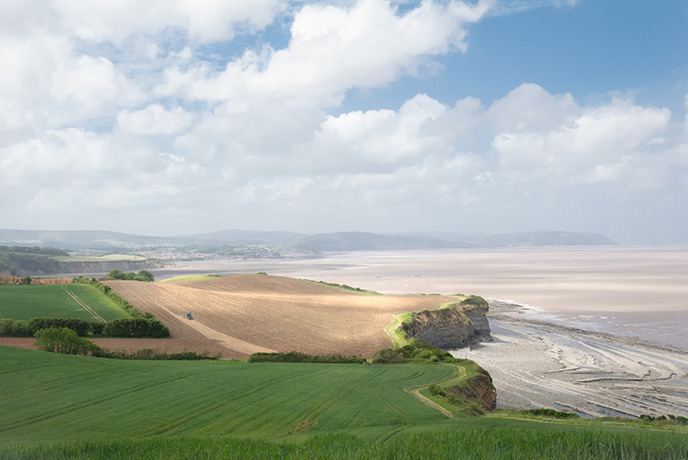 - Lifeguard cover: No
- Toilets: Yes
- Parking: Avoid the main carpark and park at East Quantoxhead and walk a mile
- Dog friendly: Yes
Described by William Wordsworth as 'Kilve's delightful shore', once you've visited, you'd be hard pressed to disagree with him. The slate and shingle beach, backed by grand limestone cliffs, is an irrefutably delightful sight.
This isn't a place for looking and not touching though… plenty of rockpools are ripe for exploring at low tide while the large grassy area behind the beach is the ultimate spot for a picnic (particularly if you're averse to sand in your sandwiches). Forgot to pack a picnic? Chantry Tea Gardens is nearby for an unbeatable cream tea - phew!
Dog friendly year-round, it's also the perfect place to indulge in a bit of fossil hunting with the dog. Though do be careful, Kilve is a Site of Special Scientific Interest (SSSI) so removing fossils from the area isn't allowed (sorry, doggos). And if it's breath-taking views you're after, climb the nearby cliff to soak up the stunning surrounding landscape.
Berrow beach, nr Burnham on Sea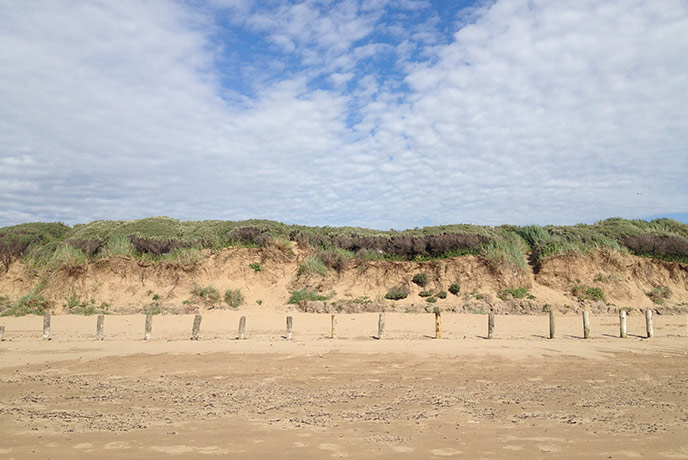 - Lifeguard cover: Yes
- Toilets: Yes
- Parking: Yes
- Dog friendly: Yes
Another cracking strip of sand, Berrow beach stretches out for six miles between Burnham-on-Sea and Brean Down.
With its vast expanse, it's a popular spot for dog walking, and you might also catch a glimpse of horse riders and fishermen making the most of the area too. You'll also find donkey rides and beach sports available, making it a great choice for those looking for an action-packed day out.
Head here for low tide and you'll be able to spot the wreck of MV Nornen, a Norwegian Barque that was washed ashore here in 1897. Do take care at low tide though as the wet mudflats and sinking sands can be dangerous so don't walk too far out and do pay attention to the signs.
The marshland environment makes it an attractive spot for seabirds and other wildlife, so pack your binoculars if a bit of nature watching appeals. And on that note, if you're looking for a location to soak up a Somerset sunset, this west facing beach will deliver the goods.
Minehead beach, Minehead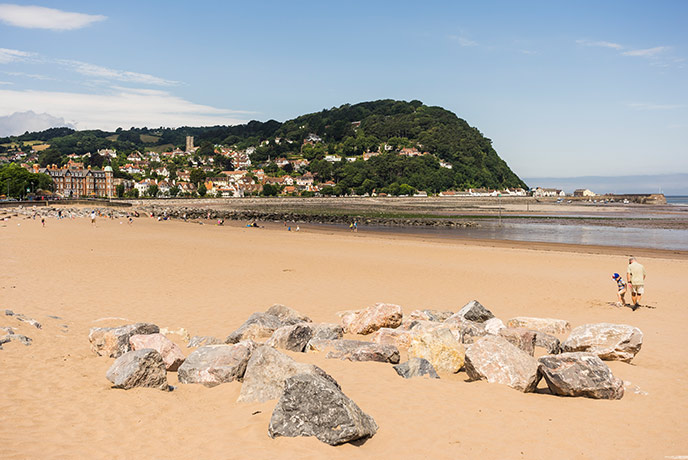 - Lifeguard cover: No
- Toilets: Yes
- Parking: Yes
- Dog friendly: Restrictions on the main beach (between the harbour and the golf course) from the start of May to the end of September
If you like a beach with a big atmosphere, look no further than one of the best-known beaches in Somerset, Minehead. A sand and shingle beach, this go-to seaside destination gets very popular with families during peak season thanks to its handy location, plenty of facilities and acres of space for beach games and fun. Plus, it's backed by the beachfront promenade and the resort town of Minehead, where you'll find plenty of shops, cafes and amusements to keep everyone entertained.
Looking for somewhere more peaceful? Rock n' roll down to Blue Anchor where you'll find plenty to interest geology obsessed minds, from alabaster cliffs to pink quartz rocks and fascinating fossils.
Keen walkers should head to the end of the beach, which is the official starting point of the South West Coast Path. This renowned route takes you through Devon and Cornwall and all the way to Poole in Dorset - although at 630 miles long, it's possibly not one for a day trip. In fact, if any kind of hike sounds too much like hard work for a holiday, soak up the views from the beach instead. Sat on the south bank of the Bristol Channel, you can see right across to Wales and its gorgeous coastline.
Burnham-on-Sea Beach, Burnham-on-Sea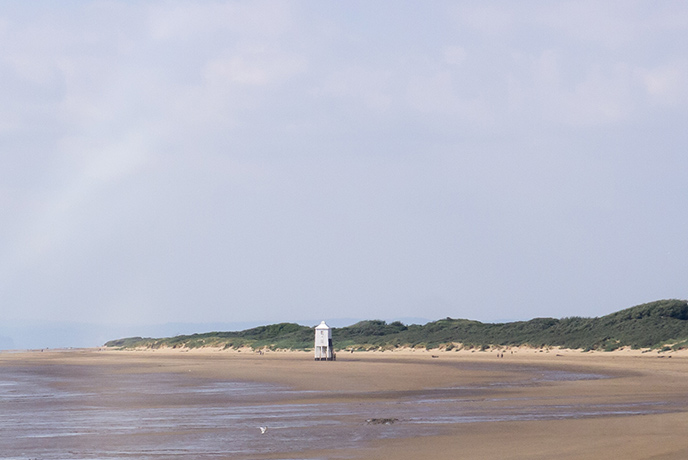 - Lifeguard cover: Yes
- Toilets: Yes
- Parking: Nearby
- Dog friendly: Restrictions from May 1st - September 30th
With its grand promenade lined with Victorian and Edwardian guest houses, Burnham-on-Sea Beach feels like a classic seaside resort from yesteryear. Throughout the summer months, the beach remains a popular spot for holiday goers, with throwbacks to the past such as donkey rides on the beach, providing a lovely traditional charm (striped bathing suits optional).
Also known as Main Beach, Burnham-on-Sea Beach is a great spot for a busy day out with tour operators in the area offering all sorts of activities including boating, sailing and more.
If you visit, don't forget to check out the pier; built in 1911 it holds the title of Britain's shortest pier. It's just 37m long and essentially acts as the pavilion end of a pier but without the walk to get to it!
Watchet beach, Watchet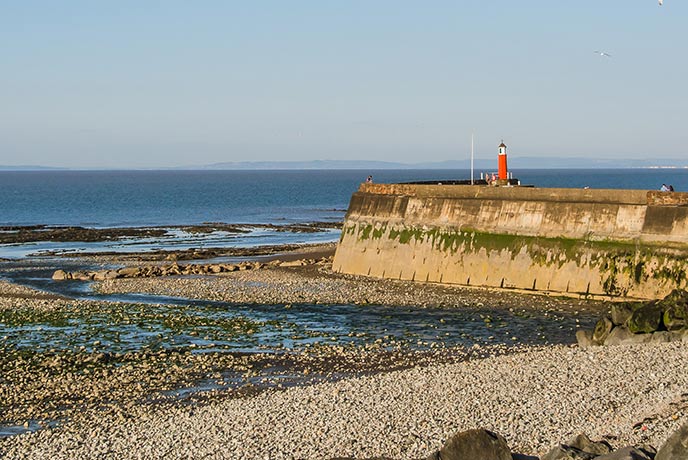 - Lifeguard cover: No
- Toilets: Nearby
- Parking: Nearby
- Dog friendly: Yes
Set beneath the cliffs of Watchet you'll find this interesting beach full of things to capture your imagination. You'll have to time it right and get here for low tide though, as at high tide this slip of beach all but disappears. The cliffs in this part of the world are famed for their rich pickings of fossils and ammonites; get inspired first with a trip to Market House Museum to see some of the best local finds.
The area forms part of a site of Special Scientific Interest, making this area one for beachcombing over excavations - plenty washes up on the tide though so the little ones' pockets won't be left empty.
Once you're done exploring the beach, head into the harbour town of Watchet and explore the many places to eat and shop. The marina is a pretty place to start and the Watchet Boat Museum is a great place to find out more about the local area.
Clevedon Beach, Clevedon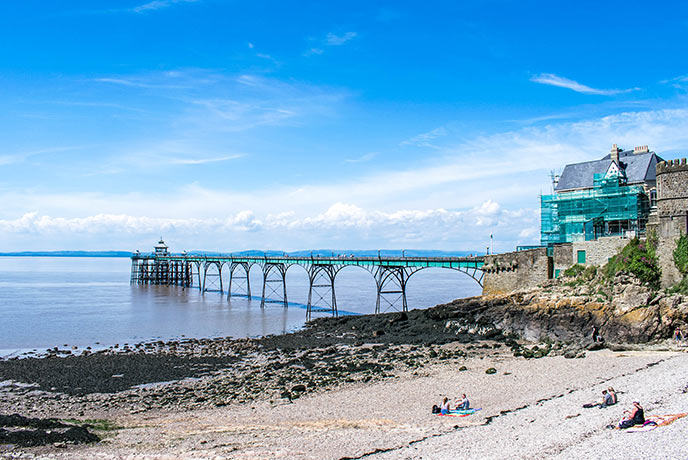 - Lifeguard cover: No
- Toilets: Nearby
- Parking: Nearby
- Dog friendly: No
If you're looking for a seaside spot with all the trimmings, but with the space for peace too, then you'll love Clevedon.
This classic Victorian seaside honeypot, nestled at the mouth of the River Severn, has a gorgeous seafront promenade and one of the best surviving examples of a Victorian pier in the UK. Take a stroll down and marvel at the views across the Bristol Channel. You can watch the fishermen at work and boats setting sail, and if you're feeling peckish, grab a table at the café at the end of the pier, Pagoda, for something sweet with a view. (Top tip: something sweet can absolutely include a proper Somerset cider!)
The beach itself is a mix of sand and pebble, making it a great spot for relaxing and rock pooling. Further down the beach, and set back from the seafront, you'll find Marine Lake, where a bit of wild swimming is just the ticket.
Porlock Weir, Porlock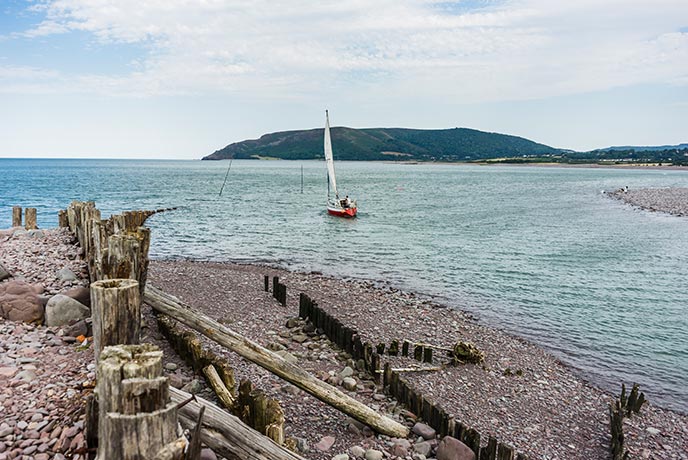 - Lifeguard cover: No
- Toilets: In the village
- Parking: In the village
- Dog friendly: Yes
One of the prettiest spots on the Somerset coast, Porlock Weir is a popular pebbled beach backed by lush greenery, giving it a very English beachside vibe. The pretty but striking landscape here inspired R D Blackmore's Lorna Doone, and as you walk along the beach and surrounding high moorlands, you'll see how it could get your creative juices flowing.
The nearby fishing village of Porlock, on the edge of Exmoor, is similarly picturesque, with its thatched cottages and prim gardens. There's also a well-loved local pub, The Ship Inn, for refuelling and The Boat Shed Museum, set in a medieval manor house, where you can learn more about the past of this quaint village.
Bossington Beach, Bossington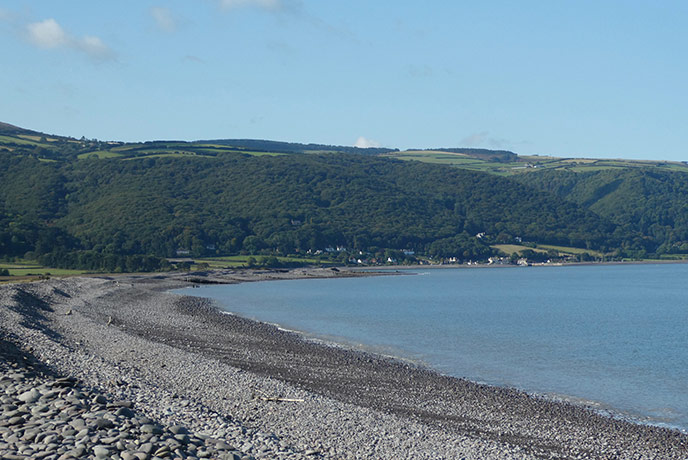 - Lifeguard cover: No
- Toilets: 0.5 miles away
- Parking: 0.5 miles away
- Dog friendly: Yes
Set against a backdrop of farmland and the hilly Exmoor coastline, Bossington beach is set in a fabulous location. The beach itself is a long pebble expanse, with stones in pastel hues of pink, grey and blue. Combined with the blue sea and surrounding greenery, it's a captivating combination so bring the sketchbooks and camera for a creative take-home.
Keen bird watchers will be in their element here. Back behind the beach you'll find a marshland that attracts a variety of rare birds and insects. History buffs aren't left out either, with plenty of evidence of human history to explore, including the ruins of the old lime kilns, along with World War II pillboxes often found on the beach.
While the view is arresting and a dip looks tempting on a sunny day, be wary as the current along this stretch is very strong so swimming isn't advised.
St Audries Bay, West Quantoxhead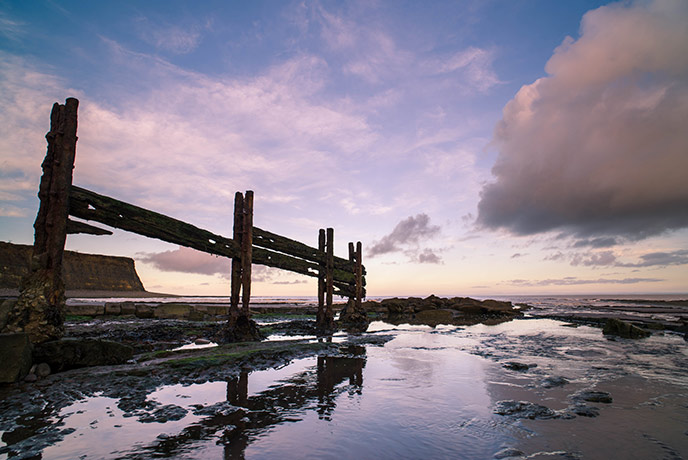 - Lifeguard cover: No
- Toilets: No
- Parking: Nearby
- Dog friendly: Yes
Nestled into the bottom of the Quantock Hills you'll find this beach of pebble, sand and shingle. The most striking feature here are the two waterfalls that cascade down the cliffs along the back of the beach, which make for a very scenic backdrop.
Parking and access are through a local holiday park, where you'll also find a shop for any forgotten picnic essentials. Though the path is maintained well, access can be tricky in places and there are lots of steps, so wear good shoes.
Down on the beach, dogs are allowed here year-round and there is plenty to keep their tails wagging. Meanwhile, children will love the many rockpools and the sand is excellent for sandcastle building.
Falling in love with Somerset's beguiling coastline? Check out our wonderful selection of holiday cottages in Somerset and start planning your next getaway.