Whatever the weather, whatever the season, there is always something wonderful about a walk in the woods. It is a great way to unwind, get some exercise and let the little ones explore nature and blow off a bit of steam!
Somerset has plenty of beautiful woodlands that are free to access, many with marked walking trails to follow and the chance of spotting wildlife along the way - not to mention the drool-worthy places to eat nearby where you can rest and refuel in comfort and style - you can even pack a picnic with goodies from one of the county's many fabulous farm shops. Here's our guide to some of the best places in the county for a woodland walk.
Leigh Woods, Bristol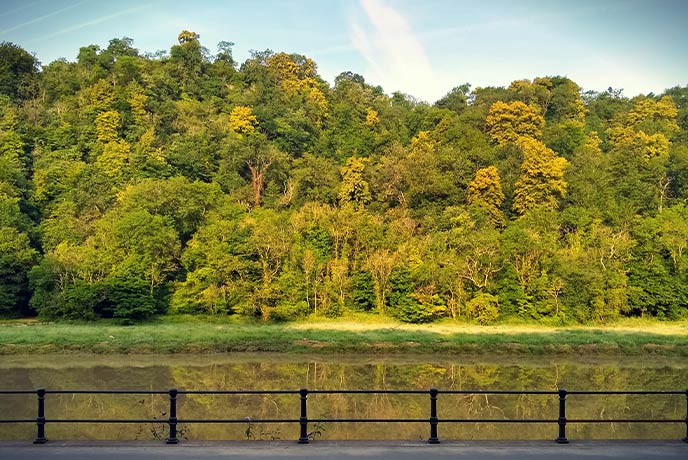 Best for: Historic wanderings and scientific interest
• Terrain: Ancient woodland, gorges
• Facilities: Car park, toilets, dog-friendly
Just on the outskirts of Bristol, not far from the iconic Clifton Suspension Bridge, Leigh Woods is a nature reserve managed by the National Trust. A number of waymarked paths crisscross these ancient woodlands, which were once part of the great Ashton Court Estate but now cover about 1 square mile close to the Avon Gorge. Due to the abundance of rare flora and fauna in the woods, it has been designated a Site of Special Scientific Interest.
The Veteran Tree Walk takes in some of the reserve's oldest oaks and is a gentle 1-mile stroll that skirts the edge of the wood's Iron Age hillfort, known as Stokeleigh Camp, close to Nightingale Valley. The Woodland Wander, also just a mile long, passes this ancient camp too while also taking in the dramatic views across the gorge to the suspension bridge and beyond.
Woodland Hill, Bridgwater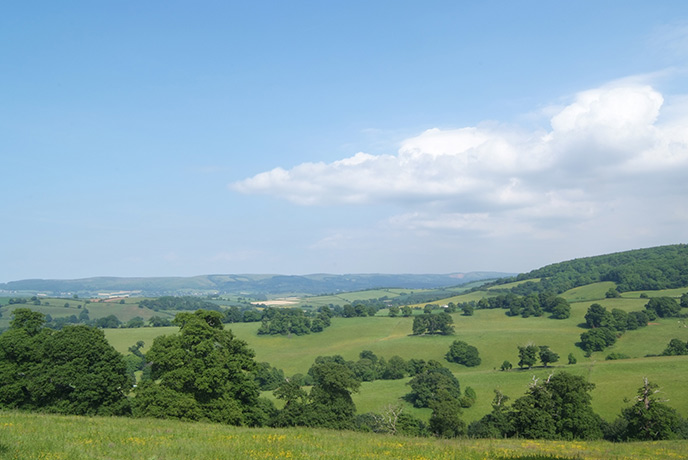 Best for: Red deer spotting
• Terrain: Rocky terrain, some steep sections, woodland and heathland
• Facilities: Car park, dog-friendly
Take a step back in time as you walk amongst ancient giant trees! This circular walk around the atmospheric landscape of Woodland Hill feels like a real escape into nature. The rocky trail climbs to 300m above sea level (1000ft) through rich woodland to high heathland. Walkers can expect extensive views over the Somerset Levels and the Bristol Channel. The area is also known to be the haunt of red deer so keep your eyes peeled and cameras at the ready!
This short circular one hour walk actually forms part of the much longer Coleridge Way, a walk of 51 miles through the stunning Somerset countryside including the Quantock Hills, the Brendon Hills and Exmoor, so there is the chance to stretch your legs a bit further should you wish. It's not hard to see why this landscape inspired Coleridge to produce some of his best known work.
Prior's Wood, Bristol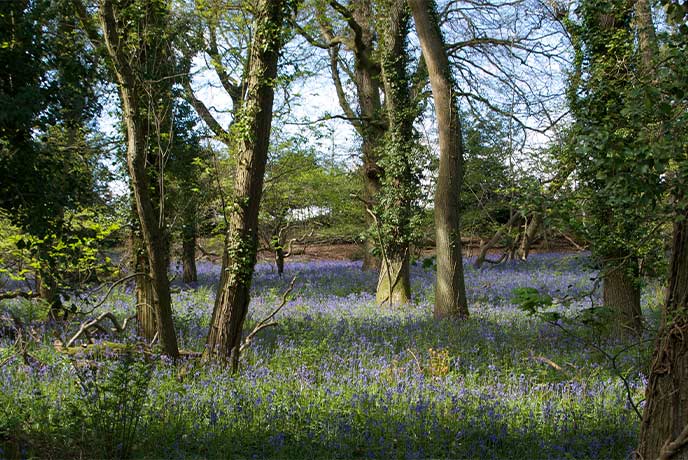 Best for: Bluebell wanders in spring
• Terrain: Some hills, streams, wildlife, bluebells in spring
• Facilities: Parking, dogs welcome on leads
This beautiful wildlife-rich ancient woodland with its gushing streams, plantations and a wonderful bluebell display in spring is cared for by the Avon Wildlife Trust. The area was once part of the Tyntesfield Estate, though its name refers to a time when the wood was owned by the monks of St Augustine's Abbey, which later became Bristol Cathedral.
Parts of the Prior's Wood that we see today date back to the 17th century. Walkers will find a mixture of lime, oak, beech, sweet chestnut and hazel trees as well as masses of wildflowers. These woods are a real haven for wildlife and particularly popular with birdwatchers. Covering 62 hectares (150 acres) there is a network of paths that enable visitors to wander freely and explore, but there is also an easy to follow circular walk (around 2 miles), which loops around the wood too.
A highlight each year which draws many people here is that from late April onwards the woodland floor becomes a sea of vibrant colour as thousands upon thousands of bluebells carpet the scene.
Coombe Hill Woods, Street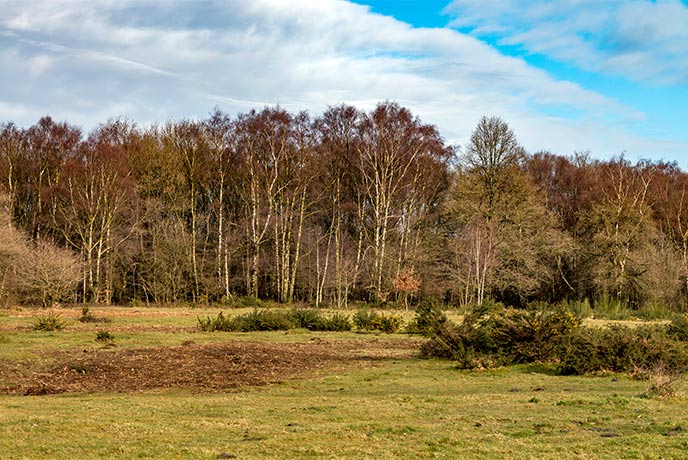 Best for: Picnics with a view
• Terrain: Marked trails through woodland, some accessible to less mobile users
• Facilities: Car park, dog-friendly, orienteering, picnic benches at viewpoints
Covering 62 acres, Coombe Hill Woods is privately owned and managed by the Ninesquare Trust, a charity established in 1995 to protect this diverse woodland and promote environmental education. Various paths and bridleways wind through the peaceful landscape passing veteran oak and maple trees, and there are picnic benches and seats perfectly positioned for lapping up the stunning views.
For those looking for a bit of a challenge, Coombe Hill Woods also has permanent orienteering routes set up within the woodland. There are four courses to follow, ranging from a short 'White' route for beginners or those who are less mobile, to a longer, more physically demanding 'Yellow' route for those who want to test themselves.
Combe Hill Woods also links up with the Polden Way, a seamless, signposted, off-the-road footpath of around 6 miles, so there is the potential to extend your relaxing saunter should you wish.
Clevedon Court Woods, Clevedon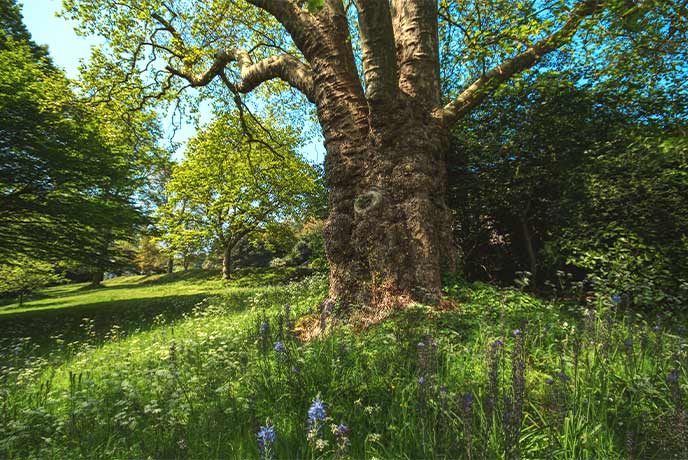 Best for: Wild woods and grand gardens
• Terrain: Some steep climbs
• Facilities: Parking, toilets, dog-friendly
Clevedon Court is a 14th century manor house with beautiful terraced gardens, owned by the National Trust. Beyond the house and these formal gardens there is a large area of woodland also managed by the Trust. Here you will find well signposted paths offering a variety of different walks of various lengths and levels of ability.
These routes make a great choice for a family day out, with plenty of wild space for children to run around and explore. Look out for amazing views over the Severn Estuary and Avonmouth through the thick canopy of trees. There are several access points to the woods but if you want to simply walk them from end to end, there's a car park off All Saints Lane at the Clevedon entrance and one on Hill Lane at the Tickenham side.
Weston Woods, Weston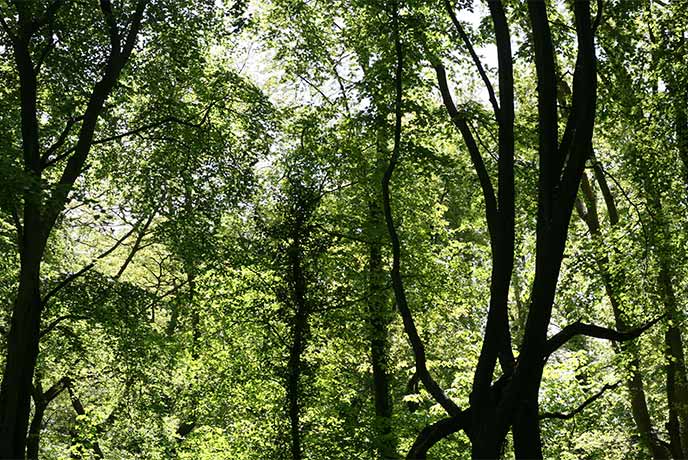 Best for: Woodland wonders with a hint of coast
• Terrain: Hilly paths, some wheelchair access
• Facilities: Children's play area, car park
This local nature reserve covers an amazing 130 hectares and dominates the skyline above Western-Super-Mare. There are signposted walks throughout of various lengths, some that connect up to the coastal path below (for those that want to add a Somerset beach to their day out), and some sections have been surfaced to make them accessible to wheelchair users.
Weston Woods, also known as Worlebury Woods and Ashcombe Woods, has an abundance of wildlife and the area is also bursting with history, from the ramparts of an ancient hillfort to a Blue Plaque commemorating a visit from President Eisenhower. It's amazing to think that much of the space we enjoy today was felled during World War I and the timber was used for shoring up the trenches on the Western Front. Since then, the woodland has regenerated itself and is now an important green space for surrounding communities.
Ham Hill Country Park, Stoke-sub-Hamdon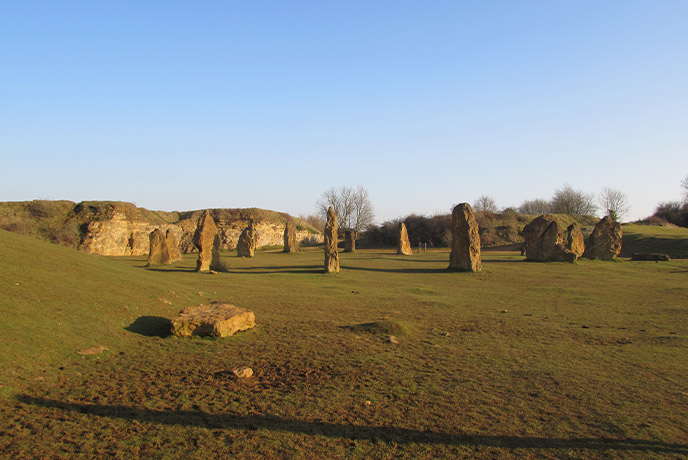 Best for: Days out with the family
• Terrain: Hilly in places, signposted trails, some disability access
• Facilities: Car park, toilets, café, children play park, dog-friendly
Ham Hill Country Park has much to offer and is a popular walking choice for families. This area of Somerset is bursting with history, from fossils and unusual geological features to ancient earthworks and abandoned industrial remains. There is even a forgotten Medieval village to discover. Visitors can wander freely over this 158 hectare site or follow one of the fascinating trails.
The Easy Access Trail is a short route through woodlands and meadows. With accessible pathways, this trail guides visitors past the main points of interest including a quarry used in Roman Times, a stone circle and the War Memorial which offers sweeping views.
The Geology Trail highlights the staggering geological features including Hamstone, the stone after which the hill is named, a type of limestone formed some 170 million years ago. The last trail is the Roman Treasure Trail designed for families with lots of quiz questions to solve and interesting and educational activities along the way.
Blaise Castle Estate, Bristol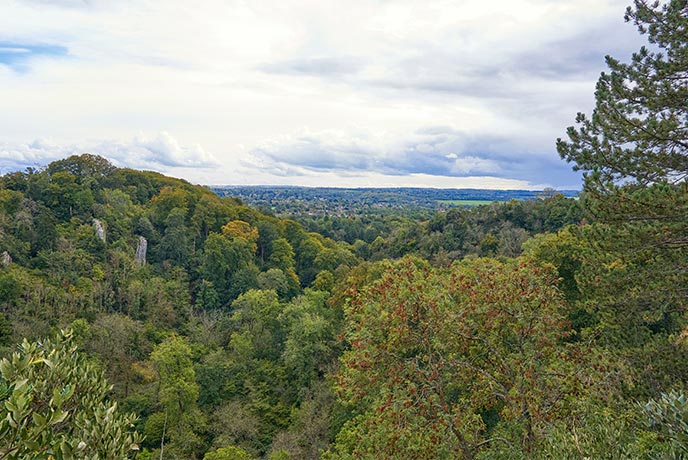 Best for: Fascinating landmarks with intriguing names
• Terrain: Parkland, some steep climbs, deep wooded gorge
• Facilities: Parking, play area, picnic area, folly, café, castle and museum
This extensive estate, which is Grade II registered, is a popular destination for families and dog owners, with 650 acres of gardens and parkland to discover. There are numerous paths to explore, but one of the most popular leads through a wooded limestone gorge with a fast, rushing stream. This deep gorge is often used by climbers and the water has cut the soft stone into some unusual shapes, such as the Lover's Leap and Goram's Chair. Other features to look out for within the estate include two pools known as the Giant's Soapdish and the Penny Well, and two caves: the Robber's Cave and the Butcher's Cave.
Another highlight is the Blaise Castle Folly, a miniature castle built in 1766, from which there are impressive views of Bristol and the surrounding countryside to be enjoyed.
Besides all the wonderful walking, this estate offers visitors numerous other things to do, from visiting the 18th century Blaise Castle House with its museum and art exhibitions, to the children's play area and café to unwind after your walk.
Wayford Woods, Crewkerne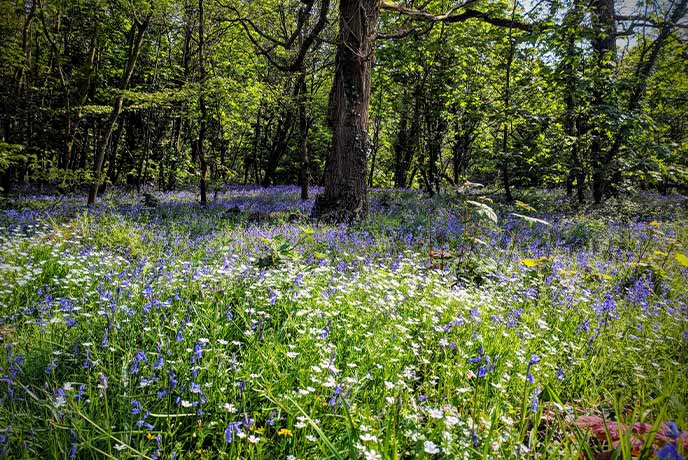 Best for: Floral displays and lakeside adventures
• Terrain: Lake, bluebells, some muddy sections
• Facilities: Picnic benches, children's rope-swing, dogs welcome on leads
Popular with birdwatchers and families, this small woodland is a bit of a local's secret. Wayford Woods covers about 29 acres and is managed by a charitable trust. A gentle walk here really is a wonderful way to escape into the peace and tranquillity of nature and reap all the benefits it has to offer.
This is a beautiful spot to spend a bit of time in spring when the bluebells and other wildflowers are in bloom, followed by bright displays from large rhododendrons and azaleas, which make this woodland unique.
There is a small lake here where moorhens and ducks can be seen and the woods are also home to deer, foxes and badgers. This is also a great place for children to explore and get muddy, and look out for a rope swing hanging from one of the trees for those feeling brave!
Tarr Steps Woodland National Nature Reserve, Dulverton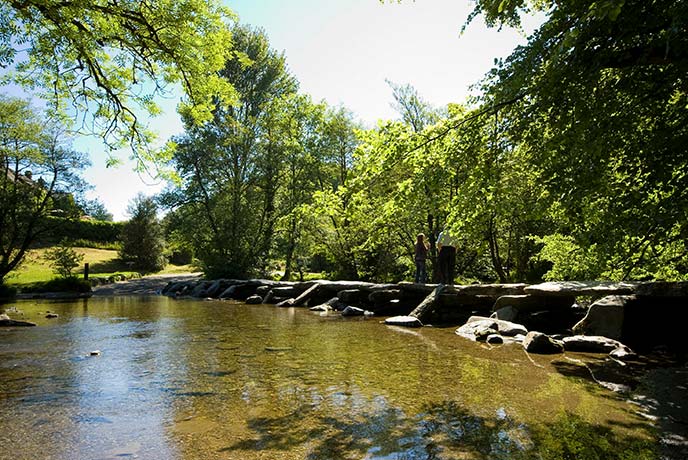 Best for: Views of an iconic British landmark
• Terrain: Riverside, some hilly sections, slippery ground
• Facilities: Car park, toilets
The Tarr Steps Woodlands Nature Reserve near the village of Withypool is part of the wider Exmoor National Park and contains an ancient stone bridge which crosses the River Barle. This "clapper bridge" is unique as it is the longest and oldest of its kind in Great Britain, dating back hundreds if not thousands of years.
The bridge is formed using huge slabs of rock, some weighing as much as 2 tons, which straddle the river in 17 impressive spans and the two circular walks here both involve walking across this iconic landmark.
Both walks are well signposted and easy to follow. For a short circular, you can walk along the riverbank for about a mile to a footbridge, cross the river and return on the other side, finally making the most of the clapper bridge for your final crossing. The longer, more challenging walk follows much the same river route but extends it for 12 miles. Starting in Dulverton, the path skirts Withypool hill passing the Royal Oak pub and some tea rooms before returning to the river.
The Tarr Steps is a popular place for wild swimming too, as deeper pools can be found a few minutes upstream from the car park. The surrounding woodlands also provide an excellent habitat for wildlife including deer, otters and rare bats.
Beacon Hill Woods, Shepton Mallet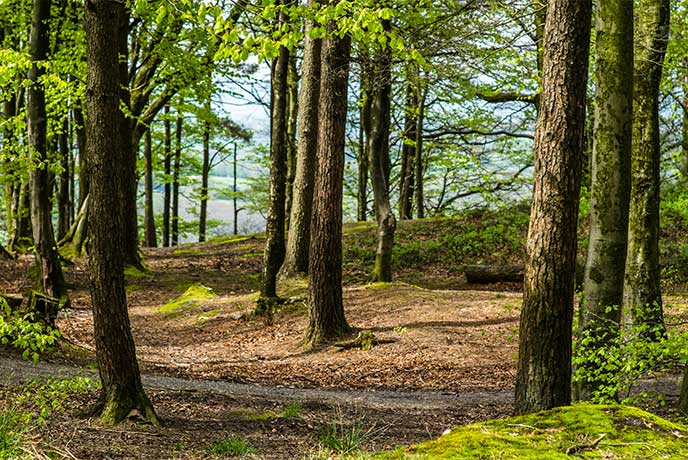 Best for: Following in Roman footsteps
• Terrain: Relatively flat, rough woodland paths
• Facilities: Car park, archaeological features
Beacon Hill Wood is a prominent ridge at the eastern end of the spectacular Mendip Hills. An idyllic woodland made up of mostly beech and Scots Pine trees, it's cared for by the Beacon Hill Society who have done a huge amount of research into the history and geology of the woodland and surrounding area.
The stunning scenery and amazingly wide range of archaeological features make this a fascinating little woodland to visit. Bronze Age burial mounds, old quarry pits, Roman roads and a central circular earth bank with a single standing stone are just some of the features to look out for. In fact one of the main paths through the woods actually follows The Fosse Way, a major Roman route first used around 2,000 years ago!
If these woodland walks have got you itching to put on your walking boots and get out exploring, here are some more ideas for things to do in Somerset, and discover your perfect place to stay in this gorgeous county with our range of holiday cottages.