What could be better than settling down to a button-popping meal amidst rolling hills with a cider in your hand? If the answer is nothing, then you need to head to Somerset for a proper feed.
With more than its fair share of cosy pubs and picture-perfect inns, Somerset has also been climbing the ladder when it comes to modern cuisine served in beautiful, contemporary spaces. But enough chit-chat, let's get down to what really matters…. food. So, here are the best restaurants in Somerset where you can eat to your stomach's content!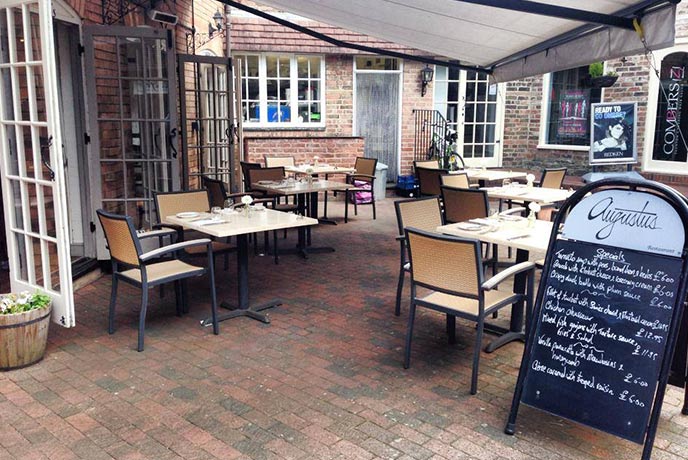 Welcome to Augustus, where British, French and Asian cuisine are enjoyed all wrapped up in a friendly bistro setting. Local ingredients (some so local they're literally just around the corner) and seasonal produce and game ensure you're always enjoying a plate that does as good as it tastes. Nestled within a quaint courtyard, Augustus is the perfect place to unwind after an afternoon of pottering around the sights of Taunton.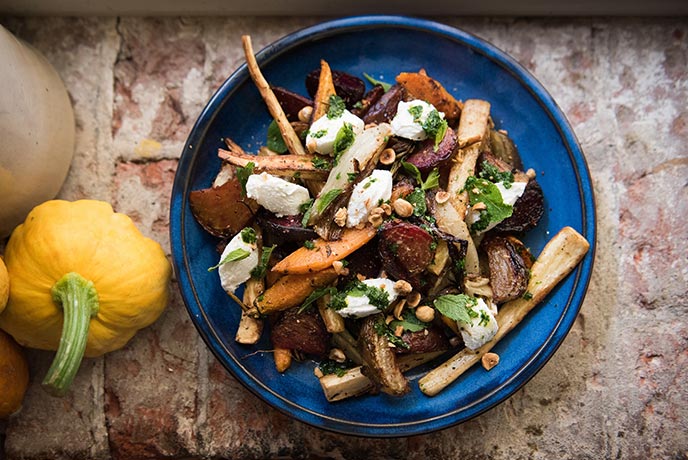 Sometimes we just want to be wined and dined in style! Based at Hauser & Wirth Somerset, the Roth Bar & Grill is one of Somerset's top fine dining restaurants and offers guests the chance to combine delicious seasonal food with incredible contemporary art. We must admit, the art hanging on the walls isn't the only thing to catch the eye as each dish really pushes the boat out when it comes to presentation. Let your eyes drift down the menu as you try and decide between a Wagyu steak and saffron risotto – choices, choices!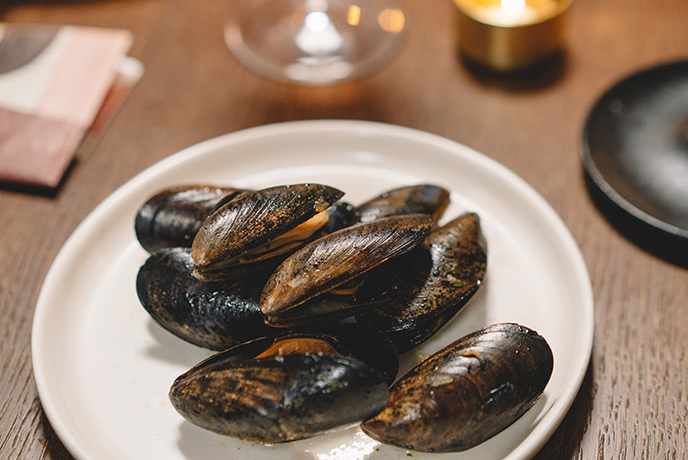 We don't know about you, but when we hear the phrases 'multi-award-winning restaurant' and 'chef owned' our tummies immediately start preparing for a good feed! With smoked duck, fresh pasta and a whole host of tempting seafood options, Reeves has certainly earned its accolades – and candied strawberries will always get our attention! The welcoming atmosphere and undeniable passion for food add even more lure to this top restaurant.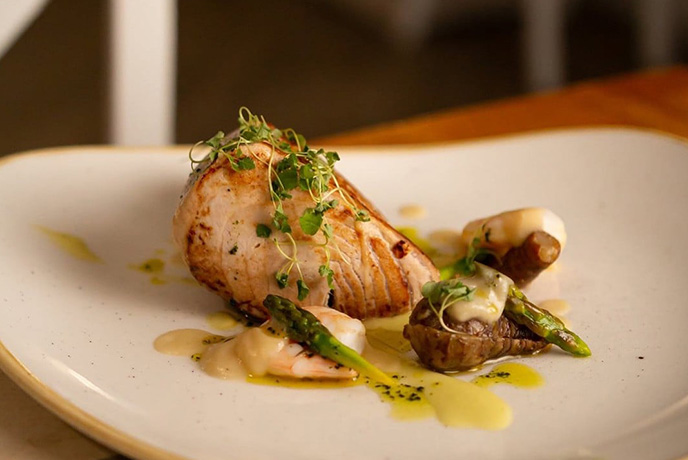 Who can resist a visit to Clark's Village shopping extravaganza – certainly not us! Luckily, Tamburino is close at hand so you can collapse into the traditional setting, bags in hand, for a true Italian treat. Peruse the menu for a range of authentic dishes from Sicilian street food like arancini to the reason we all get up in the morning; pizza! Wash it all down with some superb Italian wines for the ultimate good pair day - Buon appetito!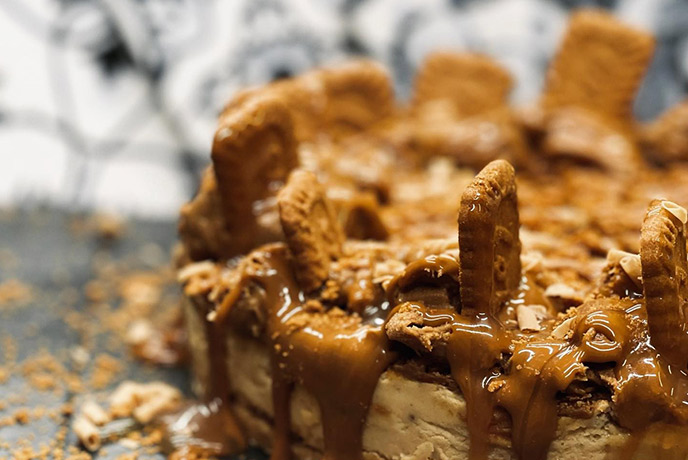 From the sloping hills of Italy to the high cliffs of Madeira, Skewer House is serving up traditional Madeiran skewers that have quickly become a staple in Taunton. Although the skewers are clearly the star of the show, a special shoutout has to go to the desserts, which have been such a hit with locals and visitors alike that you can now just pick up an entire cheesecake – order for one, please! Oh, and the cocktails are to die for as well…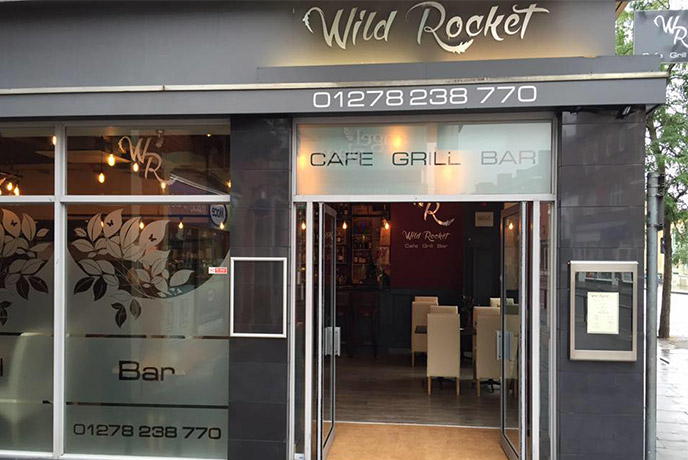 Breakfast, lunch, dinner, cocktails… whatever you're in the mood for, Wild Rocket has definitely got you covered – it's also a stone's throw from Kilve beach,one of the best beaches in Somerset, so perfect for a post-beach day feast. This cosy little bolthole in the centre of town offers a vast menu of tapas and British cuisine so you can tuck into eggs benedict in the morning, a sirloin steak sandwich at lunch and a traditional fish and chips in the evening – or go for the cheese board at any time of the day or night because, well, cheese!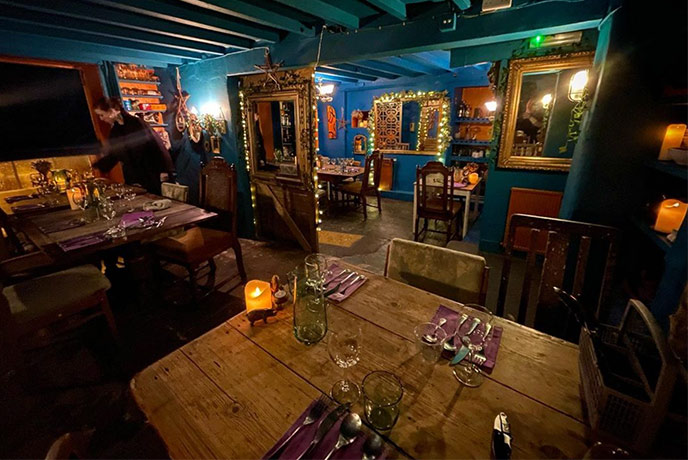 We are in love with Matt's Kitchen! From the beautifully unassuming description that he's "self-taught and utterly unqualified" to his ever-changing set menu that ensures no food ever goes to waste (that's right, you'll be licking your plates clean each visit), Matt's ethos is all about good local food at good prices. Previous menus have included lip-smackingly goodies such as Bahamian rum cake and Coq au Vin blanc with pancetta and thyme - don't mind if we do! Spaces fill up (understandably) fast, so make sure to book your place in advance – you don't want to miss out on this critically acclaimed experience.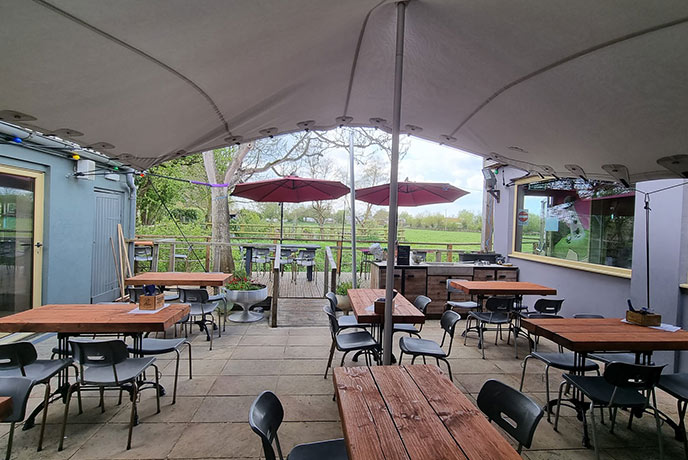 Close to both Wells and Glastonbury, The Sheppey is perfectly placed for lazy afternoons amidst Somerset's countryside - or as welcome refuel after a revitalising walk! People are drawn from all over the place to the Sheppey's laid-back vibes, eclectic performers, renowned food and their boggling variety of local ales and ciders – ahhh, perfect! The menu itself is always changing to reflect local and seasonal produce, which means you can keep coming back to try dish after dish of staggeringly morish foods – now that's living the dream.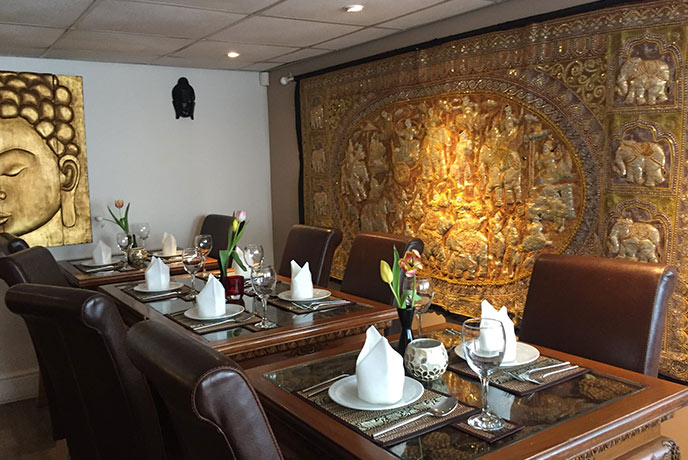 Who doesn't love a bit of Thai food! Here at Zen Thai, you can enjoy authentic Thai cuisine with local ingredients, creating the winning combination of near and far. Dine in at the contemporary restaurant that's situated right at the foot of Cheddar Gorge or grab a takeaway to enjoy back at your welcoming cottage after a day of exploring the incredible surrounding landscape. After all, a day of walking is always improved by dumplings and jungle curry.
Find out more about nearby Cheddar Gorge on our list of the best things to do in Somerset.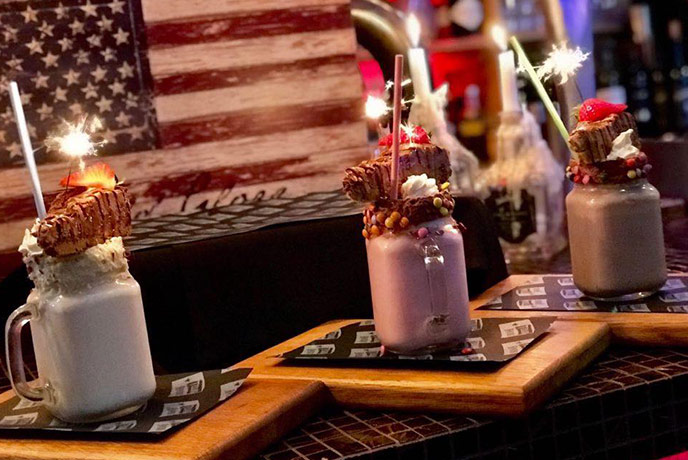 When it comes to comfort food, you can't go wrong with good ol' fashioned Texas BBQ! At Texas Rocks, you can feast American style on plate after plate of mac n' cheese, Lone Star burgers and, of course, a full rack of ribs. For a true Texas experience, choose your dinner from the hot rocks section and sit in utter glee as your supper sizzles in front of your eyes and ears. If you can bear to look up from your dazzling dinner, you'll see a fabulously Texan décor, complete with saddle bar stools so you can feel like a true American cowhand – yeehaw!
When you've got a restaurant, bakery and wine shop all in one place you know you've stumbled across the jackpot. At 28 Market Place, this is exactly the kind of gem you can expect. Tucked away in a beautiful Grade II listed building, you'll find a modern restaurant that manages to blend seamlessly with the heritage of the building. It's not just care and attention that's gone into the décor, as the menu offers a simple yet enticing array of locally sourced meals that really highlight the great produce the west country is known for. When the plates are (licked) clean, you can finish off your visit with a browse in the wine shop, which houses over 100 bio-dynamic and organic wines.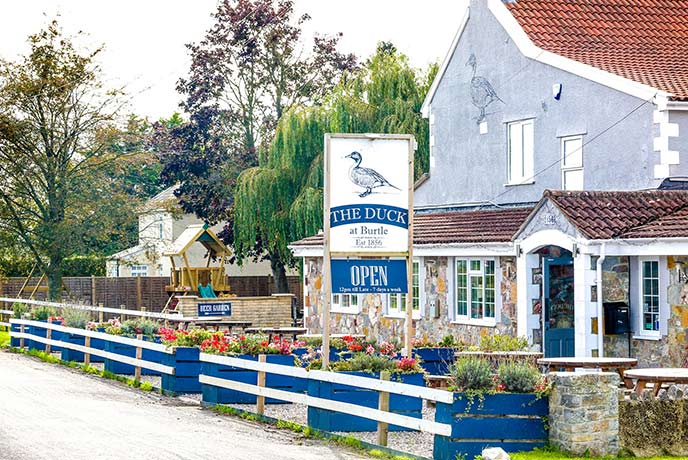 With a hearty 'muddy boots and dogs welcome' attitude and the Somerset Levels right on the doorstep, The Duck is your ultimate post-walk pub where you can shake off the day and refuel with some proper pub grub. On the menu (which also features a Little Ducks menu for the ducklings), you'll find all the usual favourites like burgers, lasagne, and fish and chips, as well as your more discerning pub classics like pan fried duck and mussels. Round it all off with your preferred tipple and you can cross traditional pub meal off your holiday bucket list.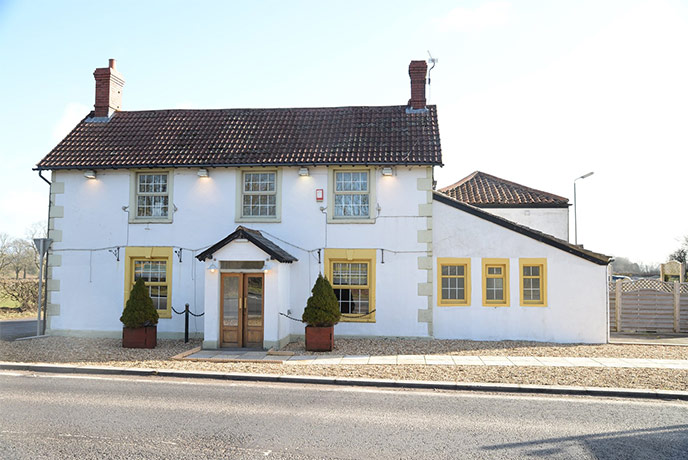 Waking with the sun, spending all day soaking up the beauty of the Mendip Hills and finally kicking off those mud-caked boots in favour of your best shoes and heading off for a country pub with a difference – that sounds like a pretty good day to us. The Mendip Inn is nestled right at the foot of the Mendip Hills, making it a must for anyone needing a luxury refuel after a day out in the hills. Simply pull up a pew and choose between honey glazed ham and rigatoni puttanesca – can we have both?
Excited to eat your way through some of the best restaurants in the west country? Find the perfect cottage in Somerset and start planning your foodie holiday – with possibly a walk or two thrown in for good measure.