Brixham is a beautiful harbour town with pastel houses clinging to the hillside. It's a colourful town, rich with history and wildlife, perfect for family holidays or peaceful romantic getaways.
With boats chugging in and out of the harbour, and fascinating local characters walking along the quayside, it's a place for sitting and watching the world go by. Then, when you've sat for a while, there's plenty to see and do. So here's my guide of things to do in Brixham.
Brixham is one of the busiest fishing harbours in the country, so you can't really avoid the harbour, but why would you want to? It is a working harbour, that is picturesque and charming with colourful fishing boats coming in and out with the daily catch. The quayside is well decorated with lots of colourful flower displays and interesting statues. You can walk around both sides of the harbour – the north side takes you to the ferries and the working areas of the harbour, while the south side leads you on an attractive path all the way round to the long breakwater.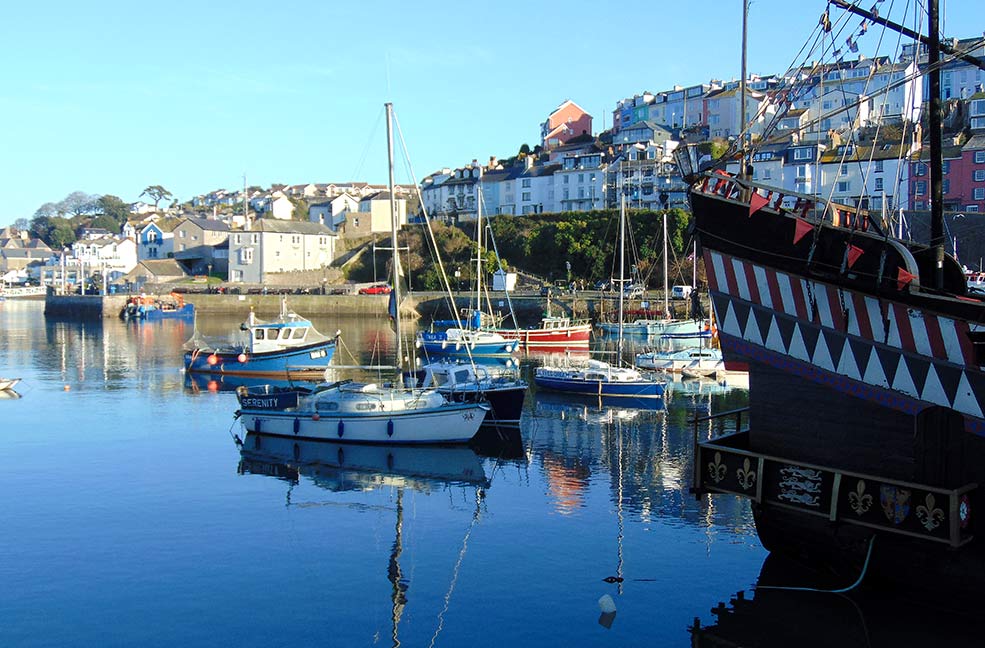 What to Do in Brixham
Brixham has some lovely walks but the favourite is the fabulous Berry Head. Berry Head is a huge granite headland with spectacular views right across Torbay.
It is the perfect place for wildlife spotting. Spot dolphins and the most southerly Guillemot colony in the UK from the head. On a clear day, you can see 46 miles from here to Portland Bill.
Keep an eye out for the little lighthouse too! A fun fact about the lighthouse; it is both the highest and lowest lighthouse in England. Although it's only a few feet high it is built on such a high cliff that the top of it is 190 feet above sea level.
A spot of crabbing anyone?
Brixham is a perfect place for crabbing. There is a simple joy to be had in the timeless pleasure of carefully hauling a crab up a wall. So, why not grab yourself a bucket, line and bait and find a space on the harbour wall?
There is a long association with pirates in Brixham with a whole Pirate Festival on May Day weekend, but the town isn't shy of dressing as pirates on any other day of the year as well!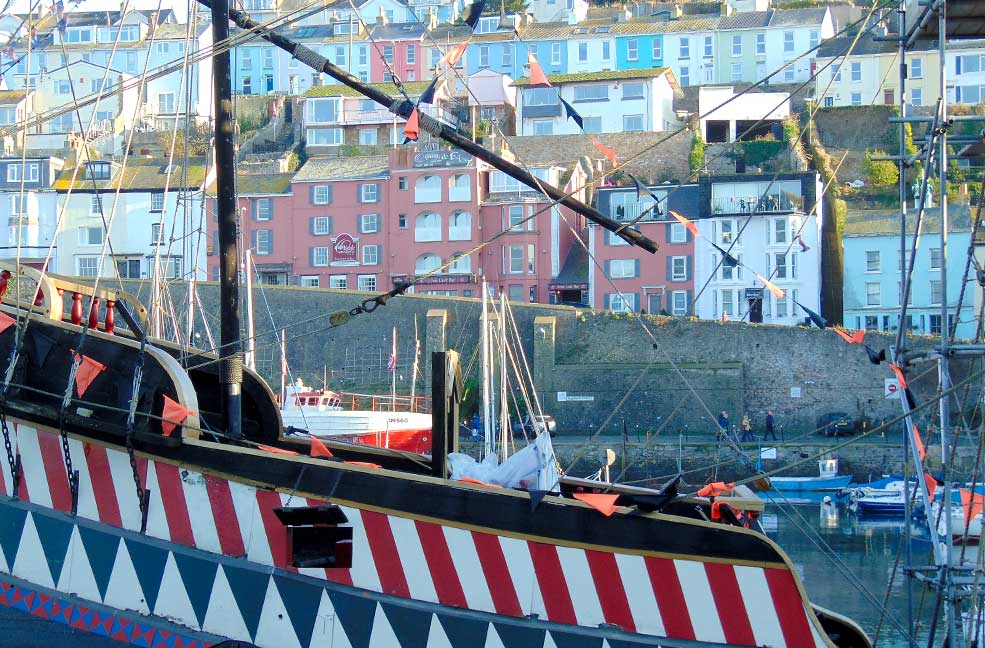 The Art Scene
It's no surprise that a colourful, attractive town like Brixham attracts more than its fair share of artists. One of the most well established artist groups is based in the heart of town overlooking the harbour. The Strand Art Gallery is one of the oldest and largest galleries in Devon. It has a collection of over 400 paintings for sale, and is particularly well known for seascapes and marine art. The most striking feature of the gallery is that artists are busy at work there most days, and they are more than happy to be watched by the public, and asked questions about their work.
Seeing Brixham from the Sea
To truly appreciate Brixham's beauty, you need to see it from the sea. There are sea-wildlife cruises available and plenty of sea-fishing trips. A ferry right across Torbay takes 35 minutes so there is no excuse for being a landlubber.
Try Something New
As a youth worker, I regularly organise days out for teenagers, and the most consistently popular is Battlefield Live. If you take the best features of Laser Tag (not painful!) and Paintball (outdoors action) and combine them, you end up with Battlefield Live. The action takes place on a purpose built three acre site just outside Brixham. Once you are kitted out with camouflage overalls and a laser gun, the team organise different types of missions depending on the size of your group. Once you pay there are no hidden costs and you can shoot your gun as many times as you like.
For a break from all that rushing around, the shopping area of Brixham has many interesting independent shops selling all sorts of delightful knick-knacks.
Heritage
If you visit Brixham you can hardly miss The Golden Hind. A replica of Sir Francis Drake's famous boat has been a feature of Brixham Harbour since 1964. For a small entrance fee you can have a tour of the boat and if you're feeling brave you can step out on the infamous walk-the-plank!
On the northern point of Brixham, overlooking the whole of Torbay, is a restored 1940's coastal defence battery. Volunteers have been restoring and caring for the Brixham Battery since 1999. Next to the battery itself is a small museum which provides information about how these coastal batteries were used in the second world war.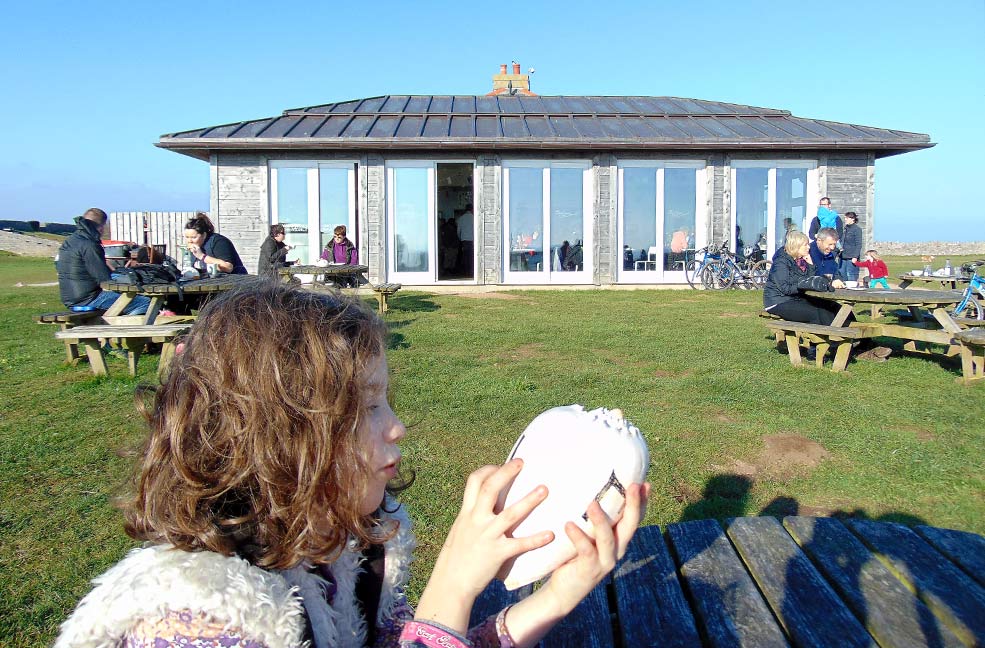 Places to Eat and Drink
There are plenty of small pubs and cafes in Brixham which all attract loyal customers. As a dog owner, I love the child-friendly, dog-friendly relaxed charm of The Guardhouse Cafe on Berry Head. This is always popular for breakfasts, Sunday lunches and their delicious seafood chowder.
For fish and chips, a family favourite is Rockfish. The food is fantastic, I've enjoyed traditional cod and chips, and the Red Gurnard and Scallops. The best thing is that it overlooks the harbour so you can see the boats arrive with tomorrow's lunch.
A real local's favourite is Verna's Pepper Shack where you can sit, surrounded by Verna's own carnival costumes, with a fine view of the harbour, eating fantastic home-cooked Jamaican cuisine.
My favourite Bistro pub is the Old Market House. This is a great place for a hot or cold drink. It has an excellent menu with a lot of great seafood.
Brixham has a laid-back charm which keeps visitors returning year after year. Many fill their days with outdoor adventures and long walks, while others just like to sit back and enjoy the atmosphere of this colourful harbour town. The joy of Brixham is that it caters for both these groups of holidaymakers, making it truly one of the jewels of South Devon.
If you want to keep up with what is happening in Brixham Harbour, then check out our webcam.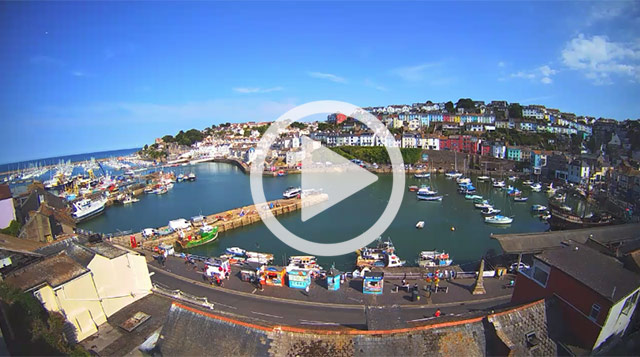 Spend a day in Brixham when you stay in one of our holiday cottages in Devon. If you want to stay in Brixham, here are our holiday cottages in Brixham.