We set off on a weekend away to discover No 9 Putsborough, a beautiful apartment located in the idyllic coastal town of Woolacombe in north Devon. Situated less than five minutes away from the beach, stunning sand dunes and fantastic restaurants, No 9 Putsborough is sure to enchant you from the minute you arrive until the last seconds of your stay, and there's one thing for sure, once discovered, you're sure to want to return time and time again.
Our stress-free arrival started with the dedicated car parking space under the apartment block, before collecting our key and heading up the elevator to our getaway. As soon as we stepped through the door, we were instantly delighted at the wonderfully sumptuous interiors and the delightful hamper full of goodies.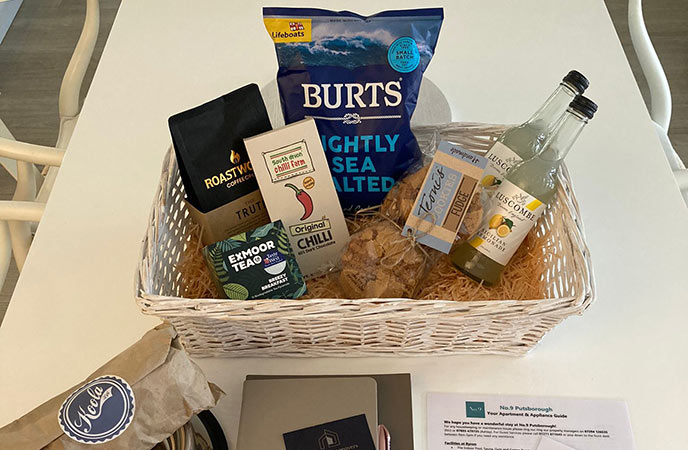 The gorgeous open plan living area is perfect for unwinding, from the cosy sofa to the beautiful table and chairs framed by the antique mirror and sideboard. We fell in love with the kitchen from the get go, equipped with anything and everything you could possibly require for rustling up a feast. The owners have gone above and beyond, and the housekeepers have made the apartment spotless.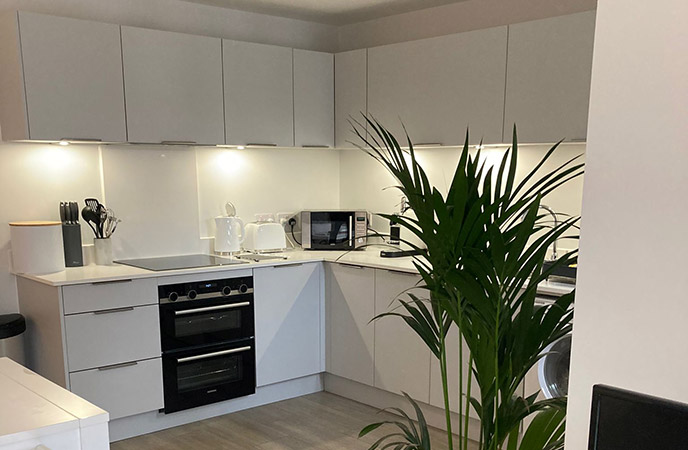 We headed back out to the light and airy hallway to discover the first bedroom. This was made up as a twin room for our stay, but can also be super king. The room has been styled beautifully with muted calming tones and crisp white linens, ultimately creating a bedroom that allows the perfect night's sleep. Next door, there is a bathroom that wouldn't look out of place in the swankiest of hotels and for those bath lovers, you will simply not be disappointed.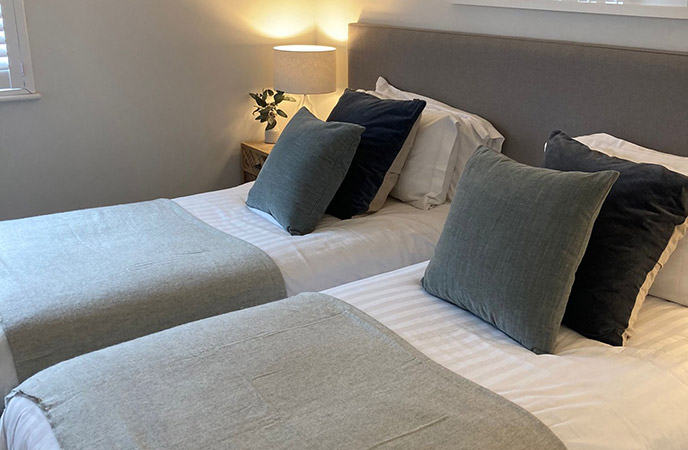 Bedroom Two did not disappoint either; a perfectly positioned king room, with an en-suite shower room, that again had been styled to aid relaxation, from the art to the perfectly positioned Smart TV. Each room has been thoughtfully designed, with no expenses spared!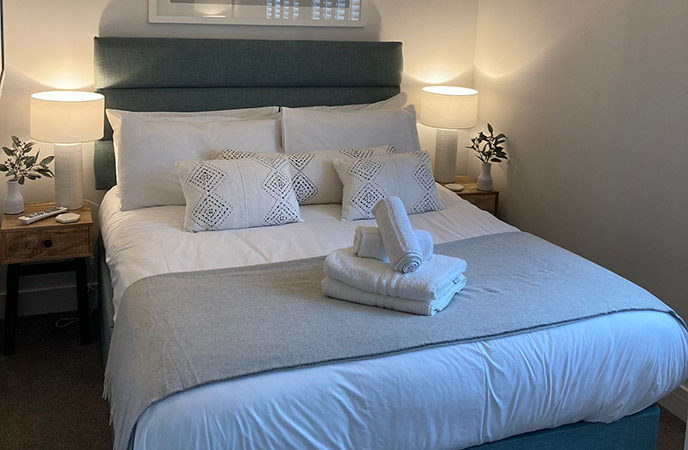 Our adventures
On the Friday night there was only one thing we all wanted to do, and that was to enjoy being together on the beach. And of course, indulging in a fish and chip dinner washed down with a few glasses of fizz! We listened to the waves crash and watched the surfers riding the waves as the sun set on our first night. It really was the perfect start to our weekend away.
On Saturday, the sun came out, and we were captivated by the beautiful view from the balcony as we enjoyed our first cuppa of the day.When staying at No 9 Putsborough you can also enjoy all of the pre-bookable facilities, so we headed down to the pool and sauna which was a real treat and set us up for our day of adventures and fun.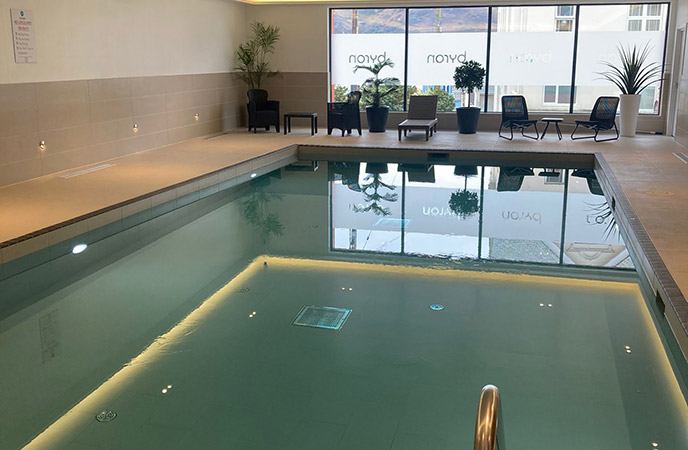 After a quick refresh and a pot of tea, what better way than to start the day with a bit of retail therapy? We made our way to Woolacombe town centre to browse the selection of shops and galleries, and of course, not forgetting to purchase sticks of rock to take home. After working up an appetite, lunch was calling, so we headed out along the sand dunes to The Porthole Café. The view was a welcome reward, and the food was simply divine - a real foodie heaven! After refuelling we set off along the beach for a blissful stroll.
Later on, we headed to Bay Brasserie and enjoyed a cream tea delight. And of course, it was cream first then jam (when in Devon!). We then enjoyed a few hours relaxing at the apartment before getting ready to head out for dinner. This process was a joy, especially when we discovered both a hair dryer and straighteners for our use. We had great fun listening to some tunes thanks to the wireless speaker… we could have been back at our uni flat 20 plus years ago!
The sun set and we headed to The Beach House Restaurant, just a five-minute stroll from the apartment and, wow - I'm so glad we did! This local seafood restaurant is simply a must, from the atmosphere to the service and the divine food. Make sure you pre book, you will not be disappointed! We all agreed it was the best meal out we had enjoyed in a long time, and the fantastic wine selection was a real hit with us all.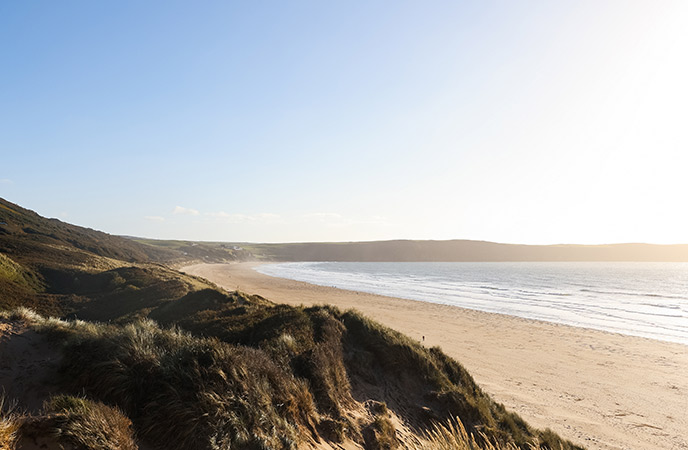 Sunday came around all too quickly. We woke up refreshed after a blissful sleep, enjoyed a quick swim and sauna, before cooking up a delicious breakfast feast. Afterwards, we decided the perfect way to finish off our stay would be with another leisurely stroll along the beach, you simply cannot get bored of the stunning scenery! As we made our way back to the apartment, we knew our time away was drawing to a close, but it was clear from the smiles on our faces that we had recharged our batteries and filled our souls with fun and joy. No 9 Putsborough was the vital ingredient to our perfect girly seaside escape, before we put our mum and work hats back on and returned home.
No 9 Putsborough really does offer the perfect stay, and all of the extras, from beach chairs, handcrafted belly boards, to a picnic hamper, make it so special. We can certainly say the owners have thought through every little detail! We can't wait to return…