Swimming – it's the most natural of activities, yet so many people only ever do it in the most unnatural of locations.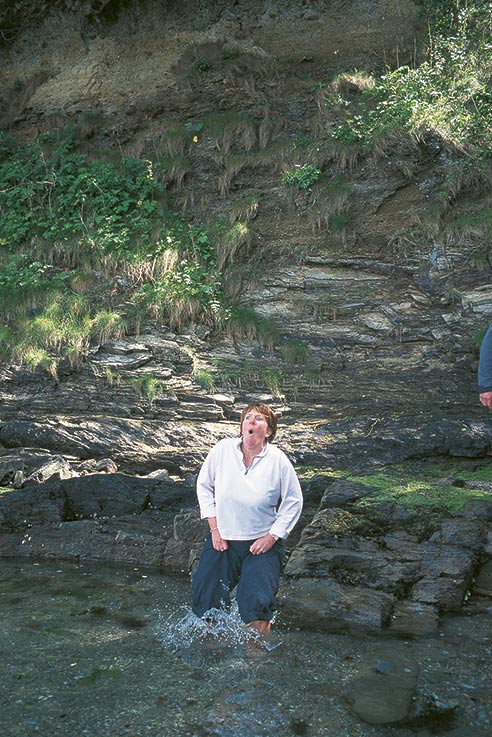 How things have changed in just one generation. When my Dad was a lad, going for a swim didn't entail driving ten miles to the nearest wee-filled public pool, and paying £3.80 for the privilege of smelling like chlorine for a week. He just jumped in the local river.

By contrast, I learnt how not to drown in the sterile environment of a modern sports centre. Left to our own devices, however, on most hot days my mates and I would gravitate to the riverbank, where we'd thrown a rope swing over the branch of a willow tree and there was no one to tell us not to run or push each other in.

Splashing around near the bank of this river, I once pulled my hand out of the water to discover I was holding the most extraordinary fossil in my fist – the kind of treasure that will never be found in a concrete pool, and a prize that I cherish to this day.
I want my kids to have memories like this, which is why I bring my family to holiday cottages in Devon, where the coast and countryside offer such riches for those who think each wild swimming experience is worth twenty trips to a public pool. It's also a great thing to do if you're staying in one of the cottages for couples – after all, what could be more romantic than splashing around in some of the most beautiful watery locations in the country? To whet your appetite, here are some top natural spots to swim in Devon…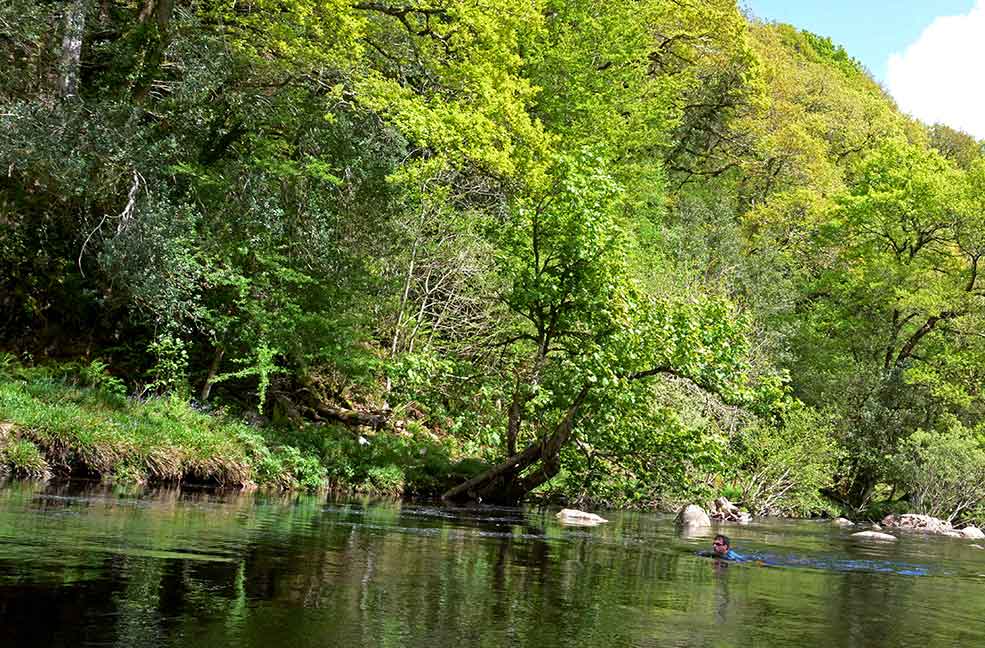 For those who want moor…
SHARRAH POOL – DARTMOOR
Adding to the atmosphere and secret feel of this place is the fact that it can only be reached by foot. After a 45 minute meander upstream through Holne Woods, you can plunge into this clear pool, part of the River Dart, which offers around 100 metres of good swimming depth water, with a small waterfall at one end. There are granite boulders on either bank, perfect for sunning yourself once you've finished swimming.
Bit of a weir do…
FLUXTON WEIR – RIVER OTTER
Close to the village of Ottery St Mary, you can access the River Otter near Fluxton weir, which has a flume section and a natural jacuzzi. Close by is a natural pool, complete with a rope swing. Willow trees line the banks and there are open areas for catching some rays and chilling out with a picnic when you get out of the water.
The Sexy Ex…
LONG POOL – EXMOOR
Exmoor's East Lyn River offers numerous top spots for a swim, but this one is a real beauty. Long Pool is, exactly as it sounds, a long pool – perfect for swimming. Tucked away in a forest setting, it boasts a waterfall, rocks you can pull yourself up onto like a water lizard, and several ledges that you can jump from (having carefully checked that there are no obstructions under the water first of course). To find it, take the footpath from Watersmeet and you'll see it signposted.
For the Common People…
THE TORRIDGE – TORRINGTON COMMON
In the midst of Torrington Common, a semi-wilderness area in north Devon, flows the River Torridge – home of Henry Williamson's Tarka. As befits the setting for a story about an otter, the Torridge has some wonderful wild swimming holes. The water is typically about a metre deep, and conditions tend to be quite fast flowing and pebbly. The Tarka Trail, one of the country's longest continuous traffic-free walking and cycling paths, runs close by, offering access to both the common and the river.
Rock and Shoal…
THURLESTONE BAY – SOUTH DEVON
Get your goggles on for this wild sea swim – an exhilarating experience where you can pass through a dramatic arch in a rock that sits about 500 metres off the shore of Thurlestone Bay in South Devon. It's not all about the arch, though, there are rocks and reefs aplenty here, covered by translucent water and populated by colourful shoals of fish.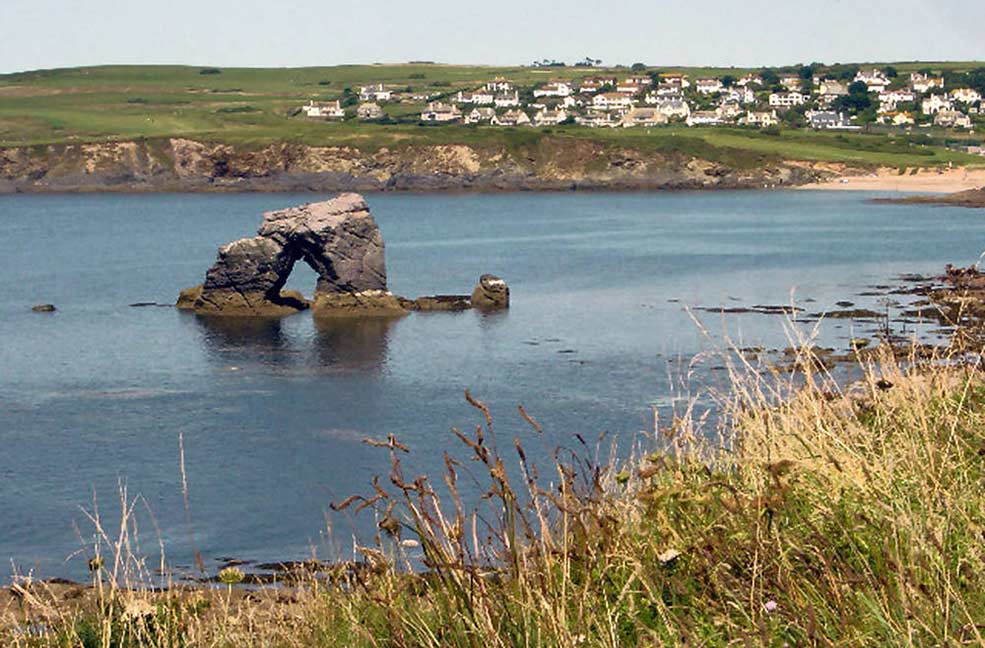 Going with the flow…
THE AVON – SOUTH HAMS
Time this dip right and you can ride the retreating tide along the River Avon from the village of Aveton Gifford to its mouth at Bantham beach, a journey of about 2.5 miles. This particular estuary has clear water, thanks to the sandy bottom, and you can expect visibility to be good, enabling interaction with the waterway's wildlife. There are oyster beds here, and rocks in the channel. This is one for experienced swimmers only, and it's advisable to wear a bright hat and to recce some potential exit points before you hit the water, just in case you don't feel like doing the whole distance.
Go caving…
BROADSANDS – NORTH DEVON
Keep your goggle-clad eyes open for a dolphin here, as you go exploring this double-fronted north-facing cove – you never know your luck and they appreciate a good wild swimming spot even more than we do. Access the beach from the coast path through Golden Cove woods, between Watermouth and Combe Martin. Once you're in the water, there are arches, caves and tunnels to be investigated, or you can circumnavigate the sand island formed by the tide. Beware strong currents and submerged ledges on the far side of the island, and be careful around the caves if you're not an experienced sea swimmer.
Taking the plunge…
SALMON LEAPS, TEIGN
In the Dartmoor woods just below Castle Drogo, close to a weir and a footbridge, the Teign River drops into a long river pool, which features three Victorian-built, square, stone plunge pools. Each is about 1-metre deep and smooth bottomed. They never get too warm, even in the middle of a raging hot summer, but these salmon jumping pools are a refreshing spot for a swim. There's a nice grassy bank area for a picnic or a barbecue, and it's dog friendly.
For the faithful…
HINDU TEMPLES – LIVERMEAD
In Torbay, between Livermead beach and Hollicombe beach in Torquay, a fantastic wild sea swim can be done to a sandstone rock formation that was described by the author Charles Kingsley as 'a labyrinth of double and triple caves, like Hindu Temples'. At low tide it's possible to climb out of the water here and explore the labyrinth, but swimmers must be careful when water is running through the caves.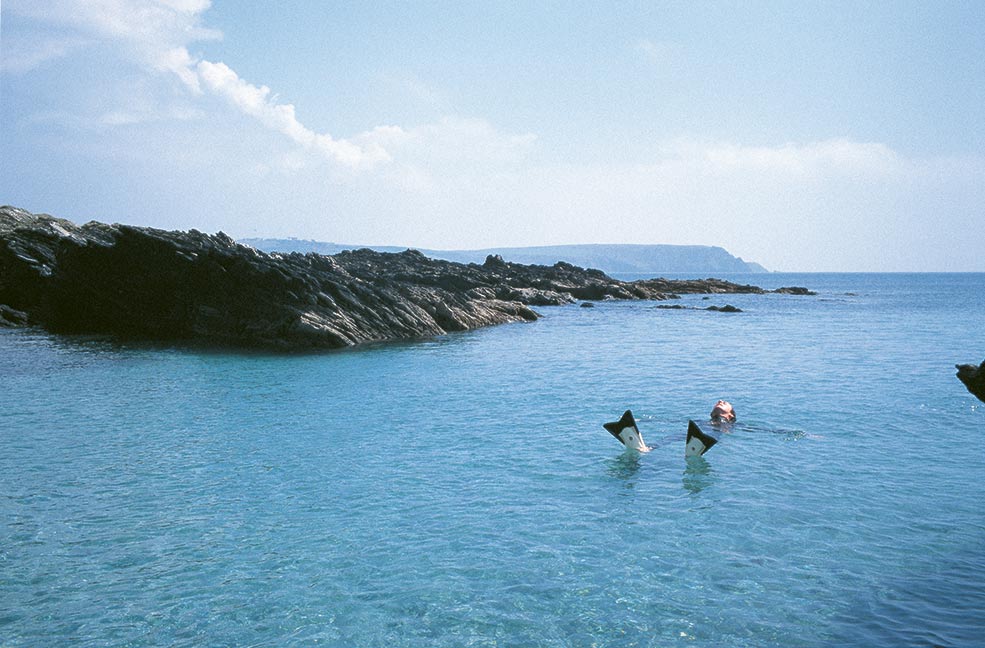 Final image and portrait image taken by Annabel Elston, all other photos by author