It's iconic. The stuff seaside postcards are made of. That expanse of golden sand pincered by the creeping blue tide, tunnelling your vision to Burgh Island is what fills the mind's eye when you think of this south Devon beach, but while that panorama is worth a visit alone, what is there to do in Bigbury on Sea?
Things to do in Bigbury on Sea:
1) Bigbury beach
2) Burgh Island
3) The unique sea tractor
4) South West Coast Path walks
5) Discovery Surf Centre activities
6) Swimming in the sea!
7) Ferry over to Bantham and back
8) Just sit and admire this beautiful bit of south Devon
Being a Cornish girl from a Devon family, we all grew up in and around Plymouth. And for locals, Bigbury on Sea is the beach to go to for the best summer holidays. Back in the day, all the school children got to go to 'Makers Camp' here, that one school trip everyone looks forward to it being their year's turn and that's because this little corner of Devon coast has everything you need for a family friendly summer holiday.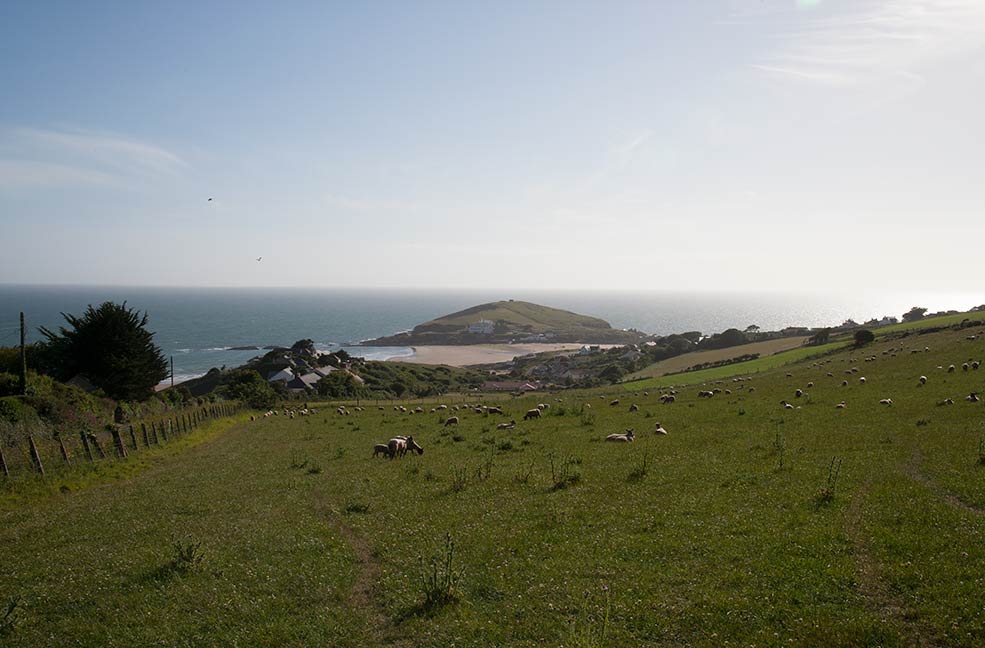 From an outside perspective, Bigbury on Sea is a collection of properties clustered around a little sandy headland that stretches over to a green lump of a mini-island at low tide. It's tucked away in the depths of the green and pleasant Devon countryside, a good distance from anything urban when you're following the endless leafy lanes and flawless scenes of countryside but temptingly close to the bright lights of Plymouth city for a holiday of two halves.
This little spot of heaven is named after the village of Bigbury, a mile or so inland and has a long and typical history of pirates and smuggling, being so secluded. It's the type of place you go to for a full day really; settle in and enjoy the still-natural environment, the nooks, the crannies, the endless walks, the sandy beach, the oh-so-unbeatable views. It straddles the South West Coast Path, of course, so walks abound. But tuck the picnic blanket under your arm and get ready for a quintessential beach day.
Facilities
Bigbury's true beauty is in its seclusion so there's not a great deal here but, that said, it's a popular spot. There are lifeguards at peak times to keep the shores safe along with toilets and a couple of little cafes, too. The famous hotel over on Burgh Island means that there's enough here to keep you comfortable on a day trip. There are no cash points here so be sure to withdraw some money before setting off.
It's not particularly mobility-friendly, with steep bits and plenty of walking to get anywhere away from the (reasonably priced) car park – and if you like to bag a bargain space for your car you'll have to walk that bit further to take advantage of a local farmer's field.
At low tide, you can walk west around the rocks to Challaborough Bay and Arymer Cove where there is a large holiday park with a cash point and somewhere to eat. To the east you'll end up at the Avon Valley and Bantham Beach with access via a pedestrian ferry in summer.
The big draw to Bigbury is one of the UK's few remaining sea tractors. It's well worth planning this in advance to make sure a) it's running and b) tide times, for one of those 'kids-are-still-talking-about-it' holiday memories – be sure to take the obligatory selfie standing next to a giant tire.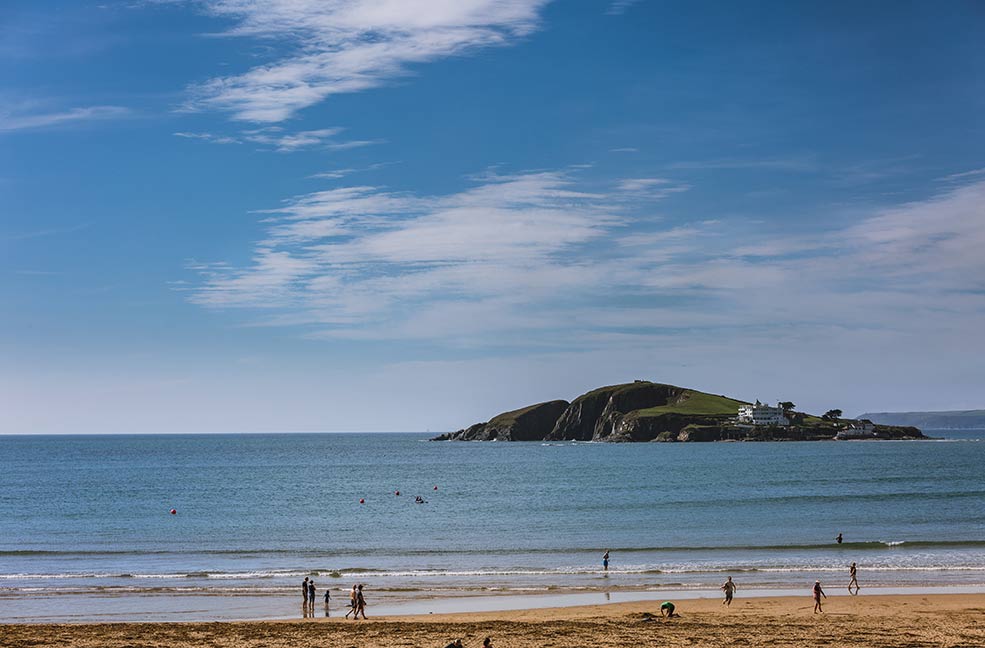 Attractions
The sea tractor takes you to the obvious attraction on the landscape, Burgh Island. A small, unassuming landmass made famous by the Art Deco hotel immortalised in arts and culture by Agatha Christie and various tv and film appearances. The hotel itself holds a variety of ticketed events and runs the ancient Pilchard Inn public house – check their website to ensure you get the chance to enjoy a tipple.
The location is the attraction here, but there are of course plenty of activities where you can make the most of the water. Discovery Surf School is based here so anyone and everyone can learn to take to the waves like a pro – but try your hand at SUP (stand up paddleboarding) for a more sedate yet equally thrilling experience out on the sea. This area is incredibly popular for swimming. If you don't like sea swimming, but wish you did, this is the place to dip you toe…then your knees, then your shoulders!
If the usual beachy festivities don't float your boat then there is always the Bigbury Golf Club to occupy your day. Appreciate the outdoors with purpose by hitting a little white ball in front of an extraordinary backdrop.
However, the area really is best experienced on foot; set out in either direction and wander to your heart's content. Just bring an extra memory card for the camera because you'll never tire of photo-worthy moments around here. If you'd rather not get lost, follow one of the many recognised trails – we've found plenty of Bigbury on Sea walks for you to try.
Food and Drink
It's always fun packing up a hamper with locally sourced goodies in your self catering cottage kitchen and laying out a picnic spread Good Housekeeping would be proud of. But occasionally you require a more catered affair and there are places to eat in Bigbury on Sea. There is the hotel on Burgh Island or its little sister, The Pilchard Inn has a limited menu, but back on the mainland your immediate choice is the Venus Cafe. Conveniently located right next to the lower car park this small chain eatery is set up for families, surfers, groups and walkers all year round. I also like that they've bagged themselves a Gold GTBS award for their green business practices too. Otherwise, there is the Bay Cafe a little further back but it is only open peak season and has limited space.
If you're looking for somewhere to stop for a meal on the way to or from the beach, the Oyster Shack has a few accolades, near Aveton Gifford or The Pickwick Inn in St Ann's Chapel is a seemingly strange juxtaposition of Italian pizzas in a 16th Century village pub. If you have the dog with you, head out to Ringmore and Journey's End Inn, a freehouse dating from the 13th Century.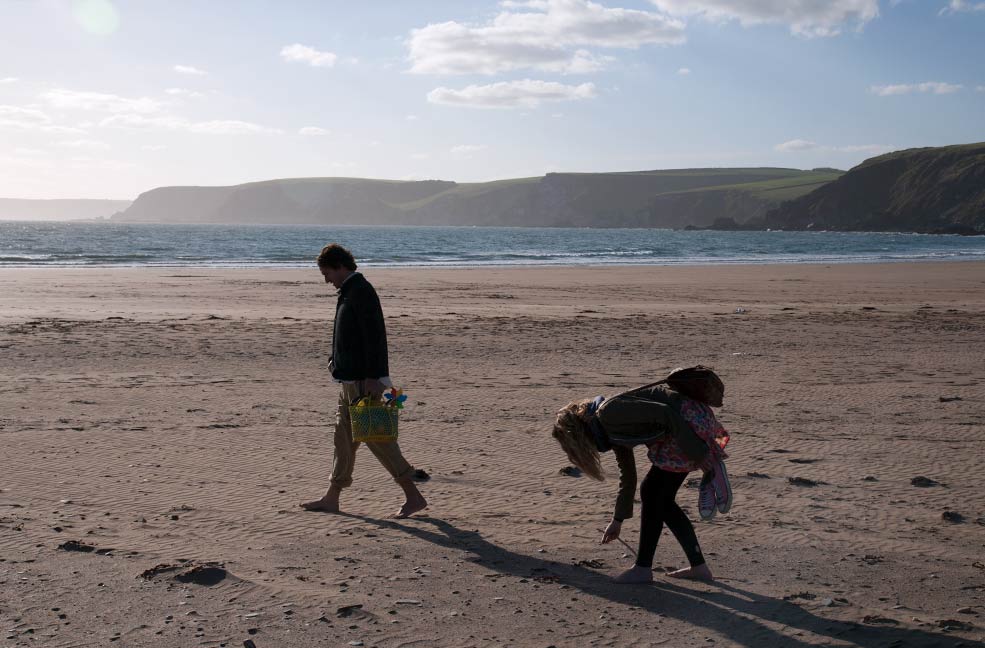 Shopping
If you're coming here, it's not for the shops. There are beach bits for sale at the café but the nearest local shops are either Challaborough or St Ann's Chapel (which even has a little Post Office if your day at the beach brings on the urge to send a postcard).
If you're staying here, there's plenty nearby with picturesque towns for pootling around and discovering tiny boutiques, local crafts and delis; Modbury is closest but don't overlook Kingsbridge, Salcombe, Dartmouth, Totnes – they're all destinations in their own right and easily accessible, with many a farmers' market to peruse at your own leisure.
Of course the Mecca of south Devon is the city of Plymouth. Other than Exeter, it's the shopping day trip destination of choice for serious shoppers across the South West, especially with the newer addition of Drake's Circus shopping mall – every teenage girl's dream. Only 20 miles from Bigbury, it's a great place to visit as a couple with the old town filled full of old architecture, brewery tours and nice places to eat. The concrete centre is softened by its proximity to the water and you don't have to walk far for views over Plymouth Sound from The Hoe.
Further afield
Whoever you've got with you, they'll be entertained in Plymouth with endless places to eat, shop and while away hours plus arts and entertainment around every corner – theatre, cinema, activity centres and even skiing – yes, Plymouth is home to a dry ski slope for winter fun activities whatever the weather.
But this section of the south coast is rich with attractions; the River Dart for a lush waterside day out or fun-filled water-based activities, Salcombe for sea kayaking, Dartmoor for land-based activities like horse riding, exploring Nature Reserves worthy of the AONB status, tiny village back lanes, lost lanes and that timeless quality that lifts the weight of the world off your shoulders.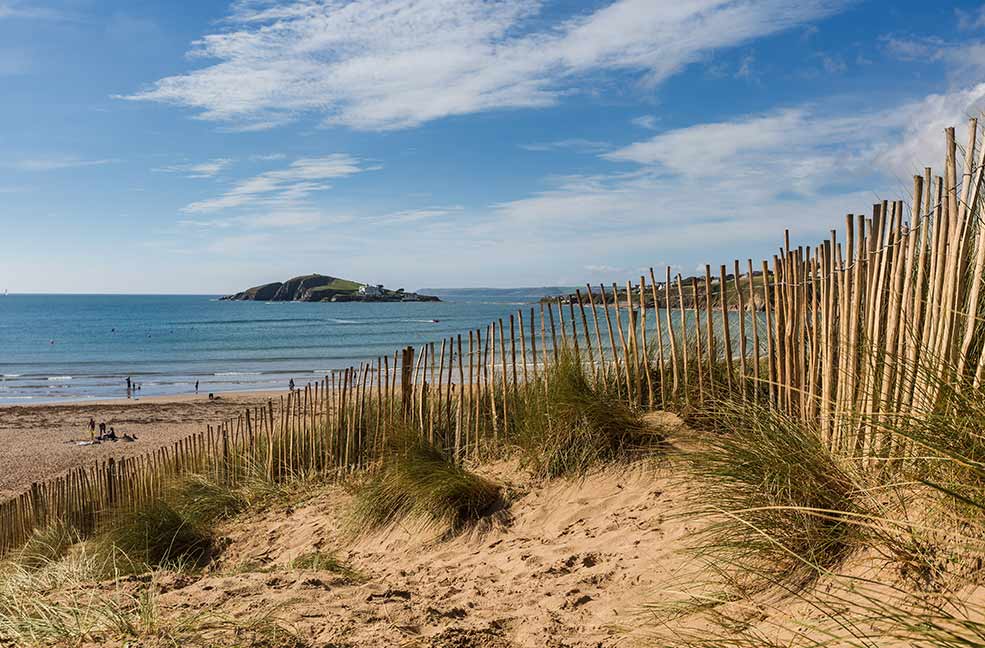 A holiday in Bigbury on Sea is best enjoyed over at least a long weekend, loved ones in tow and with a beautiful holiday cottage as a comfortable base.
Where to stay
There's plenty of properties to choose on our Bigbury on Sea cottages page but here are a few that you're sure to love:
- Tarquin(4282) sleeps eight in the heart of the village with sea views, a patio and a lush garden for relaxing in the sunshine
- Spring Tide (2599) has space for up to six and a breath-taking view of the sea from the living room balcony
- High Lea (4047) is cosy and comfortable with a wood-burner, patio and room for up to six guests
Like the sound of Bigbury? Start planning your Devon holiday now.