Spooky tales of ghost hunting in South Devon
Do you like to visit a place with a spooky story? Do you dare visit my list of most haunted Devon places with a ghostly connection? Don't just wait for Halloween at half term, Devon ghost hunts can be enjoyed year-round.
Berry Pomeroy Castle haunted!

It has been described as the most haunted ruin in England and this Norman castle has a long association with paranormal activity. Its most famous spectral visitor is The White Lady, but there have also been sightings of The Blue Lady and two galloping Pomeroy brothers who ride their horses over a part of the castle now known as Pomeroy's Leap. The White Lady herself is supposed to be the spirit of Margaret Pomeroy who was locked in the dungeons by her jealous sister where she slowly starved to death. The best time to see The White Lady is on moonlit nights when she is supposed to glide along the castle ramparts beckoning to passers-by.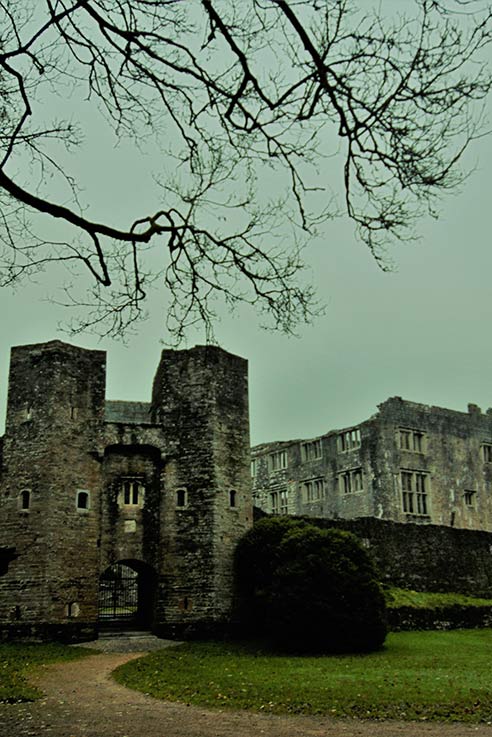 My family visited on a foggy evening and found the castle thrillingly spooky.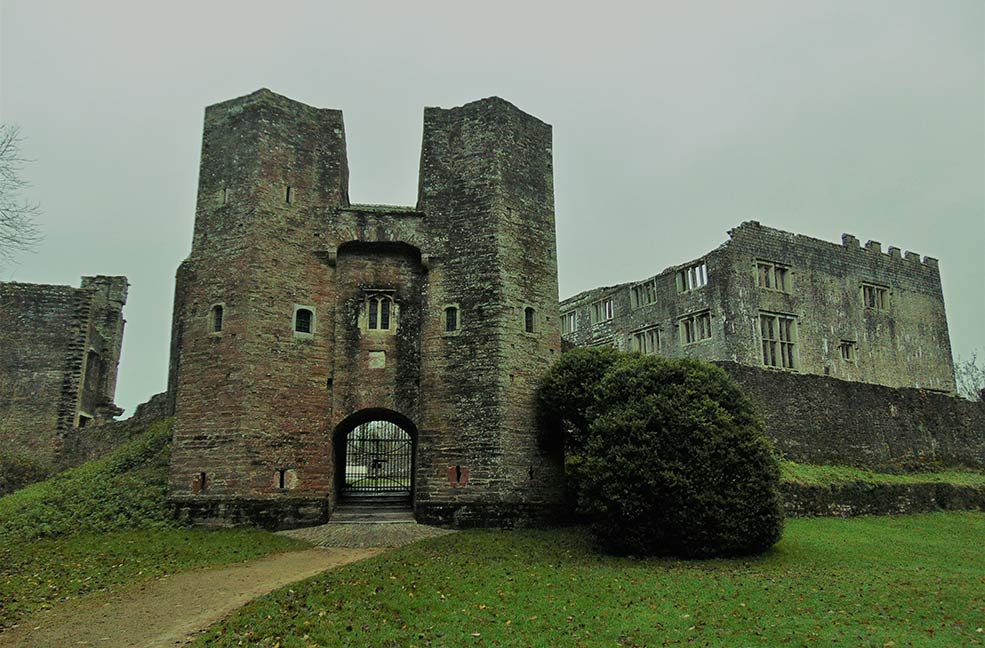 Stay not-too-close to the ghosts and ghouls with a holiday near Berry Pomeroy Castle.
Churston Court Inn Ghosts
The pretty village of Churston on The English Riviera, is home to a hotel which was recently voted as one of the most haunted hotels in southern England. Churston Court Inn has been connected with a group of ghostly huntsmen and a collection of spectral monks. Staff and guests alike have reported mysterious goings-on in this former manor house. It's worth a visit whether you are ghost-hunting or not, as it is near to the pretty little beach at Elberry Cove and is surrounded by woods and hills.
Stay a safe distance away with a holiday in Brixham.
Saltram House Ghost Hunting
Saltram House, near Plymouth, is a beautiful Georgian Mansion with extensive grounds. It is an attractive National Trust property and is one of my favourite places to visit. The tale goes that a kitchen maid was murdered at Saltram and her ghost can still be seen haunting the property. The ghost is reported to be a dark, hooded figure who glides along the corridor leading to the Dining Room before melting through a solid door and disappearing.
The haunted Royal Castle Hotel
The Royal Castle in Dartmouth is a magnificent hotel in the heart of the picturesque riverside town of Dartmouth. This 17th Century hotel sits next to the inner harbour, commanding great views out over the River Dart and Queen Victoria, Edward VII, Mary II and Sir Francis Drake have all stayed here. One of the hotel's most impressive features is the splendid winding staircase which is the setting for the hotel's very own aristocratic ghost story. The staircase is on the location of the original courtyard which is visited by a phantom carriage and horses. In 1688 William of Orange came to Britain from The Netherlands. His wife Mary, daughter of James II, waited for him in The Royal Castle. He was supposed to land at Dartmouth but a storm diverted him to Brixham. On Autumn nights when the church bells ring two, the carriage with horses is reportedly heard clattering over long-vanished cobblestones.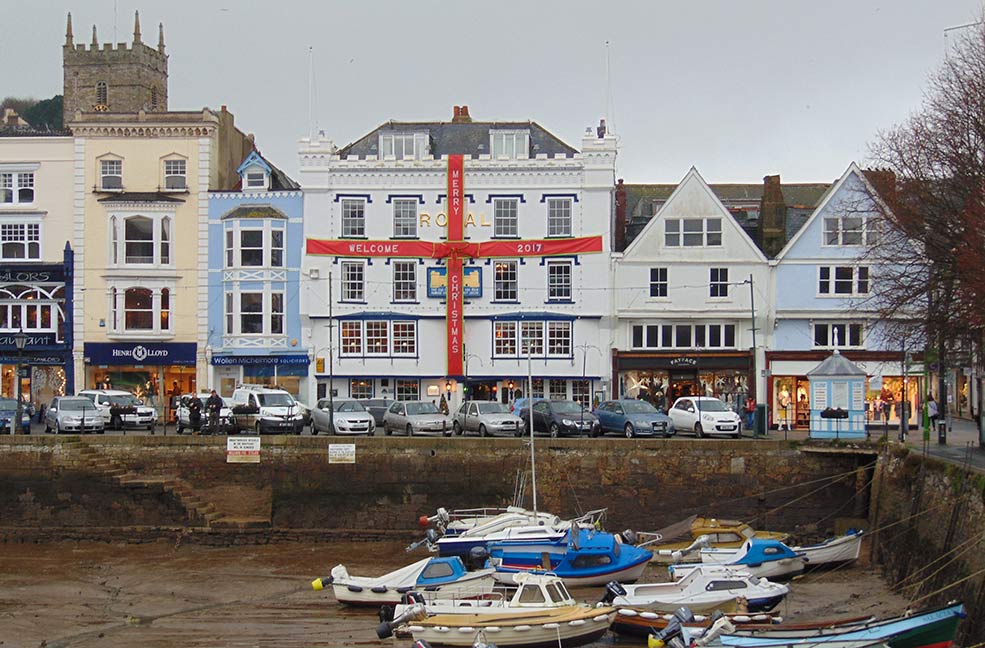 Dare to have a holiday in Dartmouth.
Torquay Museum
For people who want an organised ghost hunting experience, Torquay Museum is a good bet. The museum is home to Devon's only real mummy as well as many other strange and fascinating objects. Paranormal evenings here are always well attended. At recent events, people have taken photos which apparently feature ghostly apparitions, and phantom fingerprints were found inside the mummy's case which hadn't been opened in years. As recently as October, CCTV cameras caught footage of books and leaflets flying off shelves, hurled by a possible Poltergeist. Ghost hunters who sign up to one of these evenings can learn how experts try to communicate with the spirit world and then use these techniques themselves as they explore the museum's corridors after dark.
Tap into the supernatural with a holiday in Torquay.
Dartmoor Legends
Dartmoor can be a wild and remote place so it's little wonder that it has more than its fair share of ghostly tales. One of my favourites is 'The Story of the Hairy Hands'. In the 1920's a prison officer from Dartmoor Prison was riding his motorbike along the lonely and desolate road between Princetown and Two Bridges. As he crossed the small bridge on the B3212 he suddenly swerved off the road and died. Many people have since reported hairy hands grabbing hold of their steering wheel to try and swerve their cars off the road at this very same spot.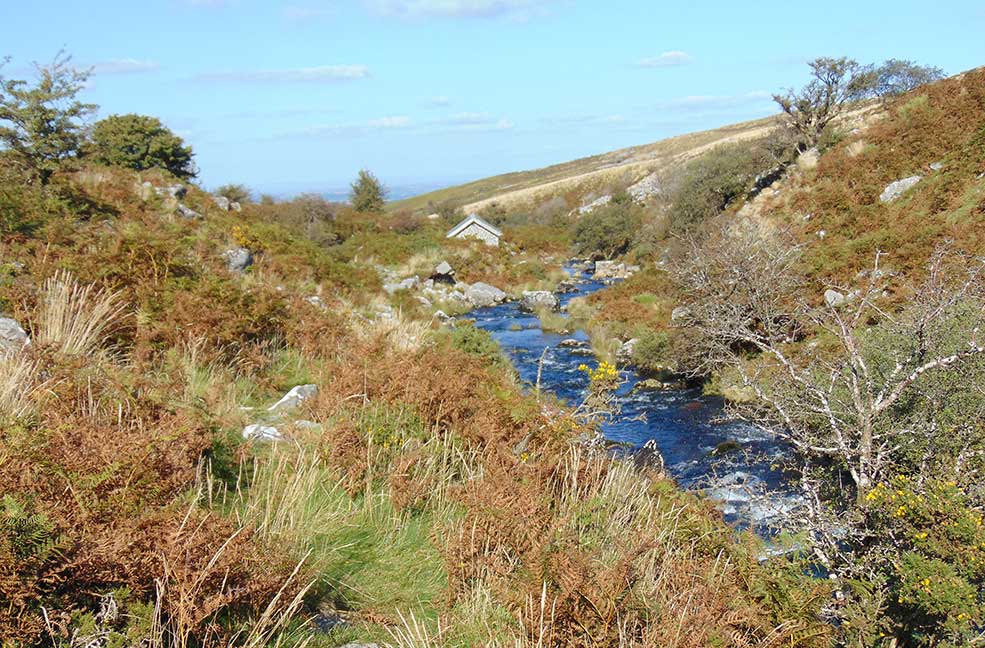 Another favourite legend is that of 'Childe's Tomb'. This is a granite cross on the moors near Fox Tor. Childe himself was the Lord of the Manor of Plymstock. One night he got lost on the moors when a blizzard fell. Childe eventually froze to death but not before writing on a nearby granite stone in blood. He said that whoever buried him could inherit his castle. The monks of nearby Tavistock Abbey later buried his body and claimed the land. Another is 'The Devil's Footprints'. In early February 1855 villagers on either side of The Exe Estuary woke to find that snow had fallen in the night. They were all perturbed by a strange sight. Four-inch long cloven hoof prints were pressed into the snow, leading down to the river edge. They continued on the other side of the river in a perfectly straight line. Most strange of all was that they were seen non-stop for several miles uninterrupted by buildings, fences or walls, as if the maker of the marks had simply slipped through solid walls and continued on their way.
You'll be well placed for paranormal activities wherever you stay on Dartmoor.