The Isle of Wight's seaside towns and charming villages are generously stocked with places to eat and drink. In all, there are about 400 eateries competing for your attention on an Island which is only 26 by 13 miles. Expect buzzing seafront restaurants, outstanding gastro pubs and quirky cafés scattered along the coastal path - not to mention a whole host of superb vegan pubs, restaurants and cafés.
Seafood is a big deal here but there are other local flavours that will get your juices flowing. Garlic makes its way onto many menus with the wild variety growing in many villages. There's even a Garlic Festival each year, organised by the Garlic Farm. Sip on a pint of garlic beer or lick a garlic ice cream (no, really!). Isle of Wight grown tomatoes are particularly sweet thanks to the Island's reputation for sunshine.
For a cheeky tipple, order a Mermaid Gin, which uses local ingredients including rock samphire. The distillery near Ryde is open for tours. Fans of a good bottle of wine will also enjoy a tour of Adgestone Vineyard or Rosemary Vineyard which both make the most of the Island's climate.
Booking ahead is essential for many of the most talked about restaurants – some are booked weeks in advance. For a spontaneous meal out, head for the bigger coastal towns of Ryde, Shanklin and Cowes where you can drop in for a last minute meal. And make sure you save room for a pudding - the locally made ice cream is legendary!
Without further ado, here are some of our favourite places to eat on the island.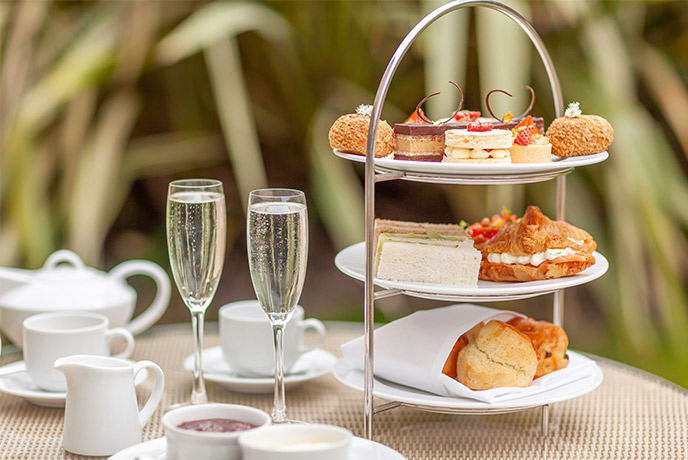 The Royal knows how to do things properly, with hospitality standards which compete with London's finest. That may explain why Queen Victoria popped in for an afternoon tea while living at Osborne House.
The hotel remains one of the finest and most prestigious places to eat on the Island. The restaurant is open to non-residents for silver service fine dining or an indulgent afternoon tea of delicate finger-shaped sandwiches and finger-licking pastries. We highly recommend paying a few pounds extra for the champagne option!
Walk off your afternoon tea by heading down the hill towards Ventnor's seafront. Turn right by La Falaise car park to find one of the prettiest stretches of the Isle of Wight's coastal path. (Read our guide to discover more of the best walks on the island.) Keep going for a mile or so and you'll end up at Steephill Cove, with its thatched cottages and car-free seafront. Pull up a deckchair and enjoy the sunshine in one of England's sunniest spots. Or, if you prefer a more floral route, visit one of the nearby gardens on the Isle of Wight - they really are a treat for the senses!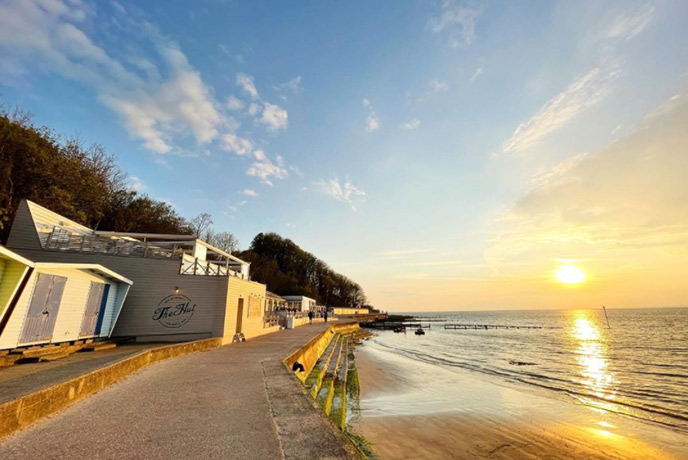 You'll need to book early if you're hoping to visit The Hut this summer. It's become the go-to restaurant for yachties sailing across from Lymington in the New Forest thanks to its insta-worthy meals and lively vibes.
In recent years, celebrity diners spotted at the Hut have included Michael Buble and Katie Price, while Chris Evans hosted his radio show live from the Hut which added to the attention. We managed to squeeze in a brunch booking last summer, but there was a long waiting list for lunch and dinner reservations.
Diners who arrive from the water are shuttled to and from the restaurant by boat, whilst visitors on foot should make time for a wander round the corner to Totland Bay. The sunsets are as good as they get, with Hurst Castle reflected in the water.
On warmer days, the Hut's roof is removed to offer al-fresco dining. With the water only a stone's throw from your seat, you'd be rude not to pick seafood from the menu. Adventurous diners should go for the octopus starter or lobster main, while the more conservative options include cod and sole. Vegans and vegetarians are well catered for, with a separate menu and several options including a poke bowl and tacos.
For a memorable dining experience, book the private dining terrace which seats 26. Cameras at the ready for a group photo with an amazing backdrop!
Head Chef Robert Thompson made headlines at the age of 23 when he led The Hambrough in Ventnor to its first Michelin star. He later set up his own restaurant – Thompsons – in the heart of the Island's county town.
Thompsons is now the go-to destination for foodies on the Isle of Wight thanks to a flurry of five star reviews and constantly changing taster menus. Believe us, you'll leave feeling like you've just been a judge on Masterchef!
The menu is small, grown-up and creative, with each course coming with a choice of just two dishes. A typical taster menu at Thompsons includes seven courses with plenty of seafood, melt-in-the-mouth homemade bread and local produce. Vegetarians have a choice of at least one option with each course.
Needless to say, Thompsons is one of the more expensive restaurants on the Isle of Wight. But why not treat yourself, you're on holiday!
Families head for The Cow for a burger after a morning exhausting themselves on the bouncy pillow and zip wires of Tapnell Farm Park. The swiss-style barn is surrounded by funky painted cows that the kids will love a picture with, and cracking views of the West Wight coastline. Book an upstairs table for a view of the 1970 Isle of Wight Festival site where 600,000 people rocked out to Jimi Hendrix.
The vibe at The Cow is relaxed with four-legged-friends welcome to join the party. The menu is an unfussy mix of burgers, classic dishes and a couple of salads, but the food is nicely done and the portions are generous. Younger visitors can choose something from the 'Calves Menu' and finish off with a locally made ice cream.
If you like a bit of spice in your life, order up a Matador burger with jalapenos and chorizo. Vegetarians can get in on the act with a 'Where's The Beef' burger, which we can tell you is as close to the real thing as you can get. Whichever burger you choose, get the dirty fries to go with it for a tasty combination of rosemary, smoked cheese and jalapenos.
Don't worry about indulging - there's an aqua park next door so you can spend the afternoon squeezing into a wetsuit and burning off the outstanding burgers.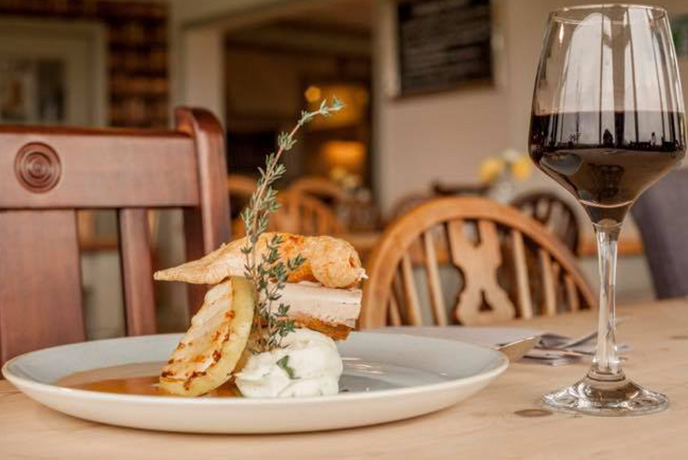 This centuries old pub was named as the Island's best in 2021 – and it certainly gets a thumbs up from us.
The menu at the Blacksmiths has been upgraded in recent years, without losing its reputation as a relaxed and friendly local pub. We love the pork belly and the beetroot and chickpea burger whilst a lot of diners go for the chef's signature Newchurch Pie. Sunday roasts at the Blacksmiths are also highly rated. And from the dessert menu, you won't go wrong with the strawberry pavlova with Chantilly cream or the crème brulee.
Ask for a table by a window at the Blacksmiths and you'll enjoy views across farmland which lead to the Solent. There's also a small playground in the garden which will keep younger visitors entertained whilst the grown-ups try the local ales.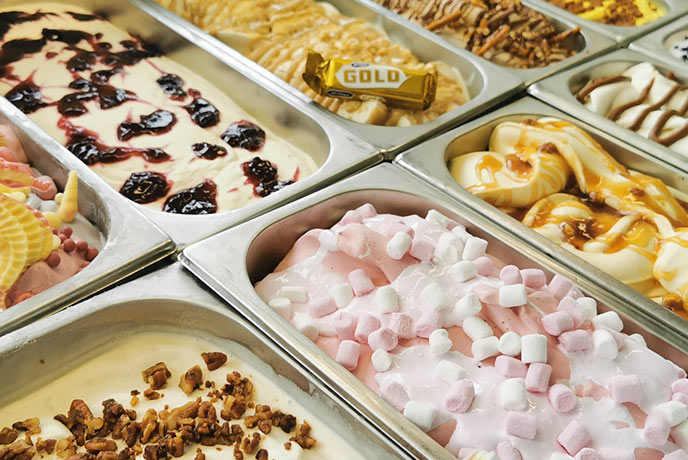 There are several ice cream parlours fighting it out for the top spot on the Isle of Wight. However, we think Crave in Ventnor has a good shout at being the Island's best, and many agree scoring it a sturdy 5/5.
All the ice creams are homemade and the menu is ever changing, featuring upwards of 25 flavours to choose from, including vegan options, as well as thickshakes and hot and crispy churros.
Classics such as vanilla and strawberry are on the menu, but you'll be drawn to the guest ice creams such as After Eight Mints, Jammie Dodgers, pain au chocolat, Bakewell Tart and red velvet cake dough. There are plenty of unique flavours for the adults too – Amaretto Disaronno or Ginger and Dark Chocolate both appear from time to time.
Trust us, you won't be disappointed!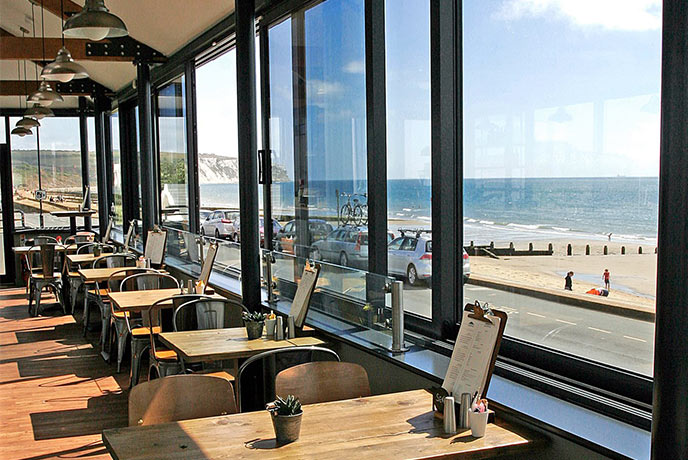 The Isle of Wight's south east coastline is home to the classic seaside honeypots of Sandown and Shanklin. You'll find sandcastles by the bucket-load, deckchairs for hire and a high demand for scoops of rum and raisin. It's also home to several bars and restaurants which provide a welcome stopping point for coastal path walkers and day trippers.
The Bandstand in Sandown is one of the best, thanks to its quirky history and prime location. It was rescued from ruins in 2014 and is now a lovely spot for dinner with a view of the beach below. The lunchtime menu is wraps and sandwiches whilst the evening menu has plenty of classics including burgers, steaks and fish dishes.
You'll find it at the far end of the town's esplanade, near to Yaverland beach. Arrive early for a walk beneath the cliffs of Yaverland which are famous for discoveries of dinosaur bones and priceless fossils.
Discover more of the Isle of Wight's popular beaches here.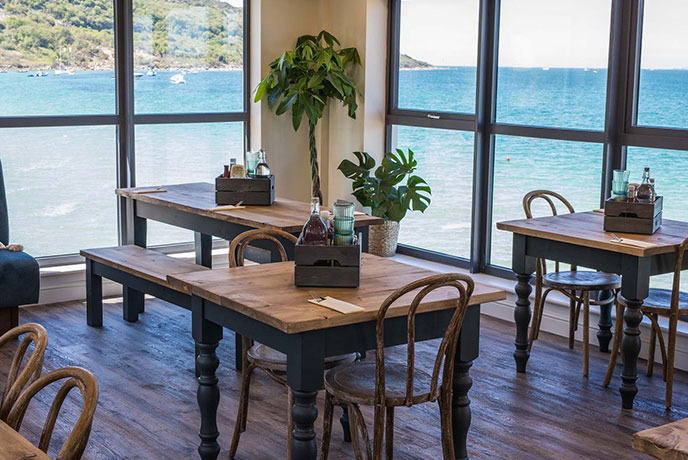 The arrival of the Bay Cafe gave new life to Totland's Victorian pier, which was at risk of crumbling into the sea a few years ago. You can now dine out on a summer's evening on the restored boards whilst the sun sets over the New Forest.
The food at the Bay Cafe mixes your straightforward classic dishes with quirky sides such as crab thermidor fries and mussel popcorn. It's also an excellent choice for breakfasts, with muffins, granola and eggs benedict. Make mine a bacon buttie with red sauce!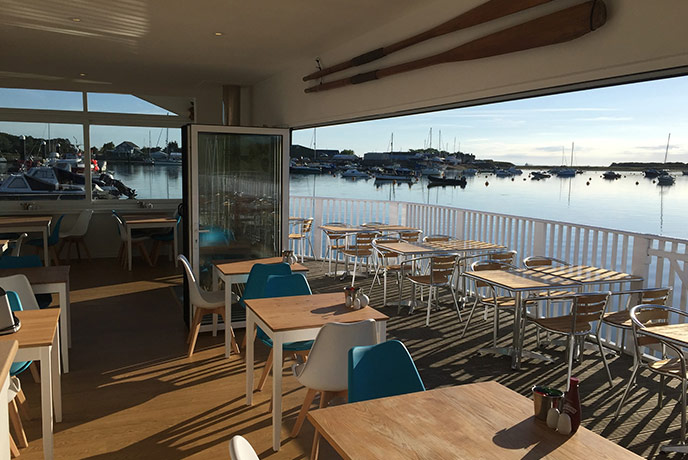 You won't get much closer to seaside dining than The Best Dressed Crab in Bembridge. This floating seafood restaurant sits in Bembridge's pretty harbour, which is surrounded by houseboats – some of which operate as B&Bs. On a warm day, sit out on the terrace and listen to the sounds of the harbour.
The seafood is caught in the waters nearby and delivered straight to the restaurant. Now, that's what we call fresh! Lobster is served whole or in halves alongside crab, prawns, mussels and clams.
After your meal, head off on one of the many picturesque coastal walks around Bembridge and the east wight. Nearby, St Helen's beach is a popular spot for watersports, with shallow water and the option to wobble on a paddleboard or splash around in a kayak. Explorers should make their way round to Priory Bay which is tricky to access but offers tree-lined golden sands and views across the Solent.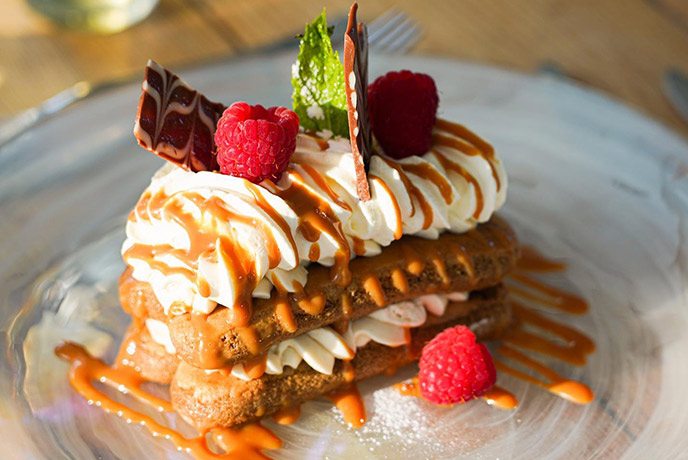 You'd be quackers to miss out on a trip to The Duck which sits alongside the playgrounds, boating lake and seafront at Appley.
It's a classy restaurant but children are made to feel welcome and are given their own menu. For grown-ups, there are stylishly prepared favourites including local steak and burgers as well as confit duck leg and vegan salads. The puddings are particularly good, including an irresistibly tasty banoffee sticky toffee and hazelnut profiteroles.
After you've eaten, go for a stroll along the Esplanade in Ryde or along the town's famous pier which is the oldest in the country. If you're feeling really energetic, hire a swan shaped pedalo on the boating lake and set sail!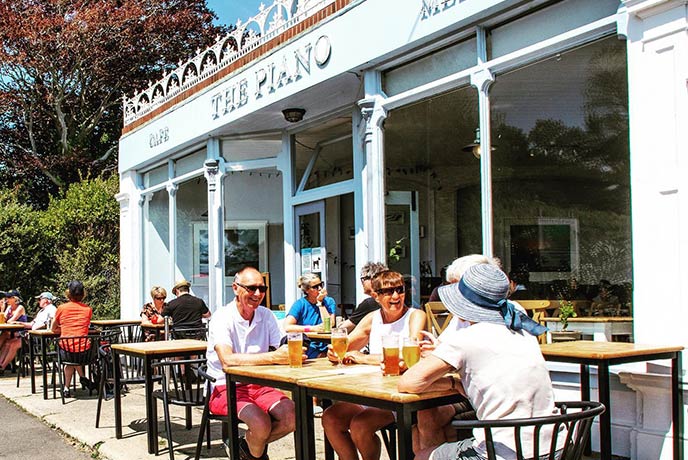 This cool café is a stopping point for cyclists and walkers who are exploring the hills and cliffs of the West Wight, especially those who have enjoyed the stretch between Freshwater Bay and The Needles. This part of the Island is much quieter and less developed than Sandown, Shanklin and Ryde so it's a great spot for a welly walk or an energetic climb to the Tennyson Monument
The café was once home to Queen Victoria's piano tuner and has kept up the musical tradition, with pianists regularly tinkling the ivories. You'll soon be tapping your foot along and enjoying the slower pace of the West Wight.
For lunch, there are burgers, salads, wraps and toasties. The evening menu offers a small but tasty mix of meaty dishes and vegetarian alternatives. The local beach is Freshwater Bay, which is perfect for wave watching on a windy day.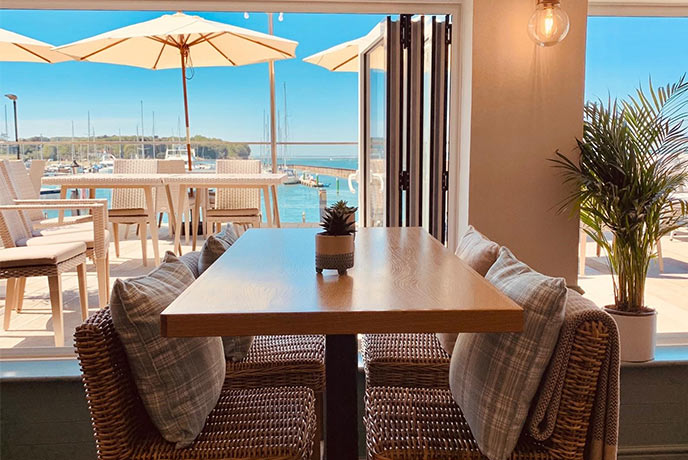 Oh, we do like to eat beside the seaside! Especially when there's a harbour and lots of dinky boats to watch. With two outdoor terraces (complete with enclosed shelters should the weather turn), The Terrace in Yarmouth is the last word in alfresco dining, earning the restaurant a Michelin recommendation!
As you're sat pondering the views across the harbour and out towards Yarmouth Castle, you can work your way through the delightful menu, which makes the most of the Isle of Wight's famous produce from fish to farming to cheese that's made minutes from the door.
While the crab and lobster are certainly worth shouting from the rooftops, the drinks menu has a fantastically accessible mantra, featuring a tipple for every occasion and even a rolling 'Chairman's Cellar' collection that ensures your wine fancies are always catered for. Whether you're bringing the pooch for a drink with a view on the terrace or your favourite human for a tremendous meal inside, The Terrace has always got you covered.
And when you're not dining out, you can stock up your self catering cottage with local produce from one of the Isle of Wight's local farm shops.