With a bountiful natural larder that includes delicious wild garlic (there's even a Garlic Festival), vegan visitors will find no shortage of plant-based dining during your Isle of Wight holiday. This coastal paradise has a reputation for a slower, old-fashioned way of life, but it is bang up to date when it comes to eating out.
For vegan families or couples, there are exclusively plant-based cafés and restaurants serving up delicious salads and pasta dishes as well as meat-free fast food. You can dine out on 'tricken' in Newport or indulge in guilt-free pizzas, burgers and hot dogs in Ryde.
If you're trying to satisfy a range of diets, there are pubs, restaurants and cafés that offer hybrid menus. Whether you're a meat eater, vegetarian or vegan, you can enjoy a Sunday roast at a cosy village pub or a hearty breakfast at a seaside café.
Feeling hungry? Here's our list of the best vegan pubs, restaurants and cafés on the Isle of Wight…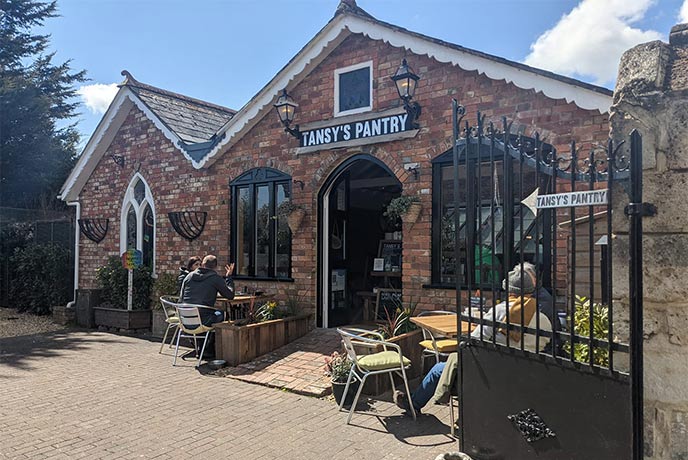 Picture-perfect Godshill is known for its thatched cottages, quaint model village and traditional cream teas. Tansy's Pantry offers something more modern, with a plant-based menu and trendy decor.
The Pantry is described as a café, but it also opens for evening meals on most days. As with many of the best restaurants, the aim is to offer a small menu of high quality food rather than relying on an excess of choice.
Restyled favourites include fish and chips, which is made with banana blossom that's deep fried in a Japanese style batter, or for brunch, you can switch the usual smoked salmon on scrambled eggs for smoked carrot with a tofu scramble.
Local produce is high on the agenda with Isle of Wight tomatoes and mushrooms on the food menu and Goddard's beer on the drinks menu. The coffee is roasted locally too for a delicious - and oh-so aromatic - bonus.
While in Godshill, take a wander up Church Hill to see one of the Island's most photographed spots.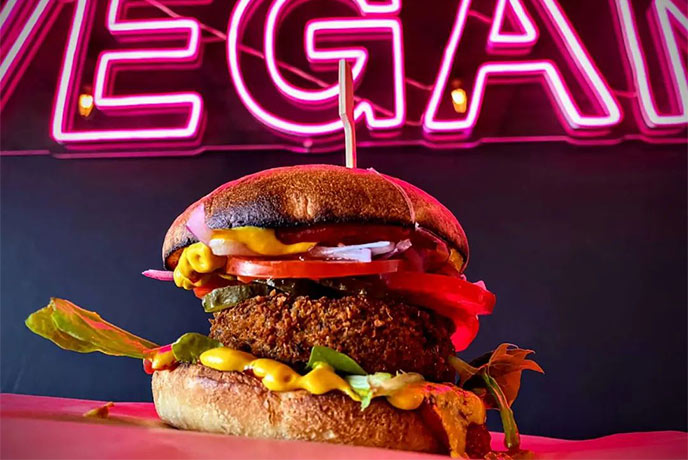 This craft beer and 'vegan junk food' venue started life as a festival street food stall before setting up shop in the East Wight.
The sourdough pizza is made with homemade vegan cheese while the fries are served 'dirty' with BBQ sauce, sweet chilli and full-on flavours. They'll even serve you a vegan doner kebab if you're craving a night-time takeaway hit.
If you like a bit of spice, try the Bun Burner Burger (say that three times faster), which combines Piri Piri, hot sauce and jalapenos for an unforgettable experience!
You'll find Craft Vegan at the Esplanade end of Ryde Pier (check out our Ryde webcam for a sneak peek) so while there is some space to dine in, you can get your pizza to go and enjoy it overlooking the sands of Appley, one of the best beaches on the Isle of Wight - perfect!
The location is ideal for catching the Hovercraft from Southsea or the Wightlink foot passenger ferry to Portsmouth Harbour - it's perfect for a quick meal after a long journey to the Island.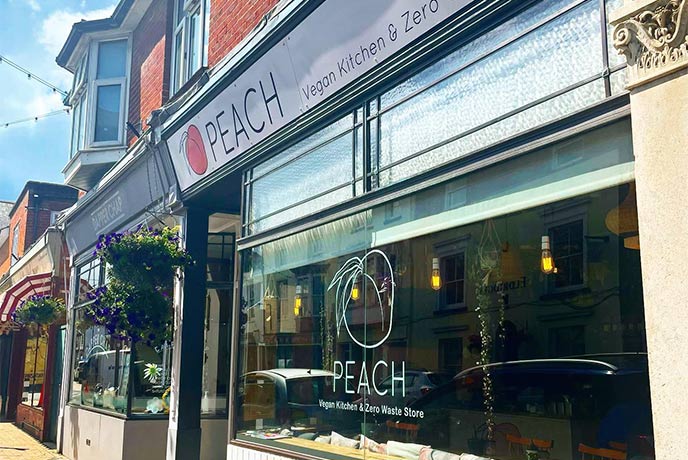 Peach in Newport delivers a double bill as both a vegan café and a zero waste store. On the kitchen side of things, you can choose from good-sized lunch and breakfast menus that really kick the nosh up a notch.
For lunch, there are salads as well as fast food options including 'tricken' burgers, Beyond Meat burgers and Moving Mountains hot dogs. Load them up with onions, gherkins and lettuce or try a less conventional maple syrup and 'This Isn't Bacon' filling.
Breakfast highlights at Peach include banana and buckwheat pancakes, smoothies and pastries for a lighter bite. The full vegan breakfast satisfies the bigger appetite with the usual mushroom, beans and tomatoes alongside scrambled tofu, coconut bae-con and veggie sausages.
Peach is also the perfect place to pick up zero waste products for your holiday on the Isle of Wight. They've got everything from eco-friendly shower gel blocks, to toothbrushes and toilet roll!
While in Newport, visit the shops around St Thomas' Square and The Minster, pop into the Museum of Island History or head to Carisbrooke Priory (one of the many fascinating historic buildings on the Island) for some more retail therapy and things to do.
The Bay Vegan Deli and Coffee House, Sandown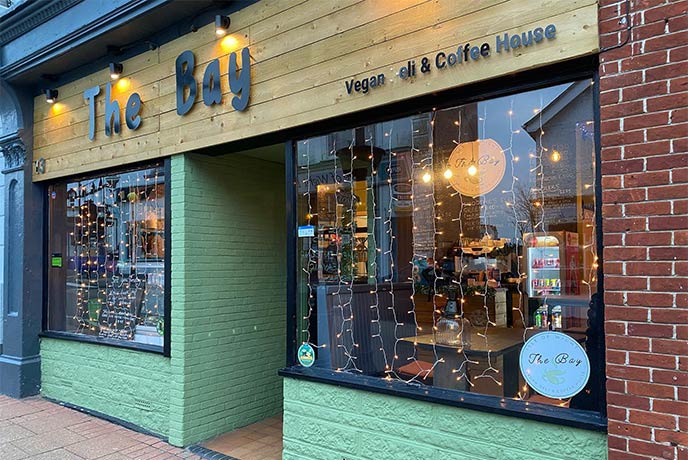 Sun soaked Sandown is home to The Bay Vegan Deli and Coffee House, which has dine-in and takeaway options so you can truly make the most of the beautiful coastal location, whether you fancy your food on the beach or the pier.
Try the café's signature salad platter, which includes olives, focaccia, hummus, coleslaw and sun dried tomatoes, or, for a quick bite, go for one of the Bay's loaded croissants made with 'duckless duck' or a 'steakless steak' pasty - delicious! On the takeaway menu, you can expect to find hot dogs, chilli nachos and dirty fries.
Most visitors come for lunch but there are also theme nights for more adventurous vegan diners, covering Spanish, Thai and Indian cuisine. A recent Asian themed night included 'prawnless crackers' as well as 'no fish cakes' and veggie curry. Find out more about what's on at The Bay on their social media.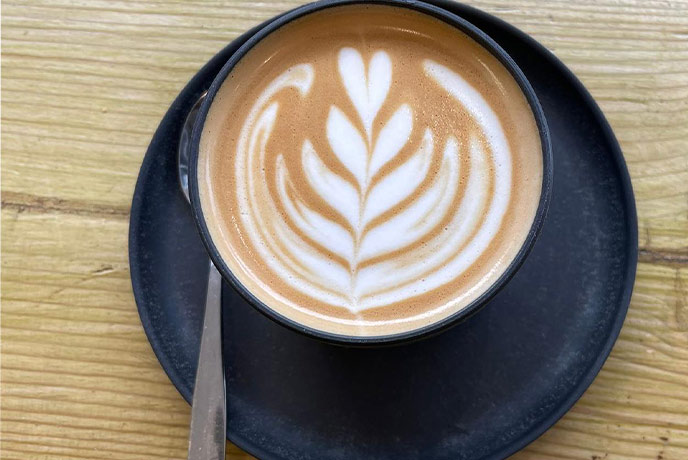 This friendly café in the West Wight is owned by vegans and does a terrific job of catering for plant-based as well as meat and dairy diets.
There are vegan and veggie brunches made with local ingredients and toasted artisan ciabatta and for lunch you can dine on meat-free burgers or a vegan deli board packed with hummus, guacamole, nuts and homemade pitta chips. If you're visiting with a meat eater, they can tuck into a pork sausage roll or cheese and ham croissant while you enjoy the vegan alternatives.
Afternoon tea visitors can dive into homemade scones with or without dairy and the drinks menu offers a range of barista coffees, all of which are available with local cows' milk or soya, oat or coconut.
And to finish – head for the cake corner where you'll find irresistible vegan and dairy-free options.
After you've dined, enjoy a walk down to the crashing waves of Freshwater Bay, to the beautiful house and gardens at Farringford or walk along the coast to The Needles, one of the Island's most impressive landmarks and historic forts. You can have a preview of Freshwater Bay via our webcam, which is sited at the local lifeboat station.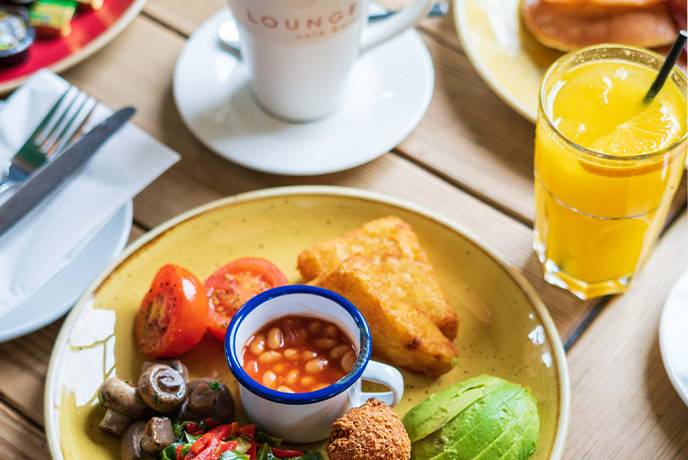 Newport's Correo Lounge arrived in the Island's county town in 2022. It's a casual dining sort of place with quirky décor in a former post office.
The menu is deliciously large and there are plenty of vegan dishes to choose from. It's a good choice for a group, with something to suit most dietary requirements and allergies.
For a light bite, try the falafel and avocado ciabatta with pickled slaw served with sweet potato fries, or for an evening meal, vegans have a good choice including a Mexican Superbowl, which is crammed full of beans, guacamole, spicy rice and chipotle salsa. There are also vegan curries with roasted sweet potato for those who enjoy a bit of spice.
Tapas is another popular option, with diners able to build their own meal from garlic and chilli flatbread, patatas bravas, hummus, a falafel and supergrain bowl, and an edamame guacamole.
For pudding, check out the cakes, which include vegan carrot cake, fruity flapjack and a vegan chocolate and raspberry torte.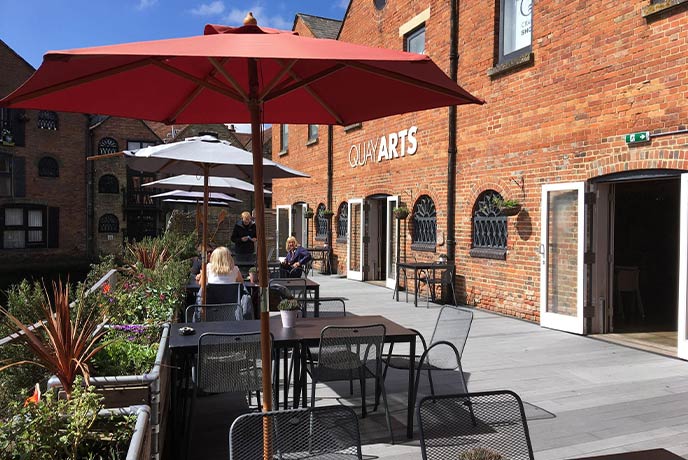 Newport's Quay Arts is a melting pot for artists and creatives on the riverbanks of the Medina. The café bar is a relaxed location for breakfast or lunch with clean-cut décor. On a summer's day, the best seats are under a parasol on the terrace overlooking the river.
The menu is carefully curated to suit the meat eater, vegetarian or vegan diner and covers breakfast and lunchtime.
Quay Arts vegan breakfast combines scrambled tofu and avocado along with other classic ingredients. Smaller appetites can stick with avocado on toast or vegan sausage sarnies and coffees are offered with soya, oat, almond and coconut milk.
For lunch, try the pulled BBQ jackfruit burger for a treat or a nectarine and avocado salsa salad or one of the vegan paninis and sandwiches.
There's a good plant-based selection on the kids' lunch menu too, including vegan sausages, tomato pasta and veggie sticks with hummus.
During your visit to the Quay Arts, take a bit of time to visit the galleries or the crafty shop, which is packed full of unusual souvenirs. The charity that runs the venue also puts on regular music evenings and hosts events as part of the Isle of Wight's annual jazz festival.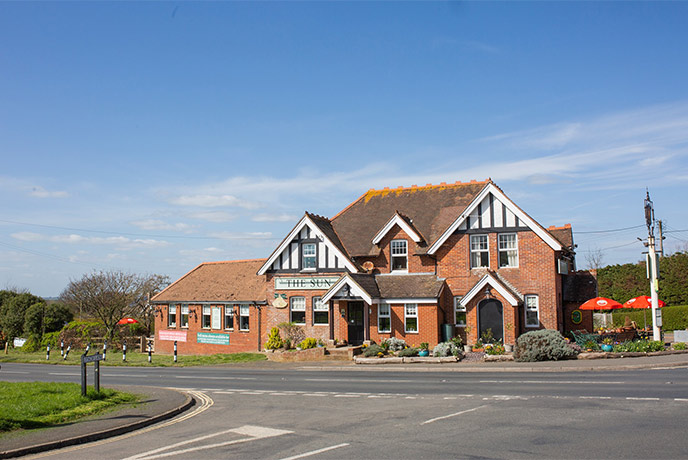 If you're after a traditional country pub with a vegan menu, try The Sun Inn at Calbourne. It sits on a crossroads between Newport and Freshwater Bay and has a cosy Sunday lunch feeling - perfect for a refuel after a stunning Island walk.
Order up a pint of local ale from Goddards Brewery to start the festivities off as you browse the vegan and vegetarian menus. Plant-based pub classics include a nut roast or a no-meat roast with potatoes, vegan Yorkshire puddings and fresh vegetables. Other plant-based dishes include the vegan vegetable korma and vegetable chilli. The fish and chips is made with battered banana blossom and nori seaweed.
The Sun Inn even has a menu for dogs so you can reward your walking buddy with a drool-worthy light bite!
While in Calbourne, take a stroll down to Winkle Street. The row of thatched cottages with a trickling stream is a favourite with photographers.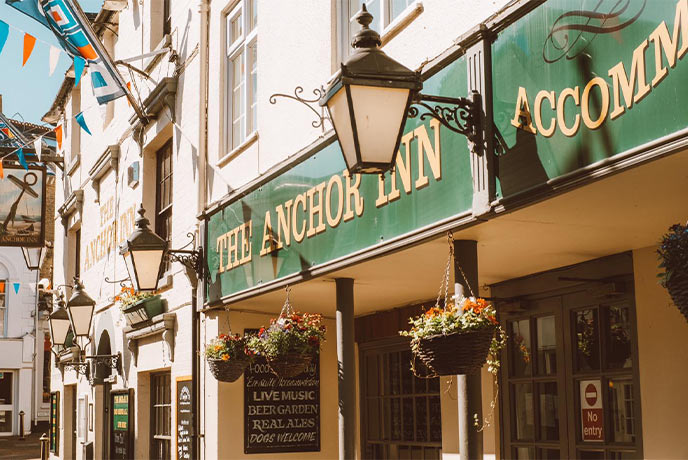 Yachty Cowes is the place to be for a bit of action on the water in the summer months. Even if you like to stay on dry land, there is still a good atmosphere during Cowes Week with pubs that overflow onto the streets.
The Anchor is an 18th century pub with live music, a town centre atmosphere and a good vegan selection alongside its menu for non-vegans. The spicy fajitas can be tweaked for the vegan visitor so you can dine on a platter of vegetables including peppers, onions, mushrooms as well as salsa and salad. Curry lovers should choose the homemade vegan balti, which is made from sweet potato, chickpea and spinach.
There's also a Mediterranean vegetable tagliatelle and the Anchor's signature salad, which is served with new potatoes and a sweet chilli dip.
For a pudding by the sea, there is no better choice than an ice cream! The vegan ice cream is locally made and is served as a sundae with strawberries and vegan cream.
After your delectable dinner, walk along the seafront that links the town with Gurnard. Here you can enjoy the sights of the Solent backed by the village's famous green beach huts. The path between Cowes and Gurnard is a popular one with pushchairs, with the promise of a playground at Gurnard seafront!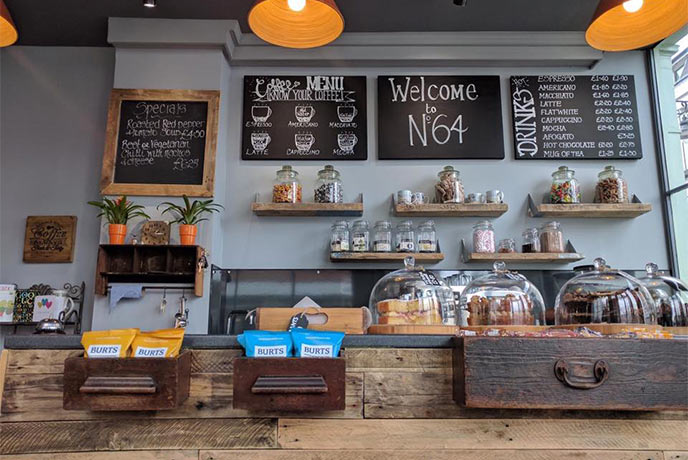 This unassuming corner café in Ryde is a local favourite for breakfast and lunch with tables brimming with conversation accompanied by the sound of the coffee machine - not to mention the smell of the freshly ground coffee!
No.64 gets consistently outstanding reviews and is a good one to combine with a bit of shopping on the steep streets of Ryde.
It's not exclusively vegan, but plant-based eaters won't feel like they are an afterthought on the menu. For breakfast, go for the full English with vegan sausages, mushrooms, tomatoes, herb potatoes, beans and toast. If that's too much, plump for a vegan breakfast bap or sandwich. For lunch, there's a vegan hash combining potatoes with mushrooms, spinach, slow roasted tomatoes and smashed avocado. Vegetarians have a couple more options including a halloumi, courgette and herb cakes.
The sweet options vary, but you can expect to find a vegan brownie, vegan carrot cake or vegan chocolate cheesecake offering the perfect treat.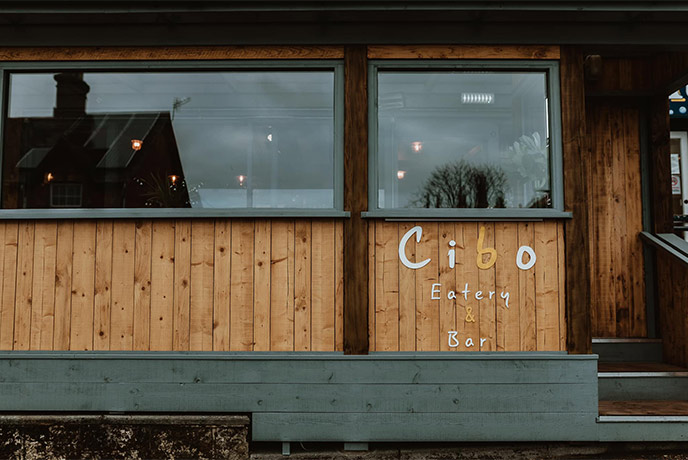 You'll find Mediterranean eatery Cibo on the main road that leads from Newport to Wightlink's ferry at Fishbourne. It's got a rustic chic vibe and is a good place to stop off if you've just arrived by car or need to fill a little time before boarding.
It's not exclusively vegan, but the choice includes tasty dishes on the antipasti, salad and pasta menus. To start, tuck into a bread basket of sourdough, focaccia and ciabatta, curried hummus, bruschetta with avocado cashew pesto or stuffed mushrooms with a smoky walnut miso paste.
The antipasti will satisfy with its mix of roasted cauliflower, tomato salad and rocket while the half pineapple salad comes with avocado, herbs, local tomatoes and a fruity dressing.
For a main meal, try the vegan lentil and walnut stuffed portobello mushrooms with new potatoes or a penne arrabiata. Alternatively, there's a harissa roasted cauliflower risotto or a vegan ragu spaghetti with walnuts, lentils and mushrooms.
If you fancy exploring the local area, you'll find some of the Island's most secluded beaches around this part of the coast including Woodside Beach.
Explore more mouth-watering places to eat on the Isle of Wight to continue your foodie tour, or check out our beautiful cottages, which provide the perfect base to your hunger-quelling adventures.
Please note, all dishes mentioned are subject to changing menus.