Walkers who set sail for the Isle of Wight are rewarded with jaw-dropping clifftop views, sumptuous seafood and a history of royalty and roaring dinosaurs. The full coastal path is an epic 67 miles, but there are plenty of longer walks for cardio workouts or family-friendly ambles which your mini explorers will love.
You will occasionally find coastal path closures due to cliff falls, so pop along to the Isle of Wight Council website before you tie up your laces – just in case!
Between Three Bays, West Wight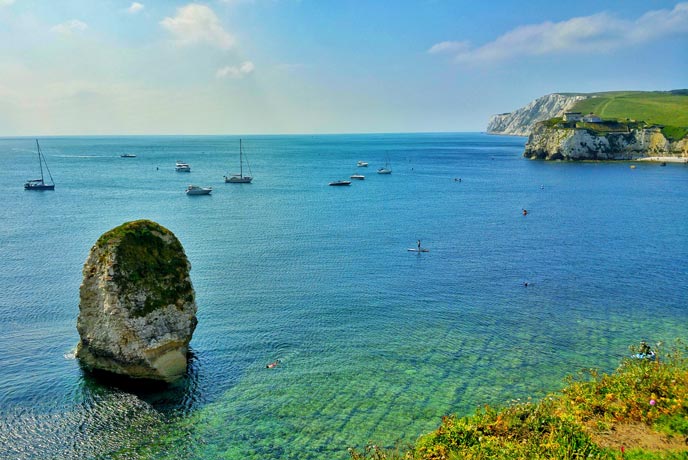 - Best for: Enthusiastic off-road ramblers
- Distance: 10 miles
- Time: 5-6 hours
- Difficulty rating: Challenging
- Starts/ends: Hanover Point (circular)
- Parking: Hanover Point Car Park (free for National Trust members)
- Landmarks: The Tennyson Monument, The Needles, Freshwater Bay, Alum Bay
This undulating walk is a great workout for the leg muscles whilst linking up three of the Isle of Wight's most photogenic bays.
Keen ramblers should park up at Hanover Point for the tougher 10 mile route. If that sounds a bit much, you can take a sneaky shortcut by parking at Freshwater Bay (detailed directions for the shorter walk can be found in our handy guide).
The longer route starts with a clifftop walk alongside the stunningly pretty Compton Bay. The Sunday Times reckons it is one of the best beaches in the world – and we certainly agree!
Always be cautious that this area of the coast is more prone to crumbling cliffs, so keep a safe distance from the edge. If the tide is out, we like to walk along the beach and perhaps even dip a toe in the water. Huff and puff your way up the steep steps which lead to Compton Farm on the Military Road. You'll have earned a breather when you get to the top!
As you continue west along the coastal path, sit and enjoy the panoramic views. Head down the hill towards Freshwater Bay with its caves and coves, one of the best beaches on the Isle of Wight. Give yourself an energy boost with a tub of mint choc chip from the lifeboat station shop (purchased to support their vital work, of course!).
Parts of Freshwater Bay are dog friendly all year round, so you can let your four legged companion stretch their legs once you've checked the signs.
If you've built up an appetite, there are a couple of friendly pit stops nearby.
The cafe at Dimbola offers light lunches and afternoon teas. Get a selfie with the Jimi Hendrix statue out front, which celebrates the massive Isle of Wight Festival of 1970.
Alternatively, you can get major meals and minor snacks at the Piano Cafe. It was owned by Queen Victoria's piano tuner during her time living at Osborne.
You'll be grateful for some sustenance for the next section of the walk which climbs from Freshwater Bay up to the Tennyson Monument. Don't worry, there are plenty of benches at the top for a sit down!
From here, follow the footpaths to The Needles and Alum Bay.
The Needles headland is our half way point. It is famous for its series of perilous rocks which are highlighted by the red-and-white lighthouse. Save your weary legs by taking the chairlift down to the beach and then catch a boat ride for a close-up view.
The walk continues at footpath number 17, returning east via Heddon Warren with its heather topped hills and Insta-worthy views of the Needles.
Follow your footprints back to Compton Bay for the final stretch of the walk. There's usually a van in the Compton Bay car park which will serve you a hot drink or a snack. You've earned it!
The Medina Estuary Trail, North Wight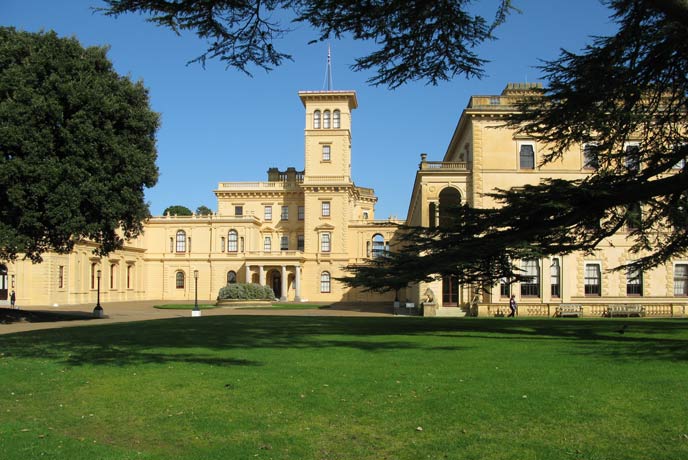 - Best for: Twitchers and nature lovers
- Distance: 9 miles
- Time: 4-5 hours
- Difficulty rating: Moderate
- Starts/ends: Newport (circular)
- Parking: Little London Car Park
- Landmarks: Cowes Esplanade, Osborne, Whippingham Church
The River Medina splits the north of the Isle of Wight into two, with the county town of Newport at its southern end and the two sides of Cowes at its northern end.
This circular walk covers both sides of the river and is a great one for wildlife watchers – don't forget the binoculars! It's flat and mostly off-road, so you won't need to worry too much about the kids running ahead.
Begin in Newport and make your way towards the cycle track which leads to the west side of Cowes. Keep your eyes peeled for red squirrels which live in the trees around here. These creatures are treated like royalty by locals and anyone bringing a grey squirrel onto the Island could face two years in prison!
You'll be ready for a proper break by now, so stop in Cowes where you can pop into one of the sailing clothes shops to see the current yachty trends. Make sure you save a few pennies for lunch at a boutique bakery or a classy cafe. For the proper seaside experience get yourself a cone of chips and head on down to the esplanade for a takeaway with a view.
Next, head for the quirky 'floating bridge' which crosses the Medina to connect Cowes to East Cowes.
The Eastern side of the River Medina is Queen Victoria's neck of the woods. You might not have time to see Osborne House on your walk, but it's worth coming back and spending a whole day exploring the gardens and private beach. Kids will love the royal children's Swiss Cottage – it's the ultimate garden playhouse!
Avoid the traffic by following Clarence Road, Victoria Grove and Beatrice Avenue which lead to Queen Victoria's church in Whippingham. Pop inside to try out Queen Victoria's pew.
From here, you'll find a series of footpaths which closely follow the river back to Newport. Take a quick detour for a photo with The Spice Bus from the Spiceworld Movie which now lives in Island Harbour. Zig a zig ah!
Back in Newport, you'll be ready for a trip to either Quay Arts or the Bargeman's Rest which both provide a riverside tipple or snack.
Carisbrooke Village and Castle, Central Wight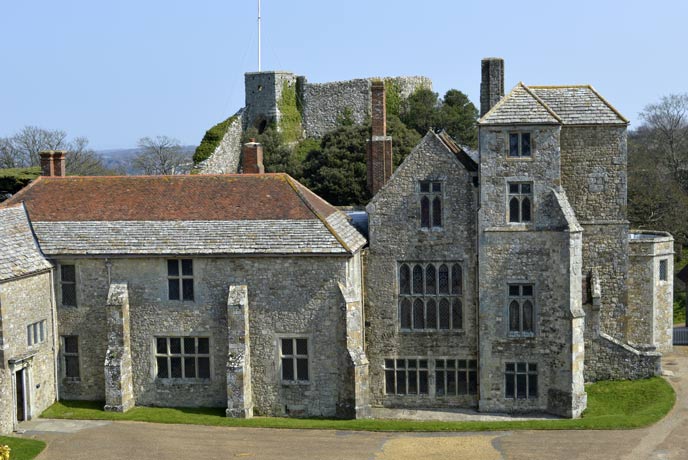 - Best for: Energetic kids and families
- Distance: 2 miles
- Time: 1 hour
- Difficulty rating: Easy
- Starts/ends: Carisbrooke High Street (circular)
- Parking: Carisbrooke High Street Car Park
- Landmarks: Carisbrooke Castle
Mums and dads with younger children should head to the historic village of Carisbrooke to burn off some energy. This simple stroll should take about an hour, although your little sword-fighters would also love exploring inside the Castle. Entry is free for English Heritage members.
Start in Carisbrooke High Street and walk up the hill towards Castle Street. The pretty ford at the end of the road is an excellent spot for a bit of welly walking, so pack a spare pair of socks!
After you've dried off, follow the tree-lined footpath on Castle Lane which is a photographer's dream on a sunny day. It's a bit of a steep climb, so take your time.
The wide footpath around the Castle is the highlight of the walk. The kids will love running up and down the steep slopes of the dry moat or attempting to throw a ball or frisbee across the gap. Grown-up walkers can follow on behind and enjoy the views of cattle grazing on the farms of Bowcombe.
If you decide to visit the Castle, make sure you sign up to see the donkeys pulling up a bucket of water from the deep well. Don't worry though, these donkeys only work a few minutes a day and they are well rewarded with treats and affection.
Nearby, Carisbrooke Priory has tea rooms if you fancy stopping for a coffee and a slice of something tasty. Alternatively, head back to Carisbrooke's Eight Bells for a drink or two whilst the children test out the playground.
Bonchurch to Steephill Cove, South Wight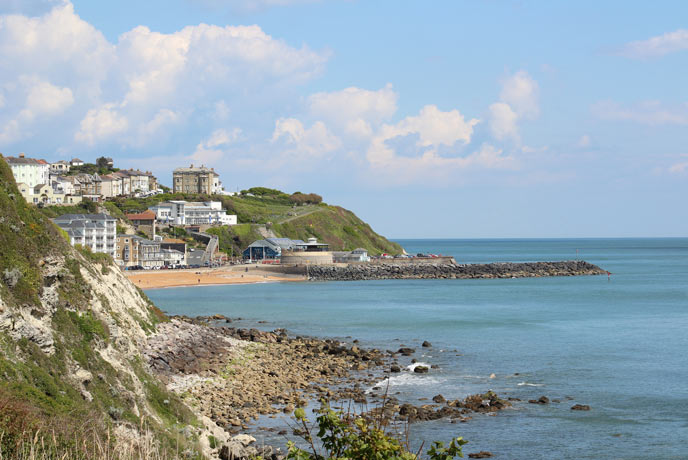 - Best for: Families who enjoy a walk
- Distance: 4 miles
- Time: 2 hours plus stops
- Difficulty rating: Moderate
- Starts/ends: Bonchurch (circular)
- Parking: Shore Road Car Park
- Landmarks: Ventnor Seafront, Steephill Cove
The South Wight has a special charm with its Mediterranean gardens, isolated rocky bays and twisting rural roads. This walk is a greatest hits tour which shows off the best bits of the coast including Bonchurch, Steephill Cove and Ventnor.
Park in Bonchurch, where Charles Dickens spent a long summer putting pen to paper on David Copperfield.
This first section of the walk is flat and suitable for pushchairs. Just make sure you keep little ones nearby as there's a big drop and crashing waves which will give you a soaking.
You'll soon arrive in trendy-Ventnor, which is a gorgeous spot on a summer's day. The town boasts classy restaurants and busy pubs which hum with live music and al fresco dining.
Younger visitors will squeal with delight as they splash around the town's Isle of Wight shaped paddling pool. If you're feeling braver, strip down to your cossie and join the other swimmers on the beach.
Our walk continues along a much hillier section of the coastal path, so it's not just the views that will take your breath away. After a mile or so you'll reach the idyllic Steephill Cove with its thatched cottages, cafes and fishing boats.
We've reached our halfway point, so treat yourself to a cheeky ice cream or hire a deckchair from the family which has looked after the Cove for decades. Green-fingered walkers won't be able to resist a trip to nearby Ventnor Botanics which grows plants from around the world thanks to the warmer climate.
The route back either involves retracing your steps or heading up to Steephill Road and following the main road past Ventnor Park.
The Culver Trail, East Wight

- Best for: Keen walkers and sea view fans
- Distance: 4 miles
- Time: 2 hours
- Difficulty rating: Moderate
- Starts/ends: Bembridge Windmill (circular)
- Parking: Free lay-by parking on Mill Road
- Landmarks: Yarborough Monument
Our final walk is another stunner (if we do say so ourselves!) with outstanding coastal views of sandy beaches and busy seaside resorts.
It's a circular walk with information boards along the route to keep you on the right track. Detailed directions are provided by Visit Bembridge.
Start at the National Trust's 300 year old windmill in Bembridge, which offers views for miles around if you climb the steep steps to the top. The route then passes through an ancient woodland which explodes with bluebells in springtime. #nofilter required!
Continue past Bembridge's small airport before climbing up to the Culver Battery which defended the Island during both World Wars. From here, you can see the golden stretch of coastline which includes Sandown and Shanklin to your right. If you see a large bird swooping overhead it might be a white-tailed eagle which has been reintroduced to the Island.
By this point you'll have climbed a fair few metres, so stop for a pie or a pint in the Culver Haven Inn near to the Yarborough Monument. The owners give a warm welcome to dogs (and their owners).
As you head around the coastline to the north you will get a good view of the quieter beach of Whitecliff Bay. This is one of the Isle of Wight's lesser-known gems, with its sandy shores and dramatic cliffs.
The route continues with views of Bembridge lifeboat station. You will then return to Bembridge Windmill via the woodland alongside Bembridge Airport.
You deserve a treat by now, so head into WW Woodford's deli in Bembridge High Street. Celebrity chef James Martin once said their sausage rolls are worthy of three Michelin stars!