The name Cowdray will surely resonate strongly in the minds of Polo fans across the country for its dedication and service to the sport over the last century, but to those who are not so familiar with this historic Sussex Manor and its stunning 16,000-acre estate then you are in for a treat, as a plethora of rural delights await you. Located near the pretty town of Midhurst in the rolling hills of the South Downs National Park, Cowdray Estate provides an abundance of activities to please all, ranging from wild foraging tours to Renaissance Art workshops all set amongst gorgeous Sussex countryside.
Cowdray Heritage Ruins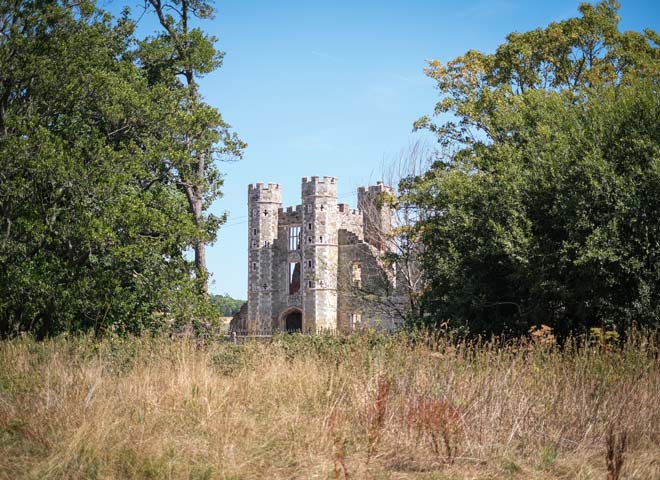 Sat in the centre of this stunning estate are the striking ruins of the old Tudor house from which Cowdray got its name. In its day this Tudor manor was a popular destination for the ruling elite, with both Henry VIII and Elizabeth I visiting the estate. Unfortunately, the house was partially destroyed by a fire in 1793 but its grandeur and character still echo through the ruins of the old structure. Luckily not all of the house was destroyed with one tower left intact which, after a recent refurbishment, now hosts engaging art workshops centring around the Renaissance Period. You are also able to book delightful seasonal tours around the ruins with a history expert during the Christmas and Halloween periods.
The Estate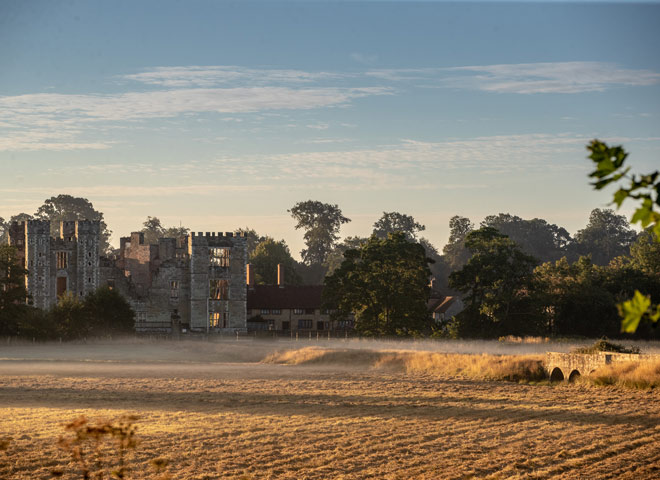 Once you've explored the impressive ruins, venture out and discover the magnificent landscapes peppered across the fabulous estate. From glistening lakes to lush woodland and delightful gardens there is so much to explore and the Cowdray team pride themselves in their responsible management of the landscape, with sustainability and habitat conservation at the forefront of the work. Due to this there is a strong wildlife presence across the estate, most prominently with deer, which have lived at Cowdray for over 800 years. Elsewhere, 36% of the 16,000 acres of estate is made up of beautiful woodland which is certified by the UK Woodland Assurance Standard for its sustainable management. The River Rother is another highlight of the estate, with is freshwaters providing a popular spot for flyfishing. There are plenty of ways to experience the many gorgeous landscapes at Cowdray including foraging experiences, wildlife tours and guided horse riding.
Sports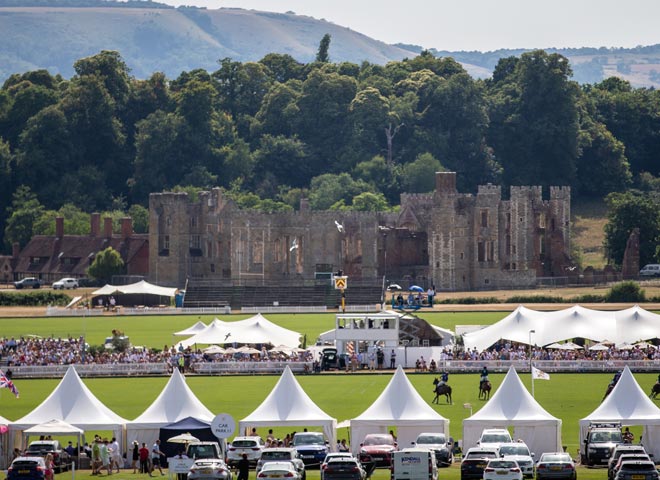 Sport has always been a part of Cowdray estate, with a heritage lasting centuries. Perhaps the most notable jewel in the Cowdray crown is its world-renowned Polo club which was founded all the way back in 1910. The historic venue has the pleasure of hosting the world-famous Gold Cup for the British Polo Championship for which Polo teams from around the world travel to compete. If you aren't able to get tickets to this prestigious event, there are always matches happening at Cowdray with over 400 professional games being played across the season from April to September.
If you're inspired by the Polo on display, head over to the respected Cowdray Park Academy and experience this thrilling sport for yourself. All levels of rider are welcome to take part in such activities as private and group lessons, corporate days and instructional chukkas.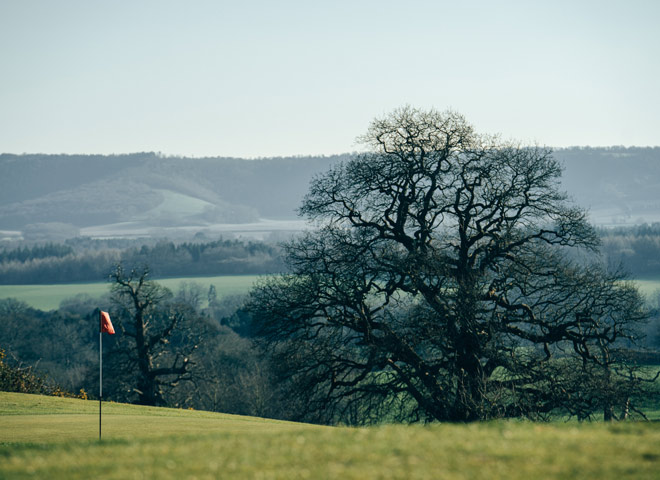 If Polo doesn't take your fancy, there is plenty more to get up to around the estate. Golf has been played at Cowdray for over a century and its 18-hole course is considered one of the best in England. Alternatively, there's Hownhall; an award-winning shooting school tucked away to the north of the estate that offers friendly and intuitive tutoring to all shooters and provides a wonderful way to enjoy gorgeous surrounding woodland and moors.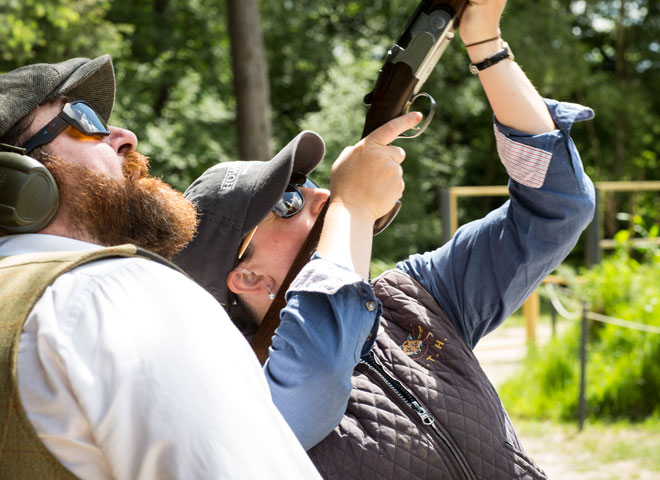 Food and Living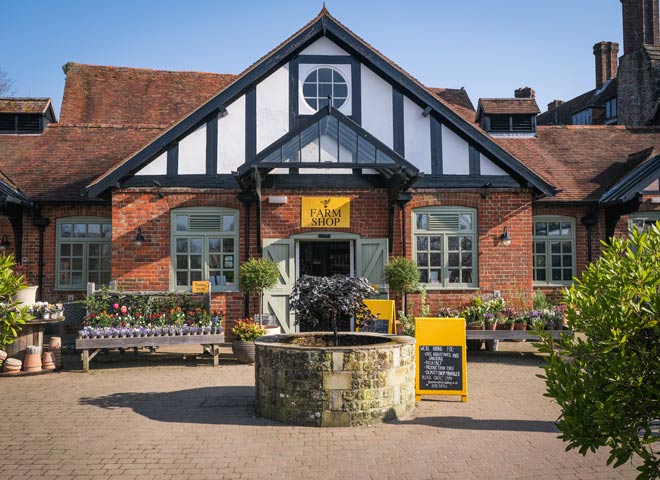 All of this sport is bound to make you hungry. Luckily there's plenty of delicious food produced on the Cowdry estate available from an assortment of charming shops and cafes. Head over to the delightful farm shop and sample a fabulous range of cheeses, freshly baked bread, award-winning sausages and yummy cakes and pastries all of which have been prepared on-site but the expert team of in-house chefs. Additionally, if you're looking for something warm to eat The Farm Shops Café is the place for you, serving hearty breakfasts, tasty lunches and afternoon tea 7 days a week. The café's team pride themselves in their use of local, seasonal produce and make the effort to cook every meal from scratch including a wonderful selection of vegetarian and vegan options.
The 19th Hole is another wonderful spot to relax and enjoy some of the delicious food on offer at Cowdray. Located in the golf Clubhouse, this cosy venue offers stunning views of the Cowdray ruins and South Downs countryside side from its fabulous terrace from which you can enjoy breakfasts, brunches, lunches and even Sunday roasts. In the summer months, you will also be able to visit the Cowdray Express and sample some of their brilliant woodfired pizza or visit the beautiful walled garden that provides the perfect spot for Cowdray's fantastic Afternoon tea service which is available to book online.
As well as food, the Cowdray Estate also produces a wonderful range of textiles and home items which are available to buy from Cowdray Living. Here you will find gorgeous furnishings, art and crafts made by a range of local artists including Alister Maynard, a renowned interior designer and the grandfather of Lady Cowdray.
Wellbeing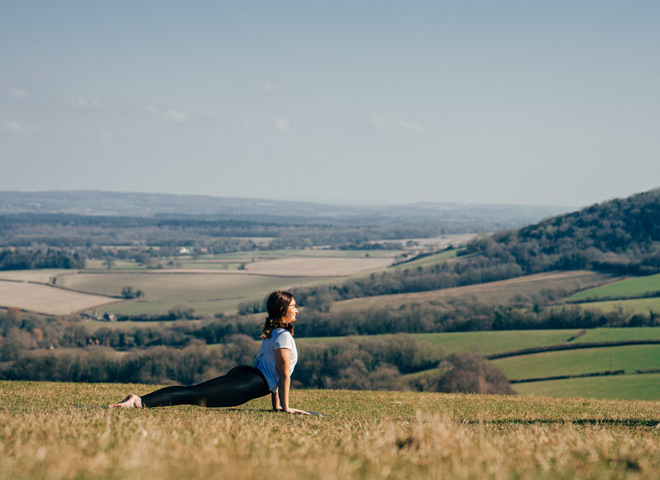 Aside from all the adventures available at Cowdray, there is a fantastic wellness centre located next to Cowdray hall that offers a number of specialist sessions designed to improve your physical, mental and spiritual well-being. Fully qualified and welcoming practitioners deal with everything from osteopathy and nutritional consultations to acupuncture classes, psychologist sessions and mindfulness therapy. As well as these there are a host of other well-being events with special guests and visiting practitioners available to book from the Cowdray website. All of these take place in three wonderful therapy rooms which offer a calming and open space to unwind, relax and reflect.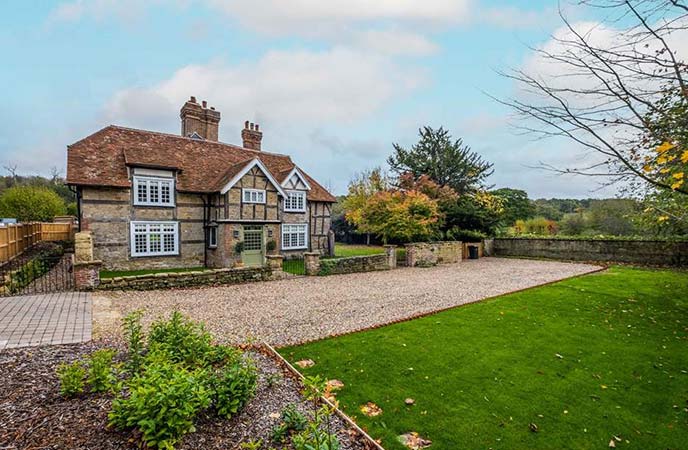 An incredibly charming home sleeping up to eight guests, Challens Yarde makes a fabulous base for a rural escape. The living spaces are effortlessly elegant and the surrounding gardens make a perfect chill out area. Take a look at Challens Yarde here.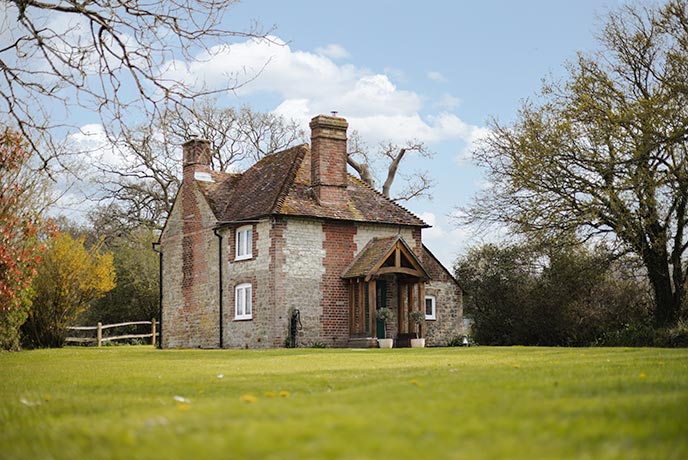 Another idyllic cottage nestled in the heart of Cowdray Estate is Apsley Cottage. It is as beautiful inside as it is, out. Charming and characterful, it is perfect home from home for up to four guests to getaway for the hustle and bustle and immerse yourself in nature.
Both cottages are dog friendly and offer plenty of private space within the grounds of Cowdray Estate.