As chilly winds sweep in and turn our walks into rose-cheeked adventures lined with stunning autumnal colours, it can only mean one thing… Sunday roast season is here, and we are certainly looking forward to making the most of it!
Where better to tuck into a rip-roaring roast than the county that gave us one of its tastiest staples: the oh-so-delicious Yorkshire pudding. Oh yes, from its abundance of cosy pubs nestled amidst dale and moor to its famous collection of Michelin star restaurants and fabulously welcoming eateries, Yorkshire knows how to whip up a week-defining roast.
Think Yorkie puds holding pools of gravy, perfectly crispy roasties, and a hearty pile of veg that adds a heart-warming vibrance to the plate – not to mention locally-sourced meats and handmade veggie options that turn the soul-stirring fare into a feast of epic portions. Wash it all down with a glass of Yorkshire's own home-grown wine for an unbeatable taste of this incredible county.
Tummy rumbling? Here are some of the best Sunday roasts in Yorkshire to discover for yourself..
The Star Inn The City, York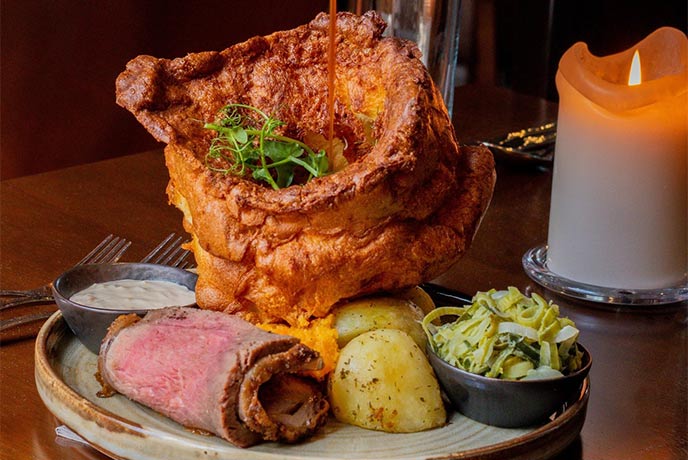 Lendal Engine House, Museum Street, York YO1 7DR
Famed for their Sunday roasts far and wide, The Star Inn The City promises a welcoming atmosphere after a day spent exploring the cobbled streets of York. Perched on the banks of the River Ouse, this brasserie-style restaurant serves up incredible seasonal meals throughout the week, all culminating in a roast dinner that takes you through three mouth-watering courses.
Start your feast off with the likes of salt-aged Yorkshire beef tartare or pressed Thirkleby duck, followed by sirloin of beef and vegetables swimming in proper Yorkshire gravy. For the veggies, the celeriac potato rosti with fried duck egg is sure to hit the spot. Whether there's room left or not, your eyes can't help but drift to the desserts menu, where they'll find sticky date pudding with curd tart ice cream. Wash it all down with one of their famous cocktails, which range from a classic Sloe Royale to a delightfully spicy Chilli Margarita - what more could you ask for!
The Tan Hill Inn, Richmond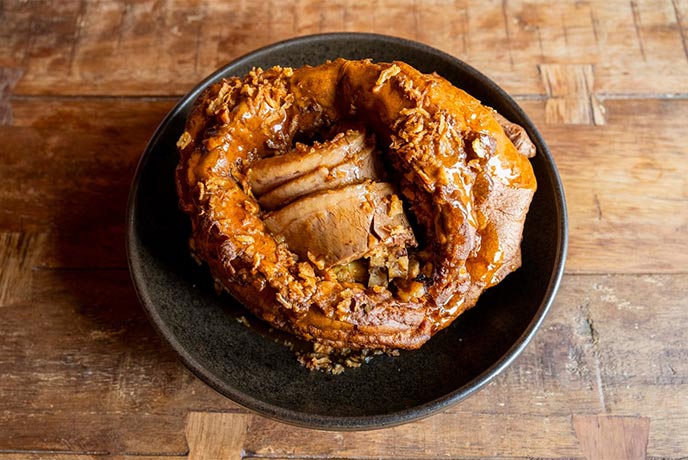 Reeth, Richmond, Swaledale DL11 6ED
If you're looking for one of the top Sunday roasts in Yorkshire, you can't beat The Tan Hill Inn as it's literally the highest pub in Britain! Perched an impressive 1,732ft above sea level in the rolling Yorkshire Dales, this lofty inn boasts views aplenty, with some incredible walks winding through the surrounding countryside. With a dog-friendly atmosphere and plenty of roaring fires to warm up next to, Tan Hill is an excellent stop-off after a stomp across the Dales.
The best part? You can fill your walking boots with roasted favourites. The menu appears to have been designed with hungry walkers in mind, as the Sunday offering promises a variety of dishes that are sure to fill the corners, from traditional Sunday roasts with all the trimmings to a selection of artisan pies served with hand-cut chips, peas (mushy or whole, your choice), and lashings of gravy. Follow it with a helping of crumble of the day and you'll be just about ready to enjoy a nap right there in the cosy dining room.
The Blue Lion, Leyburn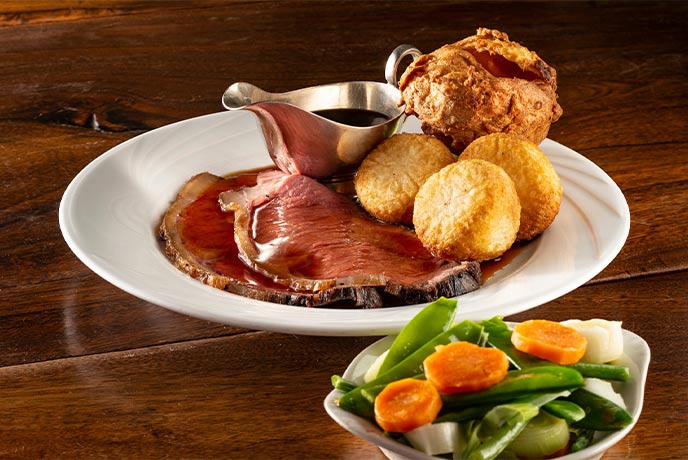 Main Road, East Witton, Leyburn DL8 4SN
Surrounded by the Yorkshire Dales National Park and offering soul-warming fare to avid walkers, The Blue Lion in Leyburn is a must for any who are looking for a classic pub welcome while exploring the wild beauty of North Yorkshire. Flickering log fires fill the air inside with delicious warmth, while the outdoor seating beckons for a refreshing refuel in the warmer months.
Of course, if it's a Sunday roast you're after, a cosy seat inside is the perfect pairing to your meal, which offers the likes of roast pumpkin soup or pan seared pheasant breast for starters, roast salt-aged pork loin with homemade apple sauce or locally foraged cep and black truffle risotto for your mouth-watering main, and a homemade chocolate filled doughnut or St Clement's posset for afters. Stretch your legs on the surrounding moors before or after your meal for a truly traditional day out in Yorkshire.
The Star Inn at Harome, near Helmsley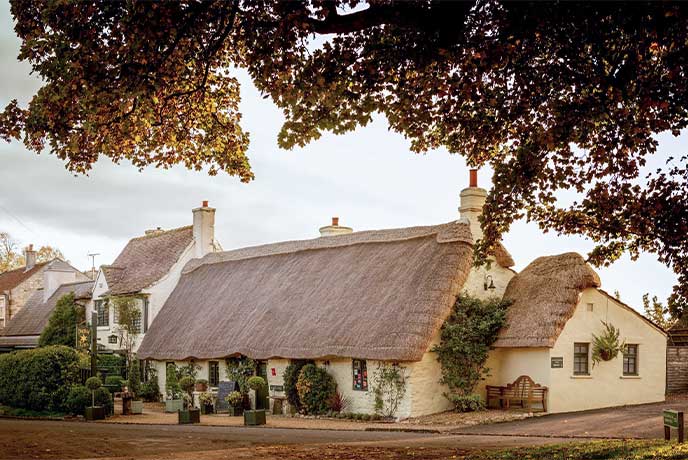 Main Street, Harome, near Helmsley YO62 5JA
Warming bellies and hearts since the 14th century, The Star Inn radiates charm at every turn, from the thatched roof that has been lovingly rebuilt to the picturesque garden that wraps around the back of the historic inn. And with lots of well-earned awards to its name, you know you're in for a home-cured treat when stopping by this beloved inn on the North York Moors.
Much like the restored inn, the menu explores a traditional Yorkshire round-up with modern influences, all with local and seasonal ingredients at its core. From the ploughman's raviolo with pulled ham hock and house pickle for starters to the roast rump of Yorkshire reared lamb with French-style peas and haggis bonbon, the menu celebrates classic dishes with a tempting twist, while the Sunday roasts promise a hearty mix of duck fat roasted potatoes and seasonal veg and Black Sheep Ale gravy. The puddings are equally heady with a choice between reimagined banoffee with Filey Rum and slow-roasted plums with sarsaparilla and pistachio frangipane.
Six Poor Folk, Knaresborough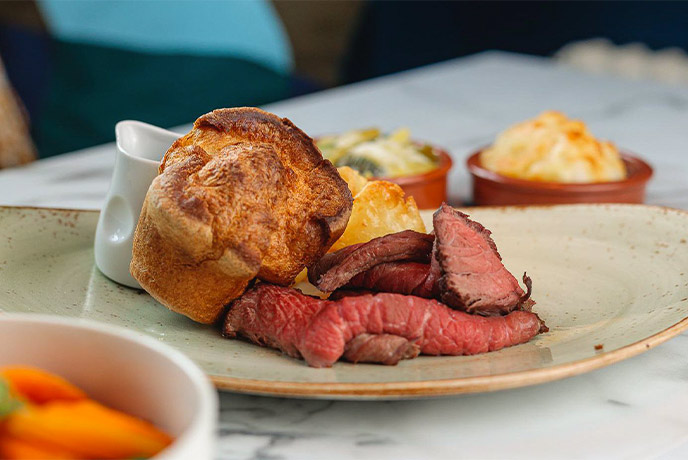 25 Castlegate, Knaresborough HG5 8AR
Combining a historic location in one of the town's oldest buildings with a bright and vibrant interior perfect for relaxing with friends and family, Six Poor Folk is a wonderfully welcoming eatery in North Yorkshire – they're totally dog friendly too!
Celebrating the roast in all its lip-smacking glory, Six Poor Folk offer a button-popping selection of Sunday lunches, from loin of pork to mushroom and lentil roast, all served with buttery veg, creamy cauliflower cheese, and oh-so-sweet roasted parsnips and crispy roasties. For those looking for something a little different, their roast sandwiches need to be experienced to be believed, with their roast potato side and jug of gravy – for dripping or dipping!
The York Roast Co, York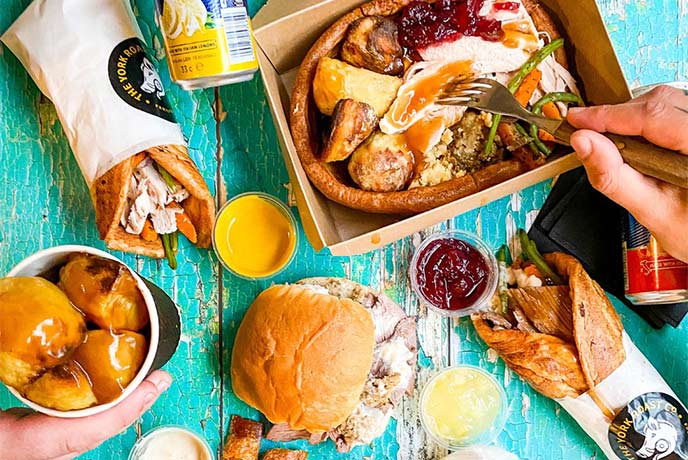 78 Low Petergate, York YO1 7HZ
If there's one thing we love more than an epic Sunday lunch, it's a roast we can enjoy on the go while tootling around the historic streets of York! Bringing everyone's favourite meal to the takeaway scene, The York Roast Co is a must if you fancy a tasty twist with all the trimmings.
Take your roast to go in a sumptuous sandwich, a giant bowl-like Yorkshire pudding, or their famous Yorky Pud wraps, which do exactly as they say on the tin and wrap your Sunday lunch in a tortilla-like Yorkshire pudding – genius! Oh, and if you need a little help filling the corners, a menu of extras is there to add a little something special to your meal, from crackling to stuffing balls and mini Yorkies.
The Fox & Rabbit Inn, Lockton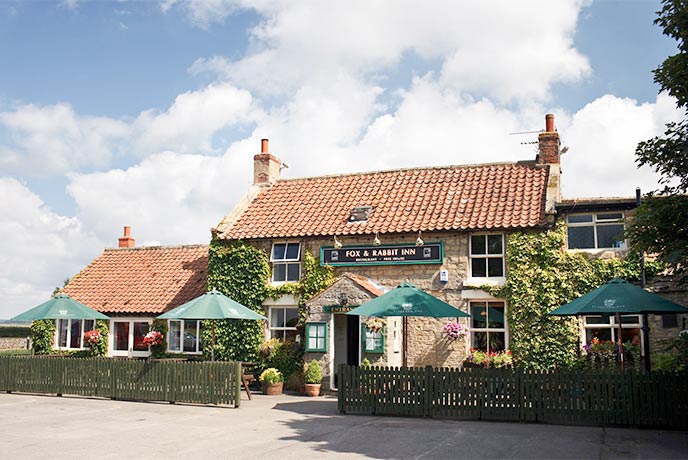 Whitby Road Pickering, Lockton YO18 7NQ
With ivy climbing its walls and Dalby Forest on its doorstep, The Fox and Rabbit Inn is the perfect place to settle into after a day spent exploring the rugged North York Moors. Inside, you'll find log fires and warm welcomes aplenty, alongside a bar stocked with local ales and gins.
With locally sourced fare the star of the show, you can look forward to an exceptional menu full of Sunday staples. Begin with some Whitby crab or homemade soup with a crusty roll, before making the most of the mains, with dishes such as Radford's roast sirloin of beef with roast potatoes and wild mushroom risotto with rocket and shaved parmesan. For the sweet-toothed among you, the puddings are sure to hit the spot, whether you opt for the sticky toffee pudding, crème brulee, or a scoop (or two) of ice cream.
The Hawthorne, Haworth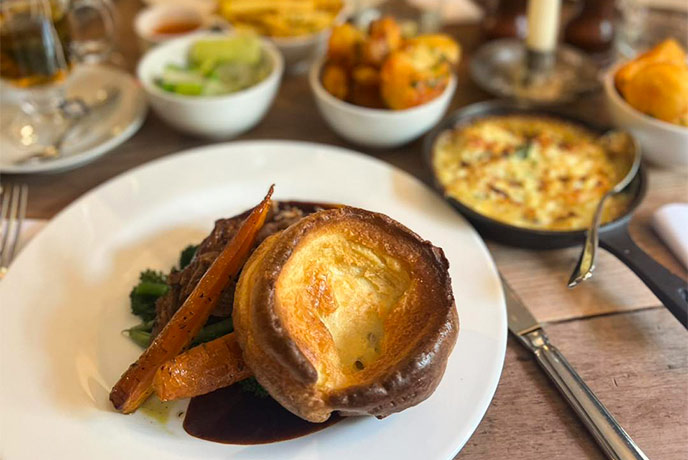 103-109 Main Street, Haworth, Keighley BD22 8DP
Nestled in the heart of Brontë country (otherwise known as Haworth, home of the famous literary sisters) lies a Georgian gastropub worthy of any foodie bucket list. The Hawthorn boasts a warm and welcoming atmosphere, with a collection of antiques adding a swathe of traditional charm to the décor.
The menu is equally eye-catching, especially on a Sunday when seasonal produce comes together to create one of the best roast dinners in Yorkshire – and indeed the country. Whether you opt for the dry-aged topside or wild mushroom crumble, you can look forward to a medley of Sunday lunch sides, including garlic roasted potatoes, tenderstem broccoli, coastal cheddar cauliflower cheese, and pan juice gravy. Add on some pigs in blankets or parmesan truffle roasties and you've got the makings of a rather memorable feast, which you can wash down with one of their fabulous cocktails.
Ready to finish your week off right while exploring the moors and dales of Yorkshire? Take a look at our beautiful cottages across the county and start planning a mouth-watering stay with all the trimmings.