The shorter days, cooler nights and the scatterings of oranges, reds and pinks of the tree shedding their leaves means we are officially rolling from autumn into winter. And we don't know about you, but at this time of year we cannot help but indulge in a little "winter wonderland" or perhaps "winter wanderlust". Dreaming of being Cameron Diaz in that immensely cute cottage in the infamous Christmas rom-com film, The Holiday.
The cottage from the outside is perfect. A dusting of snow and the low cool winter light makes this little home an incredibly inviting proposition. The sash windows show glimmers of warmth from the inside, giving enough away to imagine yourself sitting next to the fire in a cosy armchair.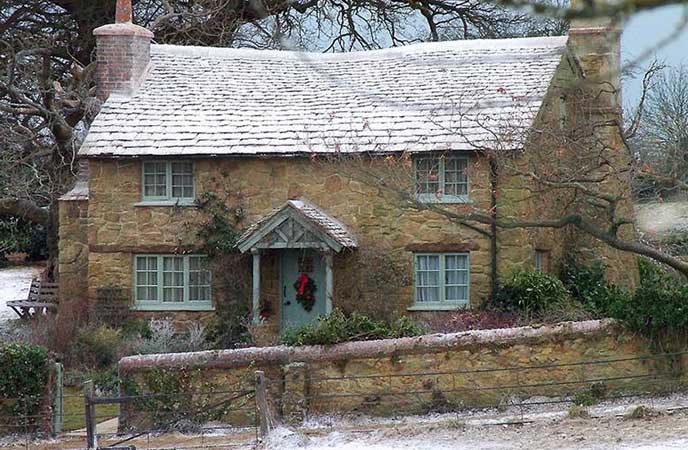 Let's face it, we've all pictured ourselves arriving here when watching this Christmas classic. So in the spirit of escapism, we thought it would be fun to put together a collection of Classic cottages that give all of the essences of a cosy getaway. Now go, take a look and get lost in winter wanderlust!
Week Cottage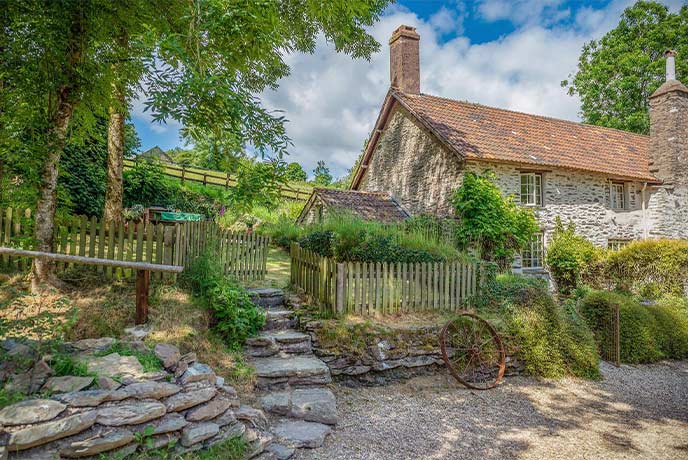 Exmoor National Park, Somerset | Sleeps 2
Best for: Country cottage magic
Full of story-book charm, Week Cottage, with its wooden beams and cosy fireplace, will transport you to Iris' countryside cottage. Pull on your wellies and explore the beauty of Exmoor National Park, warm up at the local pub, Badgers Holt Inn, just half a mile away, and return home for a blissful evening cosying up by the wood-burner.
Apsley Cottage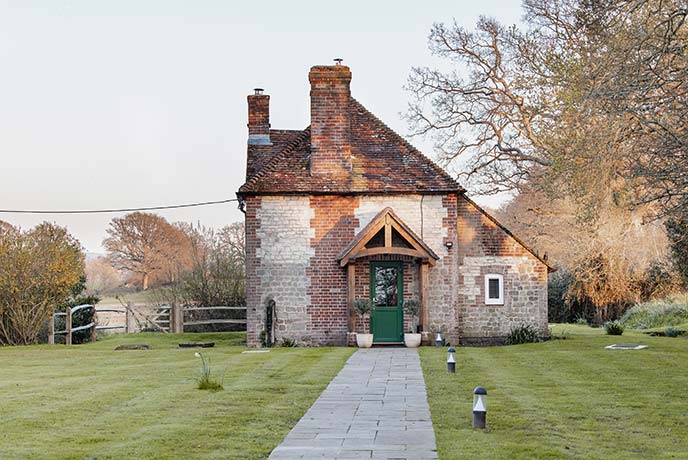 Nr Midhurst, Sussex | Sleeps 4
Best for: Wintry walks
Bursting with character and style, Apsley Cottage is cosy retreat not too far from London. The property's period features and beautiful interiors are similar to that of The Holiday's cute cottage - full of quintessential charm! Admire the winter magic of the South Downs National Park and spend slow evenings cooking up a delicious feast in the kitchen, lighting up the wood-burner and getting lost in a good book…
We highly recommend Sussex for a winter holiday in the countryside; perfect for romantic weekends away, delighting in your peaceful surroundings, wandering around ancient woodlands and soaking up the beauty of winter in the countryside with its sparkling frost and beautiful villages to explore.
Pound Farm Cottage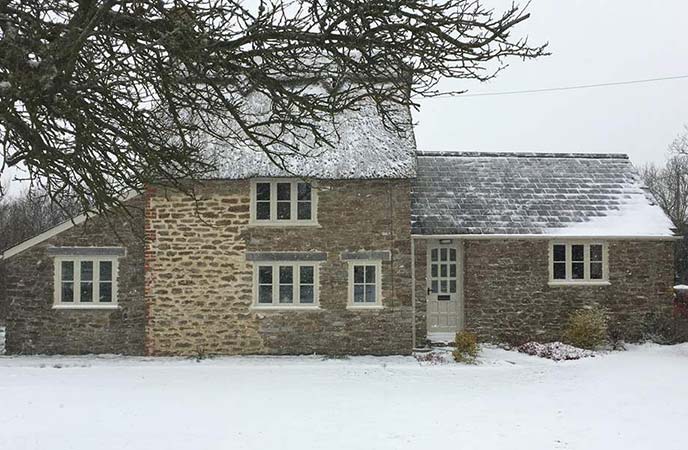 Nr Sherborne, Dorset | Sleeps 2
Best for: Exploring picturesque villages
A gorgeous hideaway nestled in the sleepy Dorset countryside, Pound Farm Cottage is a quite simply wonderful. Wander around the cute Dorset villages, perhaps at their most beautiful during winter, relax with a good book and as dusk falls, enjoy a long, luxurious soak in the roll-top bath, similar to the very sweet bath tub in the Holiday – with a little more space to truly relax!
Belle Vue Cottage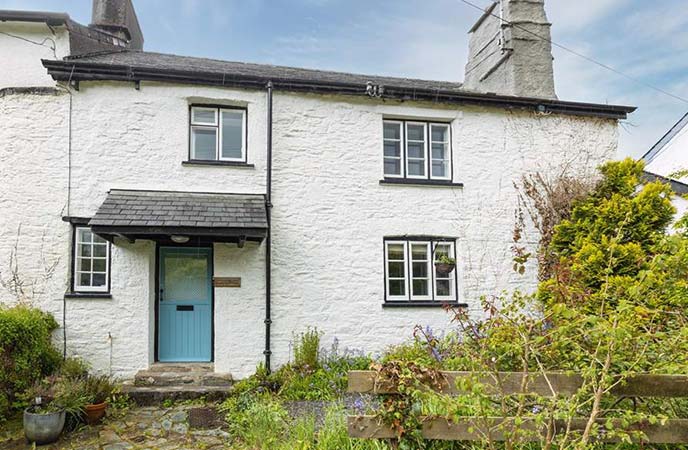 Nr Totnes, Devon | Sleeps 5
Best for: Cosy nights in
Tucked away in a cute village nestled in south Devon, Belle Vue Cottage is an inviting getaway. We particularly love the sitting room with its cosy armchairs and wood-burning stove, perfect for recreating the magic of the cottage from The Holiday. You certainly won't struggle to switch off like Amanda does – Belle Vue is a wonderful choice for a relaxing winter's escape. Explore the breath-taking moorland on your doorstep, ideal for an uplifting, restorative walk, and spend blissful evenings curled up with a glass of wine. And don't forget to discover the best cosy country pubs in south Devon during your winter getaway.
Kinsale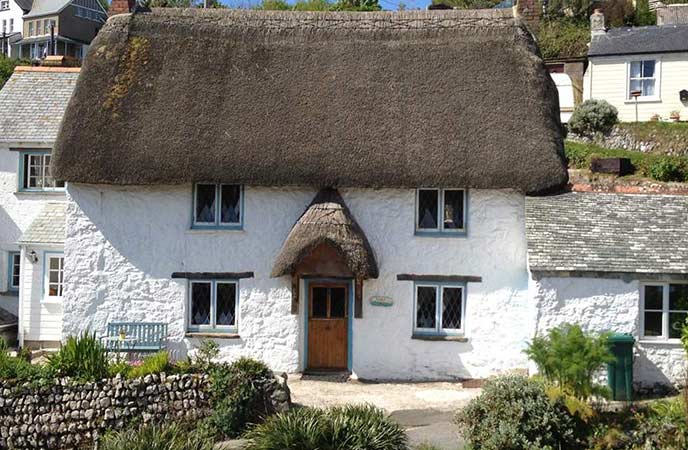 Cadgwith, Cornwall | Sleeps 6
Best for: Blustery coastal walks
Wander to the picturesque cove of Cadgwith to discover Kinsale, a very pretty cottage with exposed stone walls, an inglenook fireplace, and cute window seats. The main bedroom has a similar aesthetic to the cottage in the film, with a white bed frame and a dreamy bed to sink into at the end of the day. Pull on a coat, hat and gloves and watch the sun go down over the sea, before venturing to the nearby warm and welcoming pub, Cadgwith Cove Inn, for a delicious meal of fresh seafood.
The Old Chapel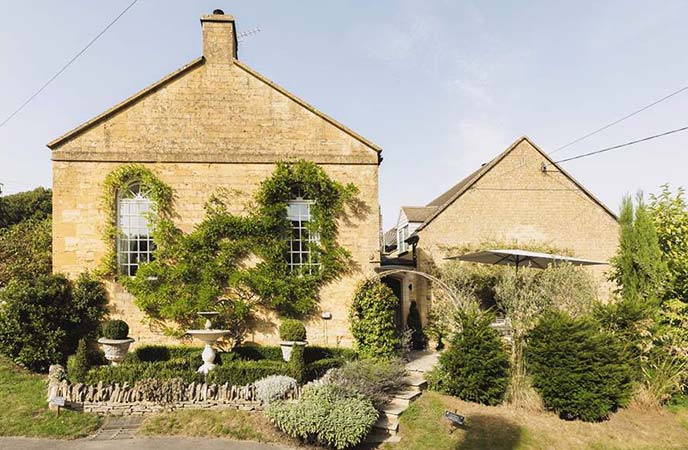 Nr Moreton-in-Marsh, Cotswolds | Sleeps 6
Best for: Dreamy interiors
The Old Chapel has a number of similar characteristics to that of the cottage in The Holiday. Honey-coloured exterior, a wonderfully cosy sitting room with a blue ottoman and roaring fire, and a sweet village setting! There's something rather wonderful about the Cotswolds in the winter, perfect for those blissful escapes spent exploring beautiful villages, walking in the countryside and hunkering down in cosy pubs.
Pooks Hill Cottage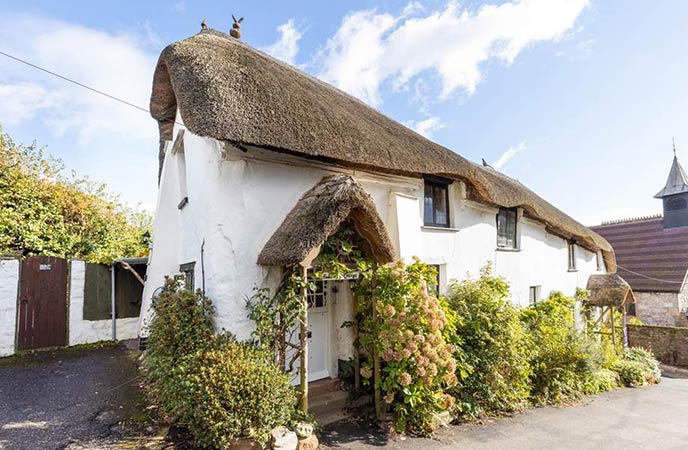 Nr Dawlish, Devon | Sleeps 3
Best for: Romantic escapes
Nestled in the heart of a pretty Devon village, just as sweet as the English village featured in the Holiday, Pooks Hill Cottage is a gorgeous, chocolate-box hideaway with endless charm and character. Soak up the beauty of the village, before wandering to The Castle Inn, a traditional 19th century pub, for a glass of red by the roaring log fire.
Barton Manor Farmhouse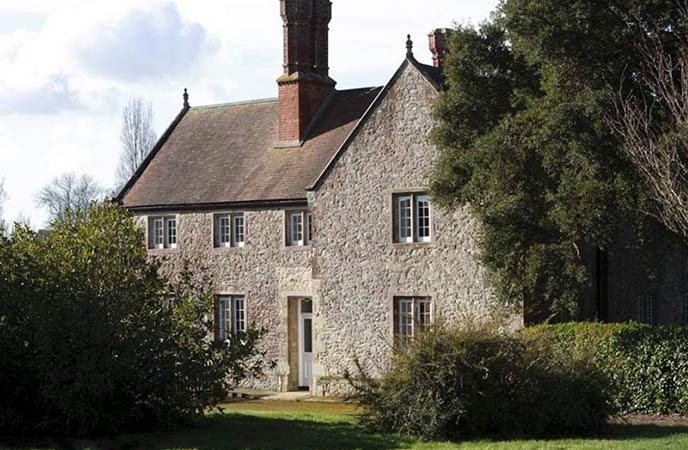 Nr East Cowes, Isle of Wight | Sleeps 8
Best for: A winter getaway with your favourite people
The gorgeous 150 year old farmhouse, Barton Manor, is a dreamy countryside getaway in line with 'The Holiday' theme - just on a slightly larger scale! Absolutely perfect for group gatherings, gather your friends and family together and explore the two hundred acres of woodland, unwind next to the glow of the original fireplaces and enjoy decadent holiday feasts in the sociable dining space.
Take a look at our collection of cottages in the UK and find your perfect English cottage for a winter getaway.