The English Riviera is a strip along the south coast of Devon that encompasses Torquay, Paignton and Brixham. These three distinctive towns are all fabulous tourist areas so it's no surprise that their most popular tourist spots can get crowded. The English Riviera is a large area with lots of beautiful beaches and many interesting houses to explore, but sometimes visitors might want to escape from the crowds and get off the beaten track. So, here is my guide to beautiful hidden places in the English Riviera.
Stoke Gabriel

Stoke Gabriel is a hidden village halfway between Paignton and Totnes. It circles picturesquely around a beautifully still mill pond which connects to a quayside on the River Dart. The River itself is tidal, and when the tide is low a long jetty is revealed which can be walked over to explore some lovely riverside walks. On the other side of the pond, closest to the village, is a fantastic orchard with a small but excellent play park. Behind the play park is a churchyard with a 900-year-old yew tree sporting spectacular roots. The tree itself bears an inscription which says that if you walk backwards round the tree seven times then you will be granted a wish. Stoke Gabriel is a quiet, mysterious village where life seems to have slowed down. And yet it's also full of fantastic things to do for the adventurous. It is a favourite day out for my three children as we love crabbing in the mill pond, visiting the old yew, sitting quietly in the peaceful church and then walking in the hidden woods.
Waterleat Cove
Waterleat Headland is next to a holiday park so it is a well-known and often visited spot, but very few people know that it hides a hidden cove. If you push through the overgrown hedges at the far end of the headland and keep going, a path and some rusty steps lead you down to a beautiful little tidal cove. This cove completely disappears at high tide, but at low tide it is one of the most beautiful little bays around. Shingle and then sand lead down to a tiny sheltered inlet which is fantastic for swimming. My rock-climbing children love clambering up the rocks, my dog loves jumping the waves, my wife likes lying on a deserted beach and I like swimming in the clear blue water.
Redcliff Rockpools in Preston
At very low tide there are a series of rockpools which are revealed at the Redcliff end of Preston Sands which are always worth a look. For an avid rock-pooling family such as ours, there is quite a hidden world there to discover. There are large expansive rock-pools with an abundance of life happening just below the surface. But my favourite thing about this occasionally revealed world is the thick piles of shells which carpet the ground under the cliffs. As a shell collector I love to root around these piles of shells and often find some spectacular Banded Wedges and Augers among the more common Cockles and Periwinkles. These unusual worlds, of the rock pools and the carpet of shells in the caves under the cliff, lie in open sight, but are rarely explored.
Clennon Valley Lakes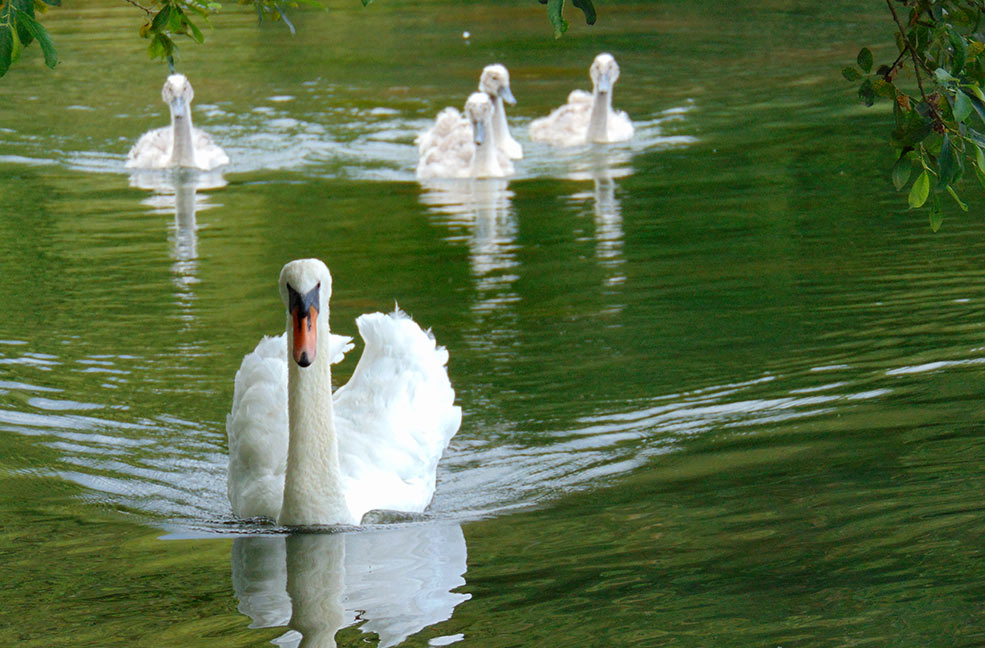 I've lived in Paignton for a long time, and I'm an outdoorsy person, so, I thought I'd discovered all the beauty spots. I was shocked to find a fabulous area of natural beauty right on my doorstep that I never knew about. I'm not the only local in Paignton to be oblivious to Clennon Valley Lakes. Every year I help run a summer activity week for local teenagers and this year the council asked us to litter pick at Clennon valley lakes. Out of 100 local teenagers only 2 had even heard of them. And yet they are beautiful - unspoilt and full of wildlife. I now go regularly with my family and it's always empty of people but full of wildlife. We see Coots and Moorhens as well as families of young mallards and swans. The walk around the three lakes takes about an hour and there is always something new to see. Our favourite sight is the occasionally seen Kingfisher who can sometimes be viewed as a lightning flash of blue above the still waters.
Fairy Cove
Paignton is such a family friendly place that the popular beaches can get very crowded. To find a hidden beach usually involves a bit of walking and some determined exploring but Fairy Cove is hidden in plain sight. It is hiding directly behind the very beautiful Paignton Harbour. Unless you know about Fairy Cove there would seem to be no reason to walk past the crabbing factories at Paignton Harbour and clamber over a dull grey wall at the very back of the harbour. But when you do it is always worth it. Fairy Cove is a perfect little crescent shaped cove. It's got sheltered waters for paddling, fantastic rock pools for exploring, and sandy patches for sunbathing. My own children love snorkelling in the waters here and swimming in the sheltered waters of the bay. When the tide is low they can clamber right around the cliffs to find even more hidden beaches around the headland.
Fancy enjoying the bustling town of Brixham from a distance instead? Our Brixham webcam has views over the harbour and out to sea.