The West Country is known for its rich offerings of local food and drink, whether it's the sprawling farmland that creates the perfect backdrop to your walk or the bounteous coastline that promises a fresh catch with every tide.
Making the most of its full larder, Somerset's eateries are famed for their fresh ingredients and flowing ciders. Many of these button-popping restaurants have been awarded a highly-coveted – and utterly deserved – Michelin star, placing them amongst the finest foodie stops in the country.
From tasting menus that take your tastebuds on a journey across land and sea to top-rated tapas that will have you ready to get your jamón in no time, it's easy to see why these epic eateries have risen to the top.
Ready to see what's on the menu in Somerset's incredible Michelin star restaurants? Here are some of our favourites to whet your appetite…
Michelin star restaurants in Somerset
Osip, Bruton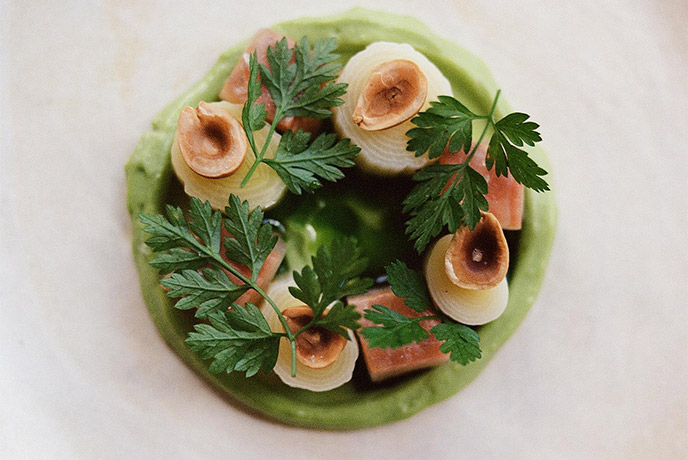 1 High Street, Bruton BA10 0AB
One Michelin star and one Michelin green star
An intimate farm-to-table restaurant in Bruton, Osip boasts effortless elegance in all that it does, from the serene atmosphere found throughout the restaurant to the carefully curated menu that changes with the seasons (and sometimes day-to-day).
Nestled in the heart of Somerset's home-grown countryside, and enjoying its very own gardens, Osip's dishes tell a story of what's been going on under the earth. They grow many of the ingredients themselves, and get everything else from local producers, leading to a mostly plant-based menu that shines a light on the land. The menu is set, with a shorter option for lunchtime visits, giving you the freedom to sit back and relax as dish after delicious dish is brought out.
Osip's focus on locally sourced produce has led to the passionate restaurant receiving a Michelin green star as well. Indeed, from their garden-fresh menu to the organic and biodynamic wine pairings, you can be sure of a wonderfully tasty meal that doesn't cost the Earth.
Paco Tapas, Bristol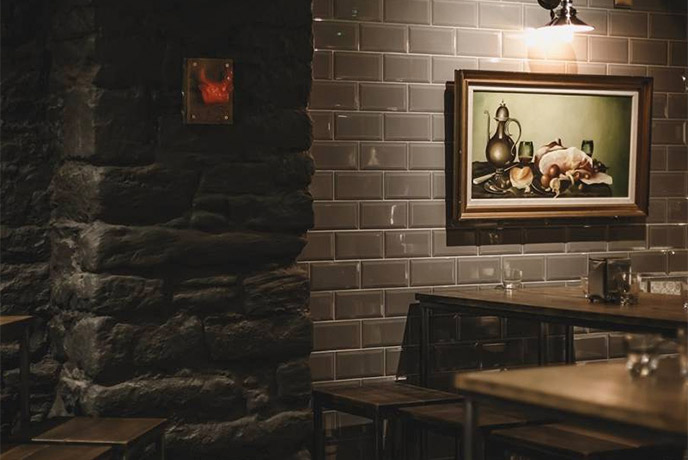 The General, 3a Lower Guinea Street, Bristol BS1 6FU
One Michelin star
Tapas is one of our favourite ways to enjoy a meal with friends and family… especially when the food is prepared by Michelin starred Paco in Bristol. Enjoying a sleek and bustling setting overlooking the water, this taco bar is a true celebration of Spanish cuisine.
Feast on the likes of jamón croquettes, patatas bravas, and tortilla Española all while sipping a delightfully refreshing Spanish wine. The friendly team are on-hand to share their experience if you're unfamiliar with the dishes or you can follow your heart and order whichever delicious dishes take your fancy, whether it's just for you or for the table to share.
The menu changes frequently, giving you every excuse to visit for a relaxed evening watching the boats bob as you taste your way across Spain – this is possibly our favourite way to dine from now on!
Olive Tree, Bath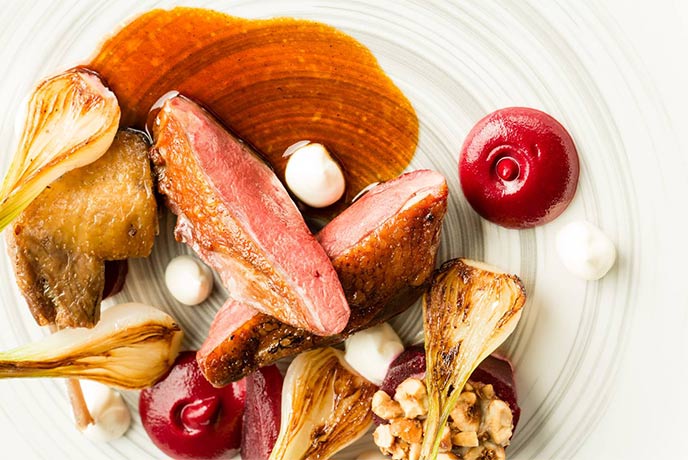 Russel Street, Bath BA1 2QF
One Michelin star
Not only is Olive Tree one of Bath's longest running restaurants, it's also the flagship for Michelin star dining in the golden-bricked city. Making its home in a beautiful Georgian townhouse, this welcoming restaurant combines a traditional setting with contemporary dishes to create a wonderfully memorable experience.
Start your visit with a lip-smacking cocktail in the quintessential bar, before settling down in the stunning restaurant for a starry-eyed meal. Choose between the Six and Nine set menus (both of which can cater to a variety of dietary requirements) and cast your eye over a menu that's sure to pop a button or two. The series of dishes makes full use of the surrounding landscape, from veal sweetbread with pickled celeriac to aged Wooley Park Farm duck. There's an accompanying drinks menu for each option too, ensuring you enjoy the perfect pairing to your meal.
Alongside the lunch and dinner menus, you can also ogle over the breakfast and cheese menus, which offer everything from homemade crumpets and smoked haddock to a selection of cheeses that tour the country's best producers. Pair your visit with some sightseeing around Bath, where historic streets (some of which have been featured on the big screen) and quirky shops await.
Bulrush, Bristol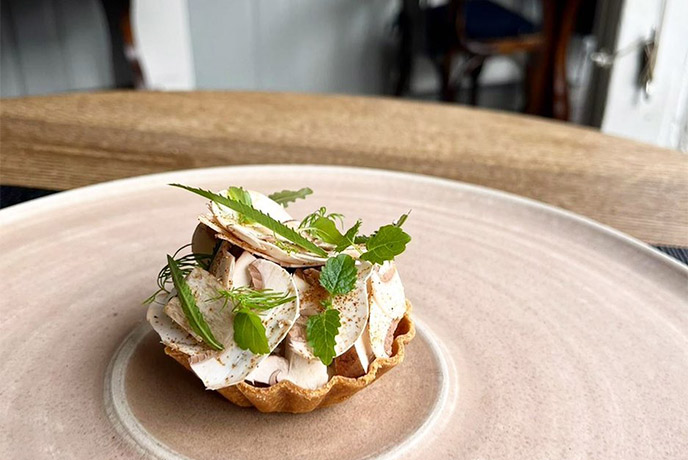 21 Cotham Road South, Bristol BS6 5TZ
One Michelin star
Quietly situated in the neighbourhood of Cotham in Bristol, this intimate restaurant welcomes you in for an evening of relaxed dining that takes its inspiration from all around the world, including Anglo-French, Japanese, and Scandinavian cuisines and influences.
The varying tasting menus are a constantly changing celebration of simple flavours expertly executed and oh-so deserving of a Michelin star, with a real focus on local ingredients. Dine on the likes of Hen of the Wood and violet tart, roasted Orkney scallop, and lemon curd choux – the Tunworth cheese ice cream is particularly show stopping!
All grown and foraged locally, it's wonderfully easy to get swept up in the flavours of the countryside and coast, with a well-chosen wine flight available to take your experience to the next level. Sit back and ease into a true feast that can be enjoyed as you overlook the exceptionally skilled kitchen before you.
Michelin recommended restaurants in Somerset
OAK, Bath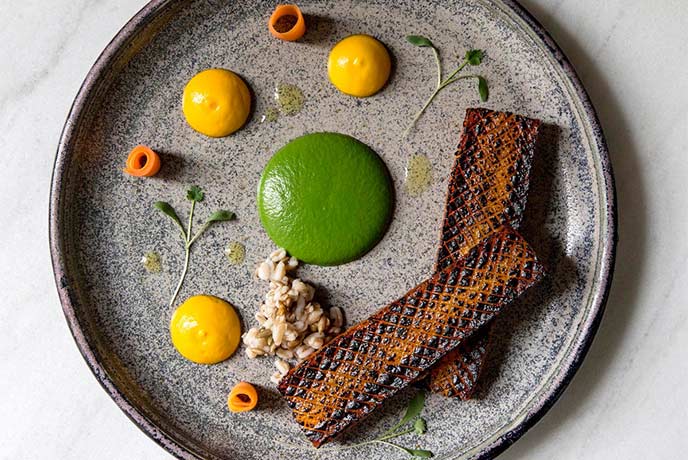 2 North Parade Passage, Bath BA1 1NX
One Michelin green star
Going from Acorn (the restaurant's previous name) to OAK, this growing restaurant is a shining example of Michelin green star dining. The softly decorated bistro specialises in vegan and vegetarian dishes, with a real focus on ingredients from their allotment, which grows happily just outside of Bath.
Whether you want to pop in for lunch, dinner, a cup of coffee or simply to pick up some fresh veg from their grocer, OAK is a bright and cheery restaurant that packs a hearty punch – we're especially in love with the five-course feast, which provides the ultimate seasonal experience.
Root Wells, Wells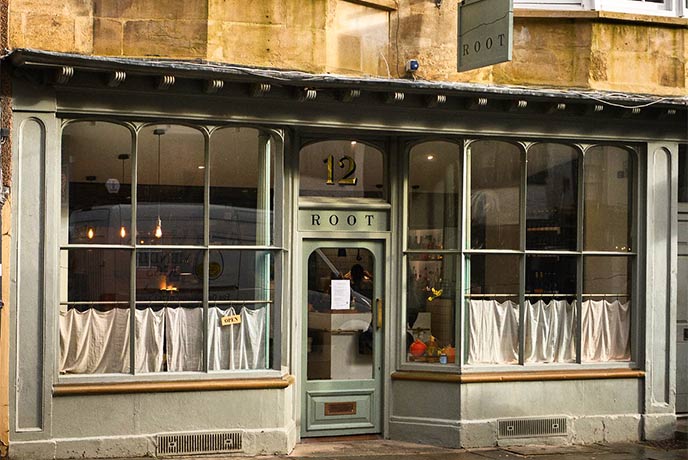 12 Sadler Street, Wells BA5 2SE
Bib Gourmand
With a sister restaurant in Bristol that also boasts a Bib gourmand, Michelin recommended Root in Wells is a veg-fuelled feast we can't get enough of. Small plates with big and beautiful flavours make up the menu, with the likes of buttermilk fried celeriac and chargrilled hispi cabbage creating a seriously mouth-watering selection – not to mention their famous fried cheese puffs, which make for a truly moreish snack.
Visit the laid-back restaurant for a carefully created meal with views of the beautiful Wells Cathedral and pick one of their excellent cookbooks, which will have you recreating your visit at home for many nights to come.
Queen of Cups, Glastonbury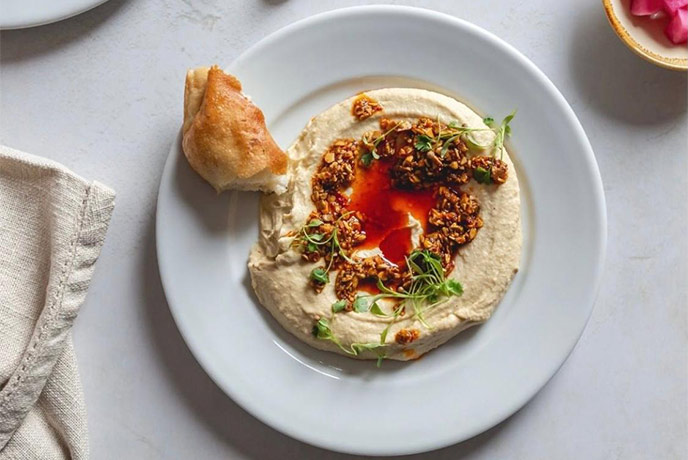 10-12 Northload Street, Glastonbury BA6 9JJ
Bib Gourmand
Nestled within the historic town of Glastonbury, Queen of Cups promises something a little bit different to the usual fare found across Somerset. Combining the fabulously fresh ingredients of the West Country with the bold and showstopping flavours of the Middle East and the Mediterranean, this welcoming Michelin recommended restaurant has more than earned its Bib Gourmand.
Feast on the likes of sticky raisin and sherry potatoes with crispy shallots, lavender braised lamb with sorrel yoghurt, grilled plums and giant couscous, and, of course, bowls of creamy houmous and frena bread. Wash it all down with some refreshing local ciders for a truly memorable mishmash of cuisines and flavours.
The Barrington Boar, Barrington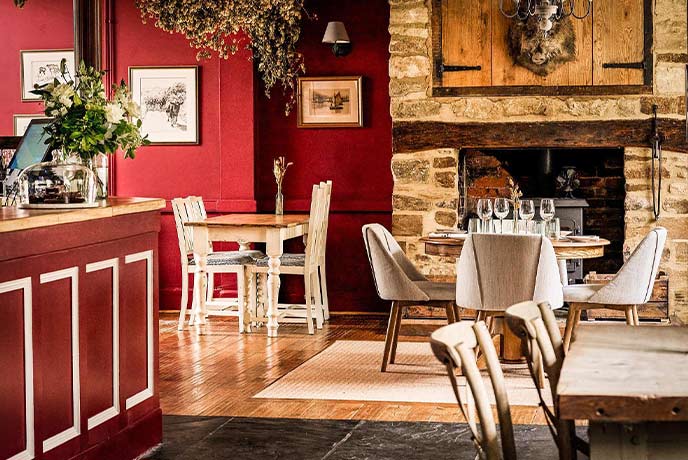 Main Street, Barrington TA19 0JB
Combining the cosy stylings of an 18th century inn with the appetising temptations of a Michelin recommended restaurant, The Barrington Boar promises a seriously mesmerising visit, with a menu full of British classics that are sure to hit all the spots.
Cosy on down by the warming fire in the cooler months as you dine on a slap-up Sunday lunch or enjoy your meal under the gleaming rays of the sun as you feast on fish and chips surrounded by the chattering Somerset countryside. There's a clear passion for local suppliers throughout the menu, from Ilminster butchers to truffles foraged from Somerset's very own hills, giving you a tremendous tour of the UK's finest ingredients.
Augustus, Taunton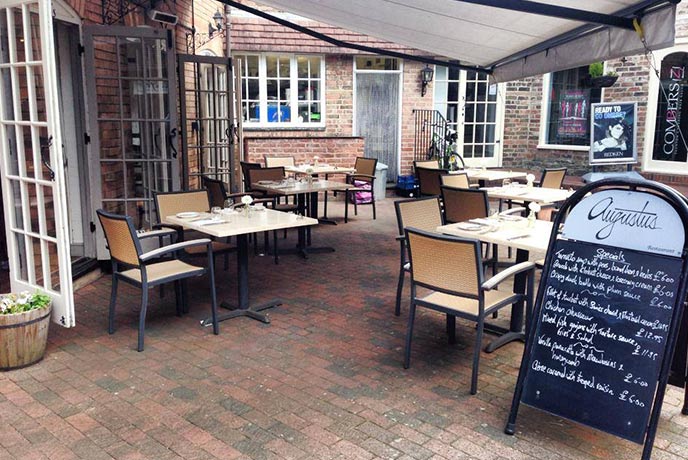 3 The Courtyard, St. James Street, Taunton TA1 1JR
From its casual bistro setting to the menu full of British, French, and Asian influences, Augustus provides guests with a warm welcome and soul-soothing fare. Sit in the intimate restaurant or the peaceful shade of the courtyard and cast your eye over a selection of dishes that vary from Wye valley asparagus to Brixham scallops.
Round off your visit with a sweet treat and a perfectly paired glass of dessert wine or port as you recount your adventure in Somerset so far.
Holm, South Petherton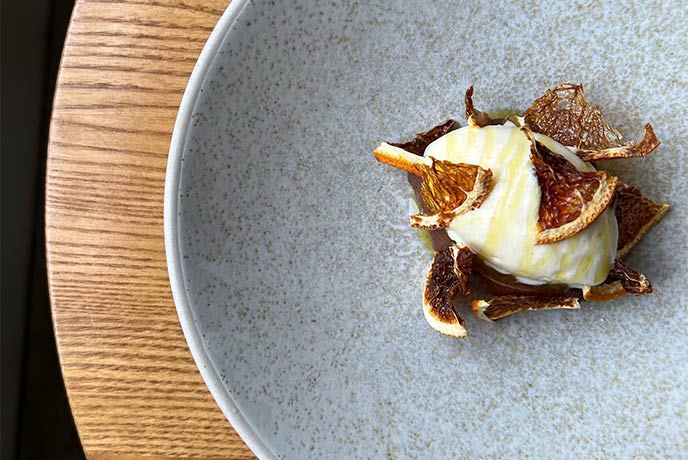 28 St James Street, South Petherton TA13 5BW
Contemporary both on and off the plate, this bank-turned-Michelin recommended restaurant is a pure delight. The menu features a myriad of local ingredients, cycling through the seasons to ensure only the freshest fare appears on your plate.
A giddy mix of cured chalk stream trout, Westcombe ricotta, and creamy British cheeses make for a divinely tasty meal, while added extras like Somerset salami and Pitney Farm greens take the feast to the next level. And not to forget the extensive drinks menu, which features a heady collection of local beers and ales, and a lip-smacking round-up of world wines.
Clockspire, Milborne Port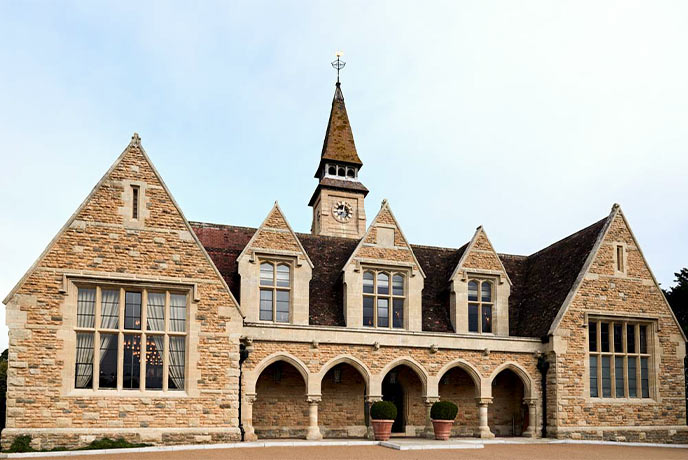 Gainsborough, Milborne Port, DT9 5BA
A converted school house, Clockspire is perhaps the most striking restaurant on this list, with its towering ceilings, exposed oak beams, and stylish polished concrete floors. Of course, as eye-catching as the surroundings are, the true show begins with the menu, which is all about showcasing Somerset's scrumptious larder.
Enjoy a tempting array of dishes that vary from citrus cured salmon to start and wild garlic risotto for your main, to sharing platters of ribs with lobster mac and cheese – not to mention a button-popping selection of desserts, including salted caramel and chocolate ganache and magnolia pannacotta. Clockspire really is a feast for all the senses.
With a jam-packed assortment of things to do, from budding gardens to woodland walks, Somerset is a true paradise for holiday makers. Browse our beautiful holiday cottages and find the perfect base from which to explore the county's many fabulous Michelin star restaurants and luscious countryside.