I joined AJ and Maria from Truro School Cookery for a day of pasta making and Italian-inspired dishes.
I was invited to have a go at making fresh pasta on one of the full day courses but the School also offers short Friday evening classes where they cook dinner for you and you get the chance to practice an individual skill. These are brilliant for a special 'date night' while enjoying your holiday and make a lovely Friday night treat.
The day courses are very special. Before going on the course, I was told that I'd be making starter, main and dessert for four throughout the day and I'd get a bottle of wine to take home too. I didn't quite realise how much food I'd end up with! But more about that later. The course is fun, fascinating and incredibly easy to follow, you leave feeling so accomplished after having met some new people as well.
As part of your Classic Cottages holiday, you can get 10% off courses at Truro School Cookery, simply send your holiday email confirmation to them when booking your course.
On arrival to the cookery school, I was greeted with a pastry and a pot of tea. This was topped up throughout the day and no request was too small. Staying hydrated was certainly a priority for those taking care of us and I felt like a really valued guest. After chatting with the other people there for the course I was feeling very comfortable and excited to get started.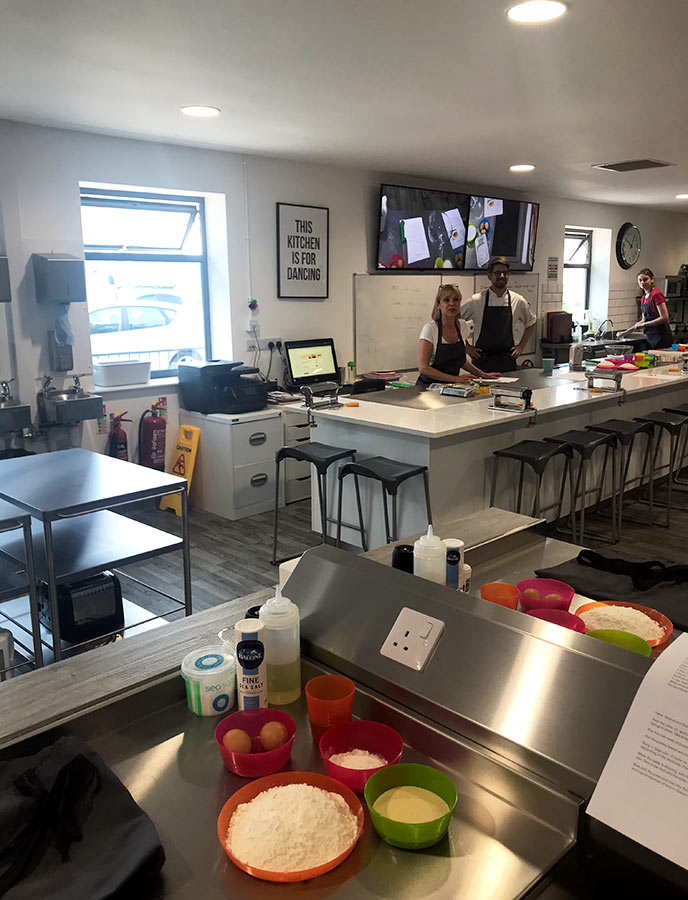 Maria welcomed us into the kitchen, a Masterchef style set up with your own preparation areas and a central island for teaching. She introduced AJ and we talked over the recipes we'd be working from today: Rhubarb Zabaglione, Tortelloni, Crab Linguine and a citrus salad. My taste buds were tingling just from the thought of all this delicious food.
Both AJ and Maria have a background in cooking. Maria teaches at Truro School and set up several successful cookery schools over the years, AJ earned his stripes with a prestigious Leiths Diploma and over four years at Rick Stein's. You're in amazing culinary company at Truro Cookery School.
We started with dessert so that it had time to set in the freezer. Zabaglione! We made this with layers of meringue in to give the dessert some structure. Traditional Zabaglione is more like a mousse served in a glass whereas ours was perfectly described as 'posh Viennetta' using layers of meringue to support the Zabaglione. Maria showed us how to make the meringue first and then set us off to make our own.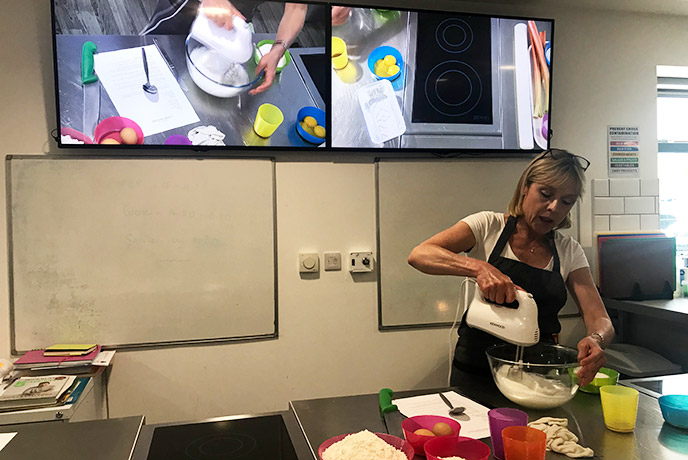 Starting with the meringue, I whisked egg whites and piped them out on to baking paper, popping them into the oven. Then back at the central island, there was a demonstration of zabaglione. Returning to my station I realised everything had been cleaned. Yes. They even find time to do the washing up for you! I then combined all the ingredients together and popped the ingredients for the rhubarb compote into a pan. Once everything was ready, I assembled the layers of dessert in a tin (with plenty of extra mini desserts in small pots) and took this to Maria for it all to be put in the freezer.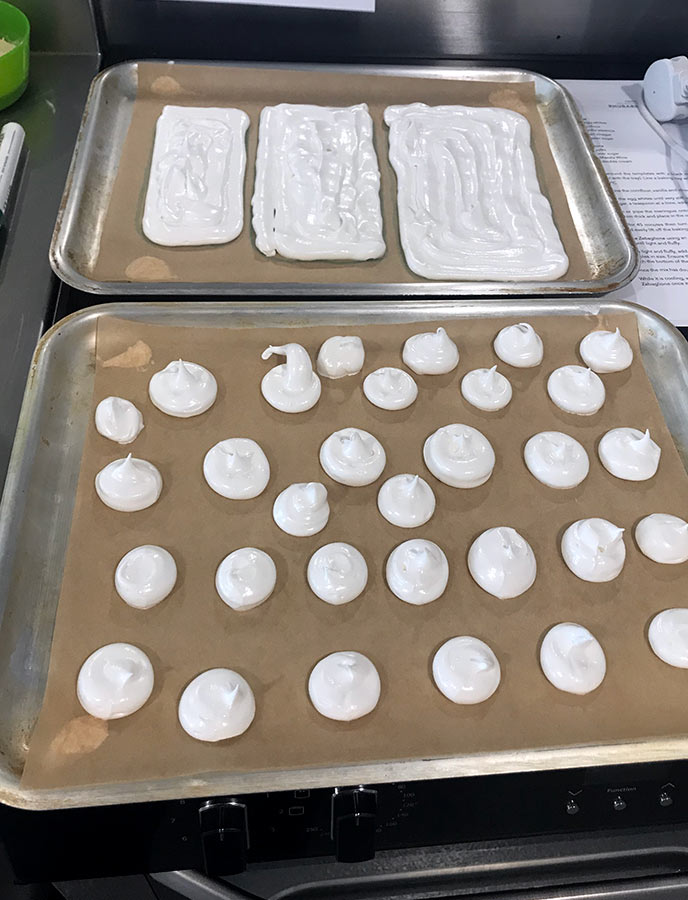 Now on to the main event: PASTA.
I've never made fresh pasta before. I always understood that it must be a fairly lengthy process otherwise we'd all be making our own pasta at home. However, what I didn't realise is that the hard part isn't in making the dough, it's in making the pasta shapes themselves. But this isn't even that hard if you've got a pasta machine.
It was great to be led by AJ. I got to make two different doughs, a normal pasta dough and a dough with spinach in it. The second dough came out a brilliant green and would definitely be a show-stopper dish for entertaining friends and family at home.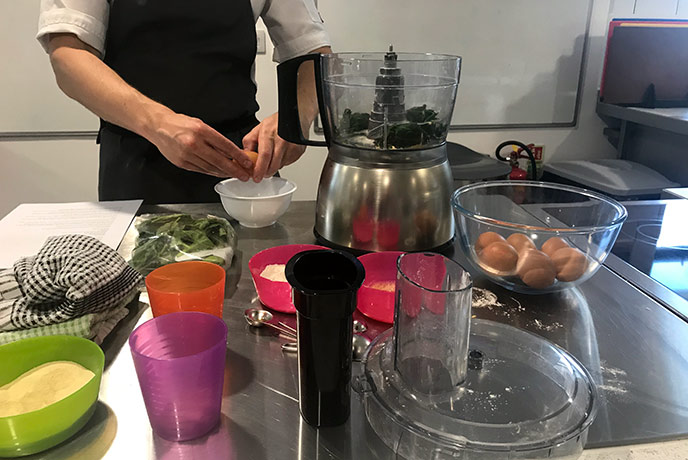 After we'd made our dough we all came back to the central island and started rolling it out using the pasta machines. To make linguine, we rolled the dough to the second to last thickness (quite thin) and then hand-sliced it into long strips. You had to work with someone else to get this right or your dough would end up breaking in half.
To make the tortelloni, the dough was rolled to the thinnest setting on the pasta machines and then we used circular cutters. At this point, we'd put together a filling which was ready and waiting so we could follow AJ's directions on how to shape the pasta. This was my favourite part, I really enjoyed getting my tortelloni shapes just right and felt very accomplished with my fresh pasta.
With a quick run through of how to make up the citrus salad to serve as a side to the pasta, we were all done with our course. All that was left was the tasting! A good example of what our food should look and taste like and a demo of how we should prep it all once we were at home. It was a great way to reassure me that what I'd made was spot on and that when I got home, I'd definitely know what to do with all my delicious creations.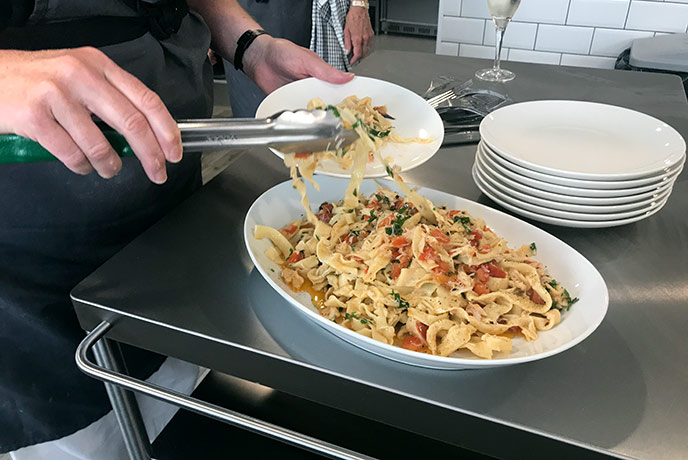 Maria and AJ then helped pack up all our treats and choose a bottle of wine to take home with it.
Overall, this was a three course meal for four people. I spread out my meals over a couple of days, the food kept really well and doing it this way gave me time to really enjoy each dish I'd made. The amount of food you make would be ideal to take back to your holiday cottage and serve to family after a day to yourself. Alternatively, choose your course for your last day of your holiday and have a ready-made dinner for your first night back at home.
Browse the courses available now and get ready to cook up a storm on your next Cornwall holiday.
(Thumbnail and header image credit: James Ram)