From the lido and the promenade to the town centre, Penzance oozes that traditional seaside town charm whilst managing to feel inexplicably Cornish. Take a look at our Penzance webcam for a live HD view of the promenade by the sea.
In amongst the old Georgian buildings of Penzance you'll find all the fixtures and fittings of a brilliant beach holiday in Cornwall while still enjoying the perks of a slightly bigger town (hello shopping) and benefitting from a rich and colourful history. Penzance makes a great base to explore the wild west of Cornwall. Within a fairly close vicinity you'll find St Michael's Mount and the Minack Theatre. Newlyn and Mousehole are a short stroll from Penzance, these two slightly smaller towns encapsulate Cornwall's fishing and craft industries - perfect for gifts or finding a local treat for dinner in your holiday let.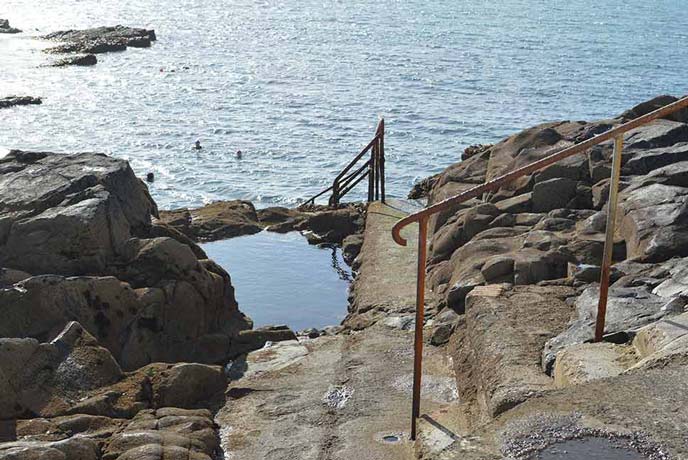 Where to visit in Penzance Town
For avid shoppers, there's a good variety of shelves to peruse in Penzance. There's the usual chain shops, such as Dorothy Perkins or New Look and more to be found in the Wharfside shopping centre. At the heart of Penzance, you'll be sure to walk past the statue of Humphry Davy, the Cornish gent who made the miners safety helmet, discovered chlorine and iodine and found laughing gas . Situated outside the old town hall (now Lloyds TSB), the statue marks a good central point to meet after parading along the high street looking for a bargain. But for those seeking some Cornish treasure, take a trip down one of the side alleys off Market Jew Street (the main high street) for the ultimate adventure.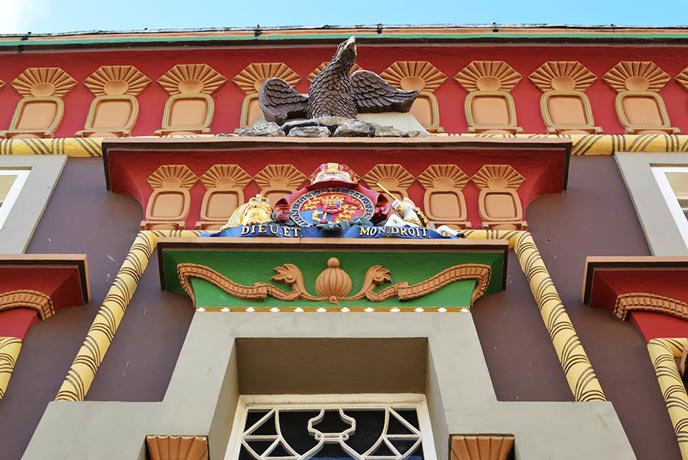 Along the alleys, you'll find everything from furniture to bath products all made and sold by local Cornish people. Look out for the Egyptian House, originally built by a mineralogist as a museum and geological shop from 1835. Now it's home to a glorious bath and body company, Pure Nuff Stuff. You can find their shop to the right of the main entrance or turn to the left and get engrossed by people freshly making the products in the workshop. The Egyptian House itself is so vivid you could never miss it. I used Google Maps to find the street it's on but once on the road the landmark really stands out. The bright reds and golds glow when the sun hits the building just right. It's a strange otherworldly feature that'll stay with you long after leaving Penzance.
If you're looking for culture, the Penlee House Gallery and Museum exhibits work by the Newlyn school of artists, archeology and local history. Being so central, it's an ideal pit stop after shopping or while exploring the rest of Penzance.
Activities along the Penzance Promenade
Here at Classic, we love a good promenade. There are so many options: you can walk, cycle, run or skip (if you're feeling especially jolly from all that sunshine). The Penzance promenade has plenty of activities for all different holidays. Take a walk and clear your head. On a sunny Summer's day, head for the Jubilee Pool to experience a fresh seawater swim in Cornwall's local lido. To get your adrenaline pumping skip the pool and head around the back of the lido for a dip straight into the ocean waves.
Sometimes long walks can be difficult with little ones in tow so let them blow off some steam at the Alexandra Road play area. They can be a terrifying pirate of Penzance or a lovely maiden from Mousehole. Play time will bring their imaginations to life and keep them occupied for an hour or so too. The prom is perfect for kids because it's all a flat walk meaning you can let them go it alone for quite a way while still keeping a watchful eye. The sturdy wide paths make a great roadway for buggies and you'll still feel like you have the whole walkway to yourself. With the prom, you'll also avoid the dreaded complaints from having to scale yet another Cornwall hill. Penzance avoids all that with the promenade walk. Winning.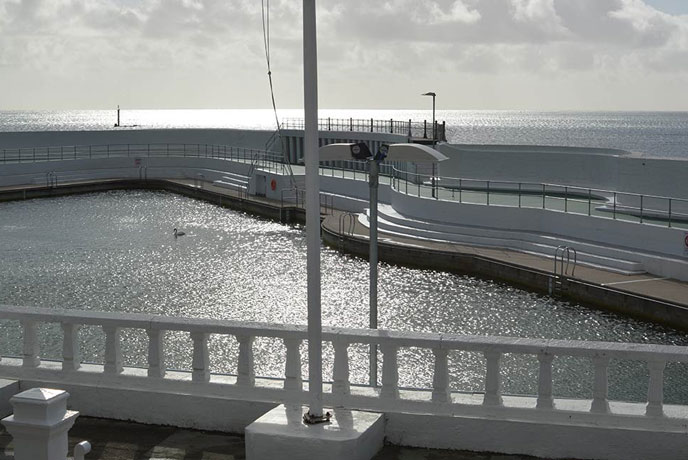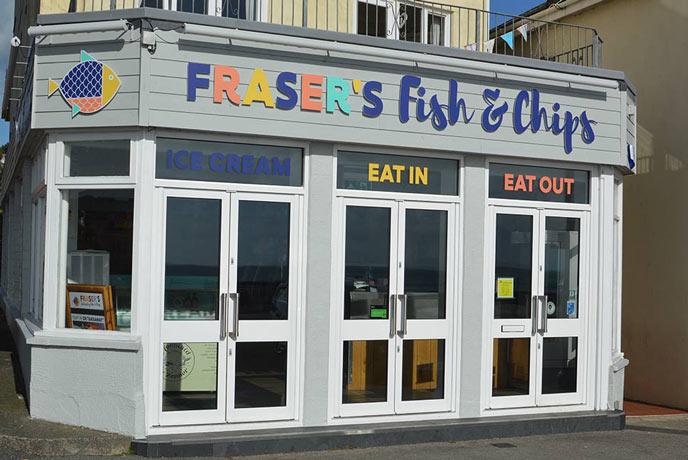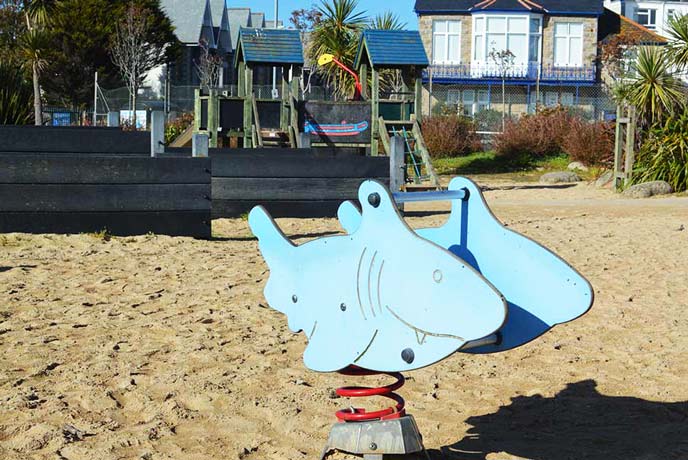 For a top trip with kids of all ages, take a break from your walk with a classic seaside trip to the arcades. Cheesy, I know. But there's something so addictive about a 10p slot machine that I still can't get over. Maybe it's the fascination of getting that timing just right and the growing obsession over the tiny water gun that I definitely need to win today. Hungry? It wouldn't be a seaside holiday without some fish and chips. A branch shop from Harbour Lights in Falmouth, Fraser's Fish and Chips promises a cracking seaside classic with a great view of the prom and the sea, which can be seen on our Penzance webcam which is hosted here.
If you usually like to walk along the prom, prom, prom, why not try cycling too? As the promenade is so flat it's perfect for those first time training wheels or a calming cycle with your better half to get the salty sea air in your lungs. Cycling is a lovely way to get active on your holiday and a fantastic chance to see the Cornish coastline in a different light.

Places to eat and drink in Penzance
There's nothing more tempting than fish and chips by the sea in Penzance but for those after something a little different, take a look at the pub scene around the bay. I particularly like The Dolphin, sitting right next to Jubilee Pool and host to views across to St Michael's Mount and Marazion. This pub is the perfect location between town and promenade for a seaside lunch with a view. A little further out, the Ship Inn in Mousehole has a great atmosphere and an even better view. Try some traditional Cornish pub grub all in sight of the gorgeous Mousehole harbour. For a coffee stop with a sweet twist, the Honey Pot in the side roads of Penzance offers a delectable menu, wonderful staff and an adorable location. Ideal to break up your day exploring the shops, beaches and the promenade.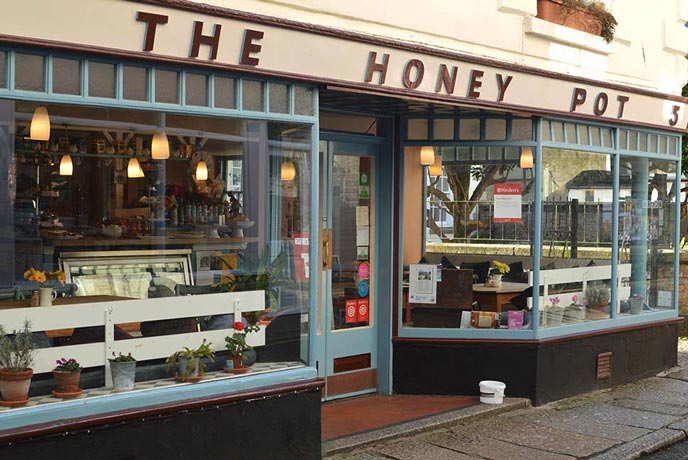 Beyond the bay
No more than a hop, skip and a jump away from Penzance sits the beautiful St Michael's Mount and the town of Marazion. Owned and managed by the National Trust and St Aubyn Estates, the island alone is great for a good run round with the little ones. To capture their imagination, make sure you find out the story of the island's giant and keep them on the lookout for his heart in the paths surrounding the castle. After exploring the island, wander down the long golden sands of Marazion beach before taking a peek at some of the little shops tucked away in the town. In the other direction you'll find Newlyn, famous for its fish festival and a great spot to find something for dinner at your cottage, and further along Mousehole, a central location for numerous Cornish fairytales and stories.
If you're happy to go further afield, look up St Ives on the North coast. A maze of cobbled streets presents you with plenty of twists and turns to spend an entire day getting lost amongst bakeries, cafes and local artists. And Helston is worth a visit for the farmers market or a wander around the beautiful Penrose estate and into Porthleven.

With sea views aplenty, our Penzance holiday lets are perfect for a seaside Cornish holiday all year round.