The highlight of any good cycle ride has to be the cafe stop, (plural in my case). Even the most serious bikers need a place to recharge and talk of carbon frames and hill climbs with a good coffee and cake. So, on a recent romantic weekend away in Somerset, I took it upon myself to research the best food and drink stops on a route around the rather spectacular Mendips Hills. I'm not a seasoned cyclist, and with hindsight the 'Hills' bit should have perhaps been given a little more consideration before starting out.
The Mendip Hills are an Area of Outstanding Natural Beauty. A swathe of limestone hills stretch West from Brean on the North Somerset coast to Frome in the East. From undulating beauty to dramatic gorges, the rocks also house vast underground caverns and rivers at Cheddar and Wookey Hole. For cyclists, there is something for all abilities in the area. And, while my husband now conforms to the current male phenomena that is a 'MAMIL' (Middle-Aged Man In Lycra) I'd describe myself more of a 'leisure cyclist'. (I push my bike up hills). We chose is a 15 mile circular route, starting out at the village of Priddy, heading through the Cathedral City of Wells, and taking in some of the Somerset levels – a blessed relief after the seemingly mountainous Mendip Hills.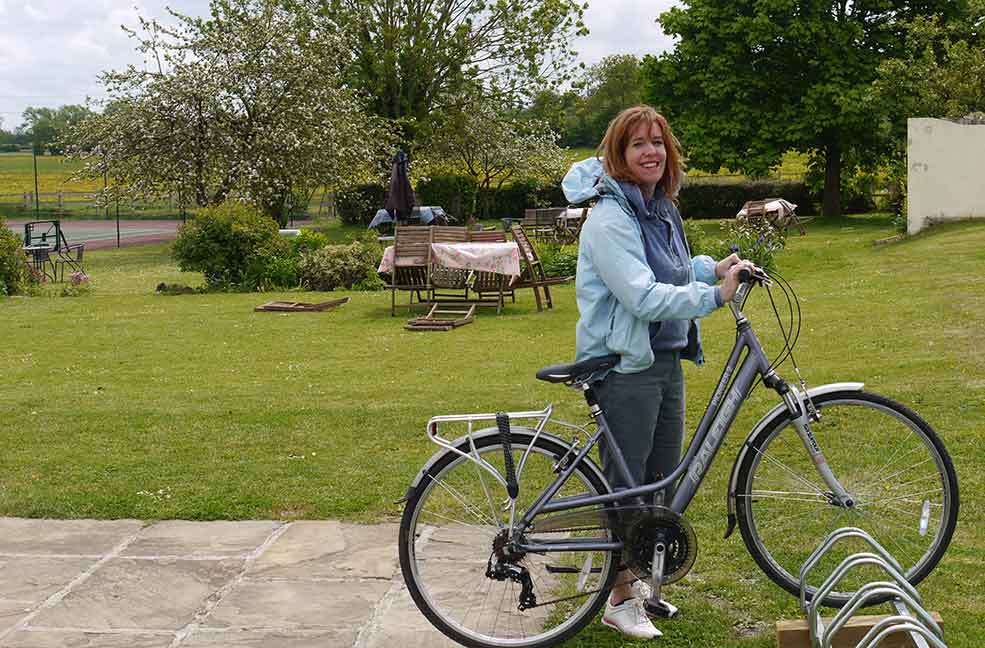 The Route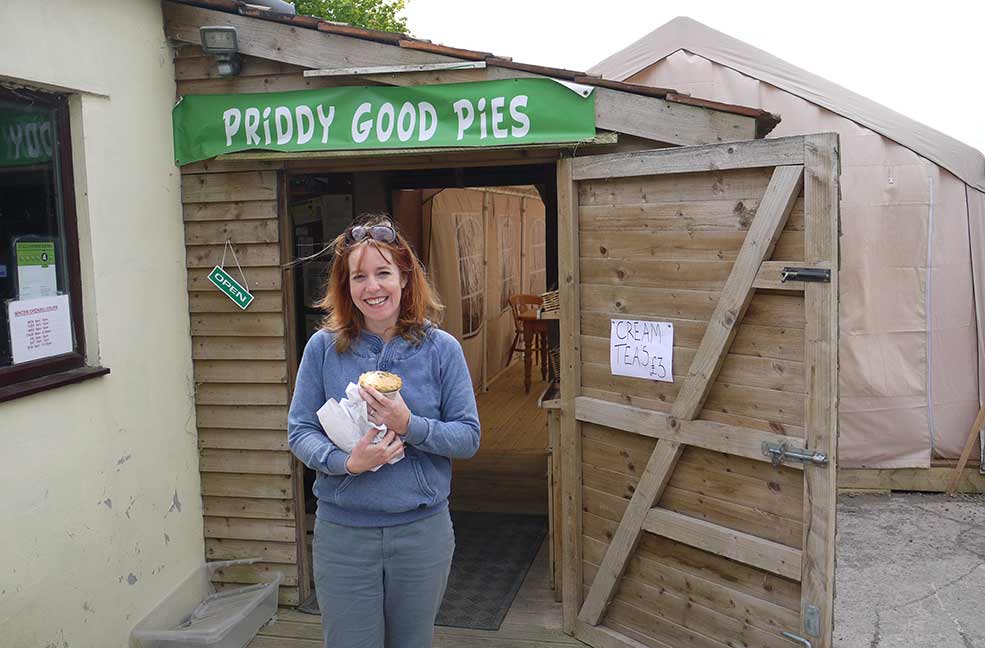 National Cycle Route 3 can be picked in of the village of Priddy. My route stays on route 3 for half the ride, then heads off onto the Levels, to loop back up over the (extremely steep!) hill beyond the village of Westbury-sub-Mendip back to the village.
We parked our car near Priddy's pretty village green and set off. If you are a fan of picnics, there are certainly plenty of brilliant places to stop and admire the views on this ride, as the first half of the ride is high up on the Mendips. I'd suggest an early stop off for supplies at Priddy Good Farm Shop to stock up on their legendary scotch eggs and other goodies. The farm shop sells their own reared beef and lamb, which if you make it back this way before 530pm then stop off to grab yourselves a great steak for a recovery supper. It is worth getting up the final hill for.
On this occasion, and despite planning a pub stop for lunch, I thought it best to have a couple of pies in the backpack as emergency supplies. We chose a steak and ale and a lamb and mint. A cream tea sign always raises my pulse, but as I hadn't actually managed to raise mine by any cycling yet, my husband gently suggested that perhaps I should just note it as one-for-the-future and get on my bike and ride.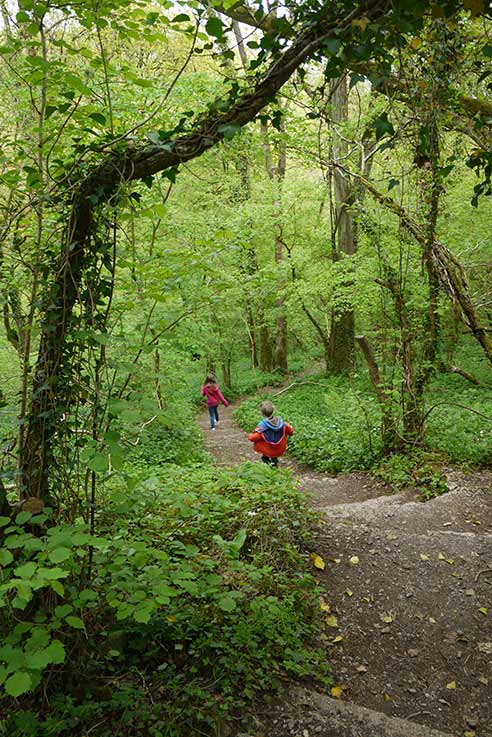 Nobly pushing on, the most dramatic part of ride comes up pretty quickly (or should I say 'down'?). Ebbor Gorge is a dramatic, steep and beautiful limestone gorge. You can get off here and walk down into a lush wooded valley, surrounded by ferns and mosses. It's like a set from Lord of the Rings, heading into a lost world in middle earth. The information sign reports that around 200,000 years ago, the huge cavern that formed the gorge collapsed leaving a network of small caves where remains of cave bears and wolves have been found, along with the remains and artefacts of Neolithic people who lived here 5000 years ago.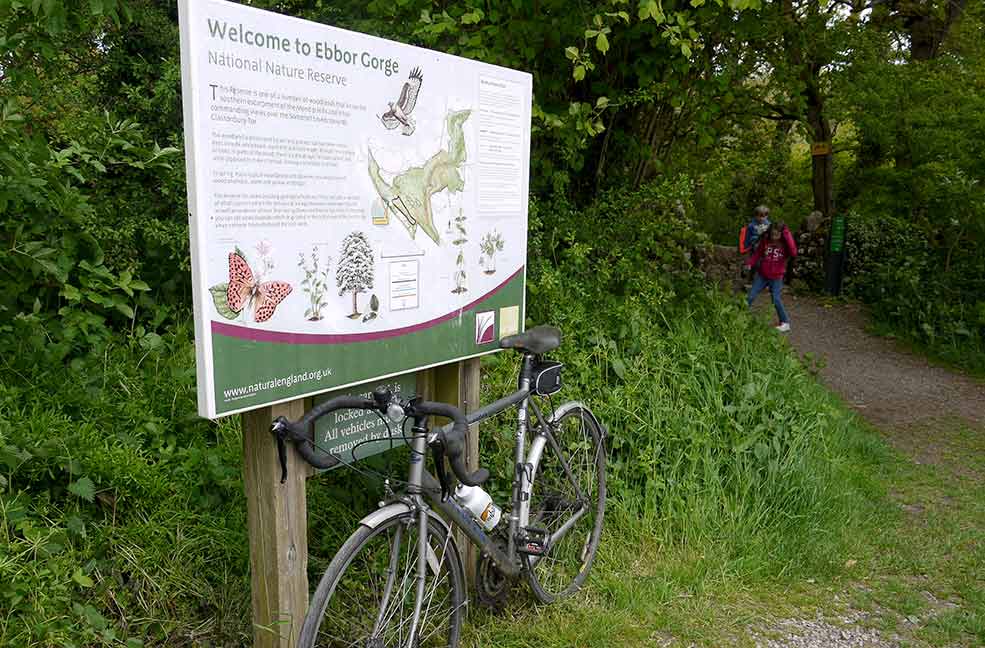 This is a great picnic spot. The views from the parking area at Ebbor Gorge are simply stunning; across the flat landscape of the Somerset Levels, broken only by the iconic silhouette of Glastonbury Tor. But, the pies remained in the bag.
The steep route down from the gorge provides a fun, exhilarating ride into Wookey Hole village. It is home to the famous Caves and themed attraction but also the Wookey Hole Inn, a colourful and characterful village inn, with design nods to nearby hippy Glastonbury and the local caves. We headed out into the garden at the back, to find the 'quirky' theme continued in a sculpture garden dotted with pub tables. Pergolas, decking and sunken seating areas decorated with mosaics and a selection of random sculptures make it an interesting place to sit and sup a pint of the local cider. Feeling it was time to take some carbs on board I chose a simple cheese sarnie made with cheese aged in the local caves like a true cheddar cheese should be. The lunch menu includes sandwiches, local sausages, wild mushroom burger in a beer bap, and local steaks.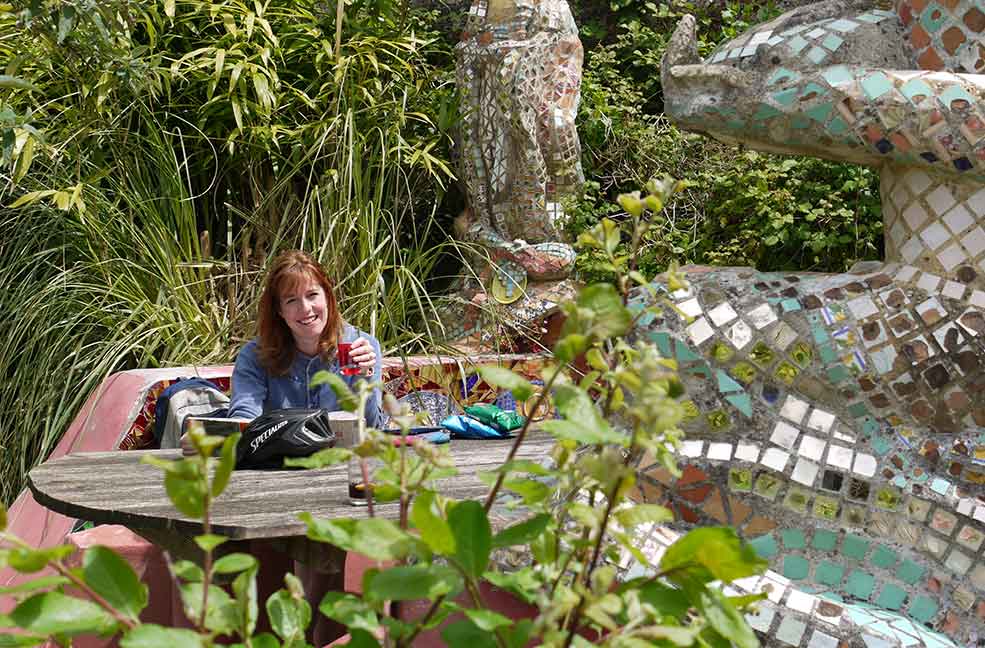 Suitably fuelled, we headed onwards to the gorgeous mini city of Wells – the smallest city in England. The impressive Cathedral is certainly worth a look – especially the clock, thought to be the second oldest working clock mechanism in the world. It has a pair of carved wooden comic jousting knights that spin around every 15 minutes. The same knight gets knocked off every time - and has been for over 600 years. If Wells is to be your getting off point, then you are spoilt for choice with cafes here (The Good Earth is a Wells institution, serving fantastic, freshly cooked, imaginative vegetarian lunches). But, if you are lucky enough to be here on a Wednesday you'll have the joy of one of the best farmers markets in the country (in my humble opinion), and the aromas from the hot food stalls here will keep you in the market square.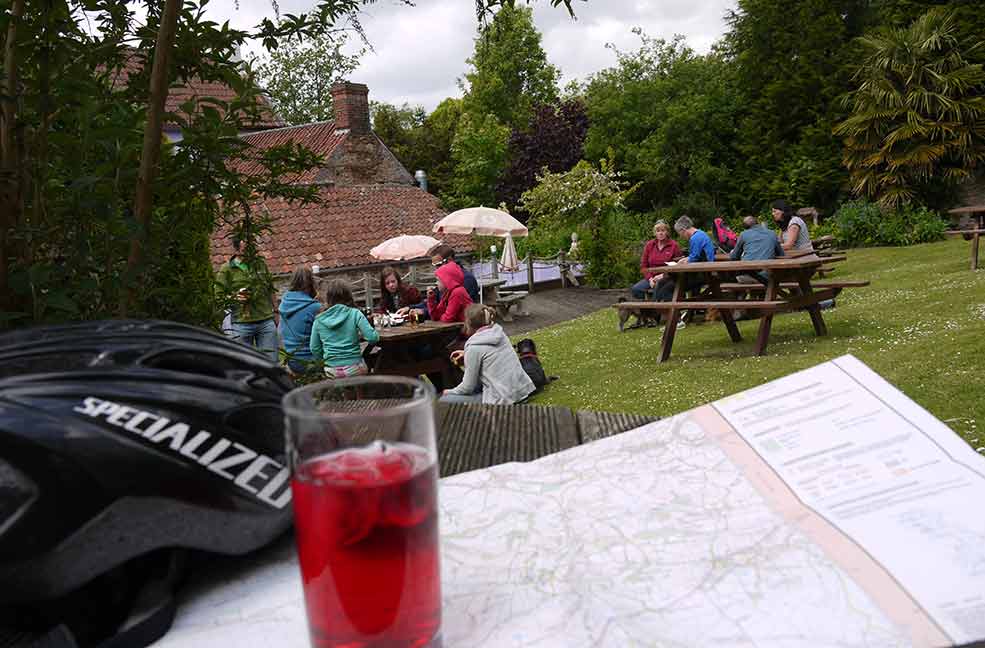 Leaving the delights of Wells behind, we headed off Route 3, and took the A371 Eastwards towards Wedmore, taking the A3139 to the left as the road forks. The Levels, like the name suggests are vast stretches of low-lying wetlands and flood plains. The area is renowned internationally for its abundance of bird and wildlife that make it home. The flatness made this stretch of our route quite a breeze on two wheels, and a chance to enjoy the scenery.
About 3 miles out of Wells, Castle Lane heads off to the left – a quiet ride through enviably pretty villages, bordered with flower speckled hedgerows. We were heading for Fenny Castle, a top tip we had been given as a bike friendly food stop, (you can hire bikes from here). Keeping on the road for about a mile and a half led us to a large white Georgian Farmhouse, set in a fabulous rural position next to the River Sheppey and the ancient Motte and Bailey of the actual Fenny Castle. The plentiful bike racks outside were a welcoming sight to a now tired fair-weather cyclist like me. In fact the weather wasn't being very fair – as strong gusts of wind had made for a slow ride since Wells. It meant that the pretty gardens weren't an option for us. Instead, we found a comfy sofa inside the large, bright and airy restaurant to scoff a large piece of homemade Victoria sponge and hot tea. The welcome from the owners was just as warm.
With legs and spirit rested, it was time for the big push home. (Literally in my case). We turned right just after passing the remains of the ancient castle on our left, and followed the lanes, northwards, across the B3139. We passed the community run village shop in Westbury sub-Mendip and faced a hill so steep that I'll confess that I didn't even attempt to cycle it. Back in Priddy with stiff legs and feeling too tired to cook, I remembered the two travelling pies in my backpack. I knew they'd come in useful.
---
Priddy Good Farm Shop, Townsend Farm, Priddy, Somerset. Tel: 0174987017 www.priddygood.co.uk Open Mon – Sat 8am – 5.30, Sun 8am – 12.30
Wookey Hole Inn, Wookey Hole, Somerset, BA5 1BP Tel: 01749 676677 www.wookeyholeinn.com
The Good Earth, 4-6 Priory Road, Wells, BA5 1SY Tel: 01749 678600 www.thegoodearthwells.co.uk
Wells Farmers Market Every Wednesday 9am – 2.30pm in the market place.
Fenny Castle - tea rooms and bike hire, Castle Lane, Wookey, BA5 1NN, 01749 672297 www.fennycastle.co.uk
---
Ali Ray is a food and travel writer based in Somerset with her lovely little family. She loves where she lives so we asked her to share it with us.