The South Hams contains many of my favourite places in Devon. It has some of the most stunning views to be found anywhere in the world. I challenge you to drive the coastal road between Dartmouth and Start Point and not spend most of the journey pulling over to admire stunning view after stunning view
South Hams has some of the best beaches and prettiest villages in South West England. Much of the area is a designated as an Area of Outstanding Natural Beauty, known as South Devon AONB. The area has beaches, coastline, moor-land and gentle hills, so it is a great place to come on holidays with children. With so much natural beauty it is not difficult to find lots to do to keep the family busy, whatever the weather. But, with so much to see and do, if you're not careful the money can soon go. But, there is plenty to do in this area which won't cost much at all. Apart from transport and parking all the following ideas are free. So, here is my list of 12 free things to do in South Hams with children.
Before you get started on the list, browse our collection of holiday cottages in the South Hams, Devon.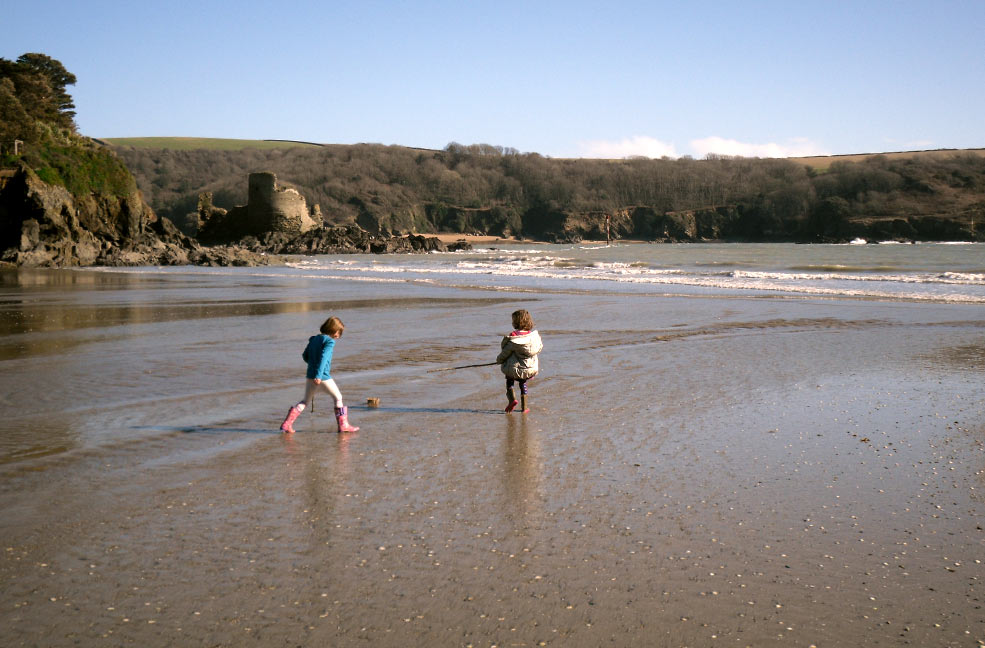 1. See the Sherman Tank at Torcross
In 1943 the South Hams village of Torcross was evacuated so that allied troops could use the area to practice for the D-Day landings. This period of the area's history is commemorated by a Sherman tank which was salvaged from the waters of Start Bay in 1984. When children see this dark black tank, and hear the story of how it was rescued from the sea-bed, they can't help but be fascinated by it.
2. See the village that fell in the Sea at Hallsands
The South West Coast Path is consistently beautiful and continuously surprising. But nothing is more surprising than the story of the village which fell into the sea. Between Beesands and Start Point there is the remains of a village which no longer exists. The story of the village of Hallsands is really captivating for children. A platform which juts out from the cliff edge contains a display which tells them about the villagers who lived here and their bravery. Thirty-seven homes were lost to the sea, along with a village store and a pub, but it is the fantastic descriptions of the villagers which excites my children most.
3. Admire the wild beach flowers at Strete
My children sometimes moan if I offer to take them around some gardens but one way I can get around this is to take them to the beach flowers growing wild along the beach at Strete Gate. My children love all beaches but there is something quite spectacular about wild beach flowers growing prolifically amongst the shingle. My all-time favourite beach flower is the Yellow-horned Poppy. They always look so fragile and yet they cling on gamely amongst the sea-kale and willow-herbs. This is a beautiful part of the world anyway, but the fantastic beach flowers add another extra dimension.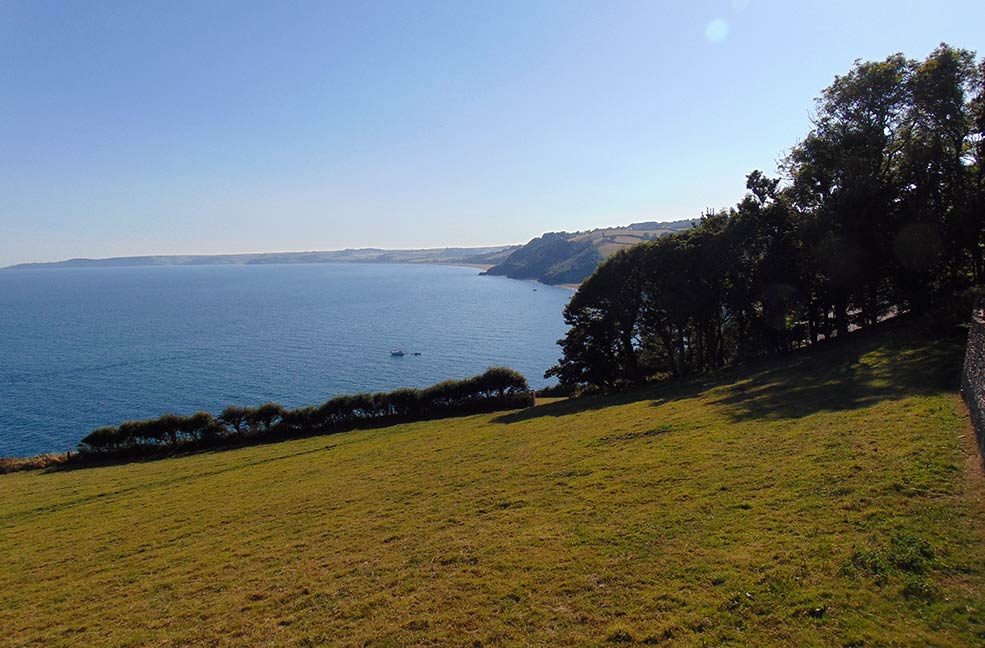 4. Paddle out to a castle at Salcombe
North Sands beach at Salcombe is a fantastic sandy beach but there is an added attraction here for adventurous children. At low tide there is a tricky walk out across the rocks to a small ruined castle. Fort Charles dates from Tudor times when Henry 8th ordered it built to defend the Kingsbridge Estuary from pirate attack. Now it stands ruined, just waiting for new visitors to clamber out to it and use it as a prop in their games as they defend it against pirates and brigands.
5. See the stunning views down to Blackpool Sands
The coast road past Blackpool Sands, near Dartmouth, is a challenging walk with children but worth it for some of the greatest views in the country. As you stroll past the cows in the fields you will stare open mouthed at the spectacular views of this beautiful coastline. Why not come prepared with paper and colouring pencils and challenge each member of the family to an outdoors art competition. Simply find a safe place to stop with a great view, set a time limit of one hour and see who can capture the scene.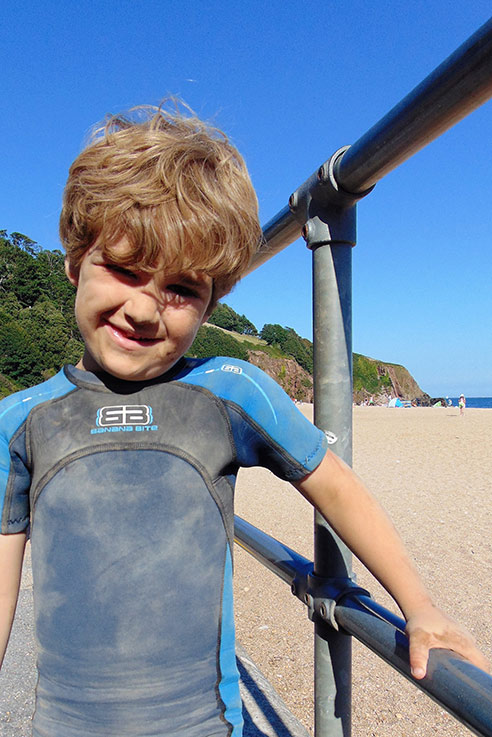 6. Dam the stream at South Milton Sands
My children and I have spent many hours of our lives trying to dam the beach stream at South Milton Sands and I plan to invest many more in this surprisingly engaging activity. I can't even begin to understand why this task is so satisfying but it really is.
7. Climb the rock features at Mattiscombe Beach
There are many sandy beaches to be found in this area, particularly on the Southern side of Start Point, and Mattiscombe Beach is one of them. This gloriously sandy bay is a hidden treasure just waiting to be found. It has some amazing rock shapes which can be climbed by intrepid children. It can be discovered by walking down a thin track from Start point, and it is nearly empty even in the height of summer.
8. Go crabbing at Dartmouth
On a warm day in Dartmouth, you can't walk far without spotting scores of children excitedly crabbing along the waterside. There is something immensely satisfying about the simple joys of crabbing, so bait up a line, find a good spot, and start trying to haul the little nippers up the quayside walls.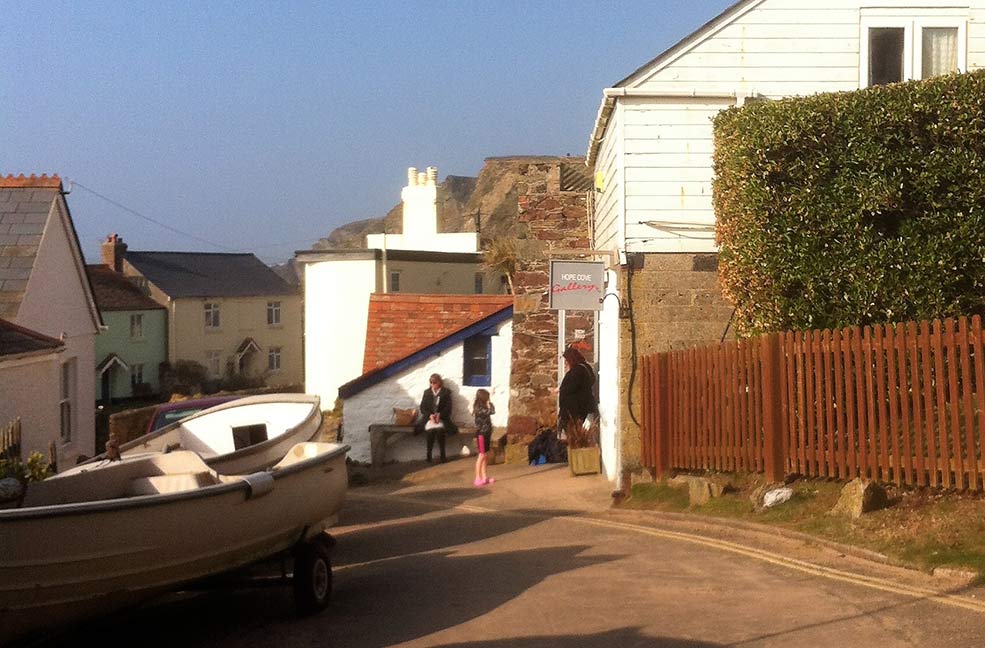 9. Have a picnic in the Royal Avenue Gardens in Dartmouth
The Royal Avenue Gardens in the centre of Dartmouth seem like a million miles from the hustle and bustle of the shops. They are well laid out with lots of hidden corners where you can disappear away from the crowd with some sandwiches and pop.
10. Walk the South West Coast Path from Torcross to Start Beesands
One of my family's favourite walks is from the seaside village of Torcross, up over the headland and down the other side to Beesands. It is quite a climb, but the beautiful views make it well worth the effort. The views from the top of the headland in either direction are second to none. Beesands itself is a fantastic little fishing village which still makes its living from the sea.
11. Marvel at the art deco beauty of Burgh Island Hotel
When the tide is in a sea-tractor ferries people across to Burgh island. The tidal island is famous for the spectacular Art-Deco Burgh Island Hotel, which is where Agatha Christie set her most famous story, And Then There Were None. The island looks beautiful from many angles but looks particularly impressive from the cliffs at Bigbury-On-Sea.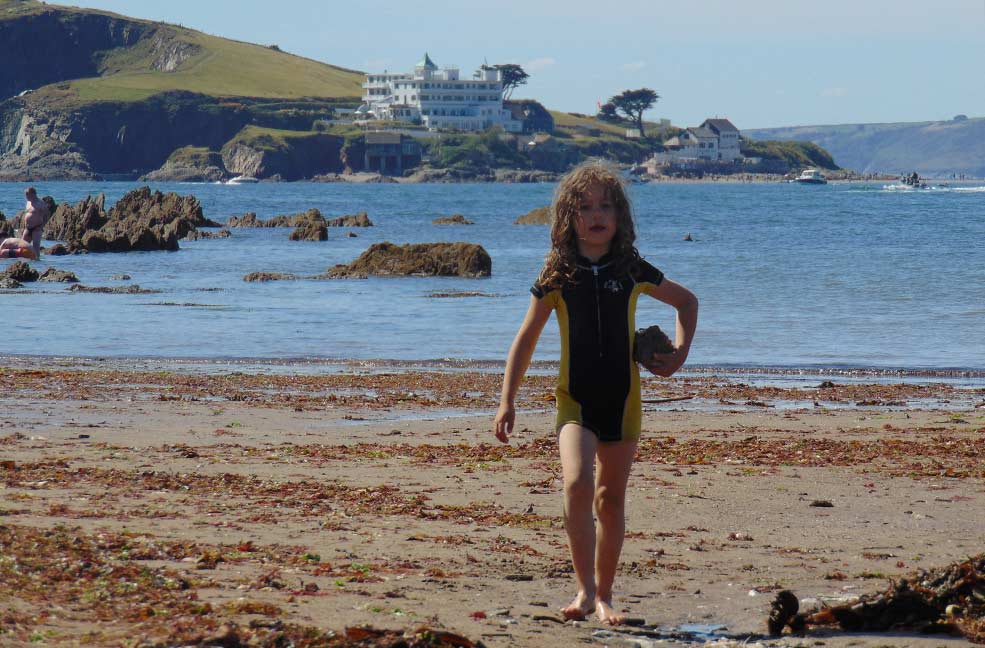 12. Visit Slapton Ley lake, the largest freshwater lake in the South West
Slapton Ley is only separated from the sea by a narrow shingle bar. It looks like the tide has just crept over the shingle bar one night but this is not the case. In fact, the lake is entirely freshwater. The lake is surrounded by reedbeds, marshes and woodland. This makes it an important habitat for wildlife. Children enjoy spotting wildlife here and if they are very lucky they might just spot an otter. It is also an important place for Badgers, Bats and Dormice. Why not join a trail around this beautiful lake and see what you can spot.
We've spent a lot of time exploring Dartmoor and South Devon: see what we managed to squeeze in on a 48 hour journey.