Fill your next Devon holiday with the top places to visit and things to do. We've gathered the truly special activities to make your holiday extra exciting this year.
Your childhood summers were probably filled with Devon holidays by the sea; long days building sandcastles at Bigbury-On-Sea with a view of Burgh island in the distance or grabbing bodyboards as soon as the soon comes up and begging your parents to take you down to Woolacombe beach. As much as we love holidays in Devon near a beach, the lush countryside of central Devon is vast and every corner you turn there's a beautiful landscape. Dartmoor is an intriguing place to explore, from huge granite tors to tiny babbling brooks, there's so much to see.
Start planning your holiday in Devon by choosing your favourite cottage from our collection.
Choosing what to see and do in Devon is difficult. You want to see some spectacular sights in depth but that might mean covering a lot of ground to see them all. We've gathered together all the things that we think would make the ultimate bucket list for Devon. This list compiles family friendly days out, romantic places to visit with your beau and plenty of places to eat local treats.
1. Watch an impromptu cricket match in the Valley of the Rocks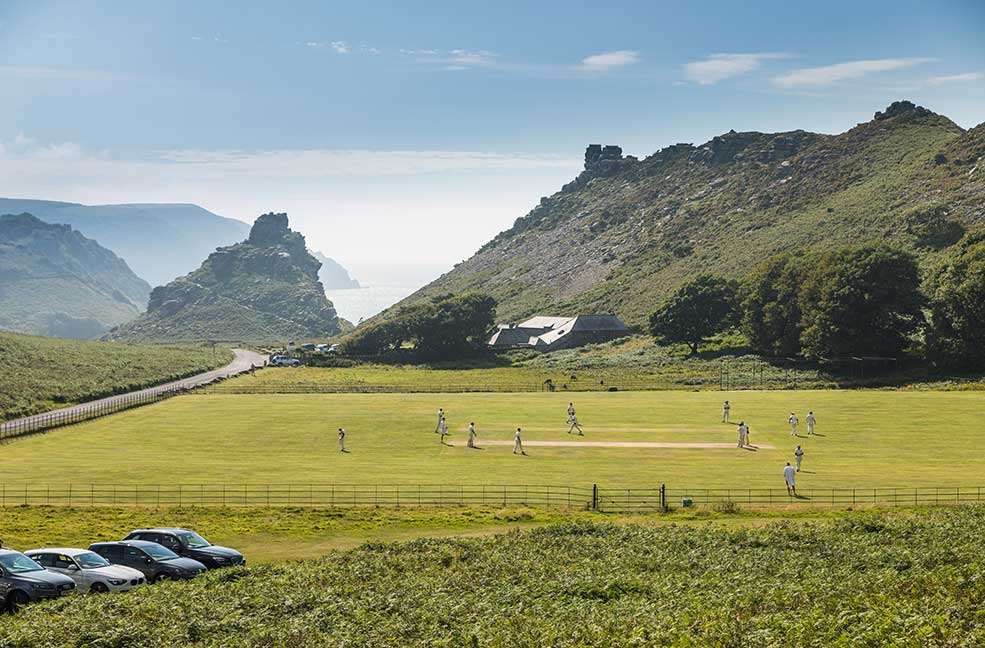 A breath-taking moment made by the backdrop of Exmoor.
2. Go crabbing off Brixham harbour
Crabbing is such a classic seaside holiday activity. Have a family competition to see how many you can catch.
3. Taste the famous Hocking's ice cream in North Devon
Don't forget a dollop of clotted cream to complete this tasty treat.
4. Clamber through the twisted branches of Wistman's Wood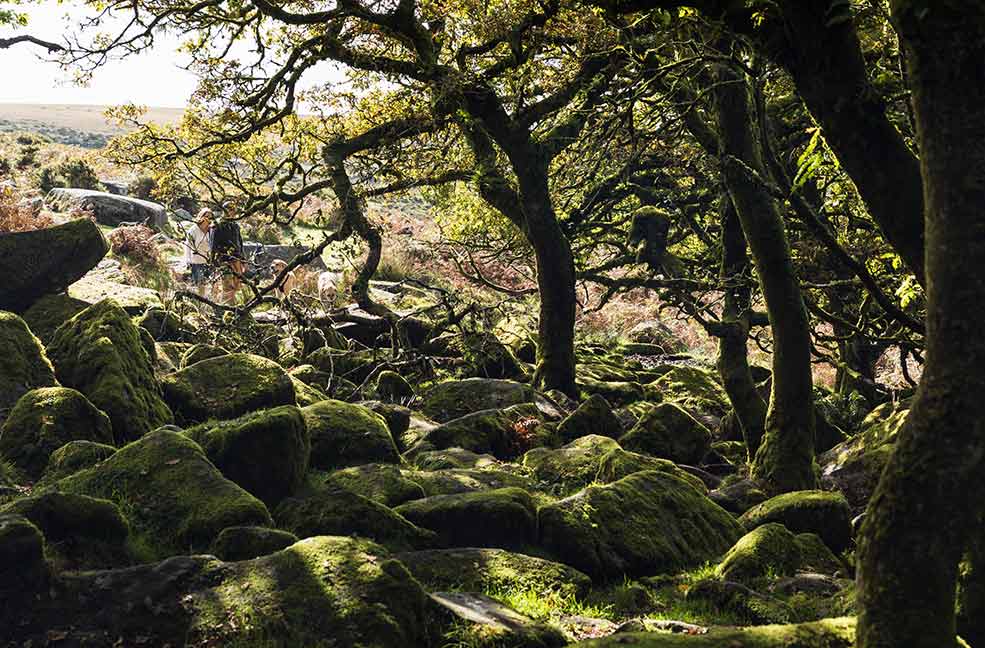 An eerie but magical place in Dartmoor. Wistman's Wood reminds me of the Lord of the Rings, I wouldn't be surprised to see an elf step out from behind a tree.
5. Visit England's oldest links course for a game of golf
Westward Ho! Boasts this claim to fame. The Royal North Devon Golf Club is the oldest links course in the UK and is said to be the St Andrews of England.
6. Tuck into a tasty fresh crab sandwich in Beer
There's nothing better than fresh crab when you're by the sea.
7. Discovering the smugglers' history on Plymouth Hoe
The rich history of smuggling in the South West still has plenty of secrets left to be uncovered.
8. Catch a premiership rugby game at the home of the Exeter Chiefs
Sports fanatics will love the opportunity to watch some live rugby.
9. Cycle the Tarka Trail
Blast the cobwebs away with a breath of fresh air and see Devon in a different way.
10. Spend the ultimate beach day on the golden sands at Woolacombe
Sun, sea, sand. This is all you need for your summer holiday.
11. See Devon in a different way on the Dartmouth Steam Railway
This was recommended by a few staff members for a great day out in south Devon.
12. Step back in time in Exeter's Underground Passages
A little bit spooky, a little bit historical. Scare yourself silly and learn about Exeter's past.
13. Feast on a picturesque picnic at Dartmeet
The meeting point of the East Dart and West Dart tributaries is a beautiful spot to stop for a picnic on Dartmoor.
14. Become a Guinness World Record holder
Pop on an eye patch and head to Brixham Pirate Festival to gain your world record (along with thousands of other people).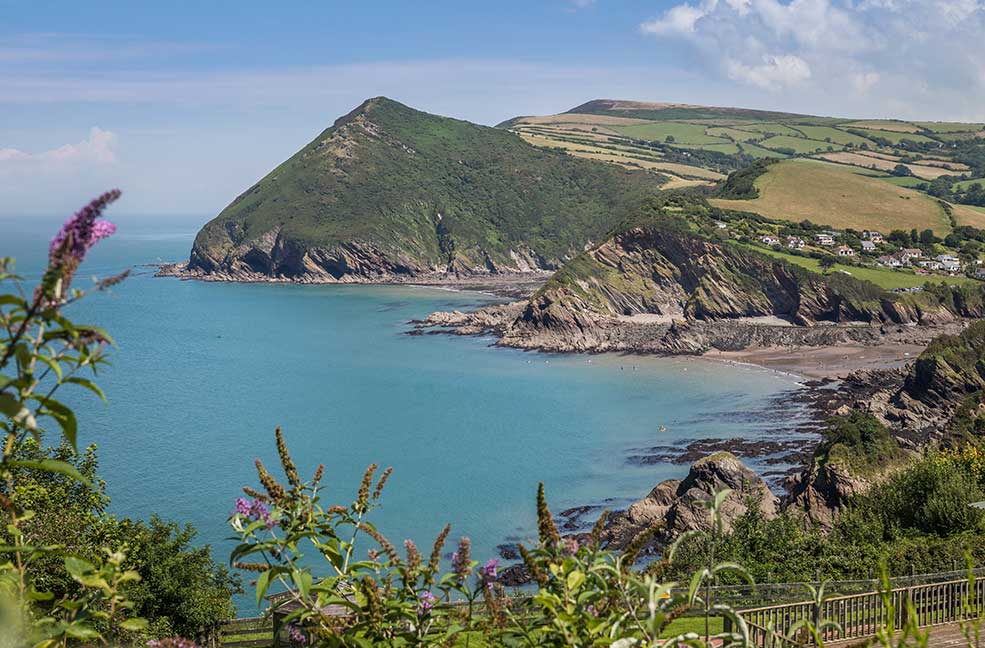 15. Visit Lundy Island
Known as north Devon's 'Galapagos Islands' because of it's amazing bird sanctuary, Lundy Island is a remote place to visit for a relaxing day enjoying the Great Outdoors.
16. Taste a Devon cream tea (that means putting on the cream, then jam)
There's a huge question around which way you should make your cream tea. In Devon it should be cream and then jam but a Cornishman will certainly say that you need it the other way around.
17. Ride the Lynton and Lynmouth cliff railway
The closest you'll get to a thrill ride in Devon.
18. Climb the highest hill in Exmoor and glimpse Wales across the Bristol channel
And soak up the panoramic view of Exmoor and Somerset.
19. Dive under the sea while keeping your feet on dry land at the National Marine Aquarium in Plymouth
The Aquarium is a great day out with the family. They always have activities for the school holidays to keep your kids learning new things.
20. Fly off Codden Hill in North Devon (with the help of a hang-glider)
Raise your adrenaline levels and get an amazing view.
21. Try local Michelin star cuisine at The Mason's Arms in Exmoor
When it comes to finding the best food in Devon, we think we may have found it here.
22. Get stuck into true danger and recklessness at the Tar Barrels festival in Ottery St Mary
Utterly bizarre but amazing to watch. Brighten up your winter holidays with this electrifying Devon tradition.
23. Visit the Sea Shanty beach cafe at Branscombe
Recommended by our Property Manager, Amanda, this is her top spot for a hot chocolate after a long dog walk at the beach.
24. Taking a cooking class at River Cottage or just grab a bite to eat
The famous cooking paradise is the place to be for a keen foodie.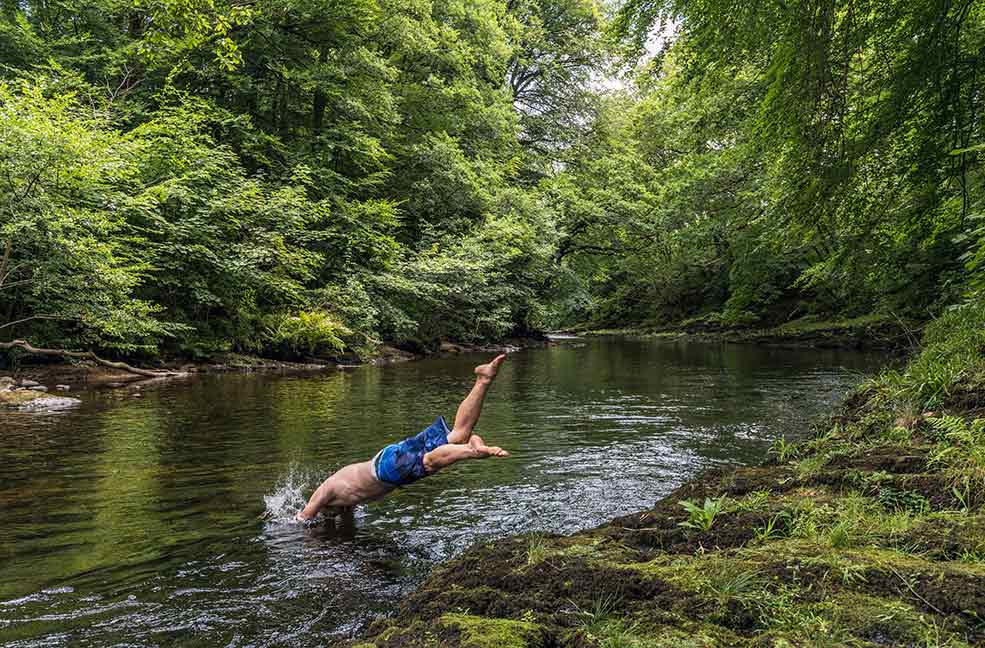 25. Take in the River Otter on a walk from Otterton to Budleigh Salterton
Pick up an ice cream at the end for the ultimate treat!
26. Give the kids their first rollercoaster experience at Crealy Adventure park
Fun for all at this family friendly theme park.
27. Discover dinosaurs at the Jurassic centre at Seaton
Step back in time on Devon's Jurassic coast.
28. Pick up some fresh fish for dinner at the wet fish shop on the beach in Beer
Live like a local and cook up a storm this holiday.
29. Cycle the Exe estuary
25 miles of beautiful countryside, the path mainly stays by the water and there's a few opportunities for ferry trips along the way.
30. Marvel at the Westward Ho! Kite Festival
A gorgeous sight to see on this picturesque sandy beach.
31. Hop on a steam boat and explore the River Dart
Try a different way to get around Devon with a quaint steam boat rally along the river.
32. Visit one of the many zoos
Including, but not limited to, Pennywell Farm, Paignton Zoo, Shaldon Zoo, Dartmoor Zoo and Living Coast. There are some amazing days out to be had at these places.
33. Hire a kayak and paddle to a pub or two in Exeter Quay
Just take it steady on the paddle back.
34. Learn to surf on a blustery north coast beach
A classic seaside holiday activity – if you love body boarding it's time to take the next step.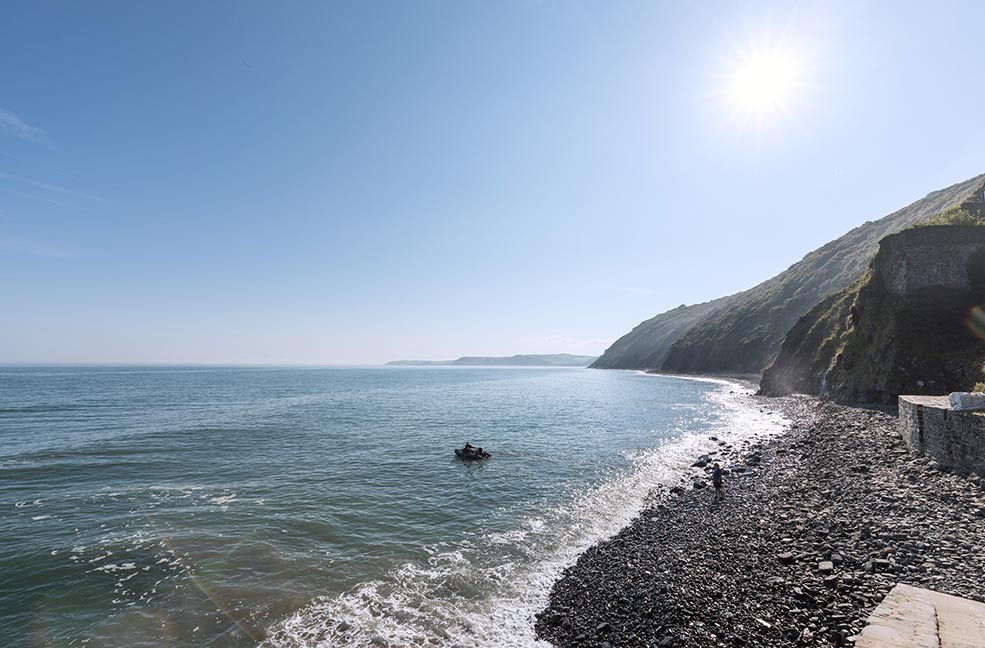 35. Get in the ball pool and release your inner child
Woodlands Park will let you play for the day.
36. Dine at an historic hotel and get stranded by the tide
Burgh island is an iconic Devon location to discover.
37. Ride the sea tractor at Bigbury-On-Sea
An iconic mode of transport, hop on the sea tractor for a seaside journey like no other.
38. Watch the national firework championships in Plymouth in August
Watch sparks fly over the Plymouth Hoe.
39. Swim in Brixham's seawater lido
Take a dip in this cool pool that's fed by the sea.
40. Fossil collect on the Jurassic coast
Look carefully and you'll find some amazing treasures lying around on the sand.
41. Search for the ponies on Dartmoor
The adorable wild ponies are an iconic feature of adventures across Dartmoor. Find them and you're sure to have some interesting interactions.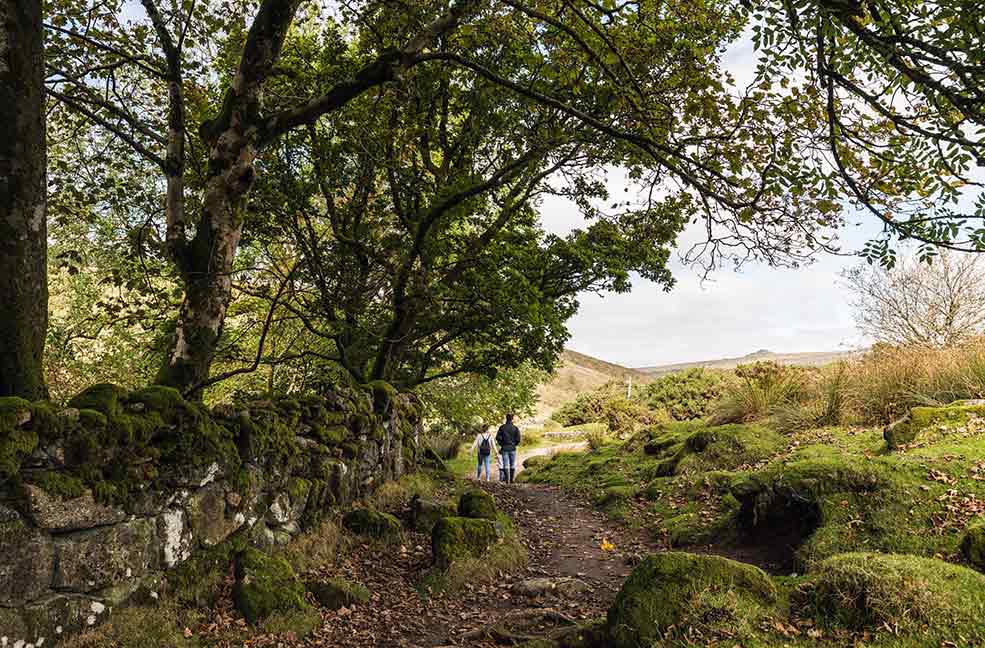 42. Wander a new section of the South West Coast Path
If you've got plans to slowly explore every inch of the South West Coast Path, Devon has plenty of routes for you to get started on.
43. Find Venford Falls
A hidden gem on Dartmoor, this double waterfall is a magical and very difficult to find. Our advice is to search the internet and plan your route before you start looking.
44. Visit the pretty village of Clovelly
Pack some sturdy shoes and spend a day making your way up and down the cobbled streets.
45. Go letterboxing on Dartmoor
A cool activity to try – look under every stone for a small box or find the clues and follow them. Similar to geocaching but you don't need any tech.
46. Hop on your bike and hit the Tarka Trail
Feel the wind in your hair as you zoom through Devon landscapes.
47. Visit Smeaton's Tower in Plymouth
Discover the iconic red and white striped tower that dominates the Hoe.
48. Climb High Willhays for the ultimate Dartmoor panorama
Devon has plenty of hills to climb for amazing views. This is probably the most well-known and is well worth a scramble to capture some beautiful photos at the top.
49. Pick a seaside town for a classic chippy tea with freshly-caught fish
What more could you want from a Devon holiday?