Dorset at Christmas is a sight to behold… Christmas lights hang merrily above cobbled streets, rosy-cheeked children scan the skies for a glimpse of Santa in his sleigh, and countless Christmas markets spring up offering giddy shoppers the last word in festive retail therapy.
So, whether you want to get ahead of your Christmas shopping, or you just enjoy strolling around festive stalls with a mince pie in each hand (it's all about balance, after all), a trip to one of the many fabulous Christmas markets in Dorset is always a seasonal must. The best part? Some of these festive events run throughout November and December, giving you plenty of opportunities to soak up the Yuletide atmosphere that radiates from these much-loved markets.
Itching to get your hands on a cup of mulled wine and some unique gifts? Here's our round-up of the best Christmas markets in Dorset 2023.
Bournemouth's Alpine Market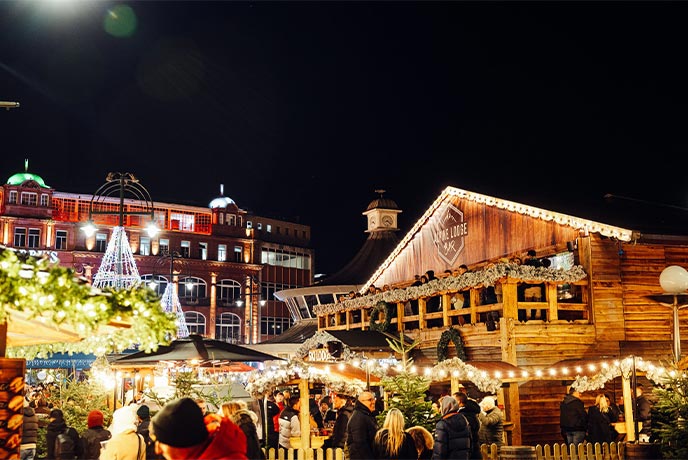 17th of November 2023 to 1st of January 2024
Alpine Christmas Markets, Unit N, Lion Works Estate, Bournemouth BH12 5AD
When it comes to the festive season, nowhere quite tops Christmas in Bournemouth, whether you're all about that festive food or a spot of Christmas shopping. The Alpine Market is chock full of seasonal stalls overflowing with unique, handmade gifts – not to mention plenty of tasty treats like luxury hot chocolates and a Yorkshire pudding wrap (yes, they're as glorious as they sound).
Alongside happily browsing the Christmas market, you can also throw on your skates for a dash (or maybe a wobble) around the incredible ice rink, which is held amidst the canopies of Bournemouth's Lower Gardens. Afterwards, head to the Alpine Bar for a festive tipple or the very merry Christmas Tree Wonderland, which is decked with incredible illuminations and features a totally enchanting trail.
Poole Christmas Maritime Light Festival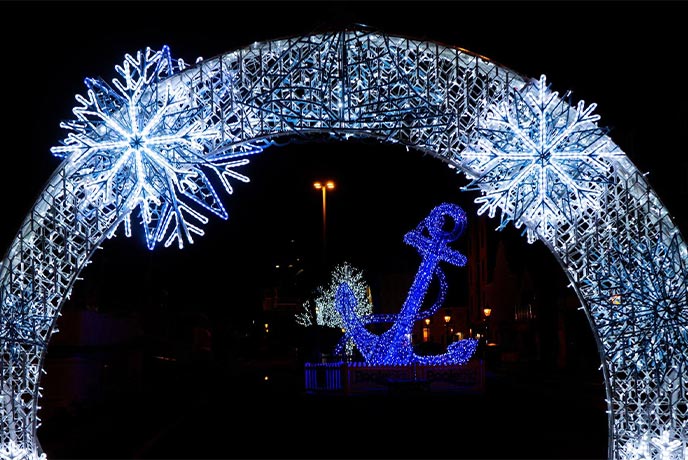 25th of November 2023 to 2nd of January 2024
Falkland Square, Poole BH15 1ER
Known for its supremely stunning coastline, it will be of little surprise that Dorset is home to a rich maritime history, which can be fully explored in the most festive of ways at the Poole Christmas Maritime Light Festival. As you follow the magical light trail through the High Street and down to the harbour, you'll find lots of Christmassy treats along the way, including a fabulous market, feast-worthy food and drink, and a host of funfair rides and entertainment for the kids along Poole Quay.
So, whether you want your fix of Christmas shopping or a dazzling display of lights for the little ones, this mega event will have Christmas all wrapped up in a neat, fairy-lit bow.
Shire Hall Christmas Market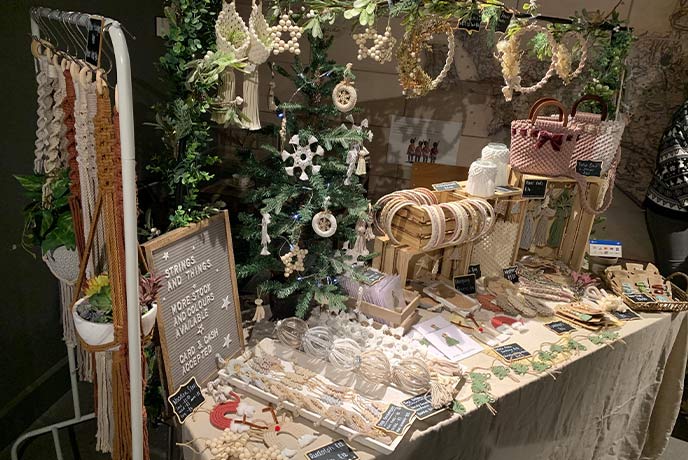 25th and 26th of November 2023
Shire Hall Historic Courthouse Museum, High West Street, Dorchester DT1 1UY
Dorchester is home to quite a few fabulous Christmas markets (Brewery Square's Christmas Market is also worth a visit), but the market in Shire Hall takes the Christmas cake. Over 30 local businesses amass to provide you with endless shopping opportunities, whether you're in the market for some beautiful jewellery, incredible photography, or some of Dorset's very own handcrafted chocolate.
All held within a stunning Grade II listed building, this two-day market is a wonderful opportunity to do some browsing for you and your loved ones. The stalls will be held across the whole of Shire Hall, from the café to the courthouse and cells, so you can really soak up the history as you shop. When your bags are full, head into Dorchester for a festive feast at one of Dorset's best restaurants, there are lots of fantastic eateries to choose from, including the fabulously traditional Fox Inn.
Symondsbury Estate Christmas Market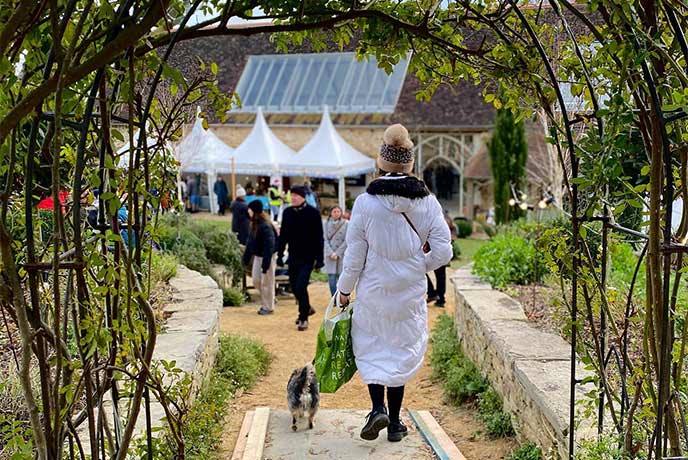 1st to the 3rd of December 2022
Symondsbury Estate, Bridport DT6 6HG
Giving the people more of what they want (Christmas markets), the Symondsbury Estate Christmas Market is extending this year into Friday evening and across to Sunday, meaning you have even more time to soak up this most festive of events. Local makers fill the stalls with delicious handmade foods as well as lovely, handcrafted gifts that are just waiting to be wrapped and placed carefully under the tree.
Alongside artisan food and drink, you'll be treated to a tonne of live music and performances during your visit, so you can fill your shopping bags while soaking up the deliciously festive atmosphere.
Cerne Abbas Christmas Street Fayre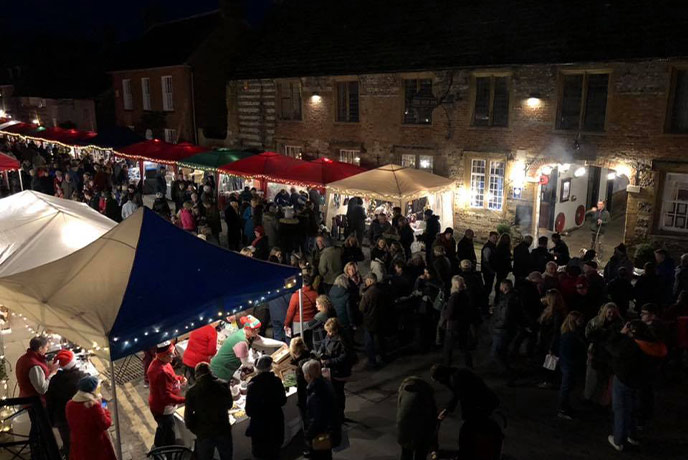 TBC
Long Street, Cerne Abbas
Fancy walking through a Christmas postcard, shopping as you go? Well, the picture-perfect street fair in Cerne Abbas is for you as this pretty village transforms into a scene from a Christmas movie as a myriad of stalls spring up and promise a delightfully festive stroll. Handmade gifts make Christmas shopping a breeze, while hot food and drink ensure your fingers and belly stay toasty warm.
There's a lovely circular walk nearby, which makes for a wonderful winter stroll before heading into the market to unwind and refuel with lots of festive goodies. It's a chocolate box day out that's sure to put you in the merriest of moods.
Swanage Christmas Market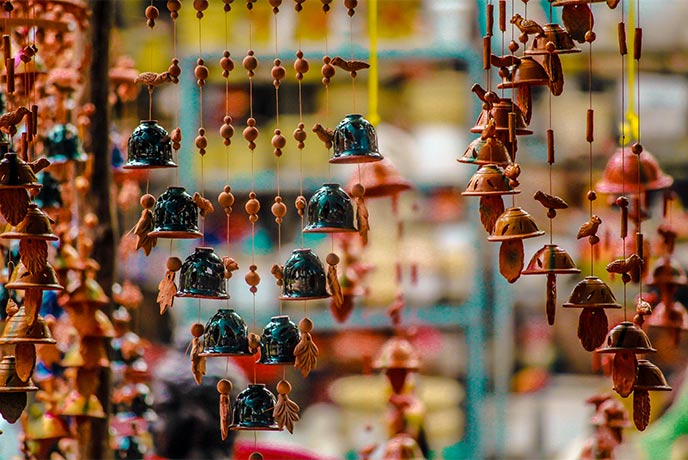 2nd of December 2023
Station Road, Swanage
Organised by Swanage & Purbeck Rotary club, the annual Swanage Christmas Market is Christmas tradition at its finest, with a whole host of gifts and crafts waiting to be perused. Alongside the street markets, hot food stalls will be lending their heavenly aromas to the air, tempting you with cups of mulled wine and spiced cider.
With street performers and live music providing endless entertainment and Father Christmas rumoured to appear in his sleigh, the kids will have a great time at this family-friendly Christmas event.
Weymouth's Steampunk Christmas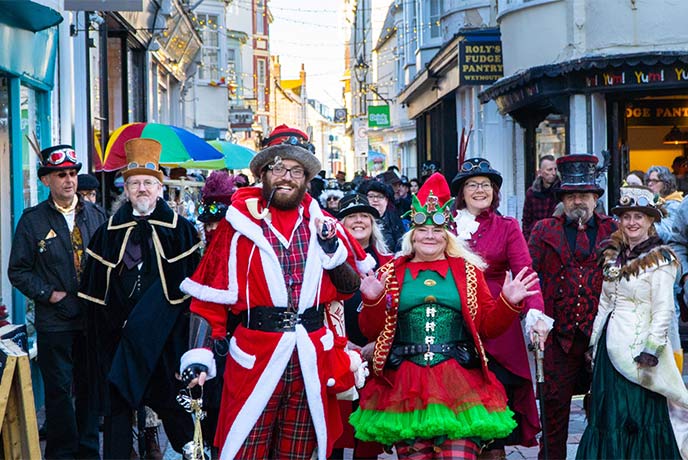 1st to 3rd of December 2023
Nothe Fort, Barrack Road, Weymouth DT4 8UF
Looking for a Christmas market with a twist? Weymouth's annual Steampunk festivities are sure to deliver in buckets, whether you want to browse the quirky stalls, show off your steampunk style, or attend a fascinating talk (tea-duelling sounds particularly interesting). All held at the incredible coastal destination at Nothe Fort, you'll be spoilt for choice when it comes to boggling sights, from sweeping sea views to some truly exceptional jewellery.
In fact, this historic fort and museum is perhaps the best backdrop for this much-loved sub-genre of science fiction, especially when combined with the musical accompaniments of a brass band. Continue your steampunk adventures with the Ministry of Steampunk parade the following morning, which promises to be a superb spectacle of all things steampunk.
Sherborne Christmas Market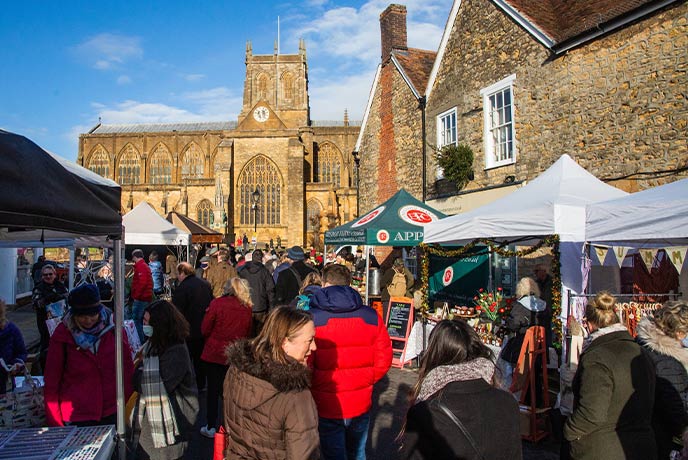 3rd of December 2023
Sherborne DT9 3BJ
Spreading festive cheer all across the town, Sherborne's highly anticipated Festive Shopping Day is a firm favourite in the Christmas calendar. Across the historic town, you'll find plenty of shops and stalls where you can tick things off your shopping list, plus the superb Dorset Farmers Market where you can pick up everything you need for the big day, including wonderfully fresh veg.
It's not just shopping that's waiting for you at this festive bonanza, oh no… Live music permeates the air with all the best Christmas tunes while children run to see Santa in his grotto before making a beeline for the Christmas tree festival. The day is rounded off with a festive parade and the lighting of the tree – you don't get much more Christmassy than that!
Dorchester Christmas Cracker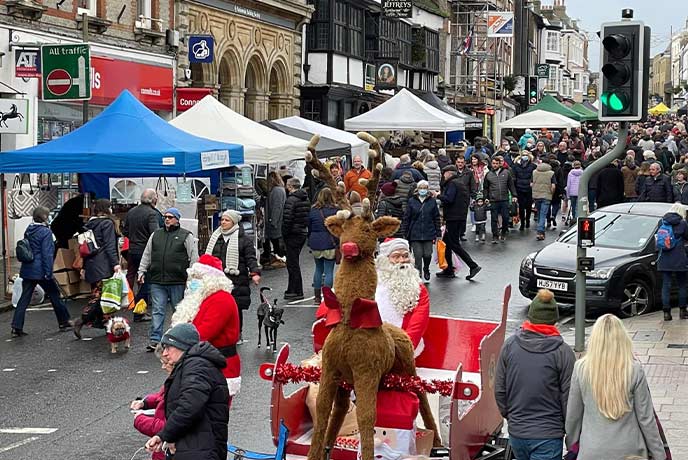 10th of December 2023
High East Street, Dorchester DT1 1HF
With an incredibly apt name, the Dorchester Christmas Cracker really is a cracking, family-friendly event, with something to satisfy every seasonal fancy. High West and High East Streets will be packed with over 60 stalls all piled high with Christmas goodies, while the Corn Exchange will be transformed into a craft fair where you can pick up some beautiful, handcrafted gifts, from candles to adorable children's clothing.
As you browse the many tempting stalls, keep an eye out for Christmas characters wandering around and leading the Santa Hat Children's Parade – Frozen's Olaf among them! You can even head to the entertainment stage where lots of festive musical acts will be performed, all managed by a local radio station.
Shaftesbury Christmas Fair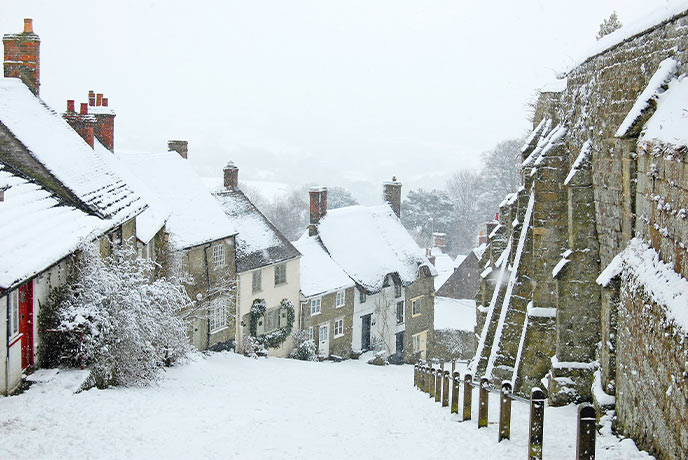 TBC
High Street, Shaftesbury
Need some last-minute Christmas shopping? The pretty village of Shaftesbury has you well and truly covered. Dozens of traders offer a wonderful mix of browsing (all with a cup of mulled wine in hand, naturally), from arts and crafts to Christmas decorations to spruce up the festive season.
In the evening, head over to the Shaftesbury Arts Centre where The Spoonfeds' Christmas Pudding will be filling the air with some Yuletide acapella. Join in with the sing-alongs or sit back and enjoy the bouncing, community atmosphere as all your festive favourites are performed. Tickets are free and come with a mince pie and a glass of mulled cider to really get you in the Christmas spirit.
Ready to dive headfirst into Christmas in Dorset? Our cosy holiday cottages are perfect for a festive getaway, whether you want a romantic retreat or a jam-packed holiday with the whole family in tow.