Make the most of your Christmas and New Year break in Somerset with some of these suggestions for things to do in the quiet time between partying and presents.
The dust has settled after Christmas day. All your careful planning and preparation has paid off. It's time to relax and enjoy some down time between Christmas and New Year. For me, this time is usually filled with board games, long walks and lots of cooking and food. I love having a go at leftover recipes so the Christmas turkey doesn't go to waste. Baking is a great way to keep kids busy whilst making the most of the gorgeous kitchen in your self catering cottage. But this time can also get a little stuffy. While staying in Somerset you want to see at least some of it, right? Of course, there's always the classic New Year's Day walk to get all the family out into the fresh air. Somerset offers so much more than walking though.
A county filled with beautiful landscapes and wonderful restaurants, it's time to get out and explore Somerset. Here are a few ideas to get you started on exciting things to do during your break to keep you busy.
Start the New Year as you intend to continue: get exploring and enjoy all the good things in life.
Party in a cave
Celebrate New Year's Eve in a cave! An opportunity not to be missed, head to Wookey Hole caves for dinner and fireworks to welcome next year in style. Stunning views and an amazing location to explore will make this a magical evening to remember. This is such a unique opportunity for this time of year and will make some amazing snaps to share with friends and family after your holiday.
On the edge of the Quantocks, Kilve is a lovely place to spend your New Year's day walk. Perfect for dogs and children alike, this beach is filled with stones and pebbles. Explore the rocks and you'll find small remnants of years gone by: a little mollusc shell imprint here and a fish shape in a rock over there. After spending half an hour here you'll have found something to get excited about and have blown away the cobwebs ready to head back to work.
Pony trekking in the Quantocks
An alternative way to make the most of the Quantocks. Take a visit to our friends at Quantock Trekking and hop on a horse to see Somerset in a totally different light. Rides can be altered to cater to any ability and there's a whole host of horses to chat to before you head out. Your guide will take you up on the Quantocks where you'll be able to look down on Somerset and beyond. Some amazing views to be seen. Some amazing memories to be made.
Enjoying a good pub lunch
There are plenty of amazing places to eat in Somerset. Take the strain of cooking out of the equation by heading out to eat this New Year. Relax and enjoy amazing dishes made with the lovely local produce of Somerset. Get cosy by the pub fire and spend hours chatting together before heading back to your holiday cottage. We love the Rising Sun Inn in West Bagborough, a real treat for your tastebuds.
Getting organised for the New Year
Now that the dust has settled from the hectic Christmas period, take a moment to look forward. Planning the next year now means that you can give yourself a few things to look forward to, avoiding those January blues. Plus, if you start thinking about school holiday dates now you can book your favourite holiday cottage before anyone else. So you know exactly where you're going and you'll love it. The only thing you'll be left worrying about is if everything will fit in the car.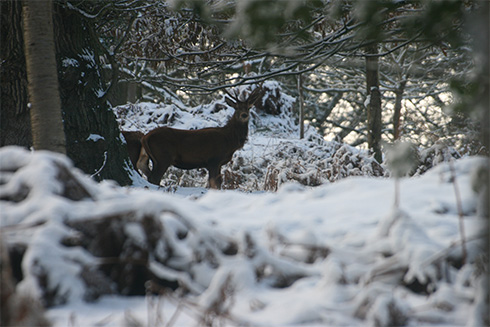 While planning your next trip to the South West, why not consider staying somewhere different? If you like the idea of staying near the New Forest, we have holiday cottages in Hampshire too.